Have you ever rocked a mustache for longer than a week? Now would be the best time to bring your mustache back. All new facial hair trends suggest that the way you wear your mustache says a lot about your style. One thing's for sure, mustache wax is a necessity to shape and style your moustache, especially if you're one of those competing in a Mustache Championship
Mustache wax is a type of "leave in", facial hair styling product typically made from beeswax and coconut oil. The wax holds mustache hair in place, making it easy to shape, style and condition.
The best mustache waxes are firm and easy to mold with, and they'll provide a long-lasting hold a beard balm or beard oil just won't. There's nothing worse than a handlebar mustache that won't stay up after you apply the wax.
Mustache Wax Buyer's Guide
The top mustache wax brands focus on glitzy packaging, because they're all so similar. There are only a few differences between the field of products that make one superior over another. Most of the time, it comes down to ingredients, but scents, costs, and toxic chemicals are other things to consider.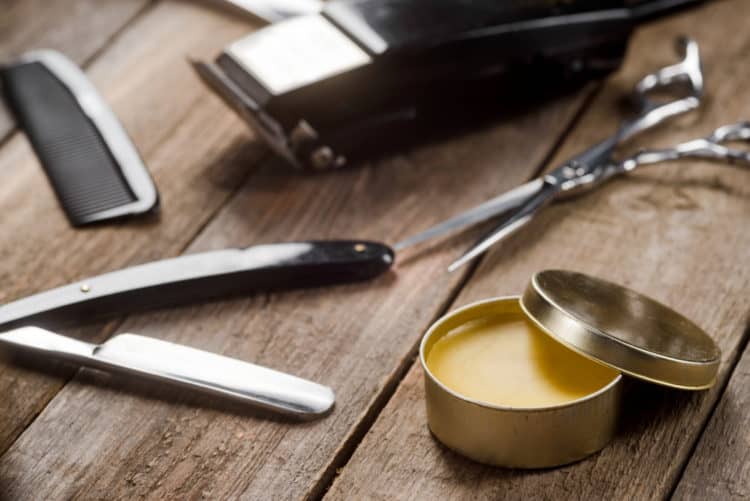 As you shop for products and read reviews, here are some features to keep an eye out for.
Mustache Wax Ingredients
A mustache wax should feel similar to beard balm and have a slightly tacky consistency. There are some common ingredients in hair wax products, but mustache wax products are a little different.
Beeswax
Petroleum jelly AKA vaseline
Shea butter
Coconut oil
There are brands that don't use petroleum jelly. Instead, they may combine beeswax with shea butter or pine resin. Other formulas use scented essential oils and tallow.
The most important ingredient is beeswax. You can tell a high-quality wax because of its hold and stickiness. Tackier wax products have the best beeswax.
Scented or Unscented mustace Wax
Most of the time, scented wax products aren't a problem. They may even smell like sandalwood, coconut, argan oil, pine, or other scents. Some are added into the formula through essential oils, but others may be artificially scented, which can lead to skin sensitivities.
Unscented mustache wax may also be beneficial for those who just want the hold and none of the smells. Perhaps you already have a cologne or lotion that you like best. In this case, you should always look for waxes with truly unscented products.
What to Avoid in mustache wax
Not all hair products are created equal. The B&B team has tested a variety of mustache waxes and found that the best brands have a soft sheen texture, great smelling, created with organic and all-natural ingredients.
Here's a list of the major bad toxins found in some styling products that cause allergic reactions and acne:
Butylated Hydroxyanisole (BHA)
DMDM Hydantoin
Phthalates
Synthetic fragrances
Parabens
Retinyl palmitate
Triethanolamine
Cost of Mustache Wax
High-quality mustache wax typically doesn't cost more than $10. However, some salon products will go over $30. Most of them come in a 1 to 2 oz tin. Other brands may use plastic bottles or cans.
A 1 oz tin is more than enough, and even the most well-known brands like Golddachs, Beardbrand, and Proraso don't cost that much.
5 Best Mustache Wax Products You Can Buy Right Now
Mustache wax can help you do so many new mustache styles with your facial hair. While it's especially made for training your mustache hair to curl and hold unique shapes, you should also note the scent and texture of the wax as well.
High-quality products have a tacky yet smooth texture that doesn't leave an oily residue on your skin. These products work for all hair types, including black mens' mustache styles. 
We rated the top mustache waxes on their ability to hold, shine, and protect mustache hair. Also, Fisticuffs Strong Hold Mustache Wax is a popular brand that's not on our list due to customer complaints about the poor smell.