For shaving enthusiasts, if you've received a monthly shaving kit or you decided to go with a stylish safety razor, then you probably have also wondered about the best safety razor blades available.
High-quality double-edge safety razors vary in size, weight, material, and performance. You also must check your safety razor beforehand to see if the manufacturer specifies a particular size and brand to use.
Safety razor blades can make your shave incredibly smooth when made from high-quality, sharp material, but there are plenty of products to avoid because they don't provide such a good shave. We review the best safety razor blades and what to look for below.
New Safety Razor Designs are built to give the closest shave possible while offering even better safety. If you want the best shave of your life, checkout our hand selected Safety Razor Top Picks (NEW).
What are the Best Safety Razor Blades
Barbers have said that picking out the razor blade and safety razor is very personal to the user. Our profile of a high-quality, safety razor blade would include a thicker, double edge razor blade that's sharp but not as sharp as a straight razor blade freshly stropped.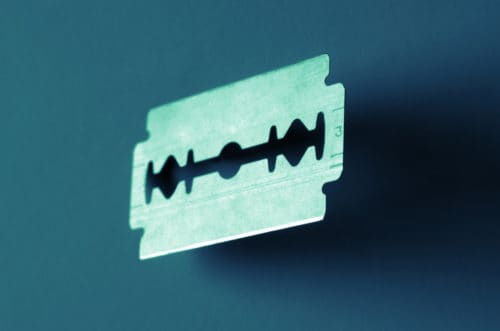 Barbers recommend finding a blade you're comfortable with, that doesn't bend or fold, remaining resilient and sharp once placed inside of your safety razor. They also recommend going thicker if you're afraid of nicks and cuts.
Sharper blades such as the Japanese Feather razor blades are very aggressive and should only be used by those who are experienced with safety razors.
Safety Razor Blade Buying Guide
As you look for the right blades for your safety razor, the main point to consider is your skin and hair type matching with the right level of sharpness. If you purchase a double edge razor with a higher sharpness, expect for close, precise shaves that require advanced practice with safety razors.
Sharpness
Since razor blades are measured in sharpness, the best safety razor blade for your beard may be slightly less sharp if you have sensitive skin. This is the main difference between a Derby razor and a Japanese feather blade.
Safety Razor blade for Your Type of Hair
There are different blades that work best with thicker hair verses light stubble. Sensitive skin also plays a role. If you find yourself getting razor burn after a close shave, then you may want to look into coated razors.
Here are a few of the skin or hair types and what type razor blades match best:
Normal Hair: Astra razor blades, Lord razor blades
Thick Hair: Feather blades (extra sharp)
Sensitive Skin: Derby razor blades, Wilkinson Sword PFTE Coated blades,
Beginners: Gillette, Shark
Durability
Most high-quality razor blade brands use stainless steel because of its propensity for a sharper cut, as well as long-lasting reliability.
You also should focus on razors that work with the best shaving creams and facial hair types, especially if you're used to wet shaving. Check reviews to see if customers had issues with certain razors and shaving creams.
Your blades shouldn't go dull right away. Additionally, you should check reviews to see if blades stored over time develop rust. Avoid those cheaper blades like the plague!
How Many Uses
Your safety razor blades should remain sharp for up to 7 uses. The best double edge razor blades will last more than 7 shaves.
Coating
Some double edge razor blades come with a special coating that protects against nicks and cuts. For example, Wilkinson Sword Double Edge Razor Blades have a PTFE coating that helps the blades glide over your skin.
Price per Blade
Many blades are priced at over $1 per blade, which is far too much for a simple safety razor blade. You should try to pick a blade between $0.10 and $.21. Brands like Derby, Astra, and Wilkinson fall within this category, but you may like Feather's extra sharp blades for $0.30 per blade.
For beginners who aren't sure about the sharpness and their skin type, you should try razor blade trial packs to see what works best. You may also want to look into shaver's clubs if you like a particular premium brand. We name a few of the best safety razor blades below.
8 Top Safety Razor Blades Reviewed