Are you shedding hair every time you shower? Does your hair feel too fine or brittle? Thinning hair sucks, and sometimes it's hard to know what's going on. However, the best shampoo for thinning hair can often promote better hair growth.
Shampoo for thinning hair typically contains ingredients that prevent shedding and support your hair follicle's health, strengthening your scalp's epidermis and restoring hair volume. 
While some hair falling out is normal, you shouldn't be shedding more than 100 hairs per day. You don't have to panic though. To get back your healthy, thick hair, just check out our guide to the top hair growth shampoos for thinning hair.
Top Shampoos for Thinning Hair
Called the "Anti-Thinning Biotin Shampoo," PURA D'OR Original Gold Label offers an extremely rare blend of the perfect ingredients to prevent DHT hair loss.
This shampoo contains biotin, argan oil, saw palmetto, red seaweed, nettle extract, and over 17 other herbal ingredients that naturally prevent DHT from attaching to your hair follicles.
GET TO THE ROOT OF THE PROBLEM. It all starts with a healthy scalp. This invigorating blend of natural extracts and essential nutrients fortifies and invigorates hair, reducing the appearance of hair thinning due to breakage
FIGHT HAIR THINNING, NATURALLY. Powerful blend of Biotin, Pumpkin Seed, Black Cumin Seed Oil, Nettle, and other plant-based ingredients to help increase volume and thicken hair
GENTLE, YET EFFECTIVE. Ultra-nourishing blend of premium oils and Plant-Based ingredients specially formulated to effectively treat damaged, and/or color-treated hair. Gentle enough for daily use
SCIENCE plus NATURE. All PURA D'OR formulas combine science and nature to deliver transformative hair therapy. Select Natural Ingredients. No SLS (Sulfates). No Parabens. No Harmful Chemicals. Gluten Free. Hypo-Allergenic. Cruelty Free. Manufactured in the USA. Color Safe. Vegan
Verdict
Pura D'Or is one of the top shampoos for thinning hair because of its natural formula that thickens hair. Many customers reported new hair growth and healthier hair thanks to this unique essential oil formula.
We also love many other products by this brand, and they've received thousands of positive reviews from long-term users. It works for both male and female hair loss.
Where to Buy
---
Second on our list is PURA D'OR Hair Thinning Shampoo with VANILLA LAVENDER Scent. It's an incredible big bottle (16 oz), and the formula contains argan oil as well as other herbal DHT blockers.
This formula also doesn't have any harmful chemicals, sulfates, or parabens. Like other Pura D'Or products, you have a full year to try the product before getting your back if it doesn't work.
ACHIEVE A HEALTHY, NOURISHED HAIR: It all starts with a healthy scalp. This invigorating blend of natural extracts and essential nutrients rejuvenates hair by balancing and locking in natural moisture for a silkier, softer, smoother hair from roots to tips.
REDUCES HAIR THINNING: Stimulating blend of Niacin, Biotin, Argan Oil, antioxidants and other natural ingredients detoxify the scalp and encourage healthy hair, strength, and resiliency.
GENTLE YET EFFECTIVE: Developed in a gentle formulation to effectively target leading sources of most common thinning hair-related issues. It can be safely used on color-treated hair without stripping the color out of your hair.
SCIENCE PLUS NATURE. All PURA D'OR formulas combine science and nature to deliver transformative hair therapy. Select Natural Ingredients. No SLS (Sulfates). No Parabens. No Harmful Chemicals. Gluten-Free. Hypo-Allergenic. Cruelty-Free. Manufactured in the USA. Color Safe. Vegan.
100% 365 DAY MONEY BACK GUARANTEE. We Aim To Offer The Highest Quality On The Market. We guarantee your satisfaction. If you are not satisfied with your purchase, please return it for a FULL REFUND within 365 days.
Verdict
This extremely gentle formula is perfect for those who have sensitive scalps and want to regain their hair thickness by running their hair through a chemical bath.
Pura D'Or's Vanilla Lavender formula works extremely well and combines niacin, biotin, argan oil, and other oils to clean and detox your hair naturally, while preventing dry scalp.
Where to Buy
---
We've been looking for a tea tree oil shampoo that would gently clean our scalp without leaving it too dry. The Tea Tree Anti-Thinning Shampoo does just that and stimulates new, thicker growth for those with thinning spots.
The real beauty of this shampoo is the way your hair feels after. You'll love how soft and thick it feels in your fingers.
Gently cleanses the scalp for fuller, thicker-looking hair
Color-safe formula features the exclusive Regeniplex blend of Kakadu plum, pea peptides, clover flower, turmeric and ginseng to revitalize the scalp
85% reported they felt increased hair volume and strength*
When used as part of the Scalp Care product regimen with Regeniplex Conditioner and Tonic. Based on an 8-week clinical study on 28 people conducted in an independent laboratory. Results may vary.
English (Publication Language)
Verdict
Most customers reported an increase in hair volume and shine after using this product. It's one of the best products if you don't want chemicals and need a safe alternative for color-treated hair, too.
We also love the lemon, basil, and fir scent. It's a healing combination with a clean smell for perfect hair.
Where to Buy
---
Sometimes all you need is the right formula for volume. We enjoyed Keranique Anti Hair Loss Shampoo with keratin amino complex for thinning hair.
Not only is this shampoo paraben- and sulfate-free, but it cleans your scalp and hair deeply for a healthy shine. You'll love how your hair feels after using this volumizing shampoo one time.
HAIR STRENGTHENING SHAMPOO: This Keranique Shampoo Strengthens hair, creates a smooth texture and also improves elasticity, while forming a protective shield against environmental damage with repair formula
HEALTHY INGREDIENTS: The Keranique shampoo contains only ingredients approved help create healthy-looking hair. It improves your hair's volume, shine, appearance and smoothness.
CONTROLS FRIZZ: This shampoo is free from sulphate and parabens which keeps your hair and scalp healthy and reduces the effect of humidity and provides manageability and controls frizz.
PRESERVE HAIR'S YOUTH LOOK: This hydrating shampoo for dry hair promotes healthy and more manageable hair. It is enriched with hydrolyzed keratin which forms a protective shield along the hair's cuticle to safeguard against external damage. Helps preserve hair's youthful look.
STIMULATES SCALP BY DEEP CLEANING: A periodic deep cleaning of hair and scalp can remove pollutants that may cause hair problems. It stimulates the hair follicles for optimal nourishment, while offering the ideal blend of moisture, softness, body and volume.
Verdict
We've experienced good results from keratin shampoos before, but Keranique is specially formulated for thinning hair. If you have dry, damaged hair, this formula is very gentle and doesn't strip your hair of its natural oils.
The formula includes some of the same hair conditioning ingredients in hair loss masks. The scent is also pretty mild. You should see thicker hair after just a few uses.
Where to Buy
---
If you believe in the power of aloe vera, then you've probably experienced its healing benefits for your skin, nails, and hair before. One of the best products on the market right now is Reline Biotin Shampoo for Hair Growth.
This is a thickening shampoo with an all natural formula that includes biotin, rosemary, aloe vera, and coconut for a power treatment against bald spots.
BIOTIN SHAMPOO FOR HAIR GROWTH – Hair Thickening Shampoo For Thinning Hair All Natural With B-Complex formula dht blocker for men treats thinning hair with botanical Rosemary Aloe Vera Saw palmetto and coconut, All known to regrow and prevent hair loss for men & Women
SULFATE FREE NATURAL SHAMPOO FOR THINNING HAIR - The best of cell stimulating hair loss treatments for women to help stronger hair volume and thickness, This Hypoallergenic Natural Biotin Shampoo for hair loss is Sulfate and Paraben free + Safe for colored hair
ANTI HAIR LOSS SHAMPOO for women and men naturally prevents hair loss by blocking DHT - a primary cause for thin weak hair by removing DHT this premium Biotin DHT Blocker Shampoo will give you thicker fuller hair shampoo perfect for sensitive scalp
ALL HAIR TYPES + This hair regrowth treatment for women and men is full of Essential Vitamins for hair growth and is a safe daily hair thickener for color treated hair Highlighted hair Bleached hair & damaged hair and body hair - Oily Dry Brittle or Frizzy - Black Red or Blonde colored
Verdict
This formula is perfect for women and men, as it protects color-treated hair and works for all hair types, whether you have an oily or dry scalp. It's also a DHT-blocking shampoo, and comes with a 100% money-back guarantee.
Most customers report an increase in hair growth and thickness after using this shampoo for 1 to 2 weeks.
Where to Buy
---
For those who need an anti-dandruff formula that works with sensitive skin, we recommend KICK Shampoo for Thinning Hair.
The formula is perfectly safe for all skin and hair types, and it prevents hair from shedding. We like that this shampoo also doesn't contain any sulfates or parabens.
We formulated Kick Active Peppermint and Tea Tree Shampoo for movers, shakers, and athletes! 11 powerful, pure, ultra-potent botanical ingredients (Tea Tree leaf, Peppermint, Eucalyptus, Rosemary, Aloe Vera and more!) restore optimal scalp balance to relieve itch and support healthy looking hair. 100% irritant-free.
Hair strengthening shampoo and moisturizing shampoo in one: Did you know sweat-induced dandruff and dry scalp can lead to hair loss? Kick Active's Anti Hairloss Shampoo contains Aloe at just the right potency to reduce the dandruff and dry scalp that cause hair loss when left untreated.
Satisfaction: After just 1 treatment with Kick Active, you'll never want your old, ineffective Men's Hair Shampoo back! Users say our dandruff shampoo for men is the best shampoo for thin hair and itchy scalp. Go ahead and click add to cart now to experience strong, soft, dandruff-free hair - or get a refund, no questions asked.
Empower better hair days - won't feel heavy or dry the scalp: Unmanageable, dried out hair? While many hair care products leave you feeling dry, frizzy, or like your head's covered in cooking oil, Kick Active Peppermint & Tea Tree Oil Shampoo leaves hair soft and light with an invigorating clean scent that lasts all day.
Natural Formula, no harsh chemicals. Because irritating surfactants frequently cause skin dryness, flaking, itching and redness - which often causes hair loss - we created our natural dandruff shampoo without the naughty stuff! It's 100% free of SLS/sulfates, parabens and harsh chemicals - plus cruelty-free and color safe.
Verdict
This hair loss shampoo focuses on the powerful combination of peppermint and tea tree oil. It works for both men and women, and it contains multiple essential oils to treat hair gently.
The result is completely soft, shiny hair that feels and looks voluminous. Kick promises that just one treatment will turn your hair condition around, especially if you suffer from dandruff flakes.
Where to Buy
---
Not all shampoo brands test their products ethically or use sustainable ingredients. You can feel really good about buying from this ethically sourced, sustainably made, cruelty-free shampoo.
With its biotin-infused formula, HONEYDEW's Biotin Shampoo for Hair Loss works best for those who want a strong, moisturizing shampoo without all the problems big drug store brands have.
Hair regrowth tip - one of the best ways to avoid hair loss is to ditch that artificial hair growth shampoo with damaging sulfates and choose a shampoo with gentler more natural ingredients
Volumizing Shampoo - Try our biotin with coconut oil shampoo formula designed with you in mind to enhance the way your hair looks by moisturizing your locks for hair that looks fuller and hydrated
Shampoo for Dry Scalp Care - Our biotin with rosemary and zinc shampoo features essential oils to help improve your scalp appearance with great smelling hair that's nourished root to tip
Featuring Natural Oils - We love natural hair care products which is why our sulfate and paraben free shampoo is packed with panthenol argan oil biotin coconut oil and jojoba oil for hair
Premium quality - We believe natural ingredients are better which is why our biotin shampoo for color treated hair features a rich panel of natural oils to enhance the way your hair looks and feels
Verdict
This shampoo really feels awesome when you lather up and massage into your scalp. Dandruff is completely gone after just two uses, and many customers reported hair growth over longer periods of time.
HONEYDEW has many before and after photos showing hairlines and bald spots that are significantly thicker from using their shampoo.
Where to Buy
---
We recognize that many of these hair thinning shampoos are from specialty brands with higher price points. But the OGX Extra Strength Volumizing Shampoo comes with Vitamin B7, bamboo fiber, biotin, collagen, and hydrolyzed wheat protein for thickening fine hair.
For a large 13 oz bottle, you'll love the value and results from this drug store brand.
EXTRA STRENGTH FOR EXTRA VOLUME: OGX Extra Strength Biotin & Collagen Shampoo is a volume-creating powerhouse with an extra helping of vitamins and proteins to pump up fine strands
LIGHTWEIGHT CLEANSING: Extra body doesn't mean extra weight with this thickening shampoo. It's an astonishingly lightweight blend that delivers deep clean, bold body, and incredible volume
BIOTIN FOR THE WIN: Biotin, aka vitamin B7, is crucial for skin, nail, and hair health. We paired it with Collagen, a protein known to be rich in amino acids, to make a beauty power blend that nourishes hair and helps deliver a full, healthy look
GO BIG AND GO OUT: Take your hair and hit the town with this extra strength thickening shampoo. Designed to fill your strands with life and body, OGX Extra Strength helps provide more volume than regular strength shampoo
INFUSED WITH GOODNESS: A premium ingredient blend infused with bamboo fiber extract and hydrolyzed wheat protein creates a color-safe plumping shampoo designed to nourish hair with everything it needs to look healthy and beautiful
Verdict
OGX creates a variety of different hair shampoos and treatments. Their extra strength biotin and collagen shampoo is perfect for those who have dry scalps and want a protective, cleansing shampoo.
Your hair will feel extremely soft and clean, and the smell isn't overpowering.
Where to Buy
---
Looking for a premium product that has an almost perfect review rating? The Nioxin System 2 Hair Loss Shampoo for Progressed Thinning is a premium shampoo for hair loss. This shampoo system truly works, and its received an award for its ability to regrow hair.
This shampoo is actually part of a 3-part system that can assist with sebum overproduction, oil-causing fatty acids, and other scalp problems.
Professional hair and scalp cleanser shampoo for natural hair with progressed thinning. Award: Behind the Chair Stylist Choice Winner Favorite Thinning Haircare, 16 consecutive years
Derma purifying shampoo deeply cleanses the scalp and provides thicker, fuller looking hair
Activ renewal technology helps remove sebum, fatty acids and other environmental residue from the scalp and hair
Prepare hair and scalp for a complete hair thickening treatment with Nioxin's three part System 2 Cleanser for Natural Hair with Progressed Thinning
Nioxin shampoo cleanser is the first step of a three part Nioxin regimen, designed to strengthen the hair and amplify hair structure
Verdict
If you don't need all the products in their hair care kit, then you can simply use this Step 2 shampoo to clean and treat your hair for dryness.
It's a cleansing shampoo that has been one of the most recommended products from celebrity stylists. The brand actually uses a formula from the Institute of Trichologists, which promotes scalp health and hair growth.
Check out the Definitive Guide to Nioxin Hair Care System (NEW in-depth review)
Where to Buy
---
Expert Guide – Shampoos for Thinning Hair
Improving the health of your scalp with a high-quality hair thinning shampoo is the best way to kick off your fight against hair loss, but what should you look for?
For one, any product you purchase should include ingredients that will keep your scalp moisturized and healthy, helping your hair grow in thicker and more luminous.
Match treatment with your degree of thinning
Determine the right course of treatment is an important first step. So, here's a good rule of thumb:
If you're only lightly thinning, you may only need to improve your scalp health. Try Briogeo Scalp Revival first.
Lightly shedding hair daily or progressed thinning. Stay on this guide and check out the recommended thinning shampoos.
Heavy shedding (more than 100 hairs/day), you can see lots of your scalp. You may try a good hair loss shampoo or check out hair restoration options.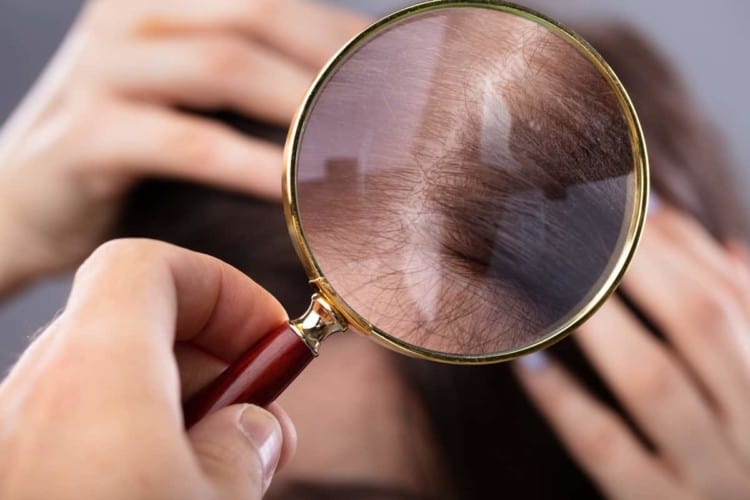 Dermatologists state that thinning hair is a symptom of dry scalp and itching, which damages your hair follicles.
Hair Thinning Shampoo Ingredients Matter
Some active ingredients work better than others to restore your hair follicle and prevent dihydrotestosterone (DHT) from causing more hair loss (read more about DHT hair loss). We looked at shampoos that promote hair growth with thicker fuller results. 
Here are a few of the safe ingredients found in the best shampoo for thinning hair formulas.
Castor Oil
For years, castor oil has been thought to prevent hair loss and studies have shown that it can be effective to growing healthy hair due to its natural ability to fight inflammation. 
Biotin
Biotin is one of the many hair loss vitamins that can help you regrow thicker hair. While you naturally ingest biotin from eggs and red meat, you can also take supplements for hair growth or use biotin shampoos to promote healthy hair growth.
Keratin
Many hair thickening treatments use keratin because it's a natural protein found in your hair's structure. That's why so many shampoos use keratin to boost your hair's strength, especially if dry and damaged.
Zinc
A study showed the mineral zinc can play a crucial role in accelerating hair follicle repair and recovery. Thought that study focuses more on zinc taken orally, many shampoos also use zinc to help with oil glands and the overproduction of sebum, thus preventing dandruff and flakes.
Ketoconazole
For serious hair loss and thinning hair, sufferers should look to stronger shampoos that contain the antifungal medication ketoconazole. It has been shown to reduce the effects of DHT. 
Other Essential Oils
You can find a variety of essential oils and amino acids in hair loss and dandruff shampoos and conditioners because these ingredients strengthen the hair.
There are a variety of other oils and minerals out there that can prevent hair loss and reduce shedding. Here are a few that combine well with the main ingredients above to produce powerful formulas: 
Grapefruit seed oil
Coconut oil
Argan oil
What to Avoid in Your Hair Loss Shampoo
Sodium Lauryl Sulfate
Parabens
Formaldehyde
Isopropyl Alchol
Propylene Glycol
PVP/VA Copolymer
Phthalates
FAQ
So what should you do if you have thinning hair? Dermatologists recommend changing up your hair care products if you experience hair loss because of a "scalp condition." Here are some more answers from dermatology experts.