Did you know you lose about 100 hairs or more per day from your scalp? While most of the time hair is constantly growing, those who have male pattern hair loss have trouble regrowing hair. Laser therapy is an emerging technology for hair restoration that's proven to regrow hair in thinning spots.
Our guide provides a look into how successful this laser hair growth treatment is to treat baldness, and whether it's the right approach for your hair regrowth strategy.
What is Low Level Laser Hair Therapy?
Low-level laser therapy (LLLT) is an FDA-approved treatment using laser light energy to circulate blood flow to hair follicles. Laser therapy for hair growth is used to stop hair loss in men and women. The non-invasive lasers stimulate hair follicles to induce regrowth, which may result in a thicker head of hair after several weeks of treatments.
Laser hair therapy is also called Low Level Light Therapy and PBM, low-intensity light therapy. The process irradiates photons in scalp tissue, resulting in photons being absorbed into weaker hair follicles and promoting hair growth.
LLLT: Low Level Laser Therapy
PBM: Photobiomodulation
LED: Light-Emitting Diodes
It's safe, non-invasive, and effective, according to multiple studies. It also doesn't cost as much as hair transplant surgery. We review the costs of laser hair growth treatment below.
How Does Laser Hair Loss Therapy Work?
LLLT is a non-surgical way to regrow hair by stimulating cell growth. The procedure uses particle wavelengths that penetrate the scalp to reach your hair follicles, vitalize your cells, and stimulate hair growth.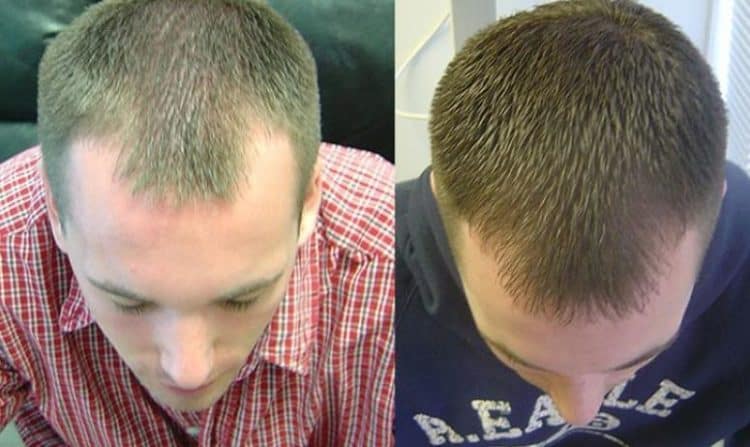 Types of Laser Hair Therapy Devices
There are a number of methods to administer laser therapy to thinning hair. Most of the time, they're administered through a:
helmet
overhead panel
hood
cap
combs
Popular Laser Devices
The CapillusPlus Mobile Laser Therapy Cap for Hair Regrowth now has a new 6 minute flexible fitting model. It's FDA Cleared for medical treatment of androgenetic alopecia.
How Successful is Laser Hair Restoration?
Laser treatment for hair loss works because photons amp up circulation and stimulation, which brings back hair follicles that may have died off.
Clinical Study
Laser hair restoration therapy is continuing to develop, but the National Institutes of Health has conducted multiple studies on laser hair growth therapy to see if it works for those with alopecia and male pattern baldness.
The NIH study used a controlled clinical trial that found laser hair therapy works for men and women, and it's safe.
Another study from 2013 included male participants aged 18 to 48. The result of laser hair therapy treatment included a 39 percent increase in hair growth for participants over four months.
However, laser therapy is just one piece of the puzzle. There are many factors that contribute to repeated hair loss, including:
Age
Genetics
Medical conditions like diabetes and lupus
Hormones
Side effects of medications, such as chemotherapy
There are also laser combs which emit laser light as you brush through your hair. However, these may, along with a professional laser hair therapy session, may not be effective for every situation.
Doctors typically use special overhead medical devices with more powerful lasers to administer treatment to each bald spot.
Will Laser Hair Restoration Work for Me?
Laser therapy doesn't work for everyone, but it's an important step forward for those who want more permanent hair growth without hair transplant surgery. There are some factors that doctors have identified that make it harder or impossible to regrow hair:
For cancer patients who have had tumors and chemotherapy, LLLT is not advised.
Tattoo Designs on the head will prevent any hair from regrowing in that area.
Note: this does not apply to a hair tattoo (AKA scalp micropigmentation)
Laser Treatment Cost
Laser hair restoration costs depend on where you live and how many treatments you need. If you are completely bald, the therapy may be more expensive, and there's a less of a chance that it will work.
Costs for this procedure are determined by the doctor at the time of your consultation. Treatments are typically between $50-$200 or more per session, with as many as 10 sessions over multiple weeks.
In addition, you may need ongoing laser treatments every year. It's likely that you will spend between $3,000 and $5,000 for the entire procedure.
Is Laser Hair Treatment Safe?
All studies have shown that laser hair regrowth is safe because it's noninvasive, painless, and increases hair strength. There are also no reported side effects.
However, there are some things you should consider before starting laser hair restoration.
It takes time. Most treatments last several weeks, even months. It's also recommended that you continue to get these treatments every year to ensure that your follicles don't die off.
Cannot be used with photosensitizing medications. This makes your skin sensitive to light, resulting in discoloration, burning, and other complications.
It's not always effective. If you're older and have suffered hair loss for a long time, laser therapy is less likely to work.
How Long Does Laser Hair Therapy Take to Work?
From your first treatment, it can take several weeks to see a noticeable difference. This is because red light therapy for hair loss must be administered multiple times over 4 to 6 weeks to begin working.
If you don't see any growth after 90 days, it's probably unlikely you'll regrow hair with this method. You should consult your doctor about the growth cycle and see how long it will take. Some laser light therapy for hair loss reviews state that it does take multiple weeks to start seeing any growth at all.