Are you tired of dealing with hair loss or thinning hair? Do you want a noninvasive, low-maintenance hair and scalp solution that will give you natural-looking results? Look no further than scalp micropigmentation.
With this effective treatment, you can cover up scars, birthmarks, and other imperfections or simply add density to thinning hair. And the best part? It's a one-time procedure that requires no surgery, medications, or extensive maintenance.
Say goodbye to the frustration of hair loss and hello to boosted self-confidence with scalp micropigmentation. Read on to learn more about this revolutionary treatment and its benefits.
What Is Scalp Micropigmentation (SMP)?
Scalp micropigmentation (SMP) is a non-surgical hair restoration treatment suitable for both men and women who have experienced hair loss. The process involves depositing tiny impressions or dots of pigment on the scalp, replicating the appearance of shaven hair follicles, and creating the illusion of a fuller head of hair. SMP is suitable for those with different stages of hair loss and conditions, such as male and female pattern baldness, alopecia, and thinning hair.
The affordable treatment can eliminate scalp show-through, camouflage scars, and add density to thin hair. SMP is an instant, permanent, life-changing treatment that makes you look ten years younger. The procedure is virtually undetectable and can be combined with a hair transplant or as a stand-alone treatment.
Get the Shaved Look
The shaved look is highly important in scalp micropigmentation as it allows practitioners to customize different hairlines for customers. It also offers the advantage of low maintenance and no irritation from shaving, making it a popular choice for clients.
Practitioners can either zero in on the hairline or opt for a complete shave to make the dots look natural and blend seamlessly with the rest of the hair. The shaved look is ideal for people who want to camouflage burns, scars, or birthmarks or those who desire hairline definition.
For those considering scalp micropigmentation with a shaved look, keeping the hair length short to zero or one guard is recommended. This will provide a seamless blend with the micropigmentation dots and create a natural-looking hairline. Overall, the shaved look enhances the appearance of scalp micropigmentation by providing a realistic and natural hairline that is indistinguishable from the real thing.
Who's a Good Candidate for SMP?
Anyone can benefit from scalp micropigmentation, including women and men of all ages. It's a good option for those:
who want a natural-looking enhancement.
who have a good skin tone.
who will follow the healing process and get the prescribed number of treatments and touch-ups.
Also, if you have:
Alopecia Areata.
signs of pattern balding.
a receding hairline.
thinning hair or bald patches.
hair loss from cancer treatments.
a completely bald head.
Diverse Applications of Scalp Micropigmentation
SMP treatments trace their roots back to the 1970s, but weren't widely marketed until 2002 and became more popular in 2006. Since then, people have been using SMP to create the illusion of hair.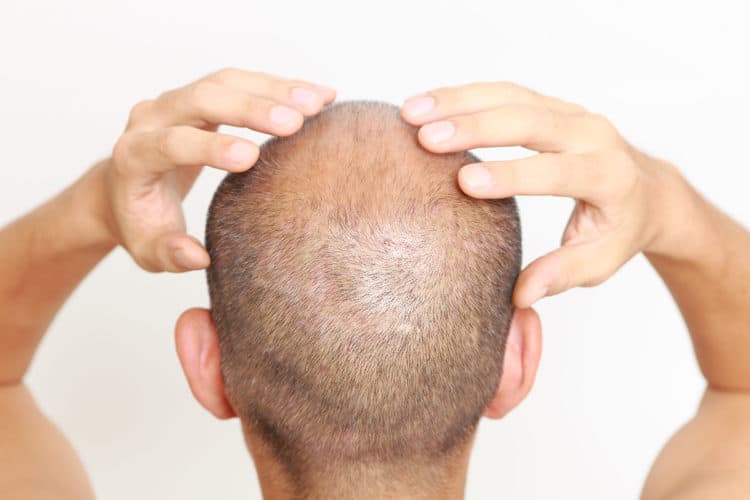 Restoring Hairlines with SMP
Scalp pigmentation is one of the most cost-effective procedures for hairline restoration. It has been proven to effectively restore the depth and shape of hairlines, providing a natural and youthful appearance.
Concealing Scars with SMP
Scalp Micropigmentation can effectively camouflage scars or spots on the scalp resulting from acne, surgery, or other skin conditions. The technician injects the pigment into the area around the scar, darkening it and making it virtually disappear.
Whether you're looking to cover up an old wound, blemishes, or a hair transplant scar, SMP might just be the answer for you!
Fighting Alopecia with SMP
Scalp micropigmentation can significantly improve the appearance of various types of alopecia, such as alopecia areata and androgenic alopecia. SMP can fill in thin or balding spots, providing a fuller and more natural look.
SMP for Thinning Hair
SMP is not just for balding; it can also be used for other areas of thinning hair such as the temples, crown, and front part of the hairline. It's proven to be a good option to fill out thinning spots and produce a fuller head of hair, giving people a more natural appearance.
SMP for Thinning Hair
SMP not just for balding, it can also be used for other areas of thinning hair such as the temples, crown, and front part of the hairline. It's proved a good option to fill out thinning spots and produce a fuller head of hair, giving people a more natural appearance.
SMP for Men
Though not a cure, scalp micropigmentation is a very effective treatment for men.
The finished result can be either a shaven style or a dense background to natural hair strands, lasting for years. With the right technique, SMP is undetectable and suitable for men of all ages and ethnicities.
Addressing Different Types of Hair Loss
Scalp micropigmentation (SMP) is ideal for men experiencing hair loss, specifically those with male pattern baldness (Norwood Scale 1-7), general thinning, bald spots, or a completely bald head. SMP is also suitable for men with scarring from hair transplant procedures or general scars on the scalp.
For men with long hair, short hair, thinning hair, or a visible scalp, there's a way to get the look of a full head of hair.
Prevalence of Male Hair Loss
According to the American Hair Loss Association (AHLA), by age 50, around 85% of men are balding. The American Hair Loss Association says that 25% of men with genetic-related hair loss experience it before they turn 21.
Scalp Micropigmentation for Women
Scalp Micropigmentation (SMP) is a non-surgical hair restoration treatment suitable for women. A significant number of women in America suffer from hair loss, with about 40% of women experiencing visible hair loss by age 50.
It's estimated that around 30 million women in the United States have hereditary hair loss, as reported by the American Academy of Dermatology. This estimate does not include those dealing with thinning hair due to stress, menopause, and other conditions. 
SMP offers a modern solution to hair loss by replicating hair follicles using small pigment deposits on the scalp. This technique can provide either a shaven look or the appearance of a fuller head of hair. SMP serves as a viable treatment for women dealing with various stages of hair loss, including conditions such as female pattern baldness, alopecia areata, and traction alopecia. It can also be used for general scar camouflage or hair transplant scar concealment.
Applied with the appropriate technique, SMP is undetectable and natural-looking. It offers a safe, effective, and long-lasting solution to hair loss.
Micropigmentation for Scars
Scalp micropigmentation is an effective treatment for camouflaging scars on the scalp. It can be particularly helpful for individuals who have undergone hair transplants or have scars from injury or surgery. This procedure uses tiny needles to deposit pigments on the scalp, creating the illusion of thicker hair and covering up scars or birthmarks.
The pigments used are cosmetic-grade and permanent, and they can be matched to the individual's natural hair color and texture. This noninvasive treatment doesn't require surgery or anesthesia, making it a safe and convenient option for those who want to hide their scars.
Whether you have a scar from a previous hair transplant or surgery or a birthmark or injury that you want to cover up, scalp micropigmentation can help you achieve a natural-looking and confident appearance.
Scalp Micropigmentation Benefits
Scalp micropigmentation is a non-surgical cosmetic treatment for hair loss that uses small needles to deposit pigment on the scalp. Here are the benefits of the procedure: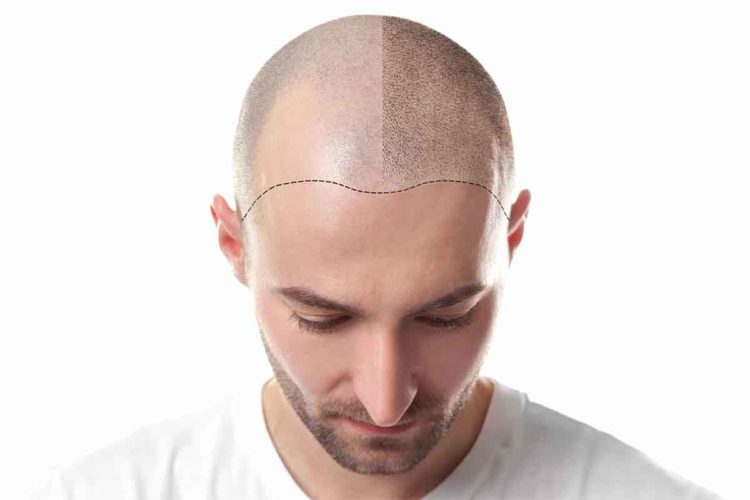 Less maintenance compared to other hair loss treatments
No surgery or incisions required
Economical and cost-effective
Provides natural-looking results
Fast-paced recovery time with no downtime
Boosts self-confidence and self-esteem
Can be used for all stages of hair loss
No restrictions related to age or skin type
Non-invasive and less painful than hair transplant surgery
Can create a thicker, fuller-looking hairline and crown by creating the illusion of hair follicles and darkening areas where hair loss is starting to appear.
SMP can be combined with FUE (a traditional hair transplant) for the ultimate hairline results.
Overall, scalp micropigmentation is an excellent option for anyone seeking a hassle-free and effective hair loss solution, whether they have a completely bald head, want to augment a previous hair transplant, camouflage a scar, or add density to thinning hair.
Checkout our guide on SMP pros and cons for an in-depth look.
Scalp Micropigmentation Risks and Side Effects
Scalp Micropigmentation (SMP) is generally a safe procedure, but it carries potential risks and side effects like any cosmetic treatment. Here are the most common ones:
1. Allergic Reactions
Some individuals may experience an allergic reaction to the pigments used in SMP. Symptoms can include itching, redness, swelling, and discomfort at the treatment site.
2. Infection
Infections can occur if the needles used are improperly sterilized, or aftercare instructions are not followed correctly. Signs of infection include severe pain, pus or drainage, severe redness, and swelling.
3. Unnatural Appearance
If the procedure is not performed correctly, the results can look unnatural. This can be due to over-tattooing, under-tattooing, improper color matching, or improper placement of pigments.
4. Inflammation and Redness
These are common side effects that usually subside after a few days. However, if these symptoms persist, consulting with a healthcare provider is important.
5. Scabbing and Flaking
Scabbing and flaking are part of the natural healing process after the procedure. A good moisturizer can help soothe the scalp and facilitate healing.
6. Pain
While SMP is generally not considered painful, individual pain tolerance can vary. Certain areas, such as the temples, may be more sensitive.
7. Swollen Lymph Nodes
Swollen lymph nodes are a potential side effect of SMP, usually due to the body's immune response to the procedure.
8. Issues with Future Hair Growth
In rare cases, SMP can cause scar tissue formation, inhibiting future hair growth. Additionally, the pigments used in the procedure may fade over time, leading to an uneven or unnatural appearance.
9. Stress and Anxiety
As with any cosmetic procedure, some individuals may experience stress and anxiety before and after the procedure. It's important for healthcare providers to reassure patients and provide them with information about the procedure to mitigate these concerns.
10. Skin Damage
Skin damage can occur if aftercare instructions are not followed correctly. Those with underlying skin conditions such as keloid scarring, active eczema, or psoriasis may want to speak with their dermatologist before undergoing SMP.
11. Unsatisfactory Results
While SMP is generally a safe and effective solution for hair loss, there is always a risk of unsatisfactory results. If you are unhappy with your SMP results, options are available. Some practitioners offer touch-up sessions to address any issues or concerns. Laser tattoo removal can lighten or remove the pigments in more severe cases.
12. Reaction from Tattoo Ink
As with any tattoo procedure, there are potential risks and side effects associated with using ink on the scalp. These include allergic reactions, infections, and complications from unsterilized equipment and needles.
Scalp Micropigmentation Procedure
The SMP procedure is easy and straight-forward while being accomplished over 1-3 sessions depending on the area to be covered.
1. Initial Consultation
The initial consultation process for scalp micropigmentation involves several important steps. Firstly, the practitioner will discuss the client's medical history and assess their scalp to determine their eligibility for the procedure.
The practitioner will also work with the client to determine the appropriate pigment color for their skin tone and hair color.
Setting realistic expectations for the procedure, including the number of sessions required and the potential for touch-ups, is crucial.
During this consultation, the practitioner should address any questions or concerns the client may have to ensure they understand the process and outcome clearly.
The initial consultation is essential to the scalp micropigmentation process, providing a foundation for a successful and satisfying outcome.
2. Prepare for your First Session
Preparing for your first scalp micropigmentation session is essential to achieve the best results. Before the procedure, it's important to moisturize your scalp and avoid using any topical hair products. Additionally, refrain from drinking alcohol or caffeine at least 24 hours before and after the appointment.
On the day of the session, wear comfortable clothing and expect to sit still for one to five hours, depending on the size of the area being worked on. Some discomfort is normal, but your practitioner will apply a topical numbing cream to minimize it.
After the procedure, avoid exposing your scalp to direct sunlight and use a gentle shampoo to cleanse your hair. It's recommended to schedule two to three sessions for the most dramatic results. Remember, confidence starts with a free 30-minute consultation with a qualified SMP practitioner.
3. Custom Hairline Mockup
The custom hairline mockup step in the scalp micropigmentation procedure is crucial and sets the foundation for the entire procedure. This step aims to create a personalized hairline design that matches the client's natural hairline and facial features. Here are some key details about the custom hairline mockup step:
During the initial consultation, the SMP technician will assess the client's hair loss pattern, hair density, and facial structure to determine the best hairline design for the client.
The technician will then create a mockup of the hairline using specialized software to adjust the hair follicles' shape, density, and color.
The client can review and approve the mockup before the actual procedure begins.
The mockup guides the technician during the procedure, ensuring the hairline looks natural and symmetrical.
The technician will use the mockup as a reference point to replicate the hair follicles on the scalp using micropigmentation techniques.
The custom hairline mockup step is essential to the scalp micropigmentation procedure, ensuring a personalized and natural-looking result.
4. Color Selection
Color selection is a crucial aspect of scalp micropigmentation that can greatly affect the overall result of the procedure. When selecting the pigment color, it is important to consider the natural hair color, skin tone, and desired outcome. Your SMP specialist will guide you through selecting the appropriate pigment color during your free consultation.
The practitioner will create a hairline and initial impressions to ensure the pigment color matches your natural hair color and skin tone. During the second set of impressions, they will fill areas requiring added density. Our experts recommend only getting this treatment from someone who specializes in micropigmentation.
Once you've found a specialist you're comfortable with, you can work together to find the best color match. Remember to show up with a clean scalp, and avoid alcohol for 24 hours before your appointment. The pigment is organic-based, meets FDA and EU guidelines for safety, and does not produce any unwanted consequences when done by an experienced provider. After the procedure, they will provide aftercare instructions to ensure the best possible results.
5. Undergo the Treatment
Scalp micropigmentation (SMP) is a non-invasive hair restoration treatment that involves depositing medical-grade pigment on the scalp to mimic the appearance of hair follicles. A trained technician or physician performs the treatment, which may take up to five hours, depending on the size of the treatment area. The patient may experience mild discomfort during the procedure, but a numbing cream can alleviate any pain.
After the treatment, the patient may need to avoid certain activities such as getting their scalp wet, heavy exercise, hot showers, sun exposure, sweating, or being in a hot environment for several days. The recovery process is relatively easy, and clients should regularly moisturize the treated area after the fourth day of the final treatment.
The procedure is virtually pain-free, and there are no significant side effects. The patient should visit the office where the service will be performed and follow the provider's instructions to achieve the best results.
6. Recovery
After undergoing a scalp micropigmentation procedure, the recovery process is relatively easy. Patients should avoid sweating, showering, or tanning for 3-4 days to allow the pigments to settle in the scalp. After this period, a mild cleanser or baby shampoo can clean the scalp.
You may experience some redness or minor swelling, but this should subside within a few days. It is crucial to avoid scratching or picking at the scalp during healing to prevent scarring or loss of pigmentation. Patients can also wear sunblock and protect their scalp from prolonging the results. There is no maintenance required long-term, and the procedure is virtually pain-free. Overall, scalp micropigmentation offers an instant solution with no recovery time, making it an ideal option for those seeking a non-surgical hair restoration solution.
7. Aftercare
Scalp micropigmentation (SMP) is a transformative procedure that requires diligent aftercare to ensure optimal, long-lasting results. The following are key steps to follow both short-term and long-term after undergoing SMP:
Short-term Aftercare (Days 1-14):
Days 1-4: Treat your scalp like an open wound during this period. Do not wash or touch the treated area and refrain from activities that induce sweating. This includes exercising or sitting in the sun.
Days 5-7: You may now gently rinse your scalp with water and clean the area with a wet cloth. Avoid heavy sweating, scrubbing your scalp, shampooing, and excessive sun exposure. If you need to shave your head, use an electric foil shaver and minimize any visible scabs. Quick, light showers are allowed but avoid sulfate shampoos.
Days 8-14: Continue to avoid scratching the scalp, using irritants, and wet shaving with a razor blade. You can now gently wash the treated area with water and soap and apply a small amount of fragrance-free moisturizer to enhance the healing process.
Long-term Aftercare (Day 15 and onwards):
Day 15+: Your scalp may recover sufficiently to return to your daily routine after this period. If another treatment session is scheduled, wash your head and shave your hair before the session.
First Month: Avoid chlorinated pools, saunas, steam rooms, and tanning beds. When going outdoors, protect your scalp from harmful UV rays by applying sunscreen with at least SPF 50+. Use a fragrance-free, antibacterial soap to wash your scalp, and apply moisturizer after showering and before bed to keep your scalp hydrated. Avoid products that contain Alpha-Hydroxy Acids (AHAs) or high concentrations of alcohol, as these can cause the pigment to fade.
Ongoing Care: Continue to protect your scalp from direct sunlight and UV exposure to prevent the treatment from fading. Avoid products that list SD alcohol, denatured alcohol, or isopropyl alcohol high on the list of ingredients. Moisturize your scalp daily and use an exfoliating cleanser to keep your scalp looking its best.
Remember, aftercare is key to maintaining the results of your SMP procedure. Consult your SMP practitioner for advice if you have any concerns or additional questions.
Schedule Follow-up Treatments as Needed
It is important to schedule follow-up treatments for scalp micropigmentation to maintain the best results. While the treatment is semi-permanent, the longevity of the results can vary based on lifestyle, metabolism, and skin condition.
To keep the appearance of a full head of hair, it is recommended to schedule touch-up appointments annually or as needed. These appointments typically involve adding more pigment to areas where the color has faded or adjusting the hairline for a more natural look.
During the appointment, the SMP technician will evaluate the scalp and make any necessary adjustments to ensure the best possible outcome.
Other Micropigmentation Procedures
Tricopigmentation vs SMP
Tricopigmentation is a process that uses special pigment to create a realistic hair follicle impression. The hydrophilic pigment used in tricopigmentation will gradually break down over time, so each treatment needs to be repeated periodically.
Tricopigmentation differs from SMP in that Trico uses a special pigment known as a hydrophilic pigment. Scalp Micropigmentation uses regular pigments that can last much longer in the skin.
Trico is a temporary hair loss solution that uses pigment to fill in hair loss. It may be a better option for those who desire a temporary hair loss solution, but pigment can linger in the skin in some individuals.
Exploring Other Micropigmentation Procedures
Scalp micropigmentation is one of several micropigmentation procedures available today. Let's explore how it compares to other similar procedures.
Tricopigmentation: A Temporary Option
Tricopigmentation is a temporary form of scalp micropigmentation and differs from SMP. It uses a special hydrophilic pigment that gradually breaks down over time, making it a temporary solution. This means it can only last for a few months before it starts fading. Therefore, each treatment needs to be repeated periodically.
While both procedures aim to create a realistic hair follicle impression, the choice between SMP and tricopigmentation often depends on whether you want a permanent or temporary solution.
Hair Tattoo: A Different Approach
While the term "hair tattoo" is sometimes used interchangeably with scalp micropigmentation, the two have key differences. A hair tattoo is a more traditional form of tattooing that goes deeper into the skin and uses a different technique, often involving more scraping and coloring.
On the other hand, SMP uses a pointillism technique, creating individual pin-pricks of pigment to mimic hair follicles on the scalp. The depth and technique used in SMP result in a more natural and realistic appearance compared to a traditional hair tattoo.
However, it's important to note that the results of a hair tattoo can vary greatly depending on the skill and experience of the tattoo artist.
Scalp Micropigmentation Before and After
One of the best ways to understand the transformative power of Scalp Micropigmentation (SMP) is to view before and after images of real patients. These images highlight SMP's impressive visual impact and offer a tangible representation of the potential results.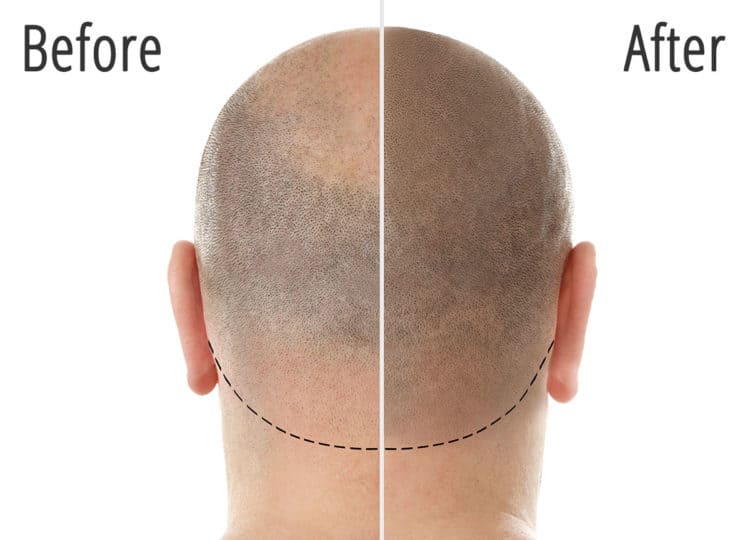 Before SMP, individuals often experience varying degrees of hair loss, thinning, or scarring, significantly impacting their self-confidence. The "before" images typically reflect these conditions, providing a clear snapshot of each individual's challenges.
After SMP, the scalp appears to have a fuller, denser hairline, and any scars or signs of hair loss are camouflaged effectively. The pigments used in SMP mimic the look of natural hair follicles, creating an illusion of a shaved or short hairstyle. This can dramatically improve an individual's appearance and boost their self-esteem. The "after" images showcase these transformative results, highlighting the expertise and precision of the SMP practitioners.
To gain a better understanding of the potential results of SMP, consider browsing through some of the following galleries featuring before and after images of individuals who underwent the procedure:
Individual results may vary, and the outcomes depend on several factors, including the degree of hair loss, skin type, and the practitioner's skill. Always consult a qualified SMP professional to discuss your options and potential results.
Best SMP Clinics
Navigating the landscape of SMP clinics can be overwhelming. Trust me; I've been there. Years of my own dedicated research led me to ScalpMicro in NYC – a shining example of what an SMP clinic should be.
The best SMP clinics are a blend of reputation, stunning outcomes, and the most skilled artists. They've got the experience, clocking in over a decade of intricate SMP work. You'll find these gems from the busy New York streets to sunny Los Angeles. Free consultations? They're standard. Some even offer initial Zoom meetings, though I'll always vouch for the in-person experience.
Want more? Dive into our detailed post on the best SMP clinics. I've done the legwork so you can confidently step into your SMP journey. Some clinics have even worked on A-list Celebrities.
Understanding the Cost of Scalp Micropigmentation
Scalp Micropigmentation (SMP) is a cost-effective solution for hair loss, with the price influenced by several factors. These include the extent of hair loss, the procedure's complexity, the practitioner's expertise, and the clinic's geographical location.
Factors Influencing SMP Cost
On average, the cost of SMP ranges from $1,800 to $4,000, with some cases reaching up to $6,999. The Norwood Scale, a measure of the progression of male pattern baldness, often determines these costs.
For instance, minimal hair loss (Stage 1 on the Norwood Scale) typically costs between $1,200 and $1,800. As the severity of hair loss increases, so does the cost of the procedure. For the most severe form of hair loss (Stage 7), costs typically range from $4,500 to $5,500.
Location and Practitioner's Expertise
The cost also varies based on the practitioner's qualifications and skill level. Experienced SMP artists may charge more than those new to the field. Furthermore, the cost of SMP can be higher in major metropolitan areas due to higher demand and operational costs.
Long-Term Investment and Financing Options
While SMP is a significant investment, it is often more cost-effective in the long term than other hair loss solutions like hair systems, products, and transplants. Moreover, many providers offer financing options to make the treatment more affordable. Despite the cost, many individuals find SMP to be a worthwhile investment.
According to RealSelf community members, SMP treatment has an 82% Worth It Rating, with many reporting very natural-looking results. However, some users have reported issues such as pigment fading too quickly or turning blue, which they attributed to the skill level of their provider.
In conclusion, while the cost of SMP can vary widely, it is generally seen as a valuable and effective solution for hair loss. As with any investment, it's crucial to research and consult with experienced providers to ensure you're making the best decision for your needs.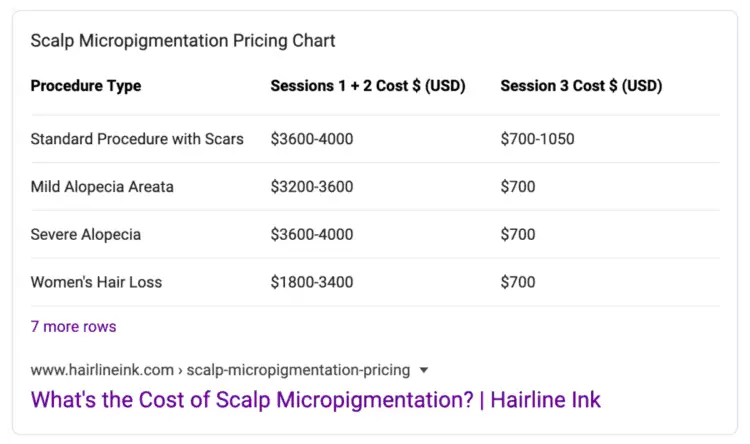 Always consult a reputable SMP clinic for exact pricing and schedule a free consultation to determine the exact pricing.
Get a few quotes
See financing options
Read client testimonials
Consider their location relative to you
Check their credibility (Yelp, online reviews, Better Business Bureau, etc.)
FAQ
How long does micropigmentation last?
Micropigmentation, also known as permanent makeup or cosmetic tattooing, typically lasts between 2 to 5 years. However, its longevity can vary based on factors such as skin type, lifestyle, and aftercare practices. Regular touch-ups are recommended to maintain optimal results.
Does anyone regret SMP?
Scalp Micropigmentation (SMP) satisfaction varies between individuals. While some regret SMP due to unrealistic expectations, poor treatment quality, or changing preferences, many find the procedure beneficial for addressing hair loss concerns. It's essential to research and consult with experienced practitioners to minimize regret.
Does scalp micropigmentation hurt?
Scalp Micropigmentation (SMP) involves minor discomfort, not typically described as painful. Sensations can vary based on personal pain tolerance and the specific area being treated. Numbing creams may be used to enhance comfort during the procedure. It's comparable to the feeling of a light tattoo.
How does SMP look after 5 years?
After 5 years, the appearance of Scalp Micropigmentation (SMP) can be influenced by factors such as sun exposure, skin type, and aftercare regimen. Some may notice fading or color change, prompting a need for touch-ups. The quality of the original procedure greatly determines its long-term look.
Does scalp micropigmentation look fake?
Scalp Micropigmentation (SMP) can look very natural when performed by an experienced practitioner who accurately replicates hair follicle patterns. However, poor-quality work can result in a fake, unnatural appearance. Therefore, selecting a skilled and reputable provider is crucial for achieving realistic-looking results.
Does scalp micropigmentation grow hair?
No, scalp micropigmentation does not promote hair growth. It's a cosmetic procedure that uses tiny tattoo dots to create the illusion of a fuller, denser hairline or shaved head. While effective in concealing hair loss, it doesn't stimulate or restore actual hair growth.