If you've been thinking about where to get the best scalp micropigmentation, you're not alone. This incredible hair tattoo procedure is helping men regain the look of thick hair follicles on their scalps, but not all SMP clinics are created equal – take it from me!
After researching this procedure, I went through hundreds of videos trying to find the best scalp micro clinics around with real testimonials, satisfied clients, and superior results.
While most of these clinics are located in the USA, I found a few top clinics located in Europe and Asia. These represent the best SMP artists with the most satisfied clients who love their scalp micropigmentation results.
How to Pick a Top SMP Clinic?
When it comes to hair restoration, scalp micropigmentation has the reputation of being the best painfree procedure, with no visible scarring and fast recovery time.
Practitioners must undergo up to 2,000 hours of training in some states to become certified SMP artist.
Choose a clinic with excellent reviews and top ratings in Google.
Professional SMP practitioners must be licensed in the of practice state.
Look at before and after photos to see if their SMP looks like real natural hair.
Check the clinic's website for client testimonials.
SMP clinics offer partial and full scalp micropigmentation, check service pages for both.
When looking at testaments to their work, check color and size of pigments (see SMP regrets and SMP side effects for more info).
Ask questions during consultation to ensure high-quality pigments will be used and how long each treatment will take.
Treatments typically cost $500 to $750 per follow-up visit, ranging up to $1,200 for a hairline restructure and up to $3,000 – $5,000 for full scalp micropigmentation.
Scalp Micro is the top USA-based boutique franchise located in NYC, Los Angeles, and several others. I found their clinic has the highest reviews and most testimonials from around the globe.
One of the most popular SMP channels that answers questions about scalp micropigmentation, hairline tattoos, and procedure walk-throughs. There are also considerable testimonials of their happy, satisfied clients and exemplary SMP work.
Scalp Micro USA posts tons of videos on YouTube with before and after takes, showing you exactly what your follicles will look like after the tattoo procedure. This clinic is able to recreate every kind of hairline using high-quality pigments and precision micro needling.
Scalp Micro USA Reviews
See current Google Reviews for Scalp Micro USA
Scalp Micro USA Locations
New York City, NY
Los Angeles, CA
Austin, TX
Houston, TX
Fort Lauderdale, FL
Chicago, IL
Scalp Micro USA Testimonials
Scalp Micro in New York City is ultimately who I went to. I worked with Matt Iulo and his skills are unmatched. With so many reviews and great video testimonials, I met with Matt and he was amazing. Made me feel like I was making the right choice for my look.
I stumbled across Skalptec's channel, looking for before and after pictures of scalp micropigmentation. After reviewing their videos, this clinic specializes in FUT scar concealments and hair loss solutions.
Currently, Skalptec locations are only in the UK, including areas of Jersey, Liverpool, London and Newcastle.
Their work is extremely impressive, with thousands of client testimonials showing off their precise, beautifully colored natural pigments. The results really speak for themselves.
Skalptec Locations
Jersey
Liverpool
London
Netherlands
Newcastle
Shrewsbury
Skalptec Reviews
See current Google Reviews for Scalptec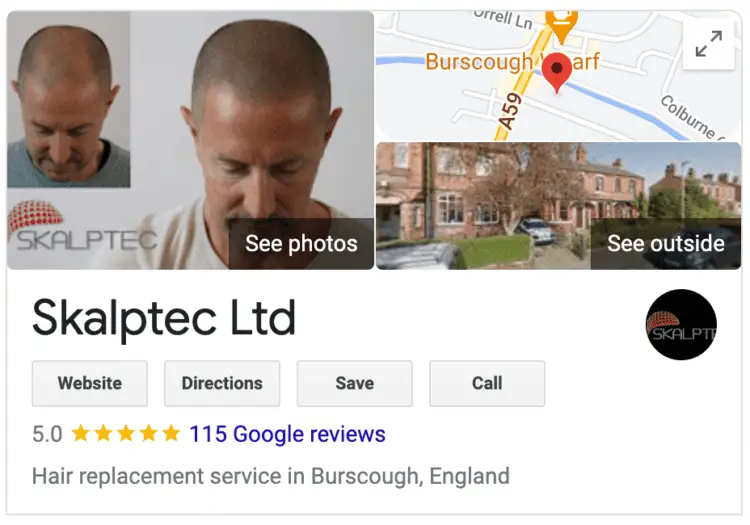 Skalptec Testimonials
Another fantastic clinic with thousands of 5-star reviews is the Zang SMP practice in Los Angeles. Their SMP artists offer highly rated scalp micropigmentation treatments with video testimonials that show the entire process and Q&A with practitioners.
While only located in La, you need only look to their YouTube channel for testimonials from international clients who come to see them just for their realistic, precision hair tattoos.
These exceptional tattoos show natural pigments are used, matching skin and hair color perfectly. In fact, there were zero bad reviews of this SMP clinic.
Zang SMP Locations
Zang SMP Reviews
See current Google Reviews for Zang SMP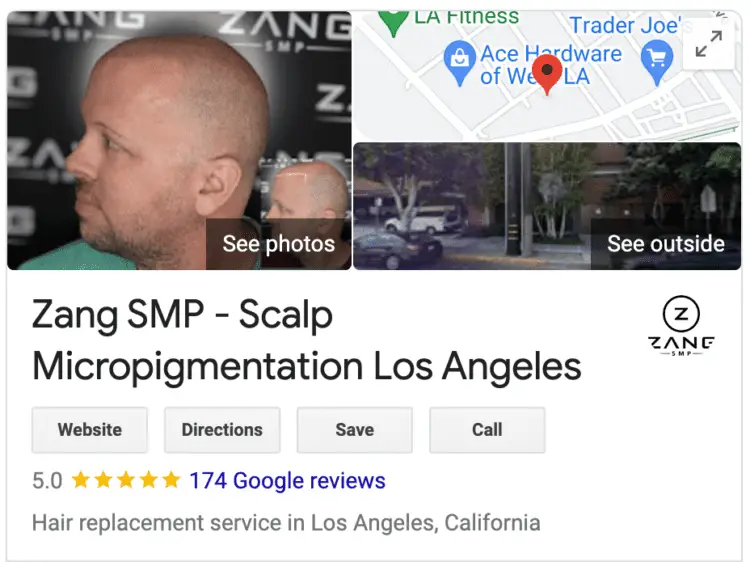 Zang SMP Testimonials
Jonathan Gerow's Hair Ink SMP clinic is located in New York and Texas, and he has some fantastic videos on the process of scalp micropigmentation as well as testimonials from clients, including a young teen hockey player suffering from alopecia.
Gerow specializes in hair tattoos for men and women, showing that tattooing can be done even if you just want to thicken your thinning part and hairline.
Unlike permanent makeup clinics, Jonathon Gerow specializes in creating natural stubble that completely covers hair transplants and pattern baldness. Their trained associates are licensed practitioners and treat this as a precise medical procedure.
With over 450 positive 5-star reviews, Gerow Hair Ink definitely is one of the top SMC clinics currently. People from all over the world travel to his clinic specifically because of Gerow's realistic hair follicle tattoos.
Gerow Hair Ink Locations
Gerow Hair Ink Reviews
See current Google Reviews for Gerow Hair Ink
Gerow Hair Ink Testimonials
Vinci Hair Clinics offers top-rated SMP practices all over the world, located in the US, UK, Spain, Dubai, and many other locations.
Their testimonials feature before and after videos, showing how the tattoos keep their natural look over a period of time, which is helpful to see initial results as well as the final picture.
Vinci's SMP practice specializes in full coverage, very natural tattoos. There's also detailed testimonials from men who received these treatments, showing you the quality of the tattoo with before and after results.
Vinci UK
Aberdeen
Belfast
Birmingham
Bristol
Cambridge
Cardiff
Edinburgh
Glasgow
Manchester
Newcastle
Sheffield
Southampton
Leeds
London
Vinci USA
Vinci Europe
Malaga
Madrid
Dublin
AFRICA
Lagos
Abuja
Accra
Vinci South America
São Paulo – Alphaville
São Paulo – Vila Olímpia
Rio de Janeiro
Vinci Hair Clinic – SMP Reviews
See current Google Reviews for Vinci Hair Clinic
Vinci Hair SMP Testimonials