Scalp micropigmentation costs usually exceed $2,000. Why? This specialized procedure isn't always easy, and patients typically need 3 to 4 treatments for the best results.
With male pattern baldness, hair loss solutions can be expensive, but scalp micropigmentation (SMP) is an affordable hair restoration treatment. I looked at several of the top clinics and multiple hair tattoo procedures to understand all SMP prices, since there are partial hairline tattoos and full SMP tattoos. 
Use the scalp micropigmentation pricing chart below to compare all procedures by cost.
1. Understanding SMP Costs
Did you know that there are almost 100,000 follicles in one head of hair? That's a lot of tattooing for SMP artists. Practitioners know how to make these follicles look like real, natural hair, even though they are recreating hair density and hair growth with pigments.
SMP cost often comes down to what the client is looking for and how dense they want the follicles to appear. If you are looking for a partial hairline tattoo that just covers the top of your forehead, it's considerably less time and money to tattoo than a full scalp micropigmentation.
2. How Much Hair Loss to Cover
The amount of hair loss matters the most when calculating cost. Depending on what SMP treatment you choose, you'll receive multiple treatments that will come as part of a total package or that you pay for by treatment.
There is also a difference in cost for filling in just the corners of a receding hairline in comparison to re-creating a full head of follicles with scalp micropigmentation. If you have a 2 to 3 on the Norwood scale, you may just need a hairline tattoo to begin with.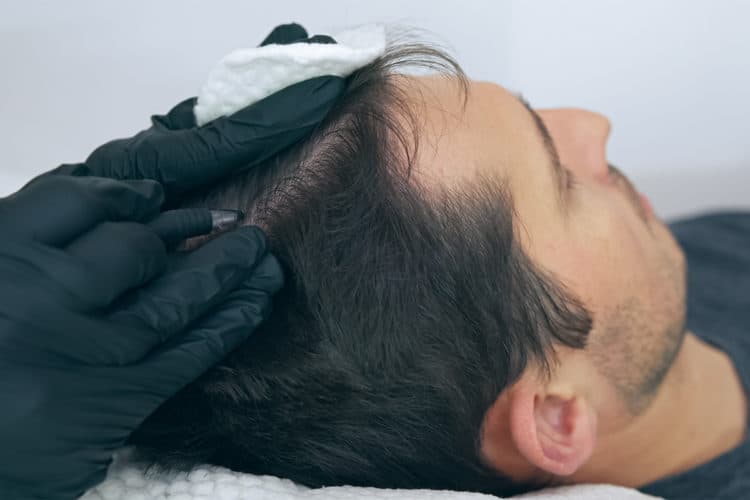 In cases where you'll need full coverage, the costs will cover all the pigments and time necessary to draw and tattoo a realistic hairline from front to back, filling in thousands of hair follicles across multiple treatments. However, transplant SMP coverups tend to cost less.
How much coverage will you need? The first consultation with an SMP practitioner should be free, in which your doctor talks about where you'd like to re-create hair follicles, such as along the hairline, temples, or crown.
2. Quality of Clinic
Scalp micropigmentation procedures aren't available at all salons. It's not like permanent makeup or other services provided by an esthetician. Instead, SMP practitioners must be licensed by state, and they have to undergo intense training.
One reason the quality matters so much is that it requires expertise to know what skin type matches with the best pigments and how to apply pigments based on skin color, hair patterns, and other details.
Due to the area being tattooed, candidates for SMP should always check that the practitioner has several years of experience with multiple testimonials and high star ratings.
Most clinics dedicate an entire page to video and text testimonials from previous clients, as well as a before and after gallery to show off their work.
3. Clinic Location
Since SMP is growing in popularity, you won't find top-notch clinics in every city. The most popular SMP clinics are located in New York, Los Angeles, Miami, London, Tokyo, and so forth. The practitioners in larger cities tend to charge more, but the procedure is much less expensive in Asian countries.
For example, you can expect to spend between $2,000 and $4,000 for a full scalp micropigmentation procedure in New York, according to Scalp Micro (the clinic I used). However, in areas like Malaysia, the cost is $500 to $2,500, according to WhatClinic.
Single hair clinics may charge more.
4. Special Requirements
In some cases, with hair transplant scarring, more treatments are necessary because it takes more pigments to fill in and disguise these scars naturally.
For clients with alopecia, full scalp micropigmentation is one option, while partial hair tattoos can also fill in areas. Because this autoimmune disease can cause hair loss over time, you may want more coverage that changes the cost. Most practitioners will recommend a full scalp tattoo to disguise hair loss.
There are also scalp micropigmentation corrections, in which you may want to change the look of your new hairline. Those changes will have an additional treatment cost.
5. SMP Procedure Type
These are some of the typical costs. SMP candidates should expect to pay between $1,000 and $4,000 for a typical SMP Procedure.
Hairline Tattoo: This is a partial SMP procedure, typically ranging in cost between $500 and $2,000 depending on depth and number of follicles needed to fill in your hairline.
Crown and Bald Spot Tattoos: If you just want to fill in areas of baldness around the crown or where your hair parts, you can opt for partial hair tattoos that even work with long hair. These range in cost between $500 and $2,000, depending on how many areas you need filled in.
Full Scalp Micropigmentation: If you want to recreate all follicles on your head, you'll likely need multiple treatments totaling over $2,000 to $3,500 in full.
How Much Does Scalp Micropigmentation Cost?
SMP PROCEDURE NAME
USA COST*
UK COST*
EUROPE COST*
Full Scalp Micropigmentation (Base)
– Does not include scar coverup
$2700-4000
£1800-3000
€2350-4000
Full Scalp Micropigmentation + Scar
– Includes scar coverup tattoos
$3000-5250
£2000-3500
€2500-4500
Norwood 2 & 3
– Crown and hairline only
$1500-2250

£1000-1500
€1250-2000
Scar Treatment Only
– Covers transplant scars only
$1200-2250
£800-1500
€1000-2000
Mild Alopecia Areata
$3000-4500
£2000-3000
€2500-4000
Major Alopecia Areata
$3750-6000
£2500-4000
€3250-5000
Women's Hair Loss
– Typically covers hairline and crown
$1800-4000
£1350-3000
€1500-3300
Women's Baby Hairs and Temples
– Re-creates baby hairs along hairline
$500-2000
£375-1500
€400-1650
Thin Hair Treatment
– Adds thickness to fine, thin hair
$2700-3200
£2000-2400
€2250-2650
Major SMP Correction
– Fixing a botched procedure
$2900-$3900
£2200-2900
€2400-3200
Only Crown
– Adds density to crown area
$2700-$2900
£2000-2200
€2250-2400
Touchups
$350-1000
£260-750
€290-825
We looked at clinics around the world and compared pricing between boutique clinics and franchises, calculating the average cost for all SMP procedures. We provide costs in USD, GBP, and EUR, as well as costs for women's scalp micropigmentation. *Prices are estimated based on current costs as of January 2021.
Choosing Your SMP Clinic
We reviewed many of the top scalp micropigmentation clinics. You should always select an SMP practitioner that has an extensive track record. One who can demonstrate multiple before and after photos, customer testimonials, and positive reviews.