Hair tattoos, also known as scalp micropigmentation or scalp tattoos, that disguise hair loss and improve the look of a bald head. Should you tattoo your head with scalp micropigmentation?
Very recently, hairline tattoos started rising in popularity as a way to get back a mature hairline without undergoing a hair transplant. If you're looking for other solutions to hide hair loss, there are multiple hair tattoo options. Even combining an FUE transplant and SMP together!
What is a Hair Tattoo?
A hair tattoo is a permanent tattoo that adds pigment to the scalp epidermis to recreate a natural hairline.
The procedure is most commonly referred to as scalp micropigmentation (SMP) where a skilled practitioner tattoos micro dots to resemble natural hair follicles. The result looks like the wearer is bald by choice.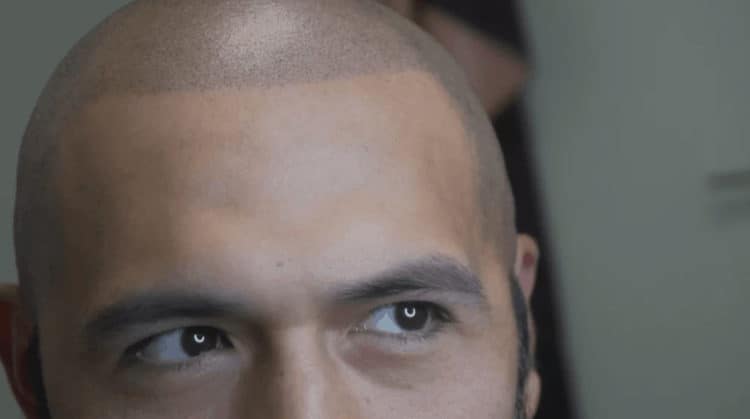 Hairline tattoos AKA scalp micropigmentation don't use the same needles nor pigments as traditional tattoos.
Instead, these scalp pigments are injected with a microneedle. These needles are more precise, allowing a doctor to exactly place a pigment in alignment with others so that it looks like real hair follicles. NIH has a great SMP resource.
With little side effects, SMP treatments work best for bad hairlines, receding hairlines, thinning hair spots, and all over stubble buzz cut styles. You can also cover hair transplant scars with SMP.
Some other differences include the type of ink and the way scalp micropigmentation is tattooed.
Since hair tattooing is so meticulous, it also requires different ink than regular tattooing. Tattooers only go two layers deep, whereas traditional tattooing actually penetrates down five layers.
With the application of these pigments, men often look to hide bald spots and thicken the look of their hair.
Before and After: Hair Tattoo Results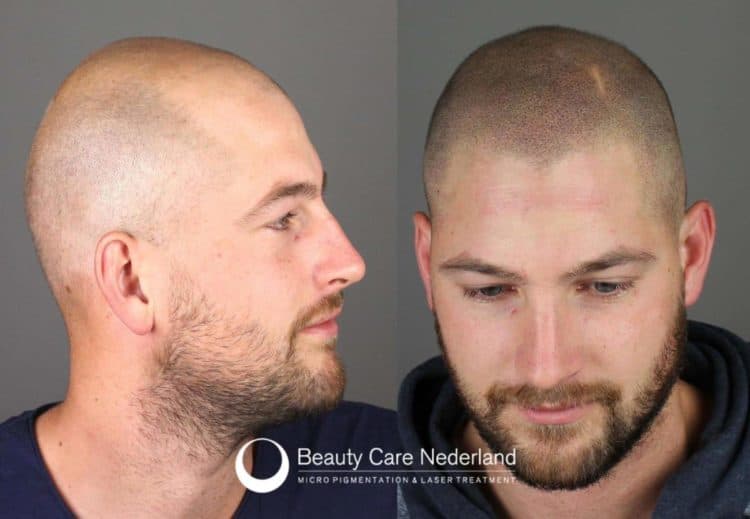 How Do You Get a Hair Tattoo?
So what are you actually getting into when you sign up for scalp micropigmentation? The procedure typically takes between two and three treatments. Here's a full breakdown of what to expect:
Start with a consultation where you visit a plastic surgeon or scalp micropigmentation practitioner to determine what would work best.
During the consultation, you'll talk about areas of your scalp that are receding or balding, and the practitioner provides a general map of where the tattoos will go to hide these bald spots.
The first treatment should take about an hour, typically filling in the most concerning bald spots. If you are only getting a hairline tattoo, you may only have 1-2 treatments.
The second and third treatments are typically done to tattoo darker pigments and fill in so that there is an appearance of shadow, making your tattoo more realistic.
After each treatment, you'll notice some redness and scabbing that should go away within a week. Also, the ink may be darker than your natural hair color and typically fade slightly, blending in over time.
Do Hairline Tattoos Hurt?
Your scalp is one of the most sensitive places to get a tattoo, but scalp micro pigmentation doesn't use the same size of needle.
Instead, practitioners use micro needles and only tattoo the treatment area you request. These are much smaller and typically cause only mild discomfort, such as if you received acupuncture.
With that said, you may experience more pain depending on your sensitivities to needles and where you're being tattooed. Patients have said that working around the hairline is more painful than other areas of the scalp.
I've had this procedure done myself, and I can personally say it doesn't really hurt. It goes quickly and afterward I was perfectly fine with just a little redness. No recovery, no downtime! So, kudos to Matt Iulo at ScalpMicro in New York City for taking good care of me.
Your doctor may prescribe a pain reliever if you experience more than discomfort, but ibuprofen is typically all that's required if you have lingering discomfort.
Is a Hair Tattoo Safe?
There's always a chance that you'll pick the wrong clinic or practitioner, which is why it's so important to read reviews, look at before and after galleries, and talk to your practitioner honestly during the consultation.
While hair tattooing is much safer than a hair transplant or other invasive hair restoration methods, nothing is guaranteed. You should always check the licenses of your practitioner and ensure that they have real recommendations from clients before sitting down in the chair.
Also, if concerned about how it will look, you may want to try only a hairline tattoo filler if possible, unless you're completely without hair and looking to create a stubble look with scalp micropigmentation.
Do Hair Tattoos Last?
A traditional tattoo can last up to 10 years, so long as you aren't going out into the sun every day without sunscreen. So what about scalp micropigmentation?
Hair tattoos typically last for up to eight years, according to patients who've received the procedure.
However, you need to remember these three things to preserve your tattoo:
Sunscreen
Wear hats
No tanning beds or sunbathing without a head cover
Do Hair Tattoos Cover Your Whole Scalp?
There is a difference between hair tattooing procedures. Here's the breakdown:
Long Hair Tattoos: Refers to the procedure of hair tattooing to fill in parts and hairline without shaving your head, allowing you to keep your long hair. This works best for men and women.
Hairline Tattoos: These tattoos only fill in the corners and upper hairline area of your forehead. When your head is shaved, you'll clearly be able to see the tattoo vs your bare skin.
Full Scalp Micropigmentation: This refers to recreating your hairline and all hair follicles on your scalp. Once finished, you won't see any bare skin without pigmentation, resulting in a stubble bald hairstyle.
How Much Do Hair Tattoos Cost?
Clinics typically offer a free consultation to inspect your scalp and outline areas for hair tattoos.
The real cost is the ink, and time it takes to tattoo these tiny hairs on your scalp. For example, hairline tattoos only cover a small portion of your head, so they cost less than a full scalp micropigmentation.
For bald men who want the full stubble look, the cost falls between $1,500 and $3,000 (USD). However, these numbers also depend on where you live. The same scalp micropigmentation procedure may cost $4,000 to $5,000 in California, whereas it's cheaper in Florida.
Check out our NEW Scalp Micropigmentation Pricing Guide.