You're not alone, if you've been looking into hair transplants? Hair loss affects roughly one-third of men under 30, increasing as they age. There are studies that suggest more men are losing their hair in recent years, increasing the demand for hair restoration.
A hair transplant is a medical procedure that involves moving healthy hair follicles to bald areas to achieve thicker, fuller hair. A trained dermatological surgeon who transplants follicles through a skin graft on the scalp performs the hair restoration procedure. This process includes local anesthesia and a few weeks of recovery.
While some blame stress for hair loss, others know that male pattern baldness is genetic and inevitable, which is why hair transplantation may be the best option. Find out everything you need to know here so you can make the best decision for your situation… keep reading!
Can You Benefit from Hair Transplants?
Receiving a hair transplant is beneficial for anyone suffering from hair loss. Just ask the celebrities with a transplant. Not only does it help with confidence and your image, it's also important for those who will eventually lose all of their hair from male pattern baldness.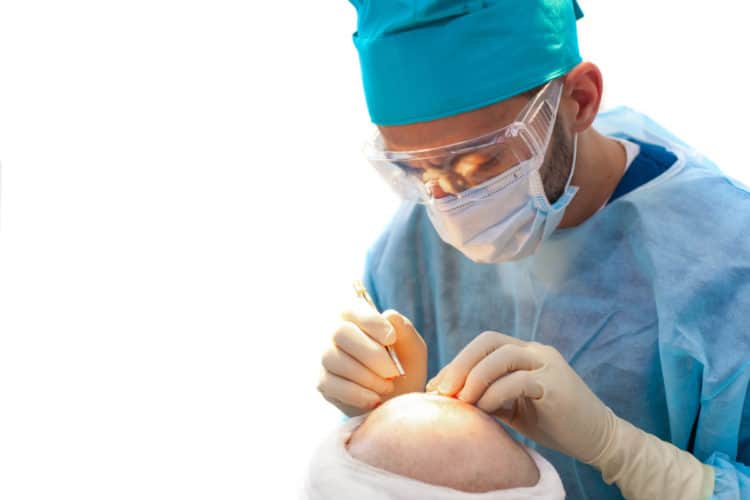 However, hair transplant surgeries are not a good fit, especially if the following applies:
If you don't have enough "donor" hair sites.
If you form thick, keloid scars after injuries and surgeries.
If hair loss comes from medications like chemotherapy.
It's best to talk to your doctor about whether hair transplantation is best for your scalp. However, for many, if you have severe male baldness, hair may be donated from the healthy follicles on the back of your head.
What Types of Hair Transplants are Available?
Hair transplant surgery is a popular option for people who want to improve their appearance, fill in bald spots and restore their hairline.
There are a variety of hair transplants available, including follicular unit extraction (FUE), strip harvesting, and FUT or follicular unit transplantation, individual hair harvesting.
Hair transplantation is a moderately invasive surgery that requires a skilled surgeon and support staff to perform the procedure. Each procedure has its own strengths and weaknesses, so it's important to choose the best option for you.
PRP
PRP (platelet-rich plasma) after a hair transplant is a good option to give faster density and prevent loss of grafted hair. See more on PRP and its benefits.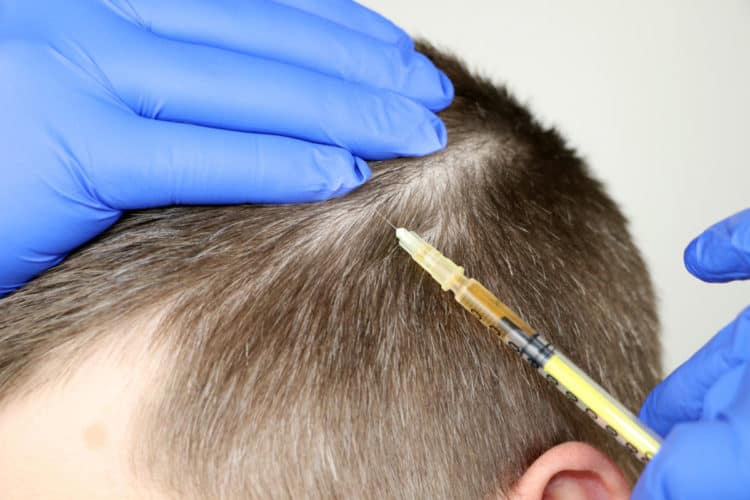 There are several transplant techniques, however, the main transplant methods use the micrograft technique, where the hair follicles are harvested differently. These micrograft techniques are called:
Depending on the coverage you need and what you can afford, these types of transplants may be the right fit and provide great results. We'll explain FUT vs FUE further below…
Hair Transplant Procedure Explained
The first step is to talk to a cosmetic dermatologist and get a consultation. This gives you an idea of how much it will cost based on the amount of grafts and type of grafts available. In addition, you'll have to undergo blood tests to ensure that there are no allergies or complications with anesthesia or the surgery itself.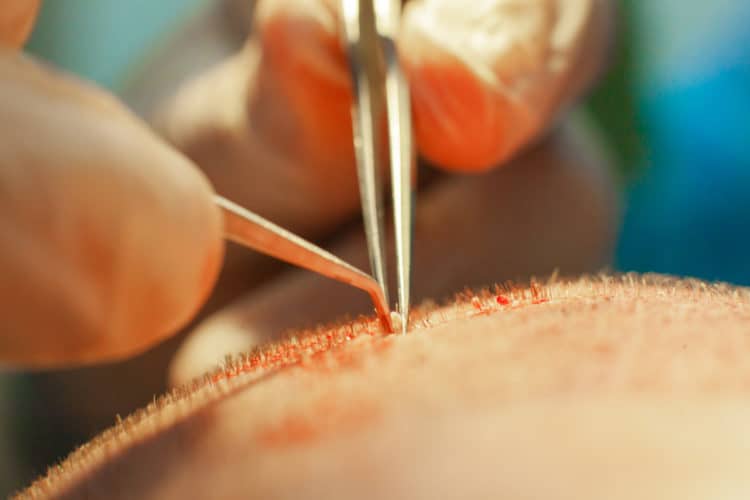 After you have chosen a doctor and have gone through all the preparations, your surgery day will look something like this:
1. Surgery Preparation
Hair transplantation is an invasive surgery, which means that your scalp will have to be thoroughly shaved and cleaned before the procedure.
Your surgeon will use a small needle to administer local anesthesia.
2. Type of Hair Transplant Surgery
There are two main techniques for transplanting hair follicles. These procedures include:
FUT or follicular unit transplantation
FUE or follicular unit extraction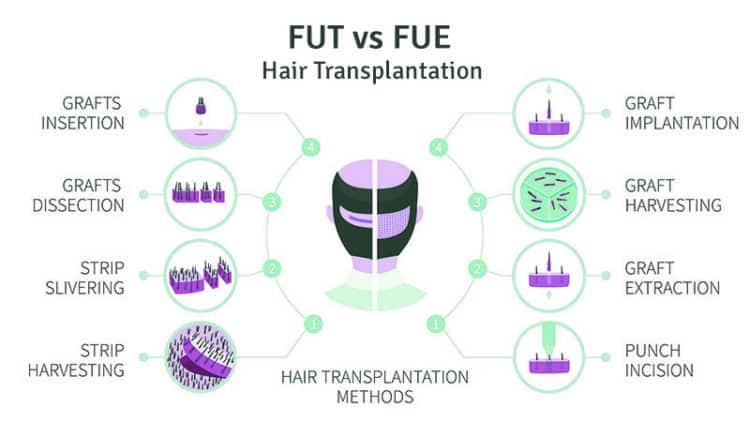 FUT (follicular unit transplantation) Procedure
FUT grafts typically take several thin strips of scalp, mostly from the head or the back area. These grafts typically group 1 to 4 hairs together, which are called "follicular units."
Using a scalpel, the surgeon cuts a small strip of skin from your scalp, normally at the back of your head. The incision is typically over three inches.
The surgeon closes the incision with stitches.
They cut the removed portion of the scalp into tiny sections, using a specialized surgical knife and a magnifying lens.
FUE (follicular unit extraction) Procedure
Another micro graft procedure is called FUE, which is more precise. Individual hair follicles are removed singularly and may come from donor areas, where existing hair follicles are strong and available. The result is a more natural, thicker look. 
Using a special needle or scalpel tool, the surgeon makes hundreds of thousands of tiny incisions. These incisions will be filled with hair follicles later.
One session may include hundreds or thousands of hair follicles.
Gauze and bandages are placed on your scalp as it heals for the next week.
Hair transplant sessions typically take 4-8 hours, depending on how many grafts need to fill thinning areas. Stitches are removed about 10 days after surgery, depending on how well you heal. However, it may take three or more sessions to finish your hair transplantation procedure. These sessions typically are scheduled over a period of three months.
What Happens Post-Op for Hair Transplants?
After a hair transplant, you will likely be prescribed medication for pain management. Your scalp will be painful to the touch, and you may also take antibiotics and anti-inflammatory medications to help with healing and swelling.
Recovery
Most people take off 1 to 2 weeks to recover after a hair transplant. In a normal scenario, transplanted follicles typically fall out about 14 days to 30 days after the procedure. This is expected as it allows for new hair growth.
Results Time
You should see fuller, thicker hair growing after your hair transplant, but it may take up to 8 months for it to look naturally thick and grow long enough for styling.
Doctors may also prescribe minoxidil or another hair growth medication, such as finasteride, to help with hair growth. These medications are also used to prevent hair loss.
Hair Transplant Surgery Complications & Side Effects
Since hair transplantation is an invasive surgery, you will have to go through blood tests to ensure that there are no allergies or existing medical conditions that could cause side effects.
Some side effects of hair transplants include:
Infection
Bleeding
Scalp swelling
Bruising around scalp and eyes
Crust forming around transplanted follicles
Itching
Numbness or no sensation around treated areas of the scalp
Inflammation or infection caused by folliculitis
Unnatural hair patches
How Much Does Hair Transplant Surgery Cost?
This ultimately depends on the reliability of the clinic, type of procedure, coverage needed, and location. Some clinics charge a flat fee while others charge per follicle.
In the US, a typical hair transplant surgery ranges from $4,000 to $20,000. FUT costs a bit less than FUE, but results may be more permanent and natural-looking with FUT.
The key thing to remember is that your surgeon must be an expert, and the clinic should have good reviews before you commit to a consultation. When looking for the right clinic, find a surgeon with several years of experience, before and after photos, and tons of client testimonials.
Do Surgical Hair Transplants Work Long-Term?
Most people who get hair transplants have thicker, fuller hair within 6 months. New hair may be less dense or grow in differently than the rest of your hair. It may curl or have a different color. It's also important to treat hair loss with minoxidil or finasteride to ensure that male pattern hair loss doesn't come back.
Should You Get a Hair Transplant?
Even if you have a receding hairline, you may not need to get a hair transplant. Some hair loss cases can be reversed with medical treatment, or you may simply have a mature hairline.
However, if you seeing bald spots or a severe Widow's Peak, you can regain your hair thickness and even recreate your hairline with hair transplantation.
Start by talking to a doctor. You might look at the American Society for Plastic Surgeons specializing in hair transplantation.
For less invasive options, you might also try: