Scalp Micropigmentation (SMP) is a popular solution for hair loss. But what if you want to reverse it? Welcome to our guide on Scalp Micropigmentation Removal, a topic gaining interest as people seek to understand their options and the potential risks involved.
We've gathered insights from industry experts and the latest research data to provide you with reliable and up-to-date information. You'll learn about the various removal methods, their potential risks, and the factors to consider before deciding on a removal procedure. This knowledge will empower you to make informed decisions about your cosmetic journey.
So, if you're considering reversing your SMP or just curious about the process, this post is for you. We'll explore everything from chemical peels to laser therapy, dermabrasion, and micro-needling. Let's dive in and unravel the intricacies of Scalp Micropigmentation Removal together.
When Is Scalp Micropigmentation Removal Needed?
Scalp micropigmentation removal might be necessary if a client is unhappy with their results, the procedure was done improperly, the pigmentation color has changed, or if they desire a different hairstyle. Licensed professionals use laser technology for safe removal.
1. SMP color turned blue-greenish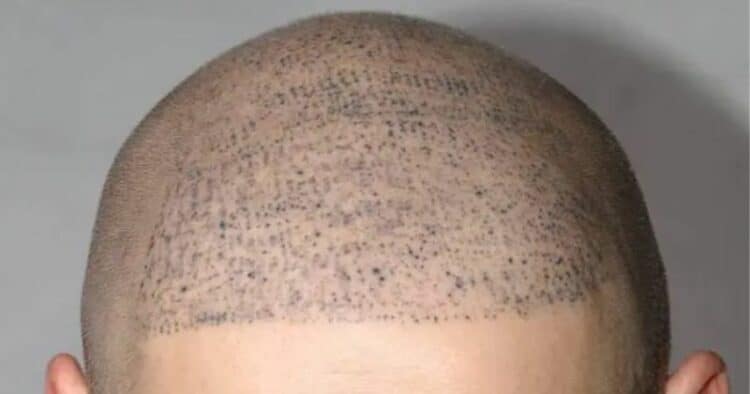 Scalp micropigmentation removal may be necessary when the pigment colors turn blue or greenish. This can happen due to many factors, such as pigments, technique, and excessive sun exposure. The pigments used for SMP are more concentrated than those used for permanent makeup, and they often contain high amounts of carbon that can end up looking blue/greenish/grayish as the body breaks them down.
To remove blue/greenish pigments from scalp micropigmentation, the best option is laser tattoo removal. Laser energy is used to break down the pigments into smaller particles that are absorbed by the body and eliminated.
The number of sessions required for complete removal depends on the pigments' size, age, and colors. It is essential to seek the service of a certified and experienced technician who can perform safe and effective laser tattoo removal.
2. SMP pigment dots have spread
Scalp micropigmentation removal may be needed when the pigment dots have spread for several reasons, including the needle used being too thick, the pigment being injected too deep, or the dots being placed too close together. If the dots have spread in diameter, there is no way to camouflage or correct them, and they must be removed.
Old or failed SMP procedures can also result in pigment colors turning blue and pigment blurring under the skin. This can be due to various factors, including pigments, technique, and excessive sun exposure. Specialized SMP laser removal techniques can help lighten, adjust, or completely remove a less-than-satisfactory SMP job.
3. SMP hairline goes too low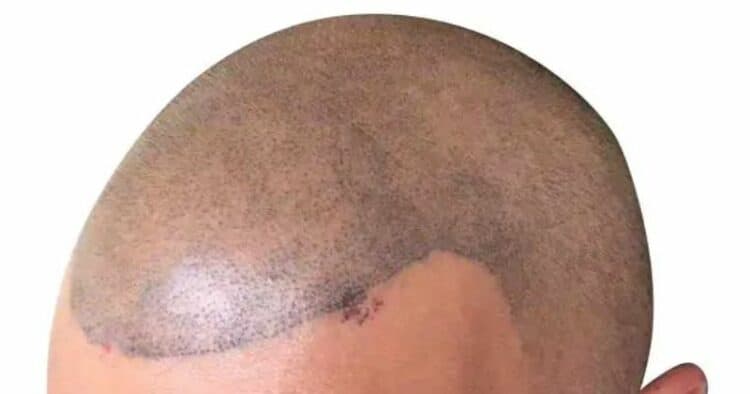 Scalp micropigmentation (SMP) is a procedure that involves tattooing the scalp to create the appearance of a fuller head of hair. One of the most important aspects of SMP is the hairline, which should be carefully measured and placed to maintain a natural-looking appearance. If the SMP hairline goes too low, it can result in an unnatural appearance and difficulty in growing natural hair.
In this situation, specialized laser removal techniques are the fastest way to remove SMP. The Picoway laser is often used to remove the pigments from the scalp, allowing the natural hairline to be restored. Choosing a skilled technician to measure your features properly and visualize the final result to avoid the need for removal is important. However, if the hairline is too low, removal is the only option for correction.
What Scalp Micropigmentation Removal Methods Are Available?
Scalp micropigmentation removal primarily involves the use of laser technology, similar to tattoo removal. It targets the pigmentation and breaks it down, allowing your body to eliminate it naturally. Industry-specific lasers are often used to ensure safety and effectiveness.
Laser Scalp Micropigmentation Removal
The laser scalp micropigmentation removal method is a safe and effective way to remove unwanted scalp pigmentation without damaging the hair follicles. The process involves using an advanced Nd YAG "q-switched" laser with a 1064 wavelength to target the pigment in the marking. The laser emits short pulses of light to break apart the pigment molecules, which are then processed by the body through the lymphatic system.
The procedure typically takes fewer sessions than traditional tattoo removal due to the shallow depth of the ink. The benefits of this method include complete removal without adverse effects on surrounding skin tissue. However, as with any procedure, there are potential risks, such as scarring or hyperpigmentation.
To prepare for the procedure, avoiding sun exposure and certain medications that may increase the risk of bleeding are recommended. A free consultation with a professional can provide specific information on pricing and the number of treatments needed.
Non-Laser Scalp Micropigmentation Removal
Non-laser methods are available for removing scalp micropigmentation. These methods involve using an electric needle device to open up the skin, injecting special solutions into the cuts to dry out and lift the pigment to the skin's surface, and letting it heal to form a scab. Once the scab falls off, the pigment will look significantly faded.
Non-laser methods are suitable for treating smaller problem areas and not for larger areas due to the technique's nature of creating each incision by hand. Most technicians apply a topical anesthetic to minimize discomfort during the needling. Non-laser removal is considered safe if the technician does not go too deep or overwork the skin.
The number of sessions required depends on the pigment ink saturation and application depth, with 4-8 sessions being enough for most clients. Sessions are booked 5-8 weeks apart to allow the skin to heal.
Pros of Scalp Micropigmentation Removal
Scalp micropigmentation removal can be a great option for those dissatisfied with their original treatment. One major advantage is the ability to change hairstyles or hair color without getting the entire head redone.
Additionally, selective removal allows only the micropigmentation you no longer want removed, leaving the rest intact. However, seeking a professional for removal is important to ensure the best possible results. Attempting removal at home can lead to scarring or other complications.
By choosing a reputable professional, you can feel reassured that the process will be safe and effective. Overall, scalp micropigmentation removal offers a chance to correct dissatisfaction with the original treatment and achieve the desired look.
Cons of Scalp Micropigmentation Removal
The process of removing scalp micropigmentation comes with potential risks and drawbacks that should be considered before making a decision. One of the main risks is scarring, which can occur with all removal methods and may vary in severity depending on the individual.
Hypopigmentation, or lightening of the skin's natural pigment, is also a potential risk. Removal methods such as dermabrasion or micro-needling can be uncomfortable and may result in swelling, bruising, and redness in the treated area.
Additionally, activities such as swimming or exercise may need to be restricted during the post-treatment period. Overall, it's important to understand the potential risks and limitations associated with scalp micropigmentation removal before deciding to undergo the procedure.
SMP Removal Risks
Scalp micropigmentation (SMP) removal is a procedure that involves some risks. Using a laser during the removal process can result in burning the scalp and scarring, especially if the equipment is mishandled. That is why consulting with a proven SMP removal professional is important. It is worth noting that laser removal is currently the only viable option to remove ink deposited in the scalp.
Still, if the ink is deposited incorrectly, it may not come out completely even after laser removal has been performed.
Alternative methods are available to help lighten and fade the pigments, but none can completely remove the ink. Saline removal is suitable only for the smallest of areas and can be painful, causing a lot of bleeding. UNDO™ is a safer option than laser removal but is not widely available. It is important to approach SMP removal with a positive mindset and only consider it if it is absolutely necessary.
Conclusion
So there you have it—the fastest and most effective ways to remove scalp micropigmentation. If you're unhappy with your tattoo, consider the methods presented in this guide. Seek trusted professionals to give you more information related to your own SMP.
FAQ
Can You Remove Scalp Micropigmentation?
Yes, scalp micropigmentation can be removed, but it requires multiple sessions and can be uncomfortable and pricey. Laser scalp micropigmentation removal is the most effective method, but in some cases, shadowy residue may remain. It's important to consult with a dermatologist or skin specialist before removing existing scalp micropigmentation.
Selective removal is also possible, which can be helpful if only certain areas need removal. Overall, options are available for removing scalp micropigmentation, but it's important to weigh the potential risks and benefits before deciding.
How much does it cost to remove scalp micropigmentation?
Scalp micropigmentation removal is charged per session, and the price of each session depends on the size of the area treated. The cost can range from $200 to $800 per session, with adjusting the hairline or removing small blowouts starting at $200 and full coverage at $800. The number of sessions required for complete removal typically ranges from 2-3.
The depth of the pigment, the type of pigment used, and the individual's overall health are significant factors in the outcome. The process uses an advanced Nd YAG "q-switched" laser with a 1064 wavelength to target the pigment in the marking. The ink density is typically very low, and the ink depth is shallow, making removal faster than an average laser tattoo removal.
The procedure can accomplish complete removal without adversely impacting the skin tissue surrounding the pigment being targeted. The price starts from $79 per treatment and depends on the size of the treatment area.
Can SMP be completely removed?
Yes, scalp micropigmentation (SMP) can be completely removed, but it is a complex and challenging process. SMP removal is typically done through laser removal procedures, which can be costly and require multiple sessions.
The success of the removal largely depends on the depth of the initial pigment implants and the expertise of the technician who administered the SMP treatment. If the pigment was implanted too deeply, it can result in migration and color changes, which makes the removal process more difficult and uncomfortable.
Additionally, there is a risk of burning and scarring if the laser machines are not properly handled. Overall, it is important to consider the decision to undergo SMP treatment carefully, as removal can be difficult and painful.
How many sessions does it take to remove SMP?
The number of sessions required to remove scalp micropigmentation (SMP) depends on various factors, including the age of the SMP, the density of the pigments used, and the depth of the pigment penetration. Generally, SMP correctly applied to the right depth and using a suitable pigment can be almost completely removed in just one or two laser sessions.
However, if the wrong type of pigments were used, or if the pigments were deposited deeper in the skin, it would be far harder to remove, and it may take up to 8-12 sessions for complete removal. On average, most SMP removal takes 2-3 sessions spaced 6 weeks apart for removal.
Each session can take up to an hour, depending on the surface area, and the cost for SMP removal can range from $200 – $800 per session, depending on the surface area. Choosing a top SMP clinic with favorable reviews and a technician who uses suitable pigments is best to avoid time-consuming and expensive correction sessions.
Can saline be used to remove SMP?
Saline removal can be used to remove small areas or individual blowouts of scalp micropigmentation (SMP). However, it is not a suitable option for larger areas of removal. The process involves using a tattoo machine and salt water to flush out the pigment.
Popular brands for saline removal include Li-FT, A+Ocean, and Botched Ink. It is important to note that there is no conclusive evidence that saline removal is a viable solution for SMP removal. The process can be painful, cause bleeding, and require several sessions to achieve an acceptable result.
It is recommended to consider UNDO™, a less invasive and painful option, or laser removal for larger areas of removal. However, it is important to approach SMP with the understanding that it is intended as a permanent solution, and removal should not be taken lightly.
How do I get rid of SMP naturally?
Removing Scalp Micropigmentation (SMP) naturally isn't simple as it is a semi-permanent procedure. Over time, natural fading may occur due to sun exposure and skin regeneration. However, professional removal using laser technology is typically recommended for quicker results.
Does SMP removal damage hair?
No, Scalp Micropigmentation (SMP) removal does not damage hair. The procedure uses laser technology that targets only the tattooed SMP pigments, ignoring the hair follicles. Therefore, the removal process won't impact your natural hair growth.