If you've been reading about how to get your hair thickness back, you may have stumbled across scalp micro pigmentation pros and cons. These list the best and worst outcomes of the scalp micropigmentation (SMP) procedure that permanently adds the look of hair follicles to your scalp.
For those thinking about SMP, learning what to expect and looking at the results can help determine if it's the right procedure for you. There are many testimonials that share positive experiences with SMP restoration, while others have regrets.
SMP Benefits and Disadvantages
Also known as hair tattoos or hairline tattoos, scalp micro pigmentation pros and cons include positive results and negative side effects, as well as risks of botched procedures.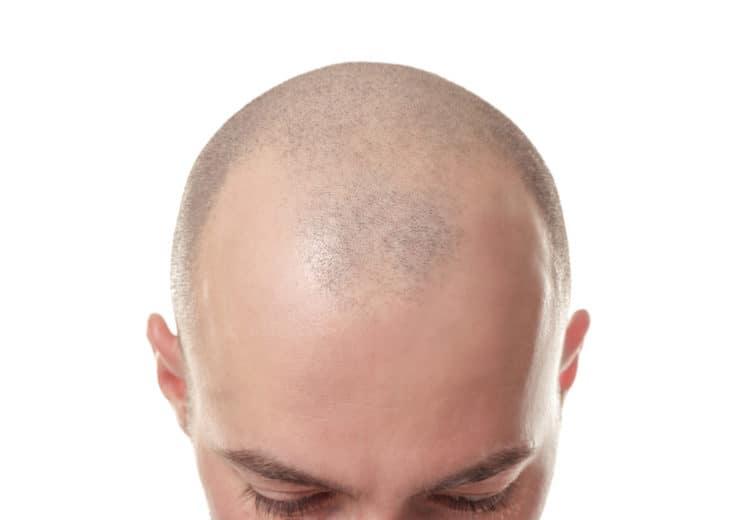 After looking at different studies and side effects, as well as the results and testimonials, here are some advantages and disadvantages of scalp micro pigmentation to consider before undergoing these microneedle injections.
SMP Pros
The Look of Hair Stubble
The biggest benefit of SMP is that it can disguise hair loss and is a permanent solution for hair restoration. It's just like getting a buzz cut, and while it's a scalp procedure treatment, the added thickness and density helps to outweigh the cons against SMP.
Here's what we mean: For men with a shaved head or who are completely bald, scalp micro pigmentation can create a natural stubble look, no matter what degree of hair loss you have. The goal of any scalp micropigmentation clinic is to create a realistic hairline and symmetrical follicles across the scalp so it looks just like a shaved head.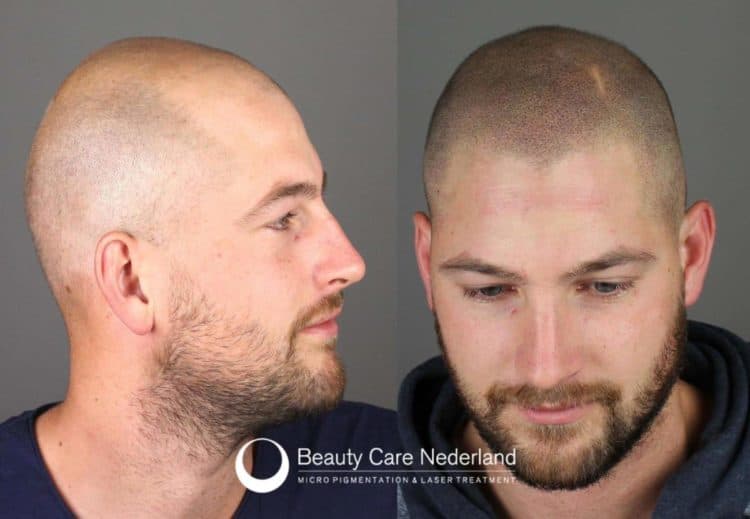 If you are completely bald, hair tattoos provide a comfortable base if you don't like looking bare on top. For men wearing a hairpiece, scalp micropigmentation provides a more realistic hair follicle underneath that can add to the look of an undercut or taper fade haircut.
Thickens Hair and Bald Spots
Many men notice thinning hair in their late 20s and early 30s, progressively losing more hair as they age. If you like your thick hair, scalp micropigmentation tattoos darken your scalp and add thickness underneath your hair to hide bald patches.
Additionally, both men and women get scalp micropigmentation to hide bald spots and reduce the signs of a thinning hairline.
Recreates Your Hairline
You don't have to get a full scalp micropigmentation tattoo in order to get your hairline back. In these cases, the practitioner will draw your natural mature hairline according to the look you want and then fill in with hairline tattoos.
These tattoos cost less as they only cover the area above your forehead and temples, depending on the hairline you choose.
Does Not Require Invasive Surgery
You're not alone if you're afraid to go under the knife for the sake of your hair. Follicular unit transplant procedures, also known as FUT, typically leave a huge scar across the back of your head. While scarring is less with follicular unit extraction or FUE, it's still quite painful and leaves small scars that fade over time.
The downtime of these procedures can be between 7 and 14 days, and your hair may not grow in properly, requiring another procedure.
Cheaper Than a Hair Transplant
Scalp micropigmentation cost depends on how many follicles you want to tattoo. If you choose just to go with a partial hairline tattoo, you'll likely spend between $500 and $1800 per treatment, depending on the region and clinic. However, it costs between $8,000 and $20,000 for a full hair transplant.
Cover Transplant Scars
Best of all, when you combine SMP and hair transplants, you can cover up transplant scars from these procedures, so that your hair looks naturally thick.
SMP Cons
Requires Multiple Treatments
While some clinics may be able to tattoo a partial hairline micropigmentation in a single treatment, it's likely that you'll need between 2 and 3 treatments for a full scalp micropigmentation. Treatments can stack up in cost, and it may be several weeks before you're able to show off the final result.
Permanent Pigments in Your Scalp
SMP is a permanent procedure. While it has less healing time and may be a good idea if you want the look of a shaved head of hair, you may not want permanent hair pigments.
You definitely don't want to get scalp micropigmentation if you won't want a hair tattoo when you're older. While these pigments tend to fade after 8 years, they still stick around underneath your skin.
May Turn Black or Blue
Some of the cheaper pigments used actually may not be the right natural color, creating stubble that's too dark or even discolored. Blue and purple results are the worst, but some customers have reported practitioners using tattoo ink instead of high-quality, natural charcoal gray pigments, which are more natural.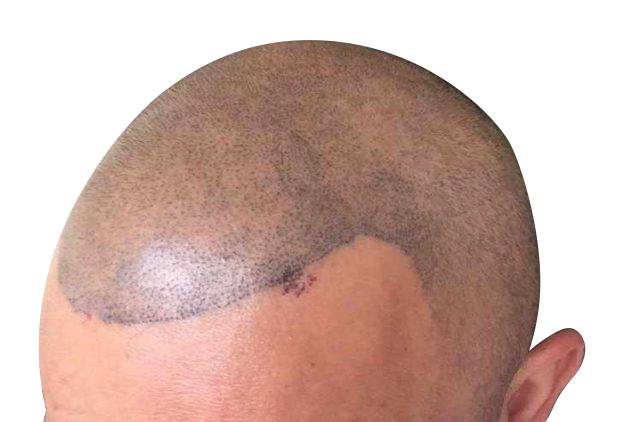 Results Based on Practitioner Experience
If you don't pick the right clinic and practitioner to complete your procedure, you may not like the results. Many botched scalp micropigmentation cases have been reported where needles weren't sterilized or the practitioner wasn't skilled at placing the pigment correctly, leading to strange patches of pigment and other problems.
Dark Pigments May Look Fake
When looking at a scalp micro pigmentation clinic, always check the before and after photos, as well as ask questions about the quality and color of the pigment. Since scalp micropigmentation doesn't use tattoo ink, you should always check that you're receiving the right color to match your skin type.
You definitely don't want a dark stubble appearance if you have light hair. The best color, according to our research, is a dark gray or charcoal color to a lighter gray color, which is typical after your tattoo fades a bit.
Does Not Have the "Stubble" Feel
While you can recreate the look of a shaved head, you won't have the stubble feel. When looking at your scalp up close, you may also be able to tell your tattoo is fake, particularly if you opt for a shiny scalp rather than a matte finish.
Some Moderate Discomfort
Since there are multiple treatments, you'll likely be sitting in a chair for long periods of time as the practitioner injects pigments into your skin.
Typically, you must sit between 1 to 2 hours for a full SMP treatment, and since the practitioner will layer on color for a natural look, you'll need to come back at least 1 to 2 times to complete the procedure.