Does a mustache look good on bald men? We say absolutely and we have the picture to prove it! In our experience, facial hair will balance out a shaved head. Baldness favors the bold, so if you want to try something different, seize the opportunity.
Just like other facial hair styles, a bald man with a mustache is distinguished, and when grown full and thick, it's very masculine. Grooming is the best part about having a mustache style, and with the right tools, you can make your mustache awesome.
Check out the Best Mustache Trimmers – NEW
1. Chevron Mustache
Rolling with that hip 70s vibe, the classic chevron looks good with a bald head.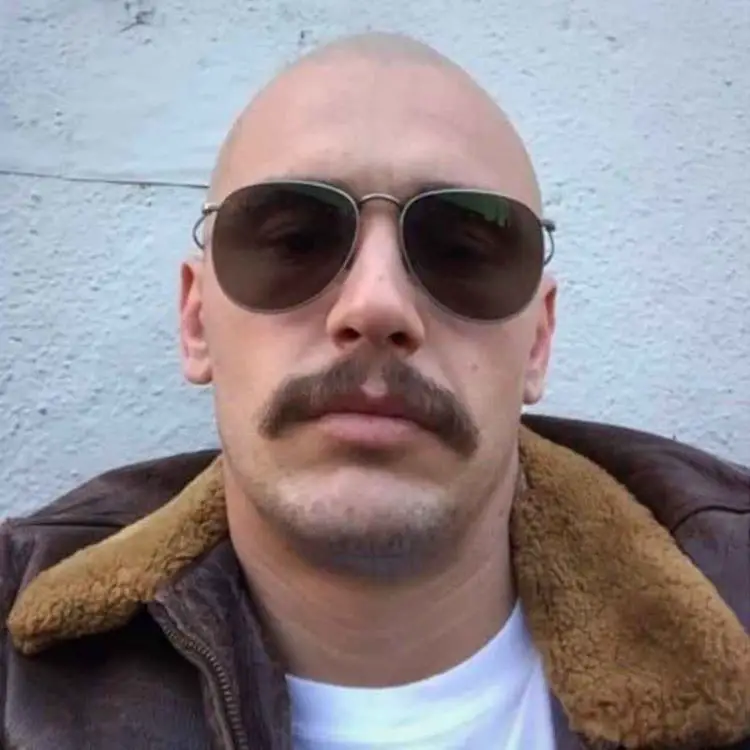 2. Handlebar Mustache
This handlebar mustache is way cool with the bald look. It has an outward twist that's done with a stiff mustache wax.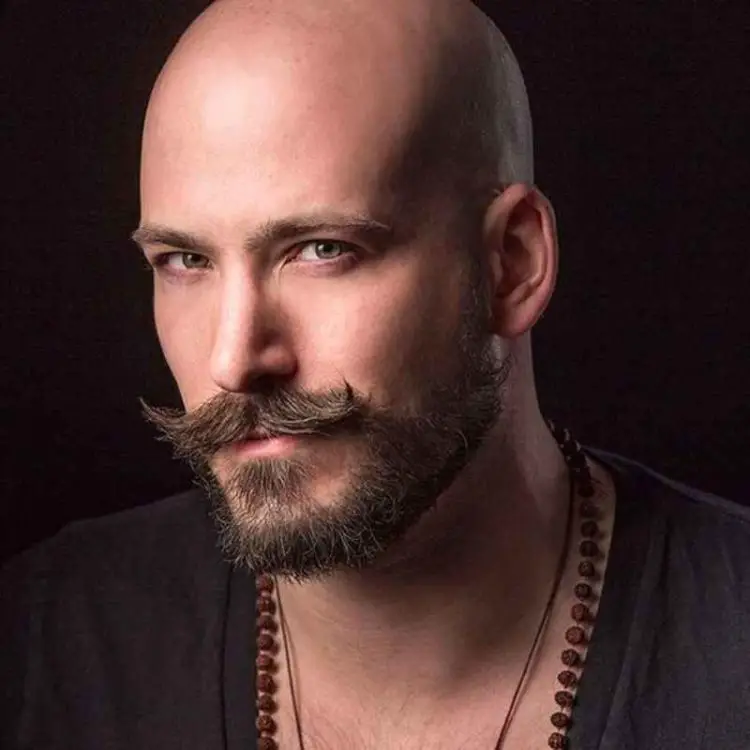 3. Van Dyke
Famous celebrities like Hugh Jackman have sported the bald with Van Dyke mustache style. It's cool and elegant.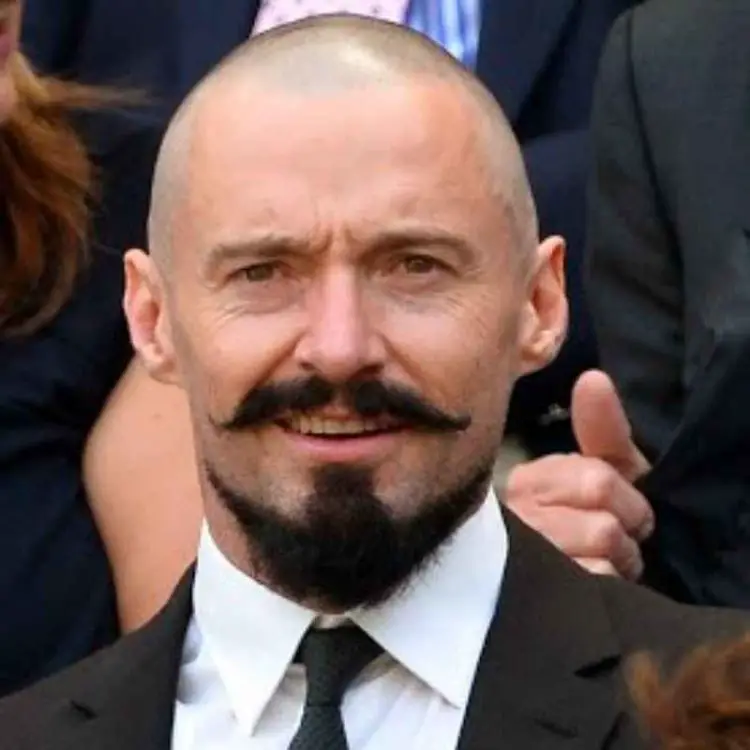 4. The Horseshoe
Just like the name says, this bald mustache is in the shape of a horseshoe with salted gray tips. The horseshoe mustache is thick and manly.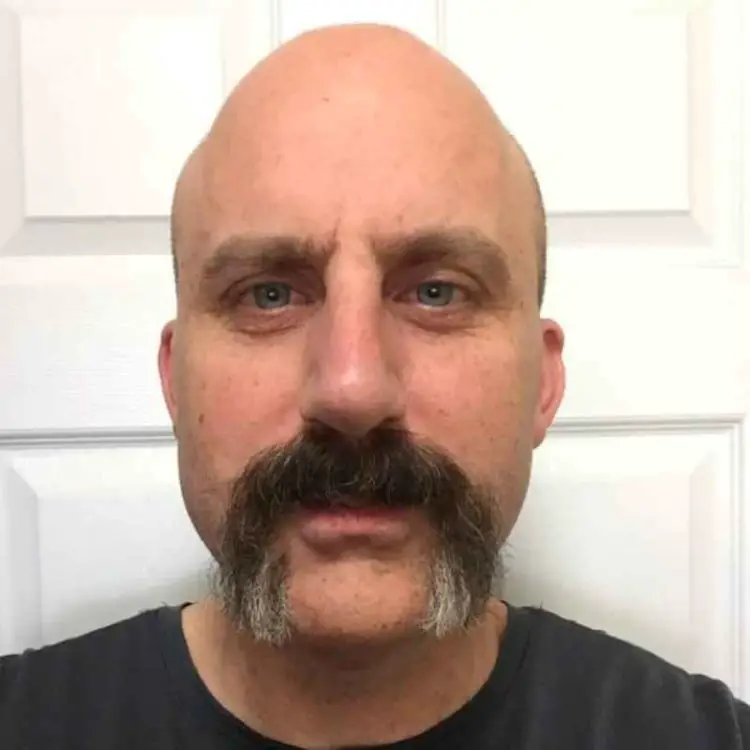 5. The Painter's Brush
Shaped like an old school painter's bush, this is a classic on a bald or shaved head. It has a narrow shape perfect for oval or triangle face shape shapes.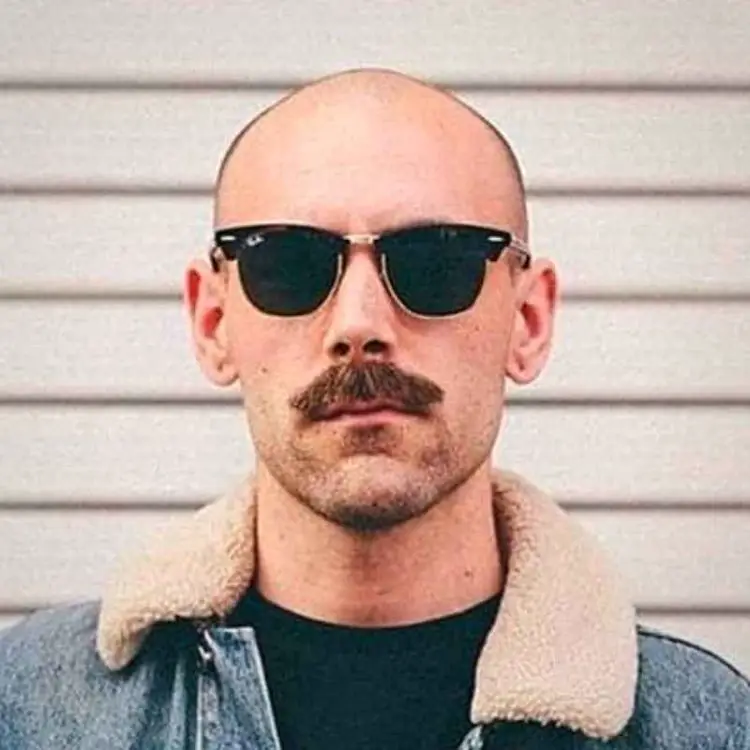 6. Pencil Thin Mustache
OMG the pencil mustache is all class with the bald style. This style will make you look famous!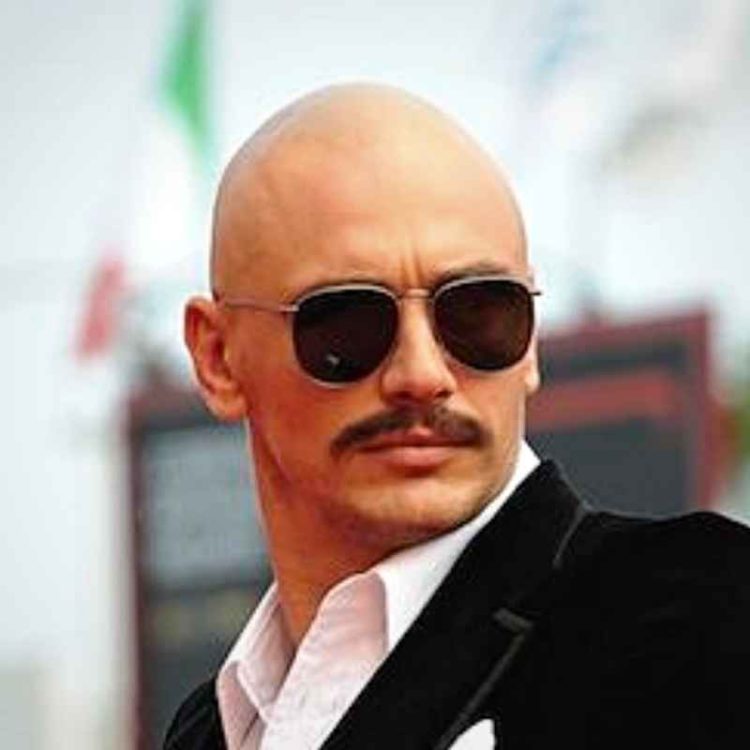 7. Walrus Mustache
Sometimes the bald look needs that unmistakable stache. So do you want the biggest and baddest mustache? The walrus mustache is the call.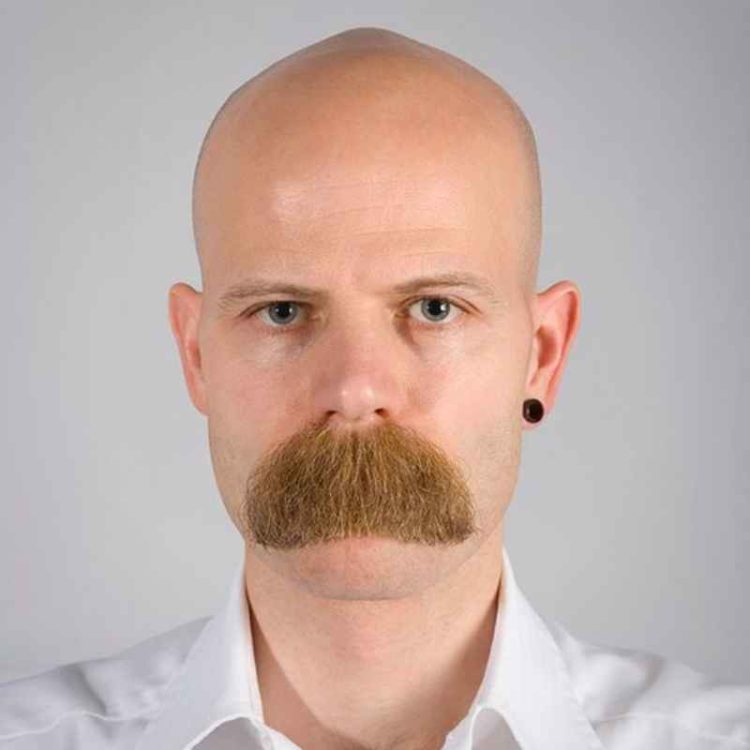 8. French Mustache
How about some old world style for your bald look? The try on the French Mustache. It has whimsical curly ends held up with firm wax.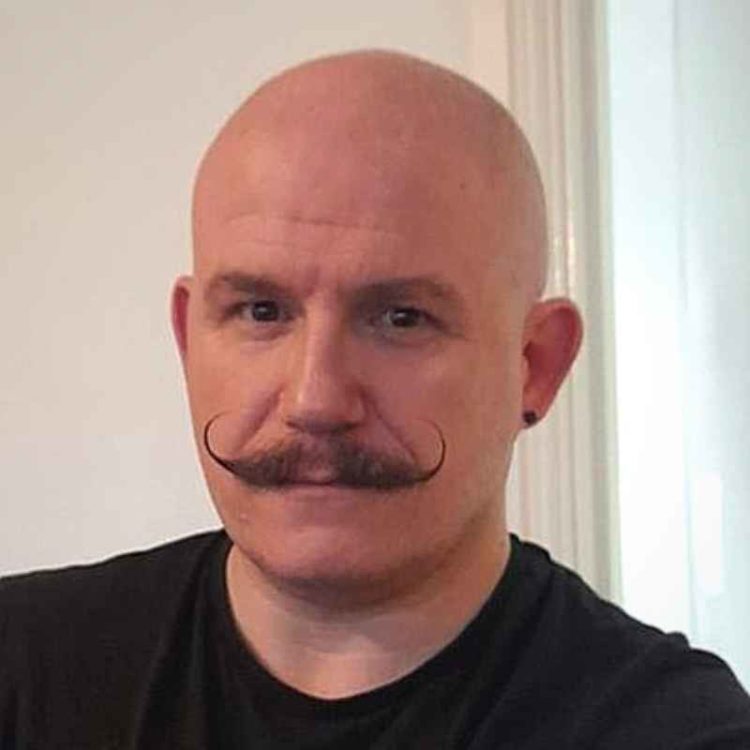 9. Chevron Mustache and Soul Patch
OK this style is baller! This chevron is kicked up with a thick soul patch for extra punch.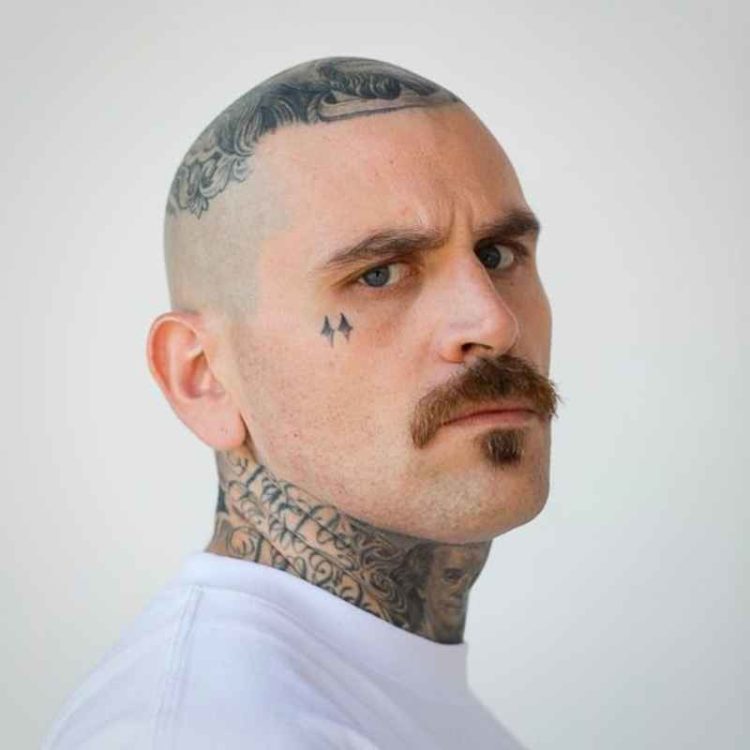 10. Thin Mustache and Goatee
Patchy facial hair make a thin mustache and bald head look good. For added flavor, add a small goatee to complete the look.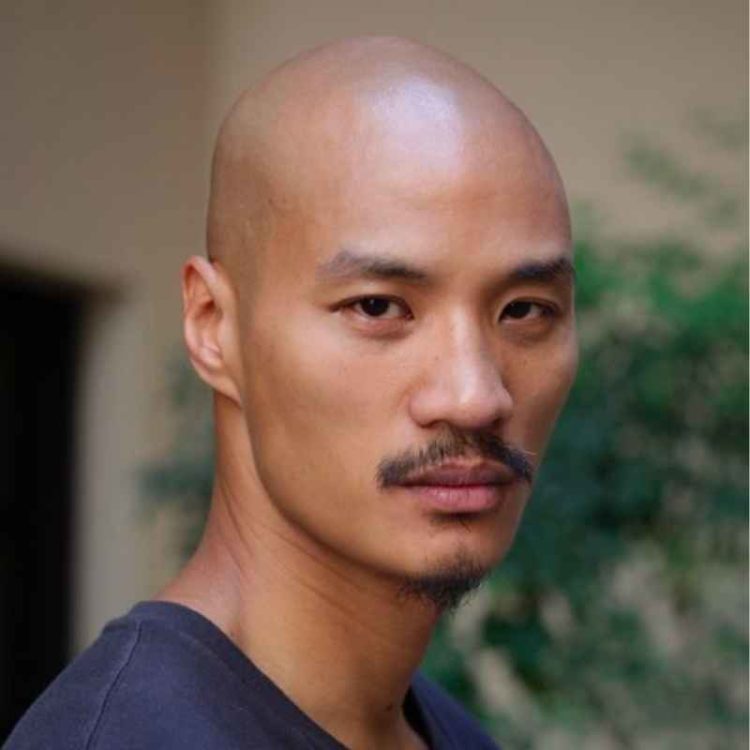 Longer, thicker mustaches look better on bald guys, but like we said earlier, try growing a mustache fitting for your face shape.
Mustache Styling Tips
There are many mustache styles to try with a bald head, but we think the thickest, fullest mustaches balance out the shaved head look. Here are a few handy tips for getting the perfect mustache with a bald head.
Thicker, full mustaches work great
Comb and style your mustache
Use beard oil or balm to make your mustache hair shine
Use an electric trimmer and barber shears to keep it trim
Apply wax to elongate the shape and tamed your style
How to get the Bald Mustache Style
Most guys start growing facial hair without a real plan in mind. That's fine, too! However, when you brush stubble as it grows, there are some who say you can direct hair to grow the way you want.
Perfection isn't necessary here, but picking the right mustache truly adds to your personal style.
Read our complete guide – How to Grow a Mustache
1. Grow Out Your Mustache
Styling a mustache can only happen when the hair is there. Facial hair grows about ¼ an inch every two weeks on average, but it can be faster or slower – as you know, it's mostly about genetics with alopecia.
One thing you can do is use a boar bristle brush on your mustache hair every morning and night. You can also try hair growth creams to sponsor new hair, but they're not always effective. Still, if you're seeing no growth after 3 to 4 weeks, it could be the best way to start.
You may want to look into minoxidil or beard growth shampoos if you need help.
2. Determine Mustache Length & Style
There are so many mustache styles to choose from, but the most basic question of all is how long should your mustache be? There are a few different looks you can try.
3. Groom Your Mustache
Like we said, striving for perfection is torture. However, when you have a bald head, facial hair stands out more. In this case, a quick comb and trim is all that's needed in the morning. When you have the right tools, it becomes effortless to groom your facial hair.
If you have trouble with symmetry, there are mustache templates and guides out there to help you cut your hair perfectly.
Trimming Your Mustache
When it comes time to trimming, start with the outside and move inward. In addition, if you use clippers to cut the overall length, start with a higher guard so you don't accidentally go too far and ruin all of your progress.
You can always trim your mustache more if you need to. When applying a balm, you only need a small dab or less. You can use a narrow-toothed wood comb to spread the balm or oil throughout your mustache hair.
4. Shaving Your Head Bald
Once you have your mustache style in check, you need to finish off by buzzing or shaving your head. Head shaving options include…
Cartridge razor
Safety razor
Straight razor (best left to the barbers)
Electric head shaver