Need to tidy up your mustache? It's easy and quick if using one of the best mustache trimmers. These devices were made with high performance in mind and glide over your hair with ease. You can touch up your mustache in the morning with just two strokes.
We include a full guide to mustache trimmers below and then read through our list of top 5 mustache trimmers with reviews on features, motor power, and value.
What is a Mustache Trimmer?
A mustache trimmer is much like a beard trimmer but with a smaller and more flexible trim head. With some trimmer brands, they're identical products but use the smaller or detail attachments for mustache trimming. 
Check out our Complete Mustache Styles Guide
Mustache Trimmer Buyer's Guide
While everyone's needs are different, the perfect trimmer will have lots of power and a few comb attachments with a cordless option, so it's effortless to use during your routine. 
We outline the features that matter most when picking out the best mustache trimmer for your shaving routine.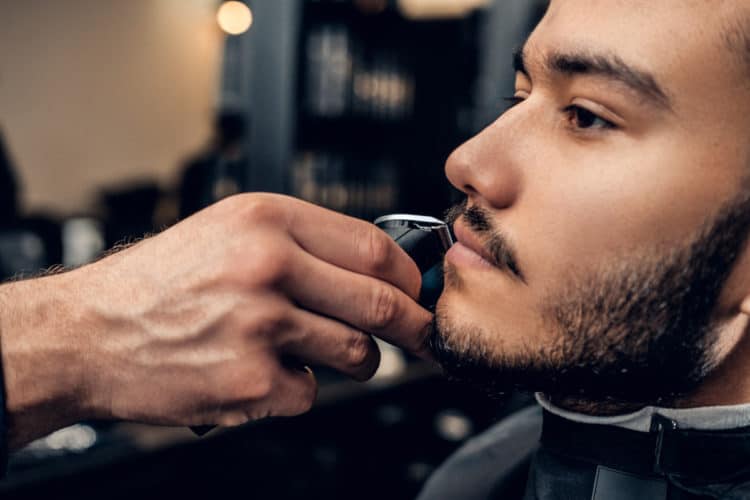 Trimmer Battery Life and Power
The most important thing to check in a shaver is battery type which will affect the life and charging time. Typically, there are three types of batteries in electric trimmers – lithium ion (Li-Ion), nickel cadmium (Ni-CD) and nickel metal hydride (Ni-MH).
Certainly you'll want something that can charge up in a few hours or overnight, then stay fully charged so you get a quick precise trim.
You also don't want something that you have to put back on the charger every time before shaving. The best trimmers will have a lithium ion battery for maximum charge and battery life.
Motor Power/Cutting Power
So how many times will you have to go over one spot to get the right length or clean shave? It's important that you get a mustache trimmer that only requires one pass. You want sharp blades and a powerful motor.
Most trimmers will tell you if they use stainless steel blades, but not all will give you any details about the motor. You'll likely get a trimmer with a pivot motor that has a cutting blade attached to a piston with a magnet. These trimmers typically offer 3000 cuts per minute with a 50 Hz motor.
Design and Ease of Use
Most trimmers have a blade design instead of a foil shaver. High-quality trimmers will include LED displays, self-sharpening blades, precision trimmer attachments, and multiple comb guard lengths.
When talking about the shape of the trimmer, it's the design that needs to feel comfortable in your hand. It should be easy to maneuver with an ergonomic shape that makes edging and lining your mustache very simple.
Comb Attachments and Trimmer Accessories
Most mustache trimmers also include a beard trimmer kit, such as the Philips Norelco beard trimmer with all-in-one attachments. This means that it can work for mustaches, beard trimming, or as a pair of hair clippers.
The best mustache trimmers will come with multiple attachments, making it easy to line, edge, shape, and trim your mustache with various lengths. Most of these attachments help you refine the look of your mustache.
Kits typically include a guide comb for every type of body hair maintenance, so you can use it as a body trimmer or detail trimmer for styling your facial hair. 
Maintenance
While many trimmers will tell you it's "easy to clean," you won't really know about certain products until you use them, so check customer reviews to see if your selected trimmer has difficult parts to remove or rusts easily.
Most trimmers should be easily rinsed out with water, especially if using for a shower shave.
However, mustaches shouldn't be trimmed while wet for the most part. Since they should be shaven while dry, it's best to use shaving cream and rinse the blades afterward.
5 Best Mustache Trimmer Reviews
Choosing the best mustache grooming trimmer depends on the motor power, battery life, and number of attachments, as well as the sharpness of the razor blades. When you have a good mustache trimmer, it should be easy to clean shave, sculpt, and line your mustache style like a pro.