Want to go completely bald? Do you envy men with exceptionally clean-shaven heads? Bald head wax has become popular for men who want a shiny, bald scalp. Head waxing can also work for those who want the ultimate hairless head.
There are two meanings of head waxing. For those who want to moisturize and maintain their bald head, head wax or head polish is applied to make a bald head shine. Second, there are head waxes for hair removal.
We share both bald care methods with before and after pictures for bald head waxing below.
What is Bald Head Waxing?
Bald head waxing is a procedure where hair is thoroughly removed from the scalp using wax, offering an alternative to conventional methods like shaving or balding clippers. Despite being a more painful process, it provides a smoother, more enduring bald appearance, making it a suitable choice for individuals dissatisfied with the outcomes of traditional balding techniques.
Waxing a Bald Head Guide
Whether you're experiencing hair loss or searching for a badass style, the super sleek bald look is in, and there are plenty of ways to get it.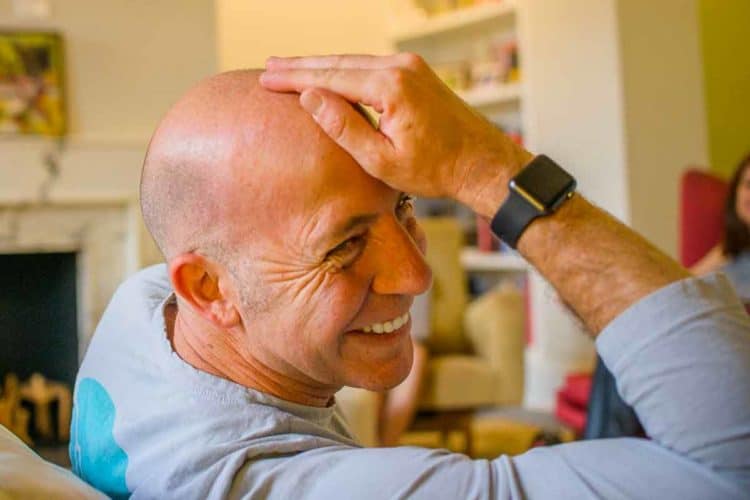 However, many men don't realize that you can still have stubble or a slight shadow if you don't a quality head shaver.
See our Definitive Guide to Hair Removal + Best Methods & Products
Two Methods of Head Waxing
When trying to get the shiniest bald head, you may be thinking about head wax or head polish, but there are also wax hair removal products to get hair free.
Waxing for Shiny Bald Heads
These are wax products made to moisturize and shine a bald head after it's been shaved. Jump to this section.
Waxing for Hair Removal
New hair removal wax has been developed for bald men to remove hair follicles for a truly sleek, smooth scalp. Jump to this section.
Shaving your head does have its limitations. You may not like that it isn't 100% smooth if you don't use the newest razors like a Pitbull by Skull Shaver or Headblade.
There are methods to use head wax and remove hair on your head, but not all methods are recommended due to pain and discomfort.
Waxing a Bald Head for Shine
If you want to make your bald head smoother using wax conditioning products, then using head wax can make your scalp shine with a radiant glow.
Wax products moisturize and condition your follicles, resulting in a beautiful shiny bald head.
To get your shine, first, wash, exfoliate dead skin, and shave. Then you simply need to apply a small dab of wax and massage into your scalp after shaving. For this job, I like all natural "Bee Bald Head Polish" to lock in moisture and soothe sensitive skin.
If you experience bald dandruff, waxing your head can help prevent dry skin and add moisture back into your follicles.
However, a few considerations exist before investing in these wax or pomade products. Overuse of wax may clog pores leading to ingrown hairs and/or scalp acne.
Top Head Waxes for Shine and Conditioning
We recommend a few different products to men who want to get the ultimate smooth scalp with head wax.
Bee Bald Head Polish (my #1 pick)
Woody's Headwax (#2 pick)
After shave pomade
Beard Brotha's Bald Head Balm Moisturizer
Bald Mans Balm
When selecting any of these products, you should look at the ingredients and choose all-natural formulas.
A typical head wax should include some of the following:
Cold-pressed argan oil
Jojoba oil
Shea butter
Cocoa butter
Coconut oil
In addition, you should steer clear of any products with sulfates, petrol chemicals, and alcohol, as this can lead to dry skin.
Head Shaving vs. Head Waxing
The main problem for men is that head shaving takes time, while waxing your head can be pretty painful. However, it may be less painful over time, and you may not require as many wax treatments as your follicles stop growing hair.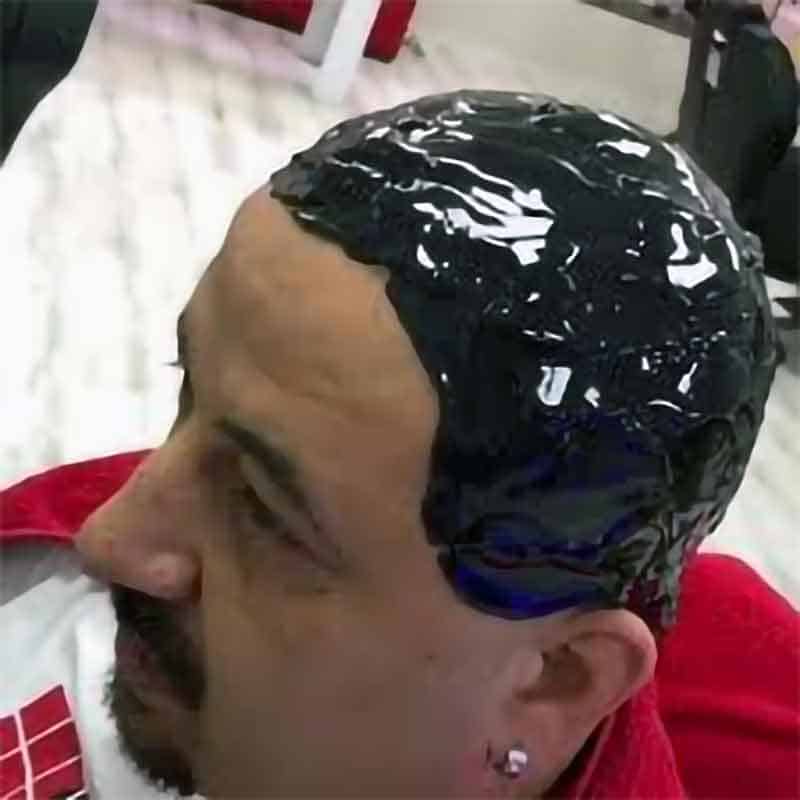 If you were trying to remove hair with wax instead, you might want to look at our Waxing for Hair Removal guide below.
If you want to stick with head shaving, we have the best guide to shaving your head. There are some tips in here to minimize the time it takes to shave your head while still getting that ample glow from applying wax afterward.
If you're worried about the mild waxing discomfort, you might start with a high-quality head shaver instead.
Waxing for Hair Removal
Is waxing your head worth the discomfort? While the actual time it takes to wax a head is short, it can be extremely painful, and you should only do it if you want to remove hair follicles over time permanently.
Wax can be applied with a brush or as an all-in-one mask, as shown by the LADBible video below. Both types of wax will mold to your skin and stick to the hair, which is removed as you peel the wax away.
Waxing your head for hair removal requires a quality wax. Barbero Hard Wax is a natural resin base that makes hair removal easy.
Would You Wax Your Head?
LADBible showed a man getting his head waxed (video), and the 3.2 million people who saw this video probably decided to stick with a head shave.
Some alternatives to head waxing include "sugaring" or threading. See an example of a full facial hair removal below.
FAQs
Does waxing your head last longer than shaving?
Waxing a bald head typically lasts longer than shaving because it removes hair from the root. While shaving typically lasts 1-3 days, waxing can leave a bald head hair-free for up to six weeks, depending on the individual's hair growth rate.
What is the best hair removal for bald head?
The best hair removal for a bald head includes using a high-quality razor with a safety design or an electric shaver made for head shaving. Implement pre-shave oils and shaving creams to reduce irritation, and always finish with a moisturizing aftershave to soothe the scalp.
How do I keep my bald head smooth and shiny?
To keep a bald head smooth and shiny, exfoliate regularly to remove dead skin cells, then moisturize daily to retain hydration. Use a shine-enhancing bald head balm for the glossy effect, and always apply sunscreen to protect the scalp from sun damage.
How do you keep a bald head shaved?
To maintain a shaved bald head, shave regularly with a quality razor or electric shaver. Begin with warm water to open hair follicles, and use a shaving cream or gel. Don't forget to moisturize and protect your scalp from the sun to prevent dryness and sunburn.