Most people don't realize their hair is thinning until bald spots start appearing. Hair loss is gradual and you may think your hair loss is inevitable. However, scientists have been researching biotin for years. Good news, hair growth is possible with biotin.
Biotin or vitamin B7 has been proven to thicken hair and stop hair loss, according to this 2015 study. Patients were given an oral supplement that contained biotin. The other patients were given a placebo. At the end of the trial, digital images showed a significant increase in hair growth in the patients who took the biotin supplements.
That's a good indicator that biotin could work to stop hair thinning and even bring your hair back to life. We go through some reasons why biotin works for hair loss, and how you can change your diet to amp up this nutrient in your body.
What Does Biotin Do For Hair?
Biotin-rich foods and supplements have been taken by people with thinning hair and baldness for many years. There are many benefits and studies that show biotin can truly improve your hair growth, but that's not the only advantage.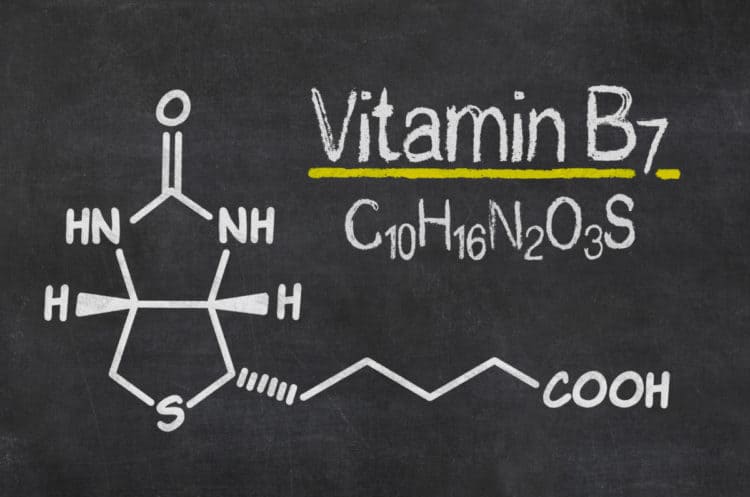 If you have a biotin deficiency, then you may notice that your scalp is scaly and irritated, which leads to hair loss, especially from itching. Taking biotin may lead to a full recovery, if so.
Benefits of Biotin for Hair Growth
Strengthens hair and nails
Improves hair growth in thinning areas
Thickens hair
Reduces inflammation
Improves cognitive abilities
Lowers blood sugar in individuals with diabetes
Improves good HDL cholesterol and decreases bad LDL cholesterol
There have been a few studies on biotin that prove it does work for hair growth. In 2015, a 90-day study of women taking an oral marine protein supplement with biotin showed positive results and less shadding.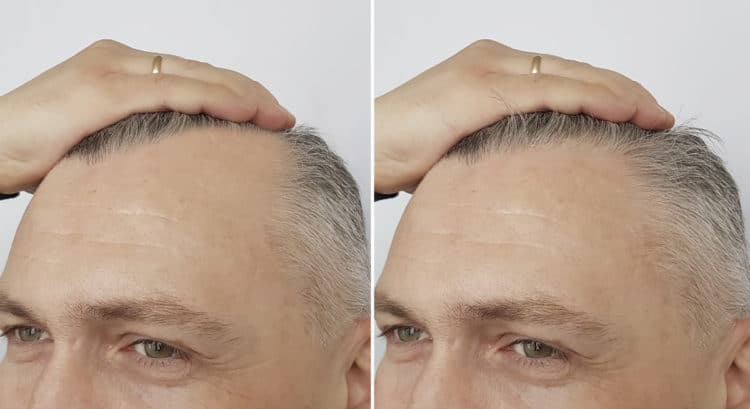 Images of bald spots taken at the beginning of the study were compared to images taken at the end of the 90 days, showing that women who took the biotin supplement had significant hair growth.
Another study in 2012 found the same results after 90 days and more growth after 180 days.
Biotin deficiencies are rare, so it's not something that has a recommended daily value, but it's clear that biotin helps with follicle strength and hair health.
How Does Biotin Help Hair?
It's clear that biotin is essential for hair strength and thickness. Everyone has keratin in their hair, skin and nails. Biotin intake improves the strength of this keratin.
Most of the time, you'll get biotin naturally from what you eat, but if you haven't been paying attention to whether foods have biotin or not, you may not be getting enough.
There are several things you can do to take in more biotin, including:
Get more biotin in your diet, take a look at our biotin for hair loss guide
Take biotin supplements
Just add more egg yolks in your diet, which are the richest form of biotin
Use biotin hair shampoos and hair loss creams
While research on biotin is still ongoing, the current scientific evidence shows that it can renew hair growth.
How Much Biotin Should I Take for Hair Growth?
Biotin deficiency isn't a huge problem. So, you won't find any FDA (Food and Drug Administration) guidelines for the recommended dietary allowance for biotin.
However, experts on nutrition and hair loss suggest the amount of biotin to take is based on age. So, those over the age of 10 need between 30 and 100 mcg daily. NOTE: always seek the advice of a medical professional before starting any regimen.
If supplements seem too concentrated or you'd rather go the natural route, you can get your daily intake from eating the following:
Egg yolks
Almonds
Bananas
Beef liver or kidneys
Soybeans
Cauliflower
Peanuts
Mushrooms
On a side note, recent studies have found that biotin isn't as strong when heated, so if possible, you may want to opt for raw to get the most biotin.
Before changing your diet, you should also check for any allergies to these foods, as that can cause other risks and complications.
Biotin Side Effects
Before starting any new routine, it's best that you consult your doctor and ensure that nothing will harm your health. While biotin is in almost every protein and grain we eat, concentrated forms of anything could cause complications or side effects if you have a medical condition.
Most biotin supplements can be purchased online or over-the-counter and side effects are listed on the bottle. You should always follow the dosage instructions. Some side effects of these supplements include:
Nausea
Diarrhea
Cramping
Headache
These side effects may be reduced or eliminated by taking the supplement with food you eat or opting to eat nuts and bananas rich in natural biotin.
Which Biotin is Best for Hair Growth?
Biotin-Rich Foods
Most dieters who switch to a biotin diet see improvement in their hair. This is mainly due to an increase in egg yolks, bananas, spinach, and other foods rich in B-vitamins.
Biotin Supplements
These are concentrated formulas that typically have more than biotin, but the main goal is to improve hair growth. These supplements may work well, but they could cause side effects if dosage isn't followed properly.
Biotin Shampoos
These hair loss prevention shampoos may condition your hair follicles and improve your scalp's condition if dry and scaly. Results vary between customers.
Biotin Oils and Serums
Many hair loss oils and serums use biotin in their formulas to improve moisture and hair texture. These won't improve your body's biotin intake, but there are positive reviews that show many of these products work really well.