With its odor-free, naturally moisturizing properties, beeswax has become a popular men's grooming product. It's perfect for styling and conditioning hair and beards. Besides its moisturizing properties, beeswax adds shine and protects your hair from the elements.
Pure Beeswax is an alternative natural product, loaded with antioxidants and good for sealing in moisture. Also good for creating hairstyles and taming facial hair with just a small amount of this natural styling product.
Want to create an on-trend look for your hair and beard? We created a guide with tips on how beeswax works and how you can use it to create a new style.
What is Beeswax for Hair?
Beeswax is produced naturally by bees for storing honey. The wax forms honeycomb shapes that are then used to stop honey from spilling everywhere. While there are a variety of hair wax products on the market, there's nothing like naturally sourced beeswax.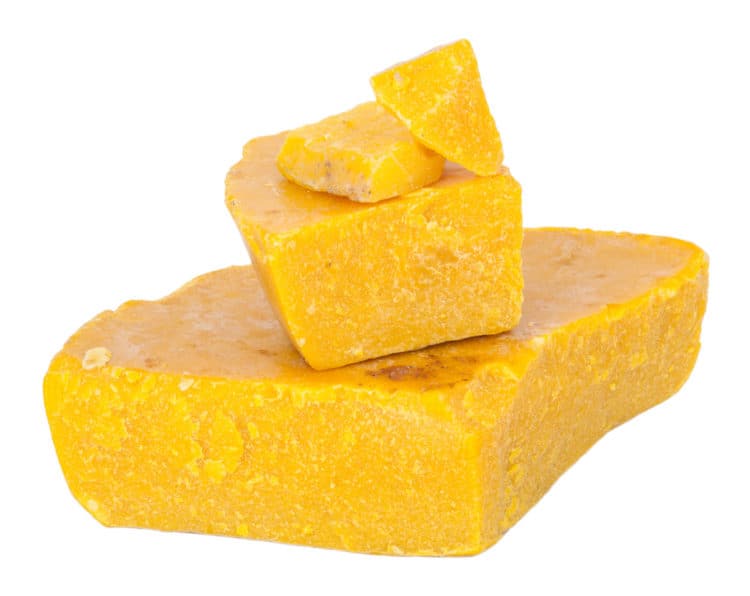 With tons of vitamin A, beeswax is one of the most concentrated moisturizers for your hair, and it has antibacterial properties as well. Many ancient cultures used beeswax for its healing properties, including the Egyptians who used beeswax to treat joint pain, heal wounds, and soothe burns.
In addition, it's less likely to clog your pores or irritating your skin than a chemically formulated wax product.
Murray's 100% Pure Beeswax 4 oz
Provides a stiff wax that is soft and easy to apply
Good for dreadlocks and other styling needs
Beeswax hair wax seals ends Conditions
What Does Beeswax Do to Your Hair?
There are a few different things that beeswax can do for your hair.
Adds Moisture to Dry, Brittle Hair
Because of the vitamin A content, beeswax works well as an overall product to add moisture from root to tip. If you have dry, broken hair or split ends, adding a little beeswax can strengthen your hair.
Smooth Away Flyaways
Do you have problems with frizz and styling your hair once dry? You can use beeswax to smooth away frizz and flyaways. It also keeps your style intact throughout the entire day.
Seal Your Hair
While you should definitely cut your split ends, if you have dry, damaged hair, you could protect it just with a small amount of beeswax. As you work beeswax in your hair, it will also straighten out your kinks and curly ends.
May Help with Dry Scalp and Skin Conditions
There's been some research on the healing benefits of beeswax. It has been shown to soothe dry scalp and get rid of dandruff, but it can also help those suffering from skin conditions like eczema and psoriasis.
For additional benefits and to prevent irritation, mix natural beeswax with your favorite carrier oil before applying.
Does Beeswax Grow Hair?
When using a product like beeswax, it's inevitable that your hair will become stronger and more resilient, but can you actually regrow and thicken hair using this product? One beeswax hair study from 2016 proved that a wax product containing beeswax could increase natural hair length in 30 days.
The product was used every day and resulted in longer, stronger hair for participants. However, the formula included other ingredients, so it's difficult to say whether beeswax was the sole reason for this result.
However, other studies showed that beeswax soothes skin and gets rid of dandruff. One of the main contributing factors for hair loss and thinning is an irritated, itchy scalp. You may be able to save your scalp from further hair loss by applying beeswax to your scalp and hair.
How Do You Use Beeswax on Hair?
The best way to start using beeswax is to simply use a pea-sized amount on your fingertips. You should apply it to your hair just after showering when it's still wet. You can also use beeswax with damp hair.
When using beeswax, you want to stick to some general guidelines:
You need little beeswax to make an impact. In fact, you can apply too much, which may cause chunky, dreaded strands.
Before applying to your hair, you can rub beeswax into your hands so you lightly apply it to each strand you select.
You need not use it every day, especially if you don't wash your hair. This could lead to more product buildup on your head.
How to Get Beeswax Out of Hair
If you use beeswax often, it can be difficult to wash it out of your hair. To remove beeswax, you'll need slightly warm olive oil, a moisturizing shampoo, and conditioner.
Beeswax for Beards
Many men who style their beards with balms and waxes like to use beeswax as an alternative because it makes hair shiny and strong. It's also the best way to style and shape a thick beard. It also works as a sealant to repel grime and dirt.
Beeswax for Dreads
Creating dreadlocks is very easy with beeswax because of how sticky and malleable it is. Beeswax is especially helpful in the beginning because it holds your dreads in place, even when you have hair that wants to completely fall out of your twists and braids.
You can simply separate your hair into sections and apply beeswax, then roll your hair between your palms so it hangs like braids. Each day, you must twist your dreads again in the same direction to keep them from falling out.
Wax also works well for creating beard dreadlocks and sealing beard braids.
Does Beeswax Cause Hair Loss?
There is no direct evidence to support a link between beeswax and hair loss – quite the opposite. However, there are some problems with using beeswax every day, especially if you don't wash your hair. One of the main cons of beeswax is the buildup on your scalp, causing problems for your hair follicles if you don't remove it.
There may also be a sticky residue from beeswax that can start to become noticeable in your hair if you use too much. This causes hair to separate and appear greasy, which could make thinning hair spots more noticeable.
Tips for Using Beeswax for Hair Growth
Try it First
It's best to try out beeswax on a small section of your hair to see how it shapes and styles your hair. You may like the feel, or it may be too shiny and greasy.Beeswax won't work for everyone's hair. You may find that your scalp is already too oily, making it prime for buildup and irritation. Unless you plan to remove each day with a little olive oil, look at a product that easily washes out.
Use a Pea-Sized Amount
You don't need to coat your fingers and hands in beeswax for it to work. Beeswax is smooth and glides over your skin and hair, so you only need a little for it to start working.
Don't Just Wash with Shampoo
To truly remove beeswax, you need something stronger, such as warm olive oil or apple cider vinegar. If you don't remove the wax, it will remain in your hair and continue to build up with each use.
Apply Directly to Scalp for Healing Purposes
Do you have issues with irritation, dry scalp, dandruff, or other problems? You should work beeswax into your hair by directly applying to your scalp, especially to the most irritated areas. Like aloe vera and other healing creams, beeswax can soothe your skin and protect it against further irritation.
Recommended Product
100% Pure Australian
Stiff wax that's soft & easy to apply
Good for dreadlocks, beards & styling
Seals ends & conditions
Comes in 4oz, inexpensive & good reviews