There's no doubt Johnny Depp has had some iconic film roles, besides his celebrity beard style. One characteristic of Johnny's beard is his versatility, despite never growing a full beard.
While there are some roles he changed his beard slightly, he typically maintains a charmingly neat yet thick beard with a mustache. It's slightly different from the equally impressive Tony Stark beard.
It has become a part of his signature look while also making him rugged and debonaire for many roles, such as Captain Jack Sparrow in Pirates of the Caribbean or the well-shaped circle beard. We discuss all of these different Johnny Beard styles below.
What's the Johnny Depp Beard Style?
The Johnny Depp beard is short, neatly kept to the chin, with a mustache over the top lip that does not typically connect around the mouth to his chin hair.
Iconic Beard Styles
Even though Depp consistently updates his look to stay fresh, typically you'll see the actor with a short, minimalist beard around the chin with a slight or thicker mustache. His face shape is also well suited for many goatee styles (below).
Though many of his facial hair styles are different, he sometimes removes the beard entirely depending on his current role. His facial hair typically matches whatever hairstyle he's rocking at the time as well.
As much of a changeling as he is, Depp pulls off rugged to sophisticated and neat beard styles with a light artistic flair.
the Jack Sparrow Beard
The Jack Sparrow Beard is a chin strap beard with a disconnected mustache in a pirate style. Adding to the look, the chin hair has two beard braids adorned with a few beard rings. Typically, this look is accompanied by dreadlock hair and a wide headband.
One of the most iconic looks from Johnny Depp comes from his portrayal of the wily vagabond pirate Jack Sparrow from the Pirates of the Caribbean films.
He defined this character with a plethora of colorful clothes, black hat and boots, rugged demeanor, and, of course, the three-dreaded beard. This beard style calls back to several cultures, including old school Viking pirates who were fans of braids and thick beards.
Need help with styling your facial hair? See our guide to trimming a beard.
To get this look, you'll need:
For those who want to grow out their chin hair and achieve the same beard thickness, here's a quick guide to this iconic look:
Start by growing out your chain hair
You can use a trimmer or shaver to remove hair around the chin, but you want to keep your cheeks and upper jaw lines clean.
Define a longer neckline you're comfortable with
The Johnny Depp beard is grown long down the neck, but you don't have to keep this neck beard if you don't want to. A quick trim of the neckline can give you a more defined look. However, Depp's beard is a little unkempt for this look.
Disconnect the chin hair and mustache
You don't want your mustache hair to connect with your beard for this look. You can also trim the lower lip area to create a soul patch that connects very thinly to the chin hair.
Grow out your chin hair
You want your chin hair to grow about five inches long before styling it if you choose to do so. Some go for the ultimate pirate beard after growing out this hair to include three braids.
After you have styled your Jack Sparrow beard, you will have to maintain the sides and cheek hair, but you may want to allow some hair to the mid-way point of your jawline.
Top Johnny Depp Beard & Mustache Looks
Along with the popular Johnny Depp beard, there are a few more looks that the actor has inspired throughout the years.
To create the artistic looks for many films, he has grown out his beard, trimmed it back, and then grown it again for another role. However, we'll start with the Johnny Depp goatee, since he typically falls back into this facial hairstyle.
Checkout our Johnny Depp Hairstyle Guide
1. The Johnny Depp Goatee
Ever since his first roles, Johnny Depp has often experimented with soft and hard goatee looks. When he is most subtle, he only grows a thick patch of chin hair, a soul patch, and a thin mustache across his upper lip.
However, he doesn't always trim the cheeks to have a super neat or minimalistic beard. In most cases, he keeps the cheeks and jawline trimmed but not completely clean-shaven.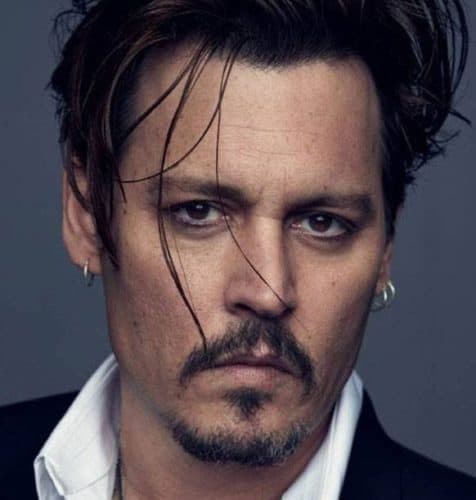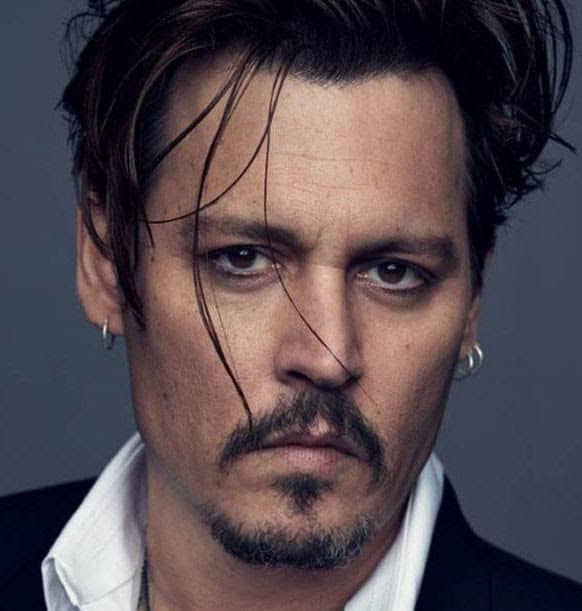 To achieve this look, you'll need the following:
Trimmer or shaver with multiple guards including #1 and #2
Beard brush or comb
Try a precision trimmer to disconnect beard and mustache hair, or clean up stray hairs
Start by doing an all-over trim if you have a lot of facial hair
The key to Johnny Depp's goatee is that it's minimal and light on hair. You don't want to have any bushy sideburns or lots of thick hair along the jawline.
Trim your mustache
The goatee has a thin mustache that just barely covers the upper lip. It's slightly longer over the left and right corners of the mouth. You should be careful and use a precision trimmer to clean up this area.
Keep the hair clean-shaven to short on the cheeks
Johnny Depp goes back and forth on how clean he wants to be with his goatee. Most of the time his cheeks are sparse of hair, but you will notice a gradual fade from the chin hair up the jawline.
Use a #2 or #3 guard to trim around the edges
To get this somewhat messy but minimalist goatee, you can fade out the beard hair along the neck and jawline using different combs or trim guards.
2. The Circle Beard Goatee
This is another take on his regular minimalist goatee look. In this style, Depp connects the hair between his mustache and beard for a thicker, fuller "circle" goatee.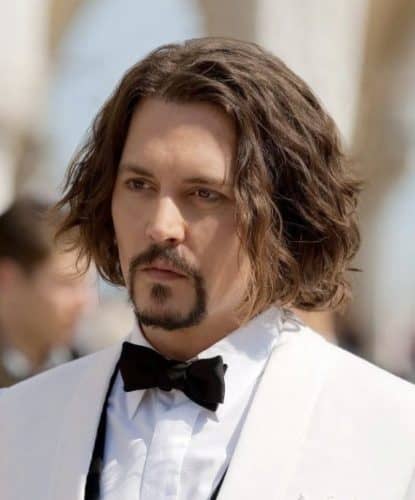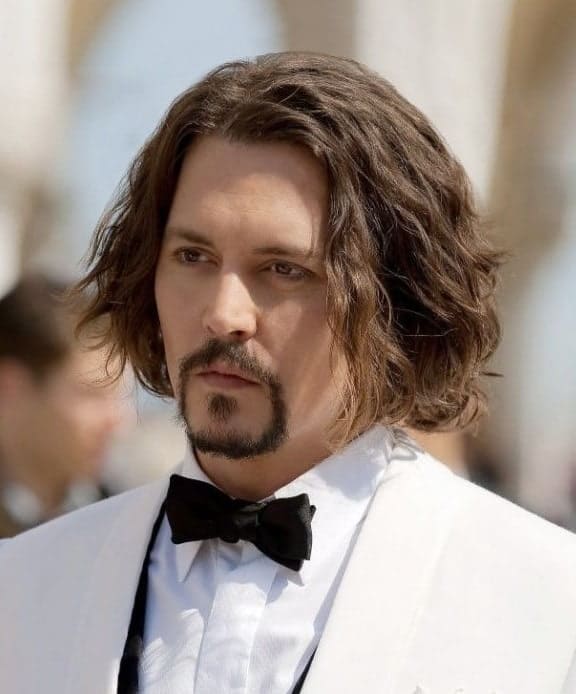 Use a beard shaper for precise lines
The key to this beard style is shaving a symmetrical and thick circle around the mouth and chin. You don't want to give yourself an awkward neckline, so it's best to grow the hair thick along the chin and down to the top of your Adam's apple before trimming.
Clean up your neckline and jawline carefully
This look is very clean-shaven around the defined goatee. His lower jaw and cheeks are free of any hair in this look, so you'll want to use a clean razor or trimmer with a guard to get this super clean look.
Be precise inside the soul patch
Depp always sports a pretty thick soul patch just underneath his lower lip. In this beard style, you'll need to take care to trim around the patch and the chin hair, leaving only a centimeter of space between the two.
3. The Van Dyke Depp Beard
This style always turns heads because it's rugged and a bit unkempt. It works well for those dealing with a patchy beard as long as you can grow some thick mustache and chin hair. Like his regular goatee look, this one is defined by a neckline, more hair along the jaw that fades into sideburns, and a thick mustache.
Start with a #1 to trim the neckline
The Van Dyke Beard is defined by hair that grows down the neck a little bit past the Adam's apple. However, it's not a full thick beard. Instead, it's trimmed with a #1 or #2 guard. In addition, the neckline is wider and goes up the jaw to the midway point.
Fade your jawline to sideburns
The hair is thicker on the chin and slowly fades as you go up the jaw on both sides. There is about a one-inch space of skin between the sideburns and beard hair.
Use a precision trimmer for a mustache and soul patch
You want to trim up the hair around the point of the chin, mouth, and cheeks. These hairs have minimal to sparing stubble for those who want to go a bit more rugged with their look.
4. Depp Royale Beard
Most of Depp's looks start off with a goatee that he trims up for a neater, cleaner look. For his royale beard look or Grindelwald role, he chose a very mustache, small soul patch, and super-trimmed chin hair.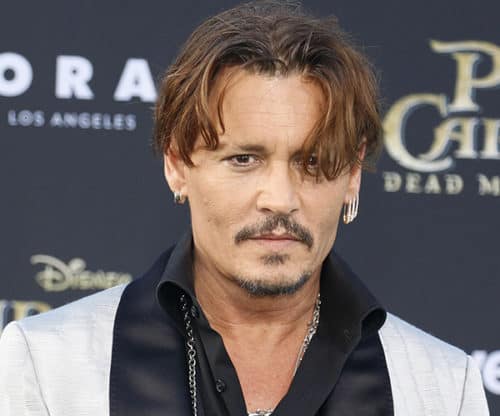 Trim and shape a thinner mustache
You should start this step by combing out your mustache and then using a precision trimmer or razor to shape the mustache along the upper lip. The ends of the mustache should be level with the corners of your mouth.
Create a smaller soul patch
Using a #2 or #3 guard, you can trim down the soul patch until it just defines the middle of your bottom lip.
Shave down your chin hair
While Depp still has a rather thick patch of hair to cover the point of his chin, he styles it very short and neat along the underside of his chin, fading it up the jawline to clean cheeks. The sideburns are also removed.
5. The Tourist Beard
For those with longer hair who want to grow out the goatee a bit, this look is for you. This style combines a mustache and beard, connecting the two and growing the hair thicker along the jawline. This is definitely a look that must be maintained as Depp's beard is pretty trim and clean despite its thickness in The Tourist.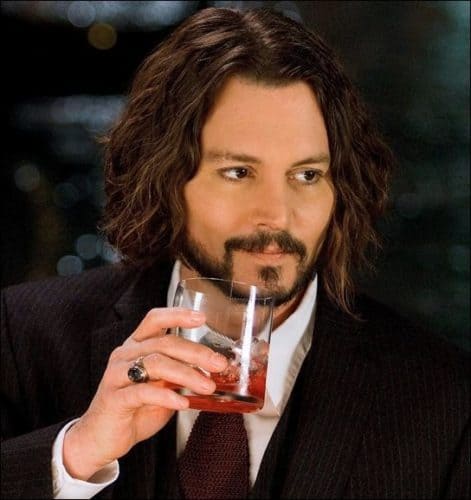 Grow out the hair along your chin and jawline
Depp's beard hair is much thicker in this role. He allows some hair to grow up to the hollows of his cheeks. In addition, his soul patch and chin hair are thinly connected in this look. His mustache also connects to his beard with thin but thick lines of hair around the mouth.
Use an electric razor without a guard to keep angles
This beard has a number of angles, so you may want to use a beard shaper to get the precise corners of the mouth and along the jawline. There's a slight fade along the jawline up to the cheeks, which you can use a #1 or #2 guard to do.
Comb and apply beard oil to keep this beard looking professional
The Tourist look is all about a super sleek yet rugged man who has beautiful, shining hair. To get that pristine look, you can use a beard comb or brush to keep your hair shiny and soft, then apply a beard oil or balm to make it truly shine.
6. Light Stubble
One of Depp's looks almost appears clean-shaven from far away, but this is just his clever use of sparse stubble. While this look may just naturally happen as you go from clean-shaven to sporting a full goatee, you can shave down with a #1 guard along with the mustache and chin hair, while keeping your cheeks and jaw relatively free of hair.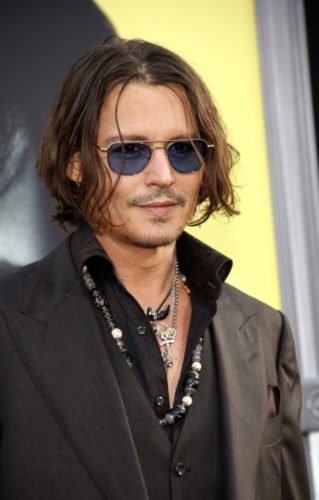 7. Patchy Chic Beard
This is a style that you should try if you are having trouble with growing out a thick beard. Depp typically has a mustache, soul patch, and a thick patch of chin hair. However, when he was growing a patchy beard, he allowed some sparse hair to grow in the hollows of his cheeks.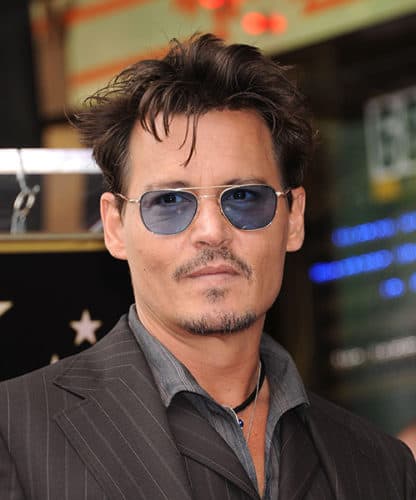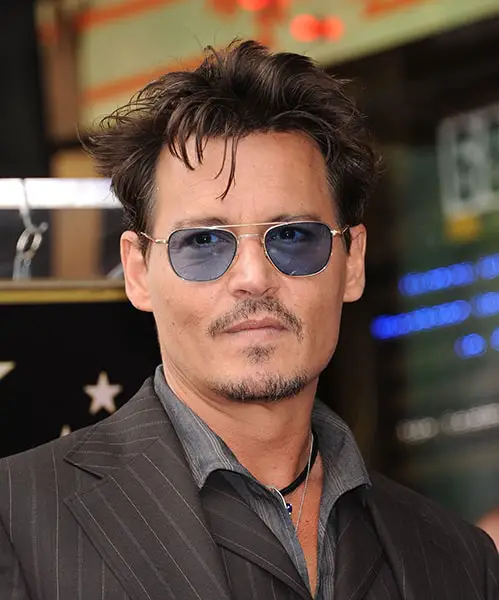 You can use a trimmer or electric razor with a #2 or #3 guard to shave down the hair in between your jaw and hollowed cheeks, but you'll continue to grow hair out on your chin and mustache.
8. Johnny Depp Mustache
Johnny has a unique look from his on-screen characters to off-screen persona that displays his facial hair style.
Johnny Depp's mustache is most often paired with a goatee, gently following the contour of his upper lip. Johnny typically prefers a mustache disconnected from other facial hair and follows a certain growing pattern. In the movie ""Mortdecai", Depp shows off a stellar handlebar mustache.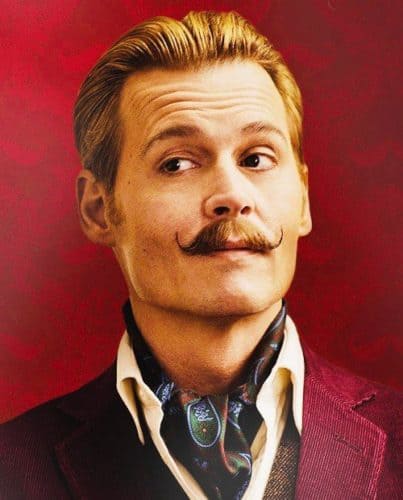 Many of these goatee and mustache styles sport different lengths to achieve the various looks. However, above you'll see Depp's mustache only look, which is rare.