Are you thinking of what a beard fade might look like? Adding a fade to your beard style is a great way to boost your look.
The beard fade has become the "on trend" standard for the modern barber. The unique blending technique creates a smooth transition between different facial hair lengths, giving beards a sleek look.
Beard trimmers and facial scissors can help you blend out hair along your ears and temples to get the faded style. Learn more about how to do it and select the best style for yourself. Keep reading.
How to Rock a Trendy Beard Fade
The fade is one of the central techniques to being a barber these days. Everyone wants a faded haircut. This look involves knowing how to transition expertly between hair of varying lengths.
A similar technique with men's haircuts, faded looks typically have long hair at the top, with shorter hair on the sides blending down to a bald fade.
When done right, this ultra-neat, smooth shaven look is quite precise and adds contrast to a long beard. However, you can have both using the faded beard technique.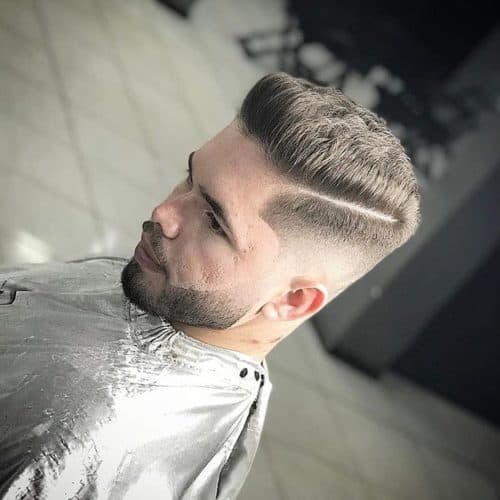 Full Beard vs Faded Beard
Many view beards as a symbol of masculinity, and for those who can grow a thick beard, then you may want to wear it with a fade hair style. The contrast between a smooth taper fade haircut and a longer beard makes for an on-trend facial hair style.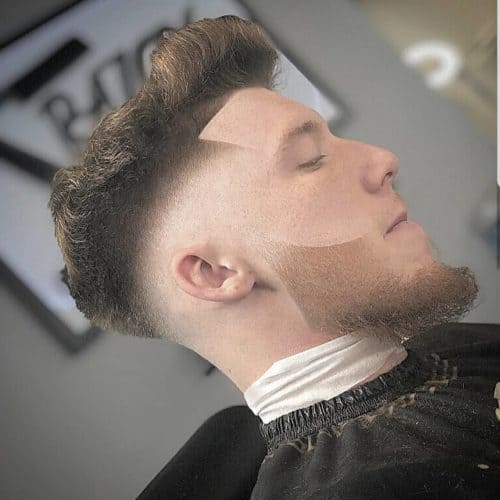 However, massive beards also take a lot of brushing and cleaning, along with regular maintenance. They may not be welcome in certain office environments, and there are ways to shape a longer beard to your advantage. Faded beard styles are polished and blend into stylish looks, perfect for a manicured yet masculine look.
Should You Get a Faded Beard?
There are some things that may be difficult to maintain with a faded beard style. For one, it's a sharper, more precise look that has angles and lines. These will need to be maintained with a beard grooming kit or a trip to the barber. You'll need to keep up with your fade every few days so that stray hairs don't ruin the precision look.
In addition, fading a beard doesn't always work, especially if you have a patchy beard with significant bald patches. While some barbers can fade out a beard if it's patchy around the hollows of your cheeks, it's more difficult with thinning hair near your jawline.
Can You Fade a Beard on Your Own?
Yes, there are ways to maintain a fade and even get so good that you can do it on your own with certain tools. The important part is that you have a steady hand and a good razor. However, barbers are trained to get as precise as possible, so if you want to start off with the best fade, visit a known professional who can create a new, faded look for you.
If you want to maintain or fade the beard yourself, these are some tools you'll need:
How Can I Fade My Beard?
1. Clean and Exfoliate
The first thing you should do before you fade your beard is to exfoliate and clean. It should be free of any debris or extra oils. There are beard shampoos and beard oils that can help you get smooth, soft beard hair. You don't want your razor or scissors to get caught on any knots.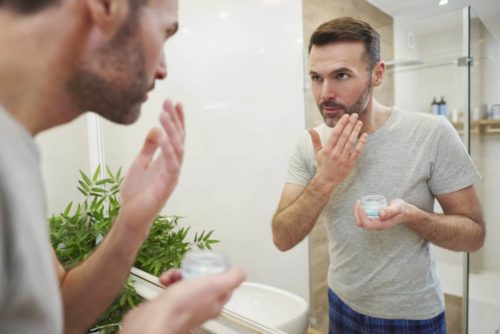 Once clean and properly conditioned, your beard is ready for a trim. You can use clippers with no grade, beginning with the underside of your chin and trimming to the length you desire. This takes care of the shape of your beard and minimizes stray hairs.
2. Start Trimming
The second step involves using the right trimmer setting. I like the grade #2 or 6 mm guard. You'll start at the ear and work down to the chin, removing excess hair.
You should ensure that you're moving away from the face as you approach the jawline. With the trimmer, you'll move around the edges of your beard, removing all strays and excess fuzz.
Then clean and trim your neckline, measuring 1 – 2 fingers up from your Adam's Apple.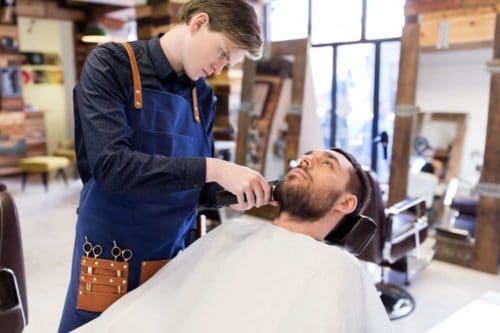 Ready for the fade? So it's often an excellent idea to have a barber do your fade for the first time, but if you want to try it on your own, the next part is a little tricky.
Set Your Guides
You can set your clippers to 0 with no grade and start at where your ear connects to your head, then go to the middle of the ear, shaving down about 10 mm on both sides of the face.
After that, you can create a second and third guide above and below the 0 line with a grade of 1 or a 3 mm. You can then change the blades to a 1.5 or 4.5 mm and blend the lines between grades 1 and 2.
3. Remove the Gaurd
Finally, use a shorter setting. You'll take the guard off and change the blades to a 0.5 or 1.5 mm. Now you'll trim your beard between 0 and 1 on both sides. If you don't like the edges, you can use your razor to trim them back as much as you need.
What Type of Faded Beard Style is Best?
If you want to let a professional barber fade to your beard, you're not alone. Many guys ask for a fade when they have a beard just growing in or when they went to trim up a larger, bushier beard.
The following looks are the most popular for men who want a beard style that's faded.
Long Faded Beard
If you have a long Gandalf beard (AKA a Yeard), you can still get a fade without undoing the rugged look. These looks pair a precision fade above the ear with a long beard. Here, you'll maintain the thickness and length of beard hair.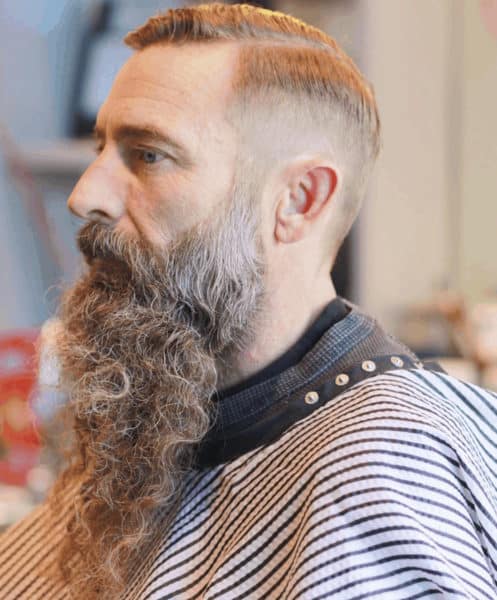 The goal is to maintain a longer beard past the chin while it slowly shifts into a fade at the hinge of your jaw up past the ear.
You can keep this look in between barber visits by using facial scissors to trim up around your cheeks. However, with a beard shaper or guide, you could shave this fade on your own.
Mid-Length Faded Beard Styles
This is a shorter beard shape that looks a bit more neat. You'll get clean lines at the cheekbones and along the jawline.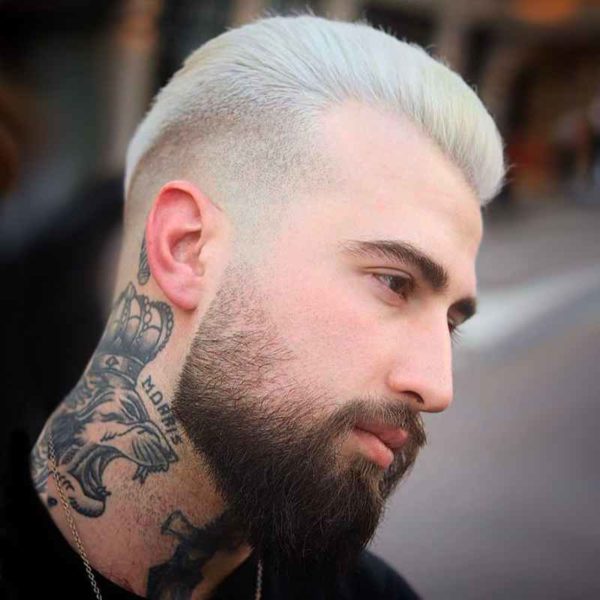 The beard remains short under the chin. On the sides, you may go for a lower 0 or 1 fade. In some cases, you may want there to be a complete bald fade just above the ear.
Short Faded Beard Styles
Big beards don't always have the appeal if you like your facial hair cropped and neat. Barbers tend to fade in longer hair to stubble. You may want a heavier fade, taking the 0 guard down to the bottom of the air and blending to your beard from that point. Short beards have strong lines under the cheekbones and along the jaw (cheek line).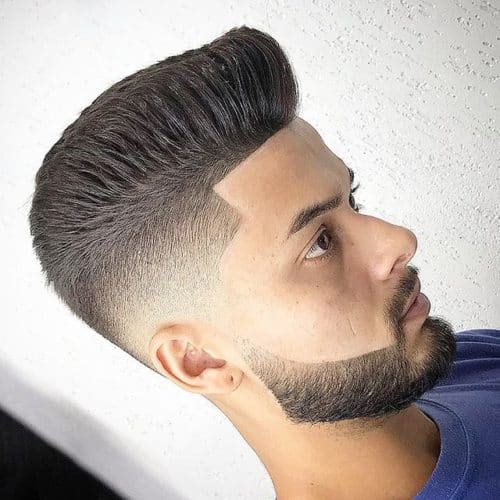 This beard takes a little more maintenance, so you should invest in a beard trimmer and facial trimmers for a touch-up in-between trims.
Tapered Fade
The taper fade style is sometimes referred to as the layered fade and has a more subtle transition from the thick hair while still looking trendy.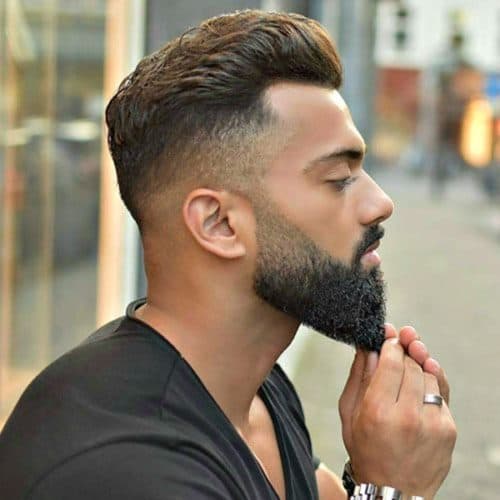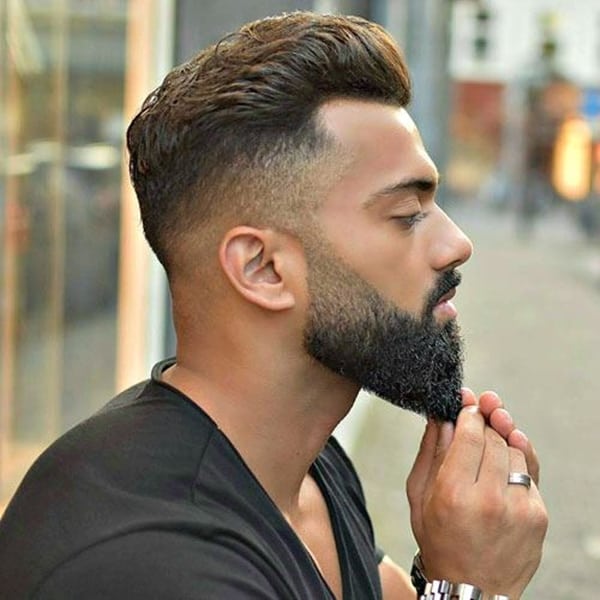 Wrapping Up: Should You Fade Your Beard?
Most men today have gotten a fade or want to get one. This is because they add a super clean and stylized look to your beard.
When you have a longer beard but little to no hair on top, then you may want a fade to show off your precision style. In other cases, it's fun to blend your beard on the sides and add in clean lines to define your particular look.