The bald fade is a men's fade hairstyle that's been trending since finding popularity in the later 2000s. Men prefer this stylish look's sleek, sharp, yet blended edges. If you want a fresh, impressive haircut, the fade offers a unique look to highlight your best features.
Resembling a common military style haircut, a Bald Fade Haircut is cut short on top and then blended with a skin fade on each side and the back. This masculine look is the perfect balance between style and low maintenance.
Of course, some bald cut fades are more difficult to achieve than others. Whether you want a simple, new look or a striking design, these are some of the men's hottest skin fade hairstyles. Find out more below.
Men's Bald Fade Haircut Guide
The fade is also known as the skin fade. This means it cuts down to the skin. As other fades, you can choose whether you want a low, medium, or high cut. You can add a fade to almost any hairstyle, but it always has a certain edge and fresh shape, making it so stylish.
The fade is most recognizable when men have bald to short sides or back with a longer length on top. The fade refers to how the hair transitions from clean skin to hair at various lengths. An excellent fade smooth when viewed up close, showing an obvious gradual increase in length. This striking style has several options and unique design variations.
Bald Fade vs Skin Fade
Some people refer to a fade as a "bald fade," whereas others call it a "bald fade". So what's the difference? The good news for you is there isn't a difference at all.
They both mean the same thing, and you can use them interchangeably. So, you can use either term with your barber or stylist, and you'll get the same look.
How These Fades are Cut
This skin fade is created with precise razor-sharp blades. You'll probably visit a barber who uses clippers with a guard to remove most of your hair on the sides and at the back of your neck to achieve this look. The next step involves shaving the baseline around your head. This line and all the hair underneath are completely shaven down to the scalp.
With different clipper sizes, your barber creates the fade by gradually moving up your head. This gradual fade should be a smooth transition, so you see the skin at the bottom and have a fuller length of hair on top. When done correctly, this transition is completely smooth and hardly noticeable where the fade ends.
Hottest Bald Skin Fade Haircuts for Men
Ready to try the fade? When you head to the barber, these are some haircuts you can request. You should check with your barber first to see how they think your selection will work with your face shape and hair length.
1. Comb Over Fade
This mid or high bald fade offers a flattering comb over hairstyle for those with a wide face. Round or diamond shape faces work well with this fade because it doesn't add any width or open space, especially around the temples. You can use this fade with any haircut type, but it often looks best with a side part and beard.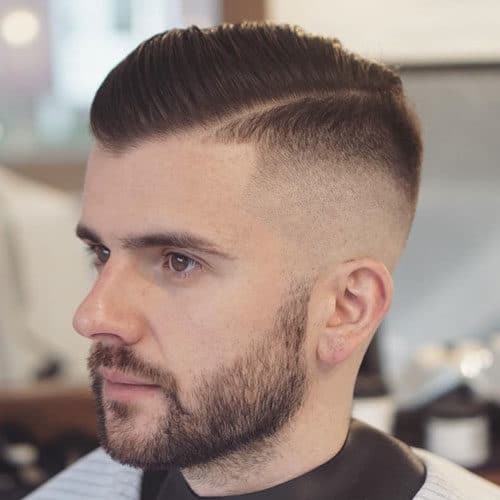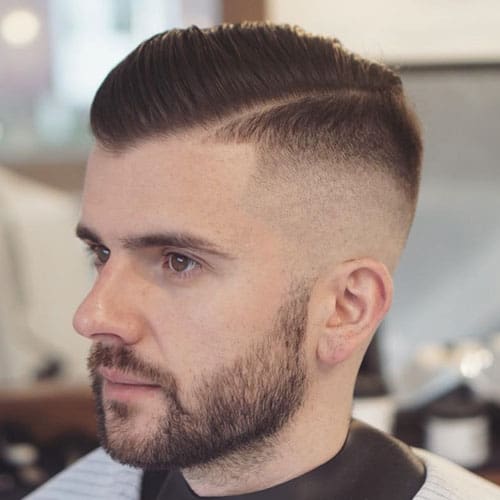 2. Low Fade
This subtle skin fade style increases the length above the ear. This gradually grows in length until it blends in with the hair at the top of your head. This works well for men who want to keep their hair short around their ears and the back of their neck.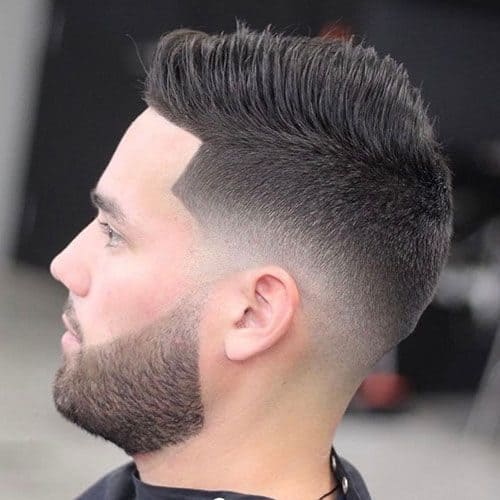 3. Mid or Medium Bald Fade
This cut is in between the low and high bald fade. While barbers begin to fade about an inch over the ear, a voluminous hairstyle looks best. Men typically wear a pompadour style with a mid bald fade.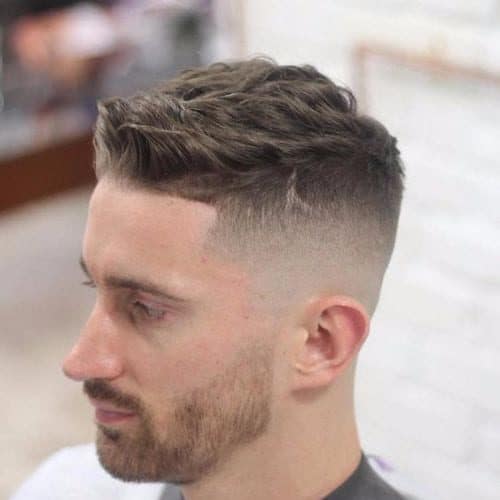 4. High Fade
The high fade is a striking look with a high-contrast bald fade that definitely requires an expert barber to hit the right mark. The skin is shaved bald on a high line around the ears up to two inches above. From this point, the cut quickly transitions into the hairstyle at the top of your head.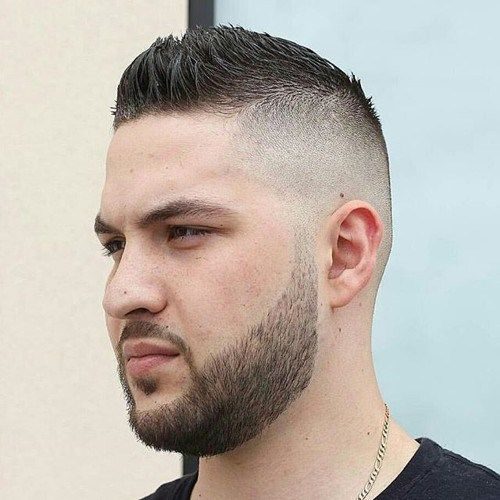 5. Bald Taper Fade
The barber doesn't just use clippers with this technical fade hairstyle. This stylish look requires scissors to transition smoothly from zero hair around the ears to much longer hair on top. If you like to have a lot of hair on top, then the bald taper fade is the way to go.
6. Drop Fade Haircut
The bald drop fade combines two fades into one, and old school barbers may not be as skilled in this modern hairstyle.
At first, this is a bald fade on the side, but it drops down to a "drop fade," which gradually slopes behind the ears to the back of the head. The result is that you have a smooth gradient fade from the sides to the back. It's not as closely shaven to the skin at the back.
7. Bald Cut Fade or Military Fade
The old crew cut gets a revival with the bald cut fade. This is a very traditional short haircut all around, with a bald cut around the ears and back. The hair is cut short on top at a 2 or 3 inch clipper length. This is an impressive look for those who want a clean-shaven look with a bit more hair than if you were to go bald.
8. Razor or Full Fade
This look is created with absolutely zero hair from around the ear to one inch or two inches above the ear and towards the back. Typically, this is done using a straight razor and requires a very careful touch.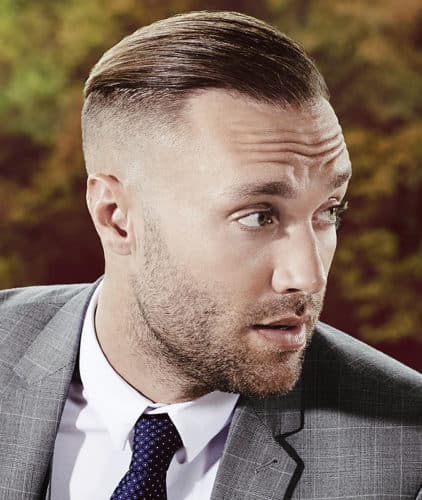 9. Fade with Part
When you request this look, you'll get a mid fade that emphasizes thick hair on the top. The defined side part is a part of this style, but it may not work with all hair textures.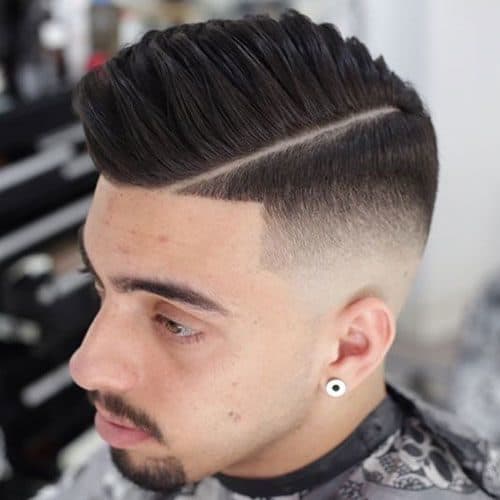 10. High Top Fade
This was the definitive look in the 1980s, particularly for some popular basketball players at the time.
To rock this look today, you can request a high top fade with plenty of natural hair at the top and a slick fade that gradually leads to a bald fade above and below the ear on the sides to the back.
11. Fade with a Beard
Fades often look the best with a beard because it shows how well you're groomed. Fades with beards are gradually shaven close, starting below the ear to an inch above the ear.
Then, the cut slowly fades into the hair on top of your head or where your beard starts on the side. Your barber will typically trim and shape your beard to match the fade on each side.
12. Fade with Curls
If you have curly, textured hair, then a fade can help accentuate your look. For longer curls on top and black hair, this expert cut requires a drop fade that follows the flow of your hairline and gradually blends into your curls.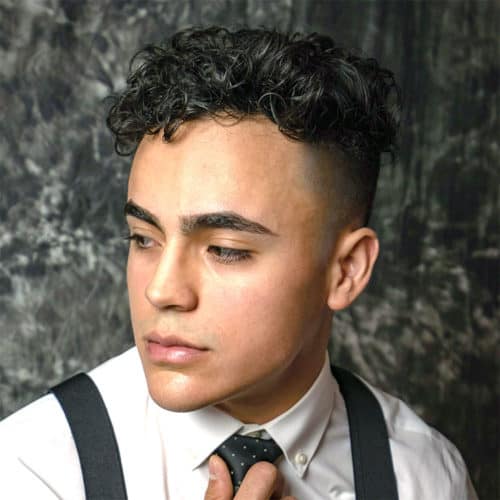 13. Skin Fade with Textured Crop
This fade is created by shaving all the way down to the skin. While this is a stylish look for some, it can be bold for those who want to stand out.
If you like this look, you can soften the bald skin look with a textured crop on the top of your head. This texture balances out the smooth fade up from the bare skin.
14. Pompadour Fade
For decades, the pompadour has been the go to style for artists and unique individuals who wanted an ultra-modern, stylish design.
With a fade, you get the pompadour with a fresh update. This includes a skin fade on the side and back. The result is a sleek appearance with a "puffed up" pomp on top. This part can be messy or slicked back.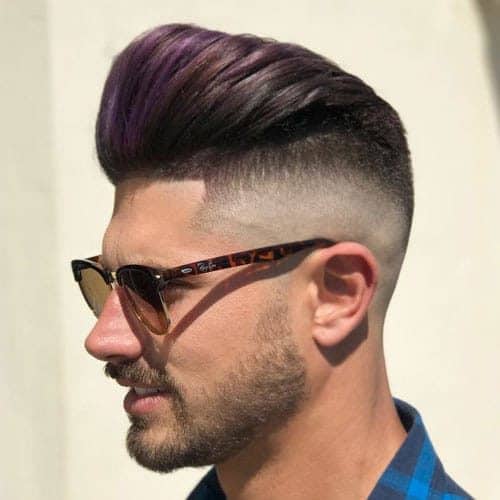 15. Skin Fade with a Design
For those who are lucky enough to have a talented barber, you can request a design within the fade to accentuate the precision and exact detail. The design is then shaved into the fade.
Some designs typically include parallel lines, sharp edges, or a completely unique shape. The accuracy of this look depends on the experience of your barber.
16. Fade with a Buzz Cut
If you want a hairstyle that has sharp edges and doesn't require any daily upkeep, then the skin fade buzz cut is another take on the military crew cut.
This minimalist and contemporary skin fade has precise edges around the forehead and is short on top, with bare skin around and under the ears.
17. Fade vs Taper
The taper fade has been around for quite some time. This clean and professional hairstyle isn't as bald as a complete skin fade.
This look is best for those who are weary of going completely bald. It's shaped around the ears and back of the neck and is a good option for shaving your head.
See the Difference: Taper vs Fade Haircut
18. Burst Fade Mohawk
The skin fade or burst fade haircut with a mohawk has a unique style. It's a cleaner alternative to the traditional mohawk with a wild spike top. The barber will create a wide faux hawk on top, then shape it with burst fades on the side.
This means there's a slightly longer hair length around your sideburns that fades into a skin fade at the top of the ear and around the back. With a mohawk, this skin fade is particularly stylish.
19. Skin Fade Blowout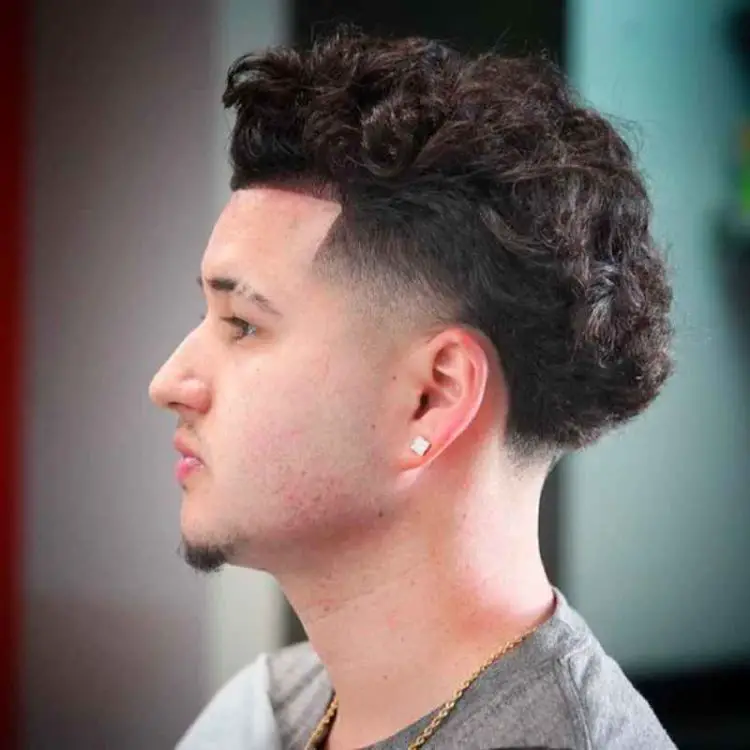 To nail the blowout fade, ask your barber to trim your hair with at least one inch left on the top. This means you'll use a blow-dryer, brush, or comb to create a coiffed look. Pomade and hairspray are used to style your long hair.
20. Quiff Fade
The best thing about a skin fade is that you can have a clean cut look with a stylish look on top. You can style your long hair on top into a quiff with a skin fade around the sides and back. This is the perfect look for the office.
21. Bald Fade Black Men
Another example of a slick fade hairstyle. So many variations from a shape up, bald fade, low fade, and high fade.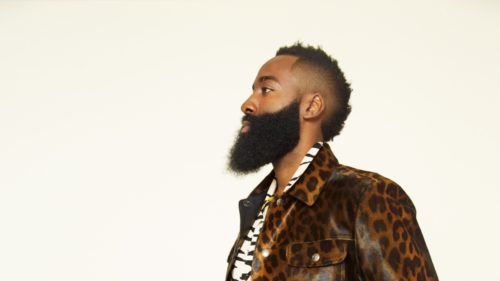 22. Bald Fade with Waves
When you blend in a high bald fade with a dark wavy texture on top, the result is a stylish, versatile cut for black men with textured hair. The waves are naturally styled on top.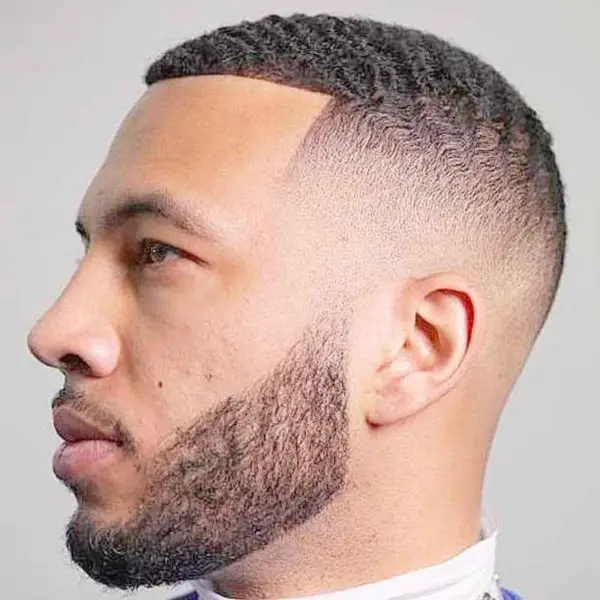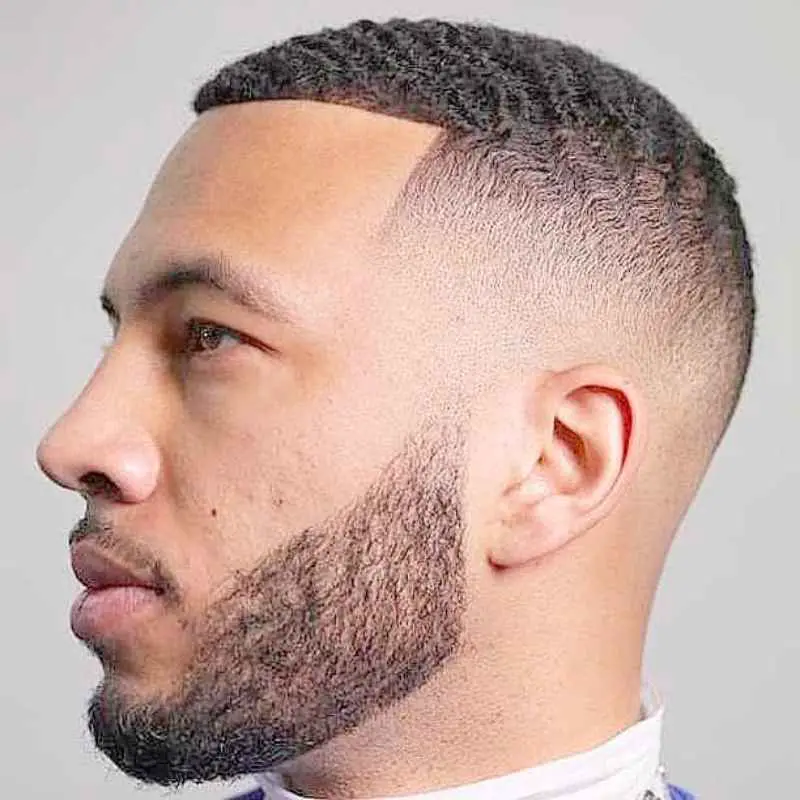 23. Afro Fade
If you have enough hair to style into an Afro, then adding afro fade is the best way to highlight your style. You can blend into your Afro on top with a low, medium, or high skin fade.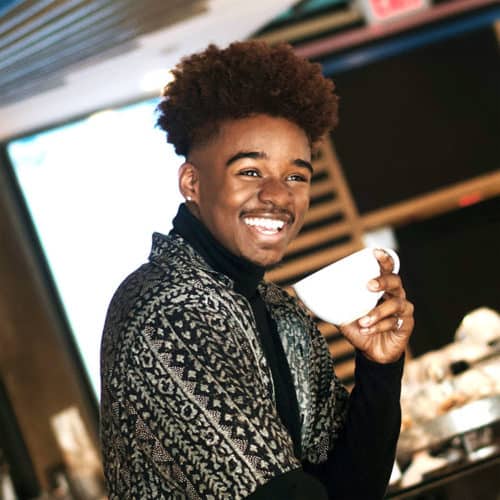 24. Short Fade Haircut
The short fade is a haircut that's short on the back and sides, then fades gradually to the skin. The short fade is typically paired buzz cuts, crew cuts, or flat tops, as it creates a high contrast between the varied lengths.
25. Temple Fade
If you're looking for a unique style, then a temple fade is a great way to boost your look. As other fades, it can be styled with a low, medium, or high fade. Also, longer hair on top that's blended with a taper (seen below) is a great look.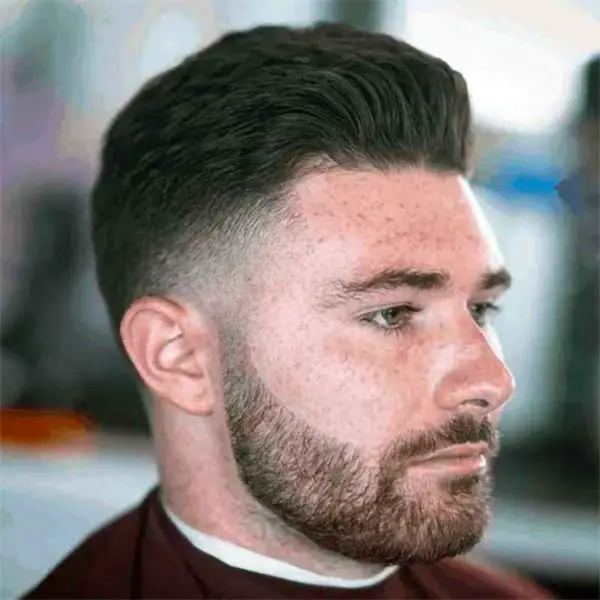 Should You Get a Bald Skin Fade?
The look is definitely trending. Many celebrities, including Brad Pitt, Justin Timberlake, Chris Hemsworth, Will Smith, Jimmy Butler, Cameron Dallas, and Cristiano Ronaldo, rock a fade.
While the best way to get this look is with a skilled barber, grab a couple of photos of different fades you like before heading into the chair. Then you'll need a good hair care regimen and top hair products to maintain your new look.