If you want to stay on trend this year, the temp fade is the way to go. This versatile style can be customized to suit any face shape and hair type, making it a popular choice for men's fade haircuts.
And with so many variations, like with short or long hair, buzz cuts or crew cuts, curly hair, straight hair or blowout hairstyle, there's sure to be a temp fade haircut that's perfect for you.
In this guide, we're going to show you some of the best temp fades around. We've also put together a step-by-step guide on how to get the look. So if you're ready to freshen up your style, read on for the best temp fade haircuts for men.
What is a Temp Fade?
A Temp Fade, AKA "Temple Fade" or "Brooklyn Fade", is a trendy low fade hairstyle using a line-up or shape-up blending technique to form a fade in the temple area. Common style variations include an afro or nappy temp fade plus low, medium and high temp fades.
This sharp and sophisticated fade haircut is now one of the most popular hairstyles for men since gaining popularity in the 2000s. Like the drop fade, it's perfect for those who want a faded hairstyle without dramatically clean-shaving their sideburns.
Most temp fade haircuts like the rapper Drake, are followed up with a shape-up haircut or even a curly, loose blowout style.
There are so many variations of this cool hairstyle, particularly with a barber's finishing touch. We show you the top temple fade haircuts with taper haircuts for all face shapes and hair textures below.
Best Temple Fade Haircuts
The most distinguished temp fade looks have a blended fade line that starts around the temples. These fades may blend down to a clean fade by the ears, sideburns, and jawline.
There are also different ways to edge and line temp fades with striking unique designs that are expertly done by incredible barbers. We'll show you a variety of temp fade styles below.
1. Low Temp Fade
The low temp fade follows the ear closely with an inch or so above of gradually faded hair. In contrast, the high fade has a clean fade around the ear and may go even higher up past the temple.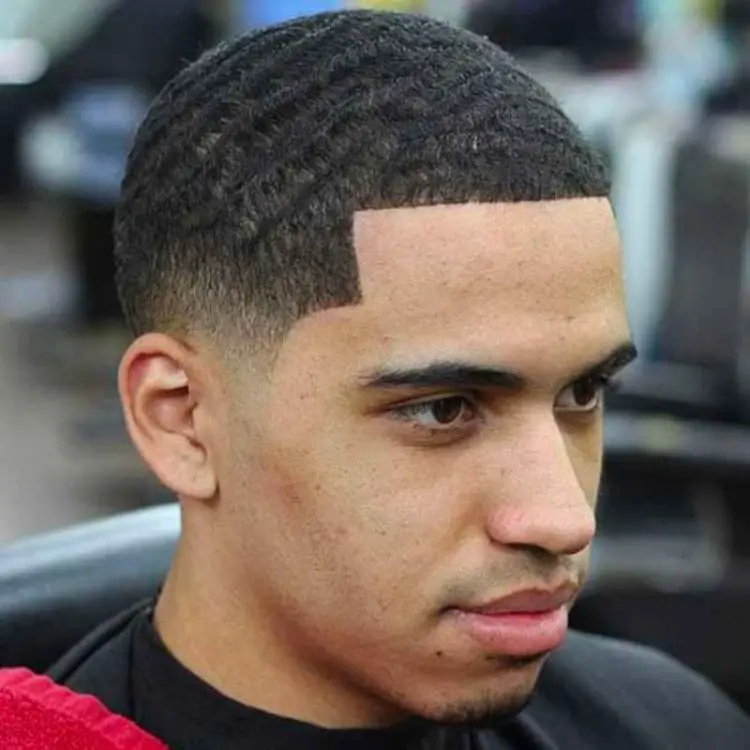 2. High Temp Fade
These fades start with a higher clean fade around the ear and the strike a high contrast at the fade line, typically directly at or just above the temple. The temple fade with curly fringe adds a unique variation to this style.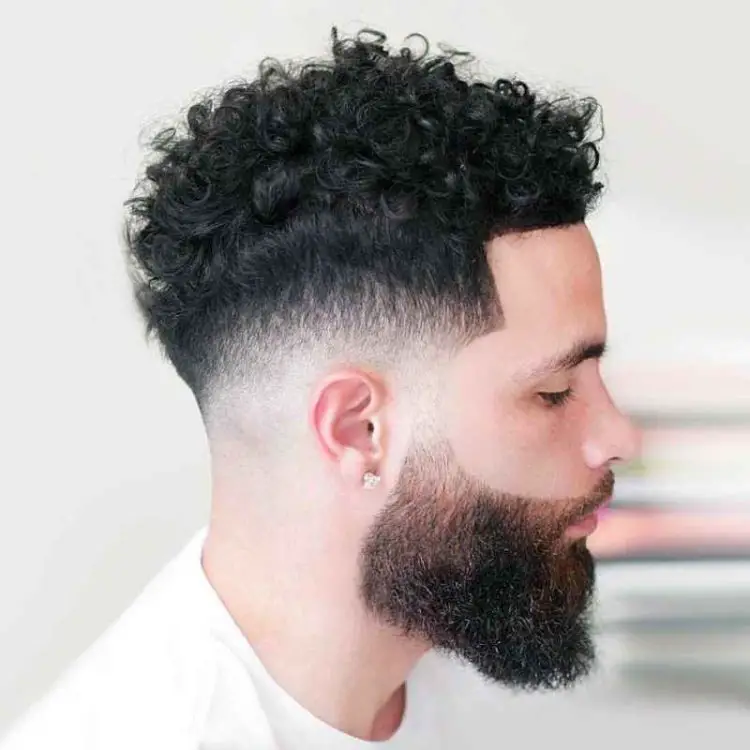 3. Afro Temp Fade
The temple fade afro haircut goes well with all kinds of afro styles and high top cuts. This look features a nappy blowout afro taper with a high temp fade and taper in the back. It also has a slight design edged into the afro just above the ear, creating a signature look.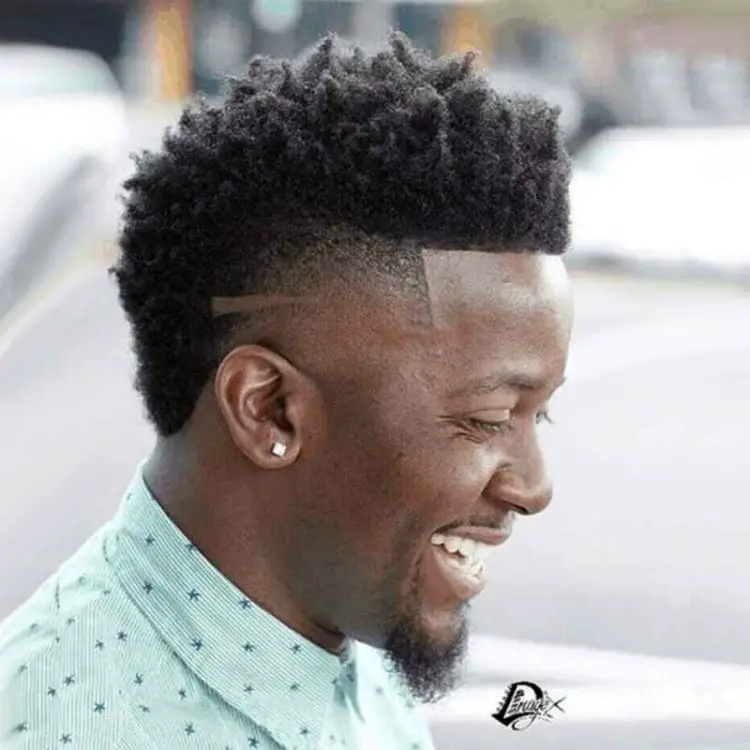 4. Curly Temple Fade
A curly top looks amazing, with the temple skin faded on the sides and is a variation of curly fade. The style keeps the length of the curly hair with a temp fade just above the ear, then slightly tapered in the back with clear lines and short fade.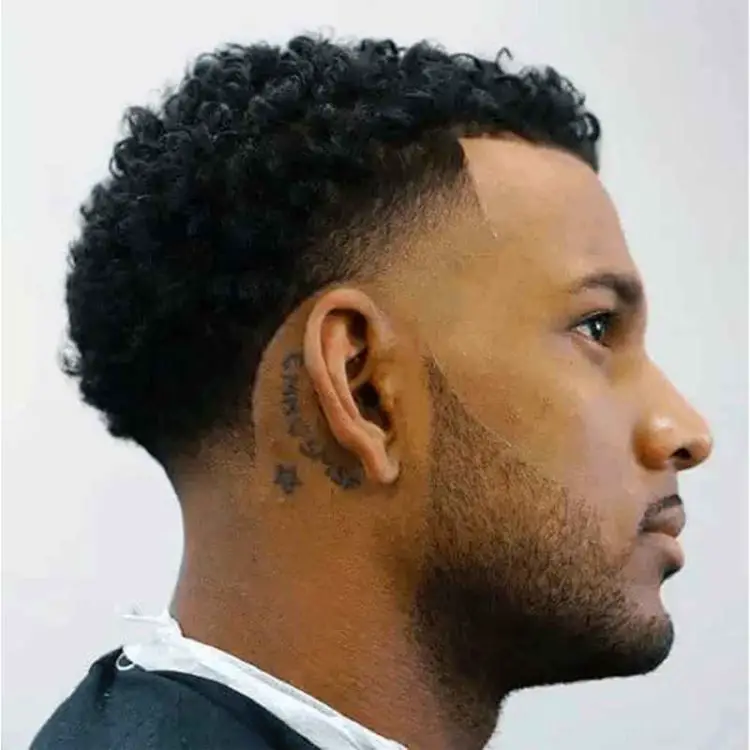 5. Temp Fade Dreads
The temple fade works great with short to medium length dreadlocks, especially if you want an undercut look.
6. Temp Fade with Waves
T waves haircut looks best with a gentle temple fade on the sides sporting precision edging and lining. Here's a temp fade around the ear with a taper towards the back. The beard is lined expertly, with the sideburns fading into the temples.
7. Temp Fade With Side Part and Pompadour
Temp fades work for all hair textures, including straight hair. This simple, elevated temple haircut with a short brush up into a pompadour creates an elegant look when pair with a side part.
Then the forehead hair is turned into a quiff and, while finishing with a temp fade just above the ear to create depth and contrast of hairstyles.
The beard and sideburns are also faded into the temple.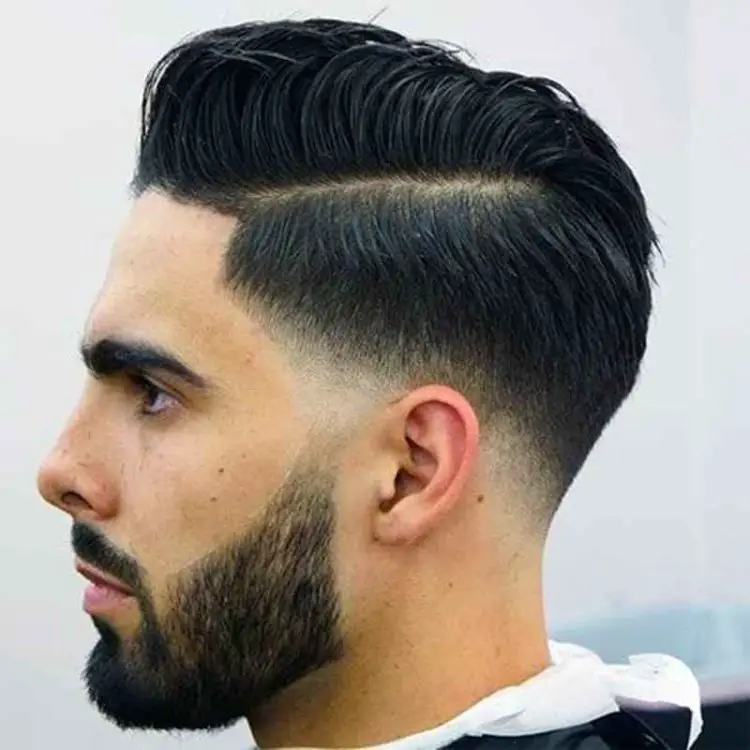 8. Temp Taper Fade Haircut
Taper fade haircuts look amazing on guys, especially when expertly lined and gradually faded towards the back. This look below features a low temp fade by the ear with a complete taper from the front to back.
9. Temp Fade Mohawk
Want to create an edgy look? The temple fade mohawk is faded down to the skin, while the hair on top is left longer and styled into a classic mohawk. This look typically has a more pronounced clean fade around the temple and ear, leading to a taper in the back.
If you want a more conservative look, try the faux hawk instead. For a faux hawk, the length is slightly cropped in the top center of the head, then layered towards the back of the head.
10. Temple Fade With Beard
There are so many ways to wear a temp fade along with your favorite beard styles. We like this classic look the best. Here's a temple burst fade with a skin taper and faded sideburns, a perfectly trimmed beard, and a taper in the back.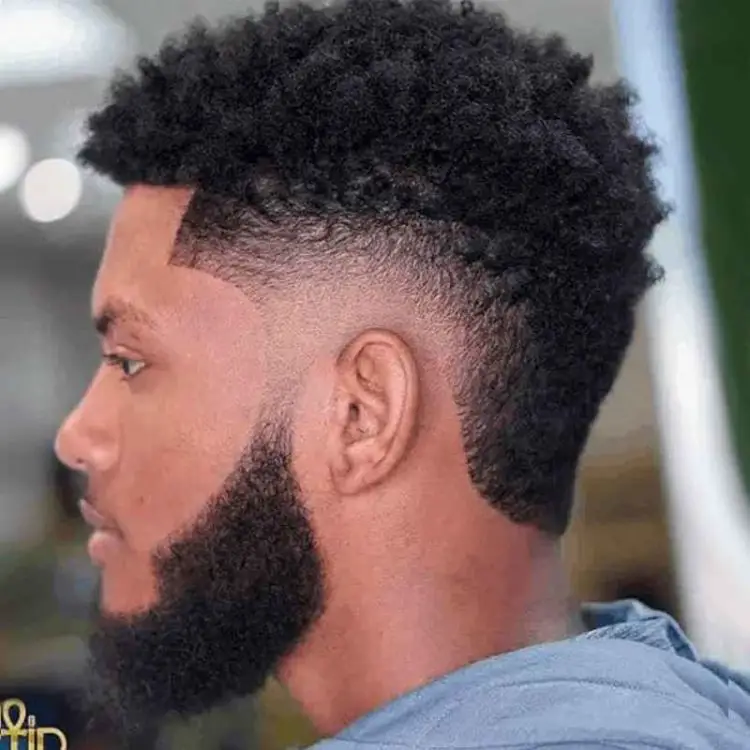 11. Bald Temple Fade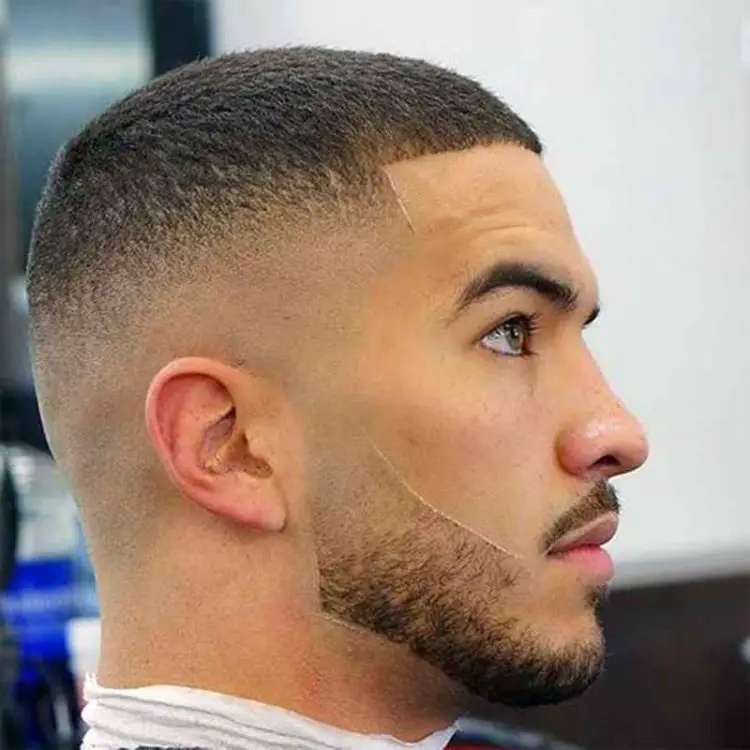 The temp with a high bald fade is one of the most popular temple fade haircuts for men. This style features a high, tight fade that leaves the hair on top longer. The result is a clean, modern look that's perfect for any guy.
12. Buzz Cut Temple Fade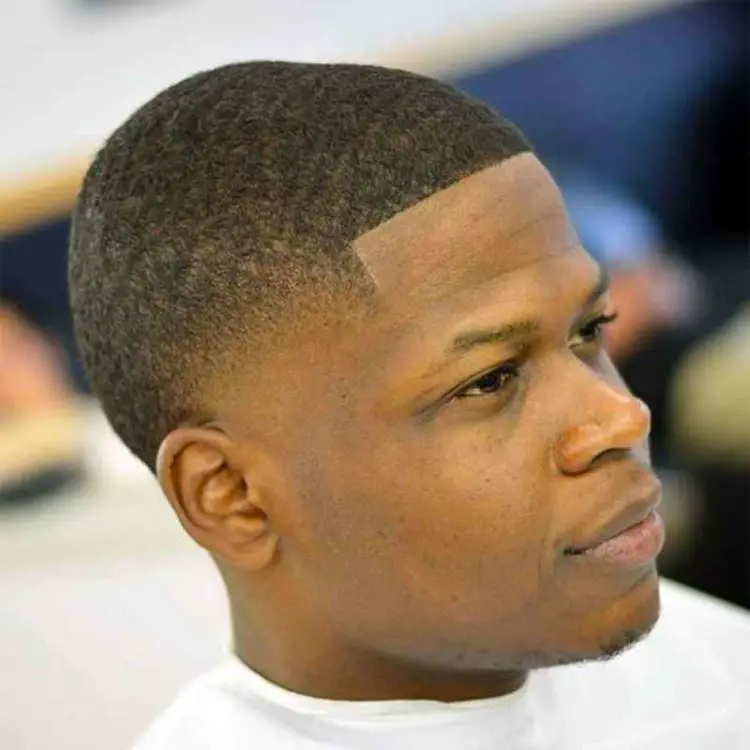 The military buzz cut temple fade is a popular choice for men who want a clean and simple look. This military haircut features short, clipped sides that gradually get longer towards the temples. The hair on top is usually kept a bit longer than the sides, and it can be styled in a variety of ways. The temple fade adds a bit of contrast and interest to the buzz cut, making it a great option.
13. Temp Fade with Braids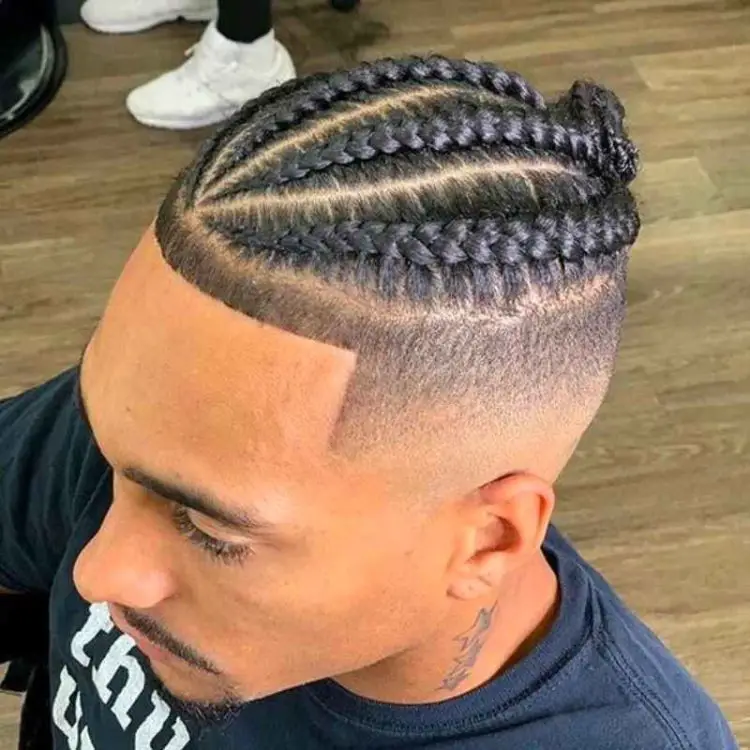 A temp fade that features regular, or box braids on top with the sides and back shaved or faded. This textured temple fade haircut is a great way to add some dimension to your look.
14. Temple Fade Long Hair
If you want a long temple fade haircut, you'll need enough hair length. This style works well with short, medium-length, or long hair. You can determine the necessary hair length according to which hairstyle alternative you choose.
15. Temple Fade Straight Hair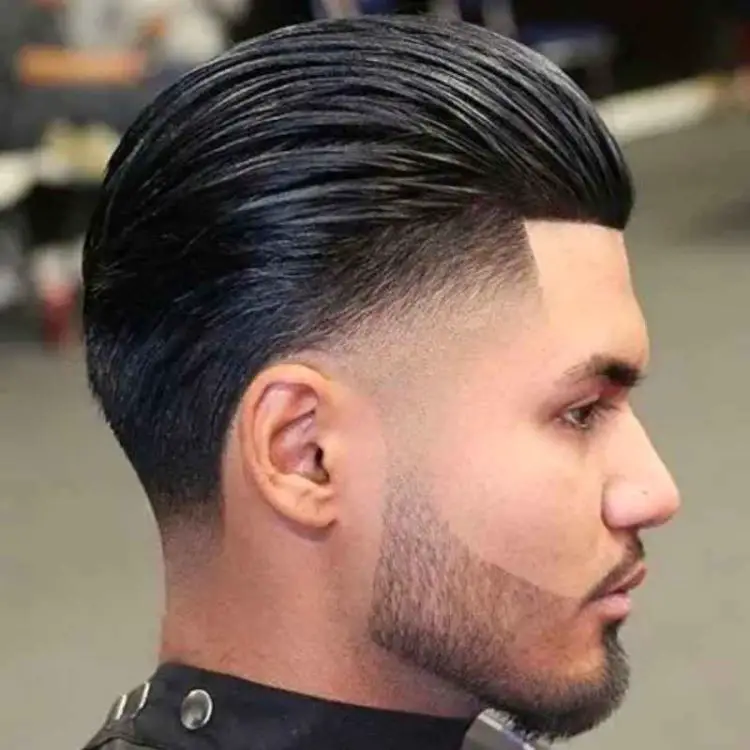 Temple fade haircuts can be styled with straight hair, curly hair, or any other type of hair texture. If you're looking for a low-maintenance hairstyle that will keep you looking sharp, then a temple fade is the perfect choice for you.
How to do a Temple Fade
Looking to get these styles on your own? Here's a quick style guide.
Start with clean, dry hair. It's best to use a comb to brush it back and away from your face so that the barber can see what they are doing more easily.
The barber will then measure the length of your hair at the temples and mark it with a pencil or clipper guide for accuracy.
They will then use clippers or a razor to create a slight taper around this area, gradually blending it into the rest of your hairline for an even look that's not too drastic or unnatural looking.
Once you have reached the desired length at temples, switch out clipper guards for an (#7) or (#8) blade attachment for sideburns that are cleanly shaven on both sides of face but not along jawline or neckline area (high temp).
Then, use scissors to trim any stray hairs that may be visible around ears or nape area.
Finally, you can choose a contemporary haircut alternative for the top of your head.
How to Cut a Temp Fade
How to Maintain the Temp Fade Haircut Style
1. Wash
Wash your hair with a mild shampoo and conditioner to remove any product buildup or oiliness.
2. Dry
Use a blow dryer on low heat setting to dry the hair until it's 80% dry, then use a comb to style into place as desired for a sleek look or leave natural for an undone look with waves/curls intact (for curly/wavy hair).
3. Add Your Favorite Pomade or Gel
Apply a styling gel, pomade, mousse or wax to your hair and use a comb to evenly distribute it throughout the strands.
4. Extra Hold
For extra hold, apply more styling product if needed then finish drying with the blow dryer until completely dry (for straight/thick/wavy hair).
FAQ
Is a temp fade a taper?
A temp fade is a taper where the hair on the sides and back are cut very close to the head, gradually getting longer as it goes up. A regular taper has the hair cut the same length all around the head.
How long does a temp fade last?
A temp fade is a type of haircut that uses clippers to gradually reduce the length of hair until it's very short. The length of time that a temp fade will last depends on how often the hair is cut and how quickly it grows.
What are the different types of temp fades?
The different types of temp fades are low, medium, and high. Low temp fades are best for those with thin or delicate hair, while high temp fades are best for those with thick or coarse hair.
What does mid temp fade mean?
A mid temp fade is a type of hair fades that starts around the temples and gets progressively lighter in the middle. This look is achieved by using clippers to create a gradient effect.
What's the difference between a taper and a temp fade?
A taper is a gradual reduction in the width of the hair, while a temp fade is a sharp, temporary change in the length of hair.
What is a high temp fade?
A high temp fade is a style of fade that's achieved by using higher temperatures when blow drying the hair. This results in a more dramatic and quicker fade.
What is a temp haircut?
The Temple Fade Haircut for Men is a type of fade haircut that's very popular among black men. The haircut gets its name from the fact that it's often worn by men who have shaved heads or very short hair. A temple fade haircut involves shaving the sides of the head down to the skin, and then fading the hair on top into a shorter length. This creates a clean, sharp look that's very stylish.
How do you ask for a temple fade?
When asking for a temple fade, you will want to specify that you would like the hair on the sides of your head to be tapered. To do this, ask your barber to use clippers and start with a low number guard.
What is a temple fade called?
A temple fade is also called a temp fade or sometimes called a Brooklyn Fade. This hairstyle is a type of taper fade where the hair is cut very short or shaved near the temples. The temple fade can be combined with many different haircuts, such as a mohawk, quiff, or even a simple slicked back hairstyle.
Conclusion
The temp fade is a simple haircut for men who want a sharp taper around the temples to create a unique style.
With so many variations and options, you can create a unique look that's perfect for you. Whether you are looking for a low maintenance style or something more elaborate, the Temp Fade is a great choice.