It's one of the most globally popular men's haircuts to this day – the classic taper haircut. With thousands of men requesting taper haircuts, it's certainly a mainstay of men's hairstyles.
Are you looking to cut and taper your own hair? Perhaps you want some style ideas for a taper haircut to take to the barber.
It's easy to get this look on your own with a pair of electric clippers. Here's the full guide with tips on tapering your own hair below.
What is a Taper in Haircuts?
The classic taper haircut is a graduated, slightly faded haircut that is neatly trimmed to a point at the back of the neck. Originally known as the "Hip-hop Fade", other popular variations of this look include the bald fade and taper fade haircuts styles.
1. Classic Taper Haircut
The new taper haircut includes a shorter buzz cut on the sides and back with a gradually longer length on top.
This men's hairstyle also works with a short taper and never gets old, and it works for any season. Best of all, this can work for men with longer, shorter, or thinning hair.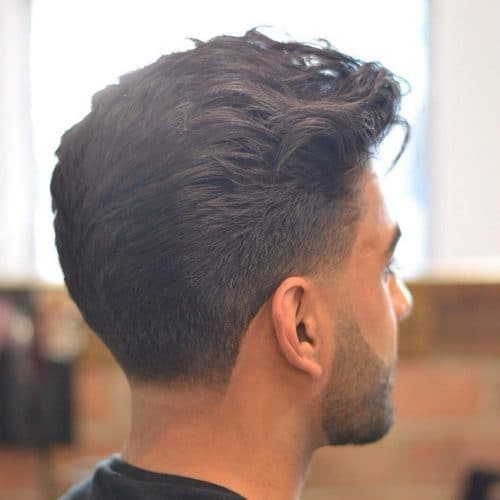 ---
2. Long Taper Haircut
This long hair taper haircut can still feature a graduated taper with 2 to 5-inch length strands on top, while the sides and back are shorter. This look even has a short fade for the sideburns and back of the neck.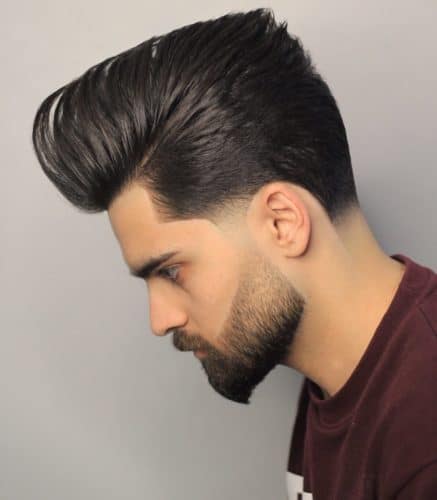 ---
3. Curly Taper Haircut
When you're gifted with curly hair, you've got a significant advantage over other guys based on these girls' opinions on curls.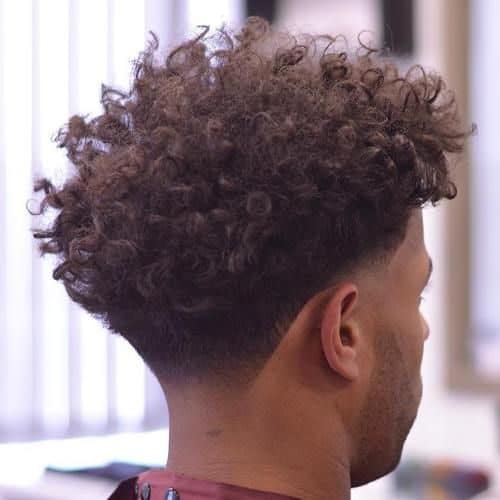 ---
4. Taper Fade Haircut
When a taper haircut has a clear fade line with a clean-shaven start, it's a beautiful masterpiece. There's no better way to blend both techniques and achieve a super sleek look.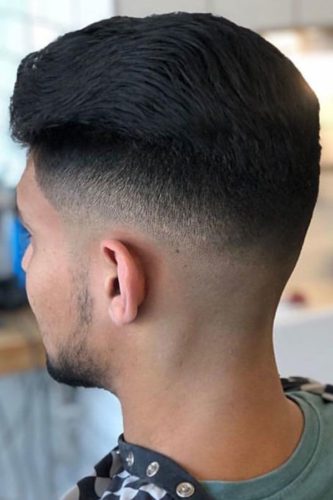 ---
See our Complete Style Guide on the Taper Fade Hairstyle
Learn the difference: Taper vs Fade Hairstyle
5. Comb Over Taper Haircut
While the haircut below has a fade as well, you can see the taper from the sides to the back. This comb over look has a unique taper fade around the sideburns and ear, and it works for both long and short hair.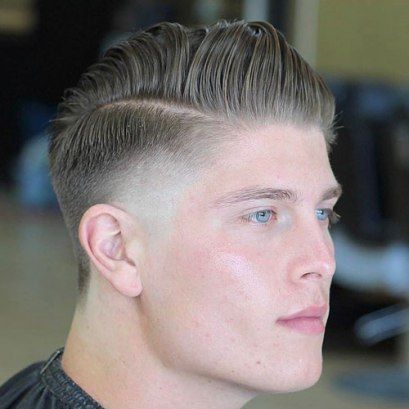 ---
See our Complete Style Guide on Comb Over Hairstyles
6. Taper Haircut with Quiff
A taper haircut looks quite modern, with more hair on top. When styled with a quiff, you can have the appearance of loose, careless waves.
A quiff is one or multiple strands of hair in front that are brushed up and back away from the forehead, typically with light pomade or a styling cream.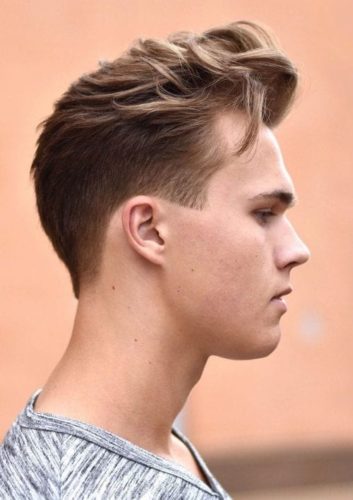 ---
7. Pompadour with Taper
While the quiff and pompadour can be confused, the style is achieved using mousse or styling cream with a blow dryer, which pushes up the front. Then the style is combed back.
This taper leaves the hair longer in front at the hairline, then gradually trims back the length at the crown and then down to the neck, graduating the taper to a fade.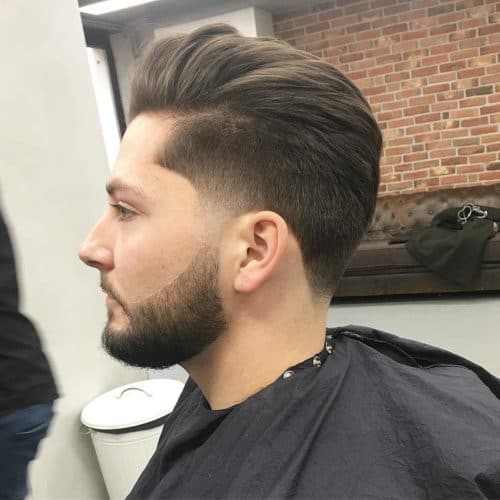 ---
8. Short Taper Haircut
The short taper with a textured look is a layered length with longer top hair, allowing you to get that tousled look with shorter hair on the sides, which can also be paired with a fade.
Like the pompadour and quiff, this style is pushed up in the front slightly with a graduated taper to the back.
Hair products like light styling gel or wave textured spray works best for a medium length hairstyle like this. However, his sideburns have a slight beard fade.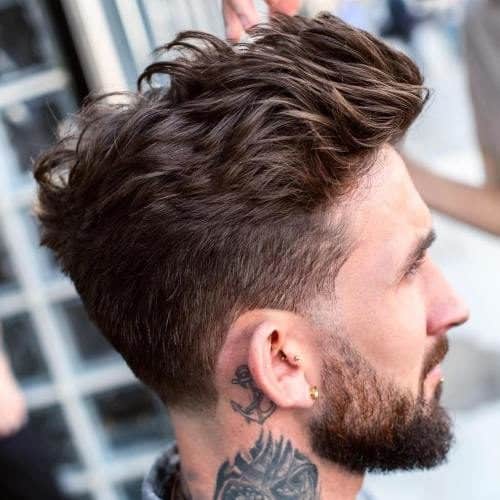 ---
9. Temple Fade Taper with Slicked Back Layers
This look harks back to the rockabilly look of the 1950s. The look is tapered, with short sides and a high taper to the back, with longer layers on top. These are slicked back using pomade.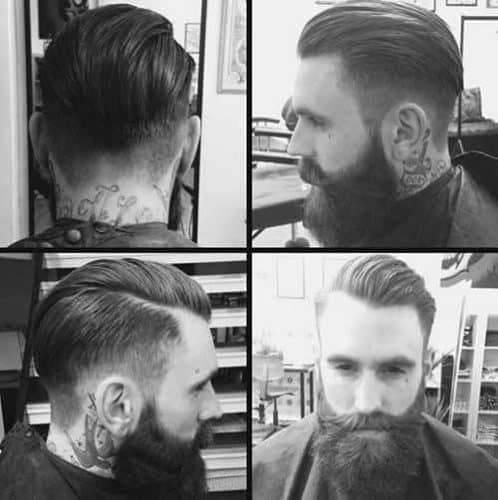 ---
10. Textured Haircut with Taper
This look shows off all the texturing techniques with a front-to-back taper. While this look below does feature a clean fade, you can easily achieve a tapered look without any fade or just doing a slight fade at the back of the taper.
---
11. Taper Mohawk
The taper mohawk is an ultra clean variation hairstyle. With exposing just a little skin on the sides, your barber can taper the mohawk to a neat and trendy look. You can also fade the sides, creating a mohawk fade.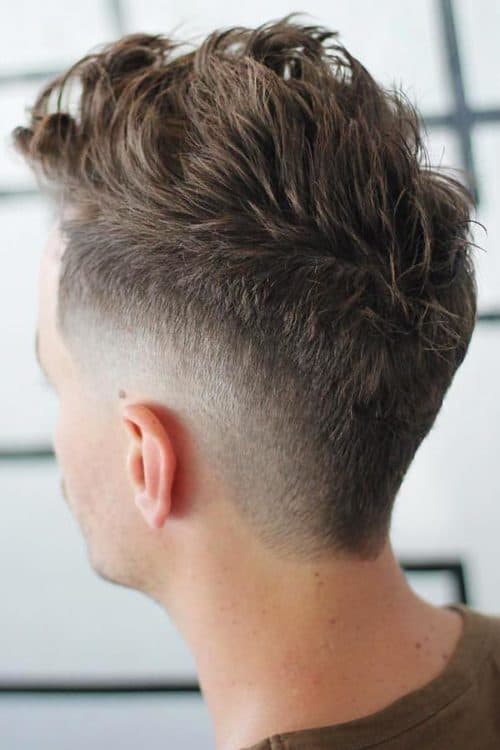 ---
What are the Different Types of Taper Haircuts?
You've probably seen a tapered haircut before. However, some of these looks have changed and become more modern with different options for fading sideburns or adding a quiff in front.
The traditional side-part or comb over taper are also two classic ways to wear this hairstyle.
Popular Taper Haircuts Styles
Low Taper
Mid Taper
High Taper
Bald Taper
Afro Taper
Curly Taper
Faux Hawk Taper
Caesar Taper
Tapered Neckline
How to do Taper Haircuts
The classic taper hairstyle works with all hair types and face shapes. The entire goal of this look is to keep a bit of length on top and on the sides before tapering to a point at the back of the neck. Some classic taper haircuts include a fade at the back and around the ears, known as a taper fade haircut.
Today's taper haircuts can be created using a pair of electric clippers with guards ranging from #2 to #4, depending on the length you want to keep on the sides and back.
You may also want to use a pair of barber shears to trim away and even closely cut your sideburns and hair around the ears.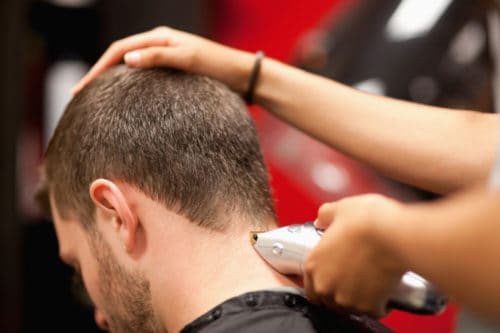 How to Taper a Haircut
Any modern barber knows the taper haircut plus all the variations like the taper fade. However, it never hurts to take a few pictures with you of your favorite styles.
The taper haircut always starts with clippers on the sides using a high guard, then a lower guard, gradually lowering the guard for a graduated trim. You don't necessarily clean-shave around the ears and sides, which is more for a faded hairstyle.
Some tapers incorporate a fade just at the bottom of the neck or at the sideburns.
For the final touch, you may want to use a slight dab of pomade to create shine and style. You can use pomade to style a quiff in the front or tousle up messy, longer strands on top. Styling cream or mousse may also work for creating volume.