Dealing with thinning hair presents lessons in nutrition, hair follicle health, hormones, and men's hairstyles. Many men experience some thinning by age 30, but vary depending on their genetics and family history. So hairstyles for men with thin hair can work to disguise balding hair or a receding hairline.
To make thinning hair look fuller, try a new hairstyle that compliments and masks your thin spots. Applying volumizing mousse to your wet hair and letting dry overnight for a fuller appearance. Another trick is to blow dry your hair upside down for a full volume effect.
From the right hairstyles for a thinning head of hair to products that add thickness, you can disguise thinning locks in a variety of ways. However, this doesn't mean you should ignore the reasons your hair is falling out. Keep reading to find out more.
---
If you want to stop thinning, then you must use a better shampoo.

Shampoos with DHT blockers help strengthen thin hair follicles naturally. Get healthier and thicker hair, check out the Best Shampoo for Thinning Hair now.
Haircuts for Thinning Hair Men
If you see hair loss becoming more prominent and find clumps of hair falling out in the shower, then it's important to get to the roof of the issue. Perhaps you're stressed and losing more hair than usual. No matter your hair type, hair healthy promotes thick hair.
Once you know that you have thinning hair in some areas, look into hairstyles that detract attention away from patches. Some haircuts actually accent thinning hair and bald patches. Hair stylists can also cut your hair, so it looks full and gives you plenty to work with when you're styling in the morning before work.
See also Best Hairstyles for Receding Hairlines (NEW)
Here are the best haircuts for thin hair men that will reduce the look of hair loss:
This short hairstyle keeps your thin strands close to your head and disguises thinning or receding hairlines. The buzz cut works to hide thin patches because it shaves your hair down evenly. It reduces the contrast between your skin and hair dramatically.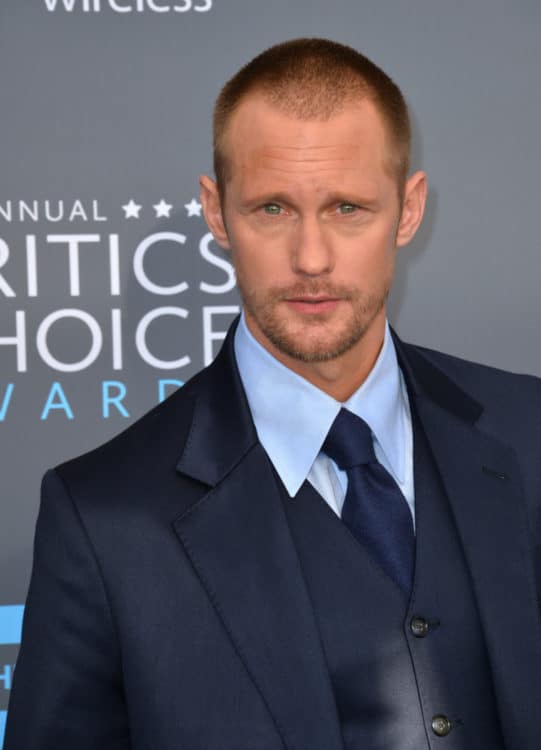 A military-style crew cut is another short hairstyle that's perfect for reducing the visual effects of a bad hairline and makes thinning hair less obvious. These cuts reduce the amount of contrast between your temples and the sides of your head.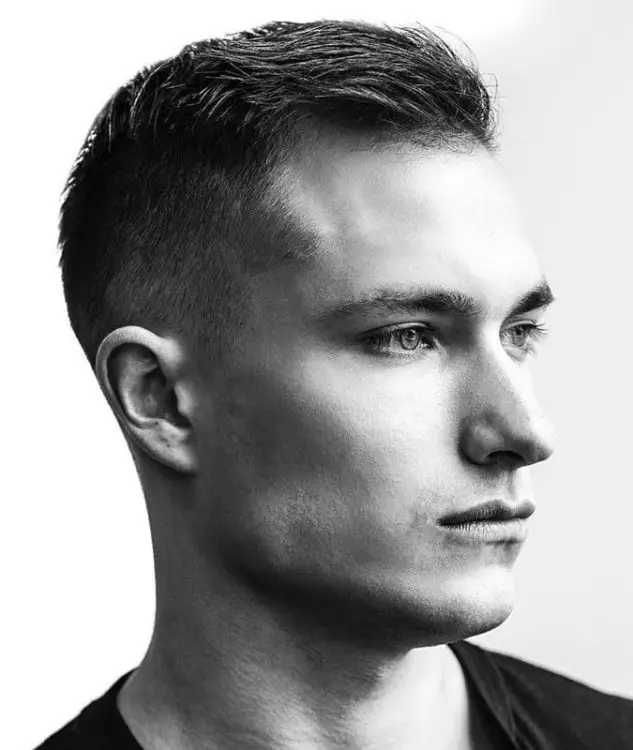 Your barber may trim the sides down to an ultra-short buzz cut while keeping the hair on the top of your head. Some cuts leave the hair longer than an inch on top, while others keep it slightly longer than the cuts on the sides.
3. Bald Haircut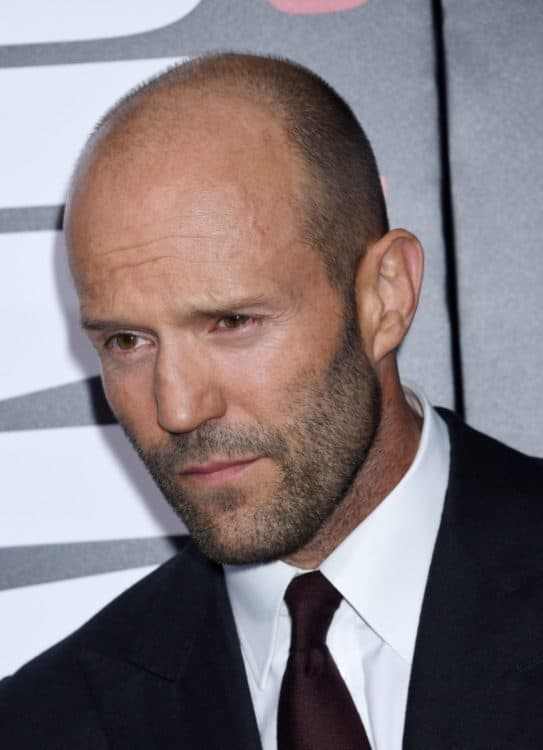 Jason Statham has a shaved cut that reduces his hair to stubble, but you can use a buzz cut (above) to shave your hair evenly all around or create a bald fade with thicker patches of hair.
4. Caesar Haircut
If you don't want to cut off your hair but still want to disguise thinning, you can use a Caesar look like Tom Hardy does. This means you brush your hair forward, so it falls flat and hides your thinning and receding hairline.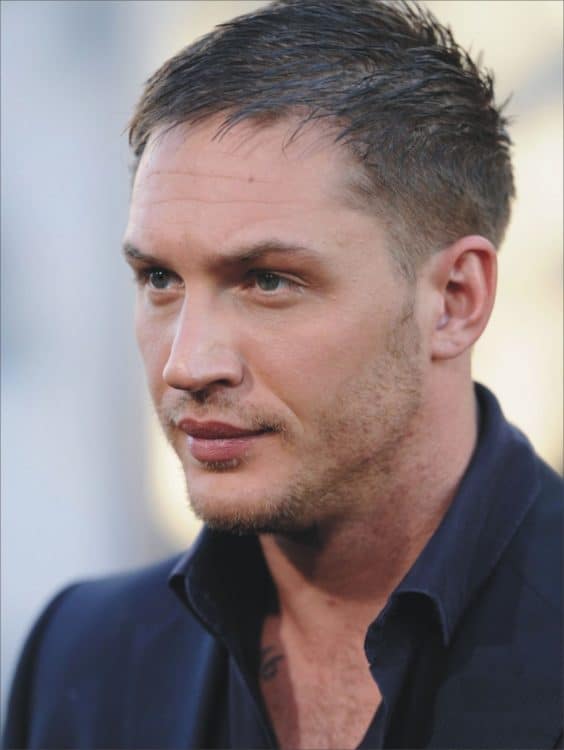 You can also adjust this look to match what you need. If you want more length, you can keep your hair longer. Slightly curly or wavy hair works great with this look.
5. Slicked Back Taper Fade
Slick back haircuts don't hide a receding hairline in the front, but if you have a crown with thinning hair, then you can push your hair to the back to cover up a bald patch. This haircut typically pairs well with a taper fade (short sides with longer hair on top).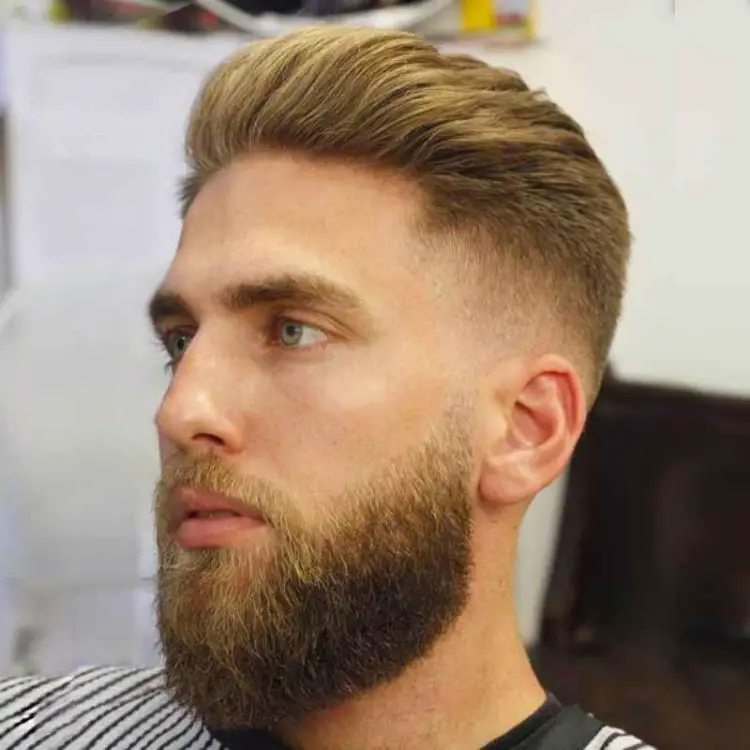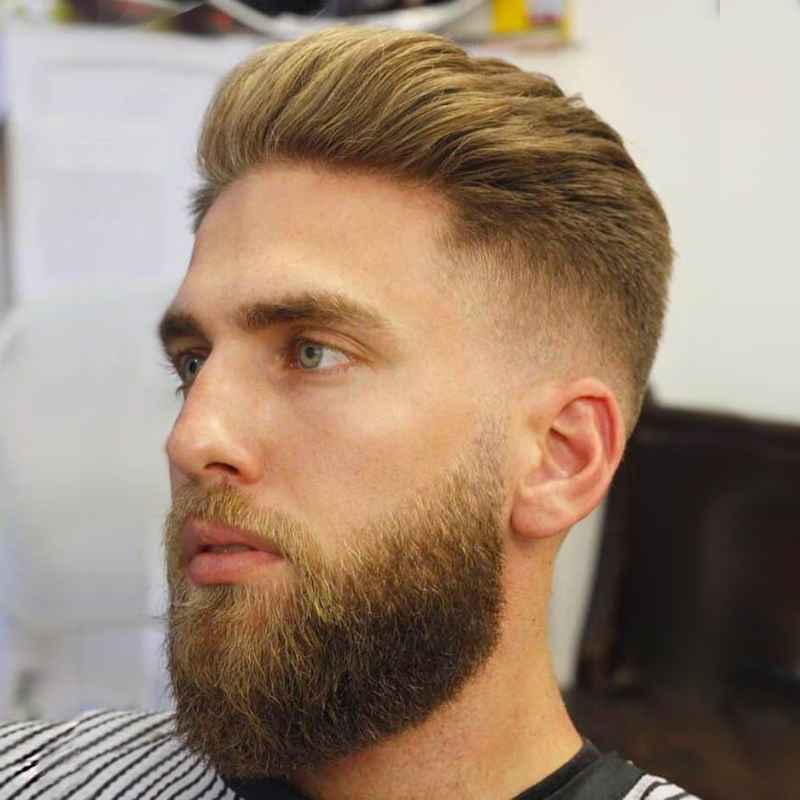 Use a product like mousse or hairspray to puff it up into a pompadour.
6. Long Slicked Back Hair
If you can grow out your hair on top at the front, you might disguise a growing widow's peak or "M" hairline by pulling your hair forward and over the side, hiding corners that have receded more than the other.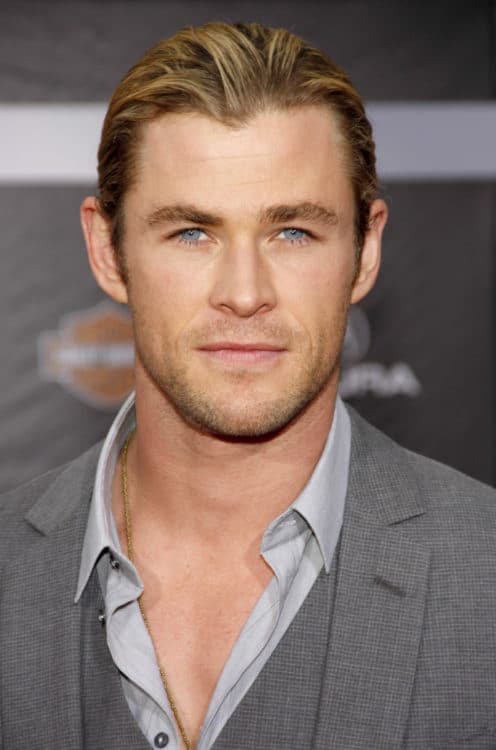 7. Comb Over Haircut
One thing you never want to do is surrender to the dreaded bald comb over. While the look temporarily hides your bald spots, it's a very obvious look, and it's an easy to spot to reveal. In fact, it places a lot more emphasis on your thinning hair than your overall look.
So, not to be confused with the comb over hairstyle below, which is great for creating volume. If you can still grow your length, then a comb over style can really help conceal thinning.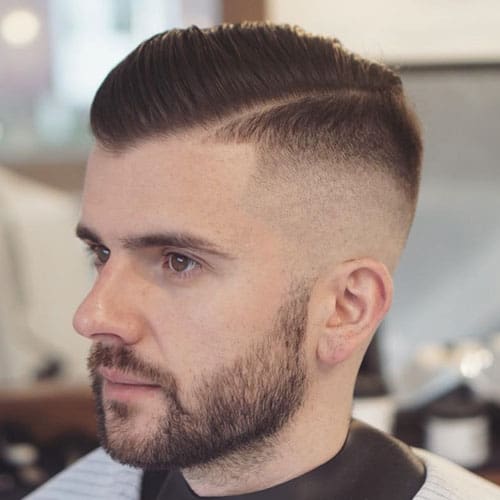 Why Is Your Hair Thinning?
Most men deal with thinning hair by the time they are 30 years old, but others lose hair in their young 20s. There are a variety of reasons, and it's best you know which one is causing your issue so you can prevent more hair loss.
When you first come into puberty, your hairline should be fairly full with a straight across line of hair. As you get older, this hairline matures and changes, thinning as you age.
If you have male pattern baldness, your hairline may continue to recede if you aren't careful. Some medications help block the hormone DHT, which is responsible for follicle loss, thinning, and eventual balding.
Family Genetics
It's no secret that family hair genetics play a role in male and female pattern badness. If your parents or grandparents experienced hair loss that led to balding, there's a chance you might inherit the same gene.
DHT
This androgen hormone is a byproduct of testosterone that your body creates that. DHT starts hair growth and other healthy growth developments during puberty. However, after that, it can attach to hair follicles on your scalp.
So, DHT, once attached, can weaken existing follicles and prevent new hair growth. This inevitably leads to thinning, patches of baldness, receding hairlines, and overall baldness. You can take DHT blockers and apply certain topical creams to stop DHT.
Dry Scalp and Itching
When you itch at flaky skin, it produces more flakes and scales that peel. This problem can stifle follicles and lead to loss of hair, particularly if you're scratching your head a lot every day.
You can treat dry scalp by changing to a zinc dandruff shampoo, sulfate-free shampoo and conditioner, using tea tree oil, and hair masks to treat it. You can also check out our best hair loss shampoos.
See our guide if your head is shaved, and you have bald dandruff.
Diseases and Skin Illnesses
You should check with your doctor if you see large red, scaly patches which could mean you have psoriasis.
There are other causes for hair loss and thinning, such as a lack of vitamin D, iron, vitamin A, and biotin in your diet. You can check with your doctor to see whether you have a deficiency causing health problems. See our Guide on the Best Foods for Hair Growth.
For thinning hair men, styling with products like gel or hairspray isn't always the best, but there's one way to get thicker volume using a certain product. We include that guide below.
Styling Products to Help Thicken Hair
Mousse and hairspray may not make your hair grow any thicker, but you can give the appearance of thicker, lustrous hair through voluminous styling products. These products help you achieve a more uniform style that covers up thinning patches.
The main thing you want to remember is that hair pomade and waxes (ie beeswax) tend to make hair look flatter. You can add a light mousse as you style your hair to add more volume. This is the best product to help firm up hairstyles for thinning hair men.
To get the most volume, try this method:
After a shower or wetting your hair, add a dollop of mousse to your fingers and running it through your hair on top.
Use a blow dryer to dry it, using a brush or comb to help you tease it up.
Once finished with this, you should have a lot of thick hair to work with on top and style it as you like.
Need some inspiration? Check out these YouTube videos:
Should You Shave it All Off?
Thinning hair doesn't mean that you'll go completely bald. However there are also bad styles like the bald ponytail. With so many great hairstyles for balding men, there's you can look more distinguished.
There are also plenty of medications that can block DHT and other problems causing hair loss. It's best to talk to your doctor before you decide on making a drastic decision.
If you can't stand that your hair is thinning and just want to embrace the look, you can shave your head and rock an awesome bald look. Some men leave only stubble behind with a buzz cut look. These options require very little maintenance, but you may want to get a Skull Shaver or other razor specifically designed for shaving your head.