The London-born actor Tom Hardy has worn several haircut styles and beards since his rise to stardom with Black Hawk Down, The Dark Knight Rises, and Mad Max: Fury Road. Many men have emulated his different celebrity hairstyles to capture the same bad boy looks.
Tom Hardy's haircut often features a taper fade on the sides with long, slicked back hair on top to accentuate his facial features. Recognized for his rugged good looks, the actor is also known to mix in other masculine hairstyles depending on his current movie role.
If you want to get this famous Brit's haircut, there are several style options to choose from. We've gathered all of Tom Hardy's haircuts below with tips on achieving each style.
Best Tom Hardy Hairstyles
When it comes to hairstyles for men, you can always find inspiration from celebrities. From Brad Pitt to Johnny Depp, every male celebrity has a distinguished haircut and style.
With so many roles and changing characters, Tom Hardy has sported many trendy looks.
His edgy fade haircuts and buzz cuts have started many discussions about faded taper looks with full beards. However, Hardy cleans up nicely with other styles featuring comb overs, slicked back undercuts, and other red carpet hairstyles.
1. Long Slicked Back Hair
This long hair look is a classic Tom Hardy favorite. Using pomade and a comb, you can dab your hair with just a little of this product and then slick back the long hair.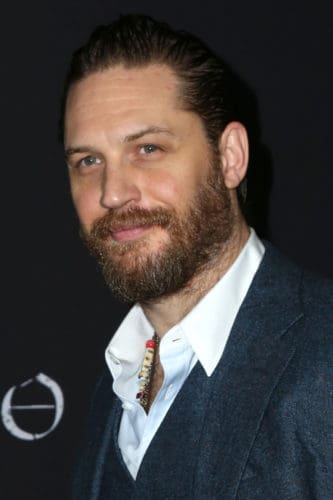 2. Buzz Cut
Tom Hardy loves a ducktail beard style with a fade into a buzz cut, likely with a #1 to #2 guard. Get this look simply by using an electric head shaver, then fade down the sideburns into your beard using different guards.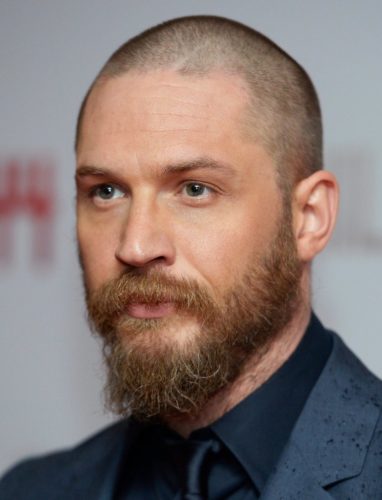 3. Taper Fade
Hair is medium length on top, slowly tapered, and then faded slightly into a stubble beard. This cut is a bit more detailed, so we suggest checking out our taper and fade haircut guide.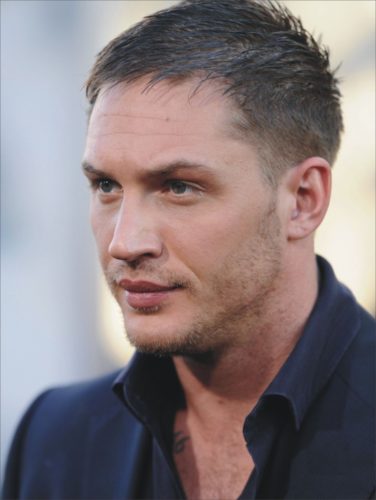 See more Taper Haircut Styles, plus see the difference: Taper vs Fade.
4. Slicked Back Undercut
Undercuts can be quick and easy to style using an electric razor with a guard of #.5 to #1.5. This is a high fade cut that keeps all the length on top. Using a bit of pomade, you can slick back the top to get this iconic Tom Hardy long hair look.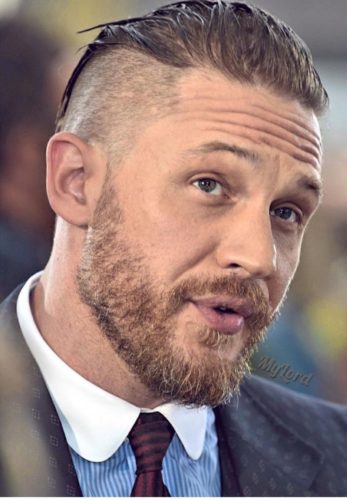 5. Shaved Bald Haircut
Tom Hardy has had some interesting roles, but he went completely bald for his role as Charles Bronson. Using a Skull Shaver, you can easily get the bald look. We also suggest looking at bald fade haircuts if you consider shaving your head.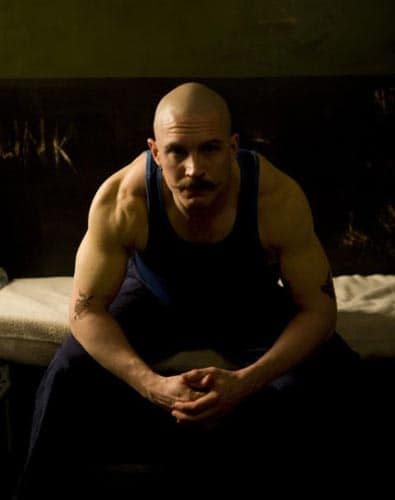 6. Comb Over
Here he looks like a classic gentleman with his slicked back comb over. In this look, Hardy keeps his hair quite long on the sides. Using barber shears, you can easily take away some length while keeping it long, then use a pomade to finish and style.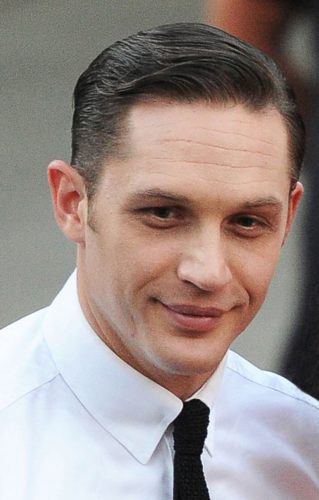 7. Military Cut
In this look, Tom Hardy has completely buzzed his head, opting for a longer beard. The sides are faded down into a full, thick beard and mustache that's slightly unkempt.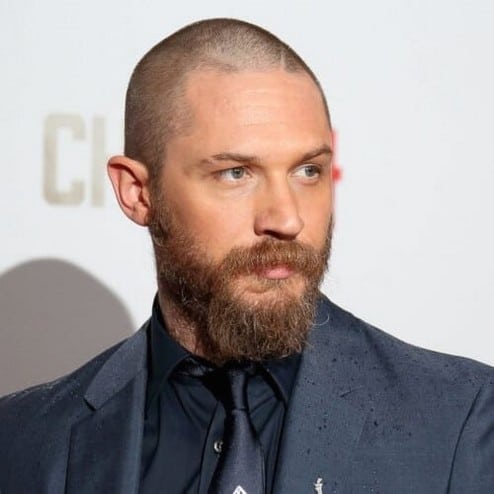 8. High Fade with Spikes
This medium-length haircut is perfect for those who like to use beeswax, hair gel, or matte clay (for a non-shiny look) to spike their hair a bit. The sides are faded using a #.5 to #1.5 with a stubble beard. This is a high fade hairstyle with a bit of length on top.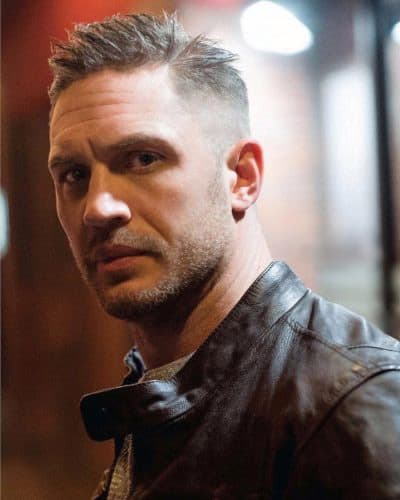 9. Messy Crew Cut
Pomade works perfectly to slick back the sides and add shine. Wax will help you style the front so it stands up. But you may want to run your fingers through and mold to achieve this thick hair, messy look with a subtle side part.
10. Taper Haircut
A taper fade requires a bit of patience. In this photo, Tom Hardy's hair is longer, likely at a 3 or 4 on the sides, with a lot of length on top. The sideburns are faded into a tidy yet full goatee beard with longer hair around the chin and upper lip.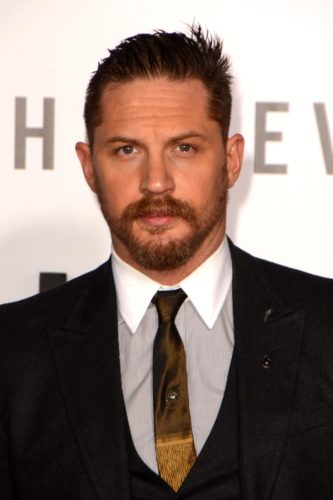 11. Bald Fade Crew Cut
This is another high and tight, crew cut style, with a fade that almost turns this into an undercut if Hardy had kept it longer on top. You'll need a razor with a #.5 to #2 guard, then use wax to style hair on top.
12. Short Hair
When your hair grows long and wild, it's easy to just let it go. This cut looks a bit more styled with wax used to part and comb over the hair, as well as push back the sides.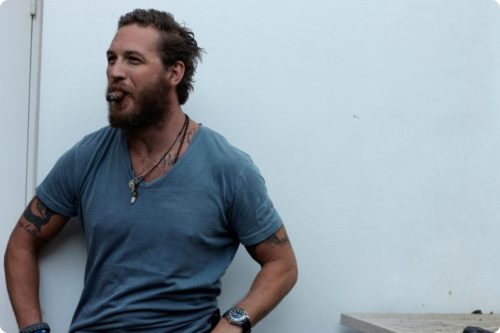 13. Spiked Haircut with Mid Fade
The spikes in this picture were created using a hair product like wax, pomade, or gel. To get this nearly skin fade cut, we suggest using a very low guard such as a #.5 up to a #1.5, but start off higher if you haven't faded or clean-shaven your sides before.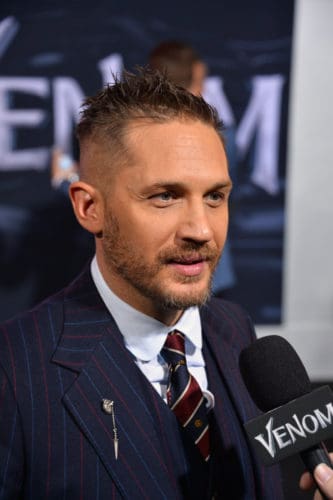 14. Short Mohawk
This style relies heavily on a good razor with a guard likely of #1 or #2 to shave down most of the hair, then using a #2 to #3 to #4 in the back to taper and fade while keeping the length in the center for the mohawk.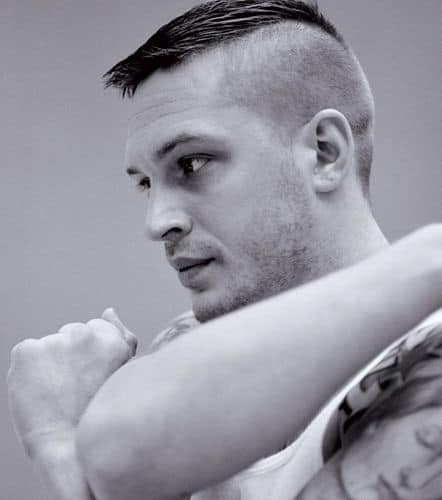 15. Tom Hardy Lawless Haircut
This is a classic comb over crew cut look paired with the iconic Tom Hardy beard.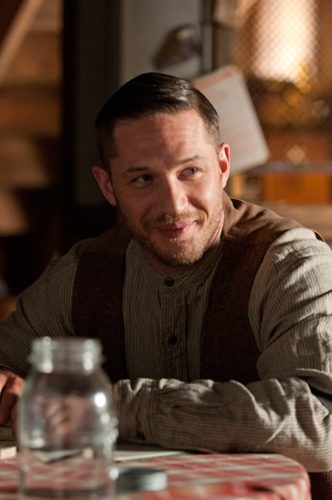 16. Tom Hardy Venom Haircut
The Brit likely dyed his hair darker and faded his sides. The beard is kept neat and tidy, with defined lines up to the hollows of his cheeks.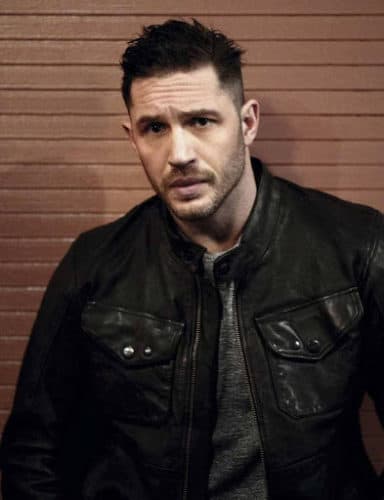 17. Tom Hardy Mad Max Haircut
This could also be called a messy crew cut. Hardy sports a short haircut but not quite a buzz cut. Re-create with a #2 on the sides with a #3 on top for a bit of length.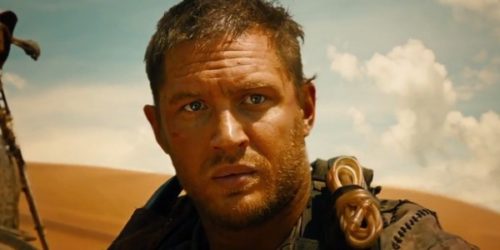 18. Tom Hardy Taboo Haircut
In the BBC drama, Tom Hardy is the adventurer James Keziah Delaney. Sports a crew cut with side taper.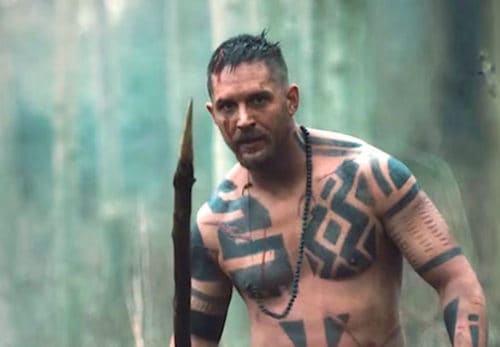 19. Tom Hardy Peaky Blinders Haircut
Tom Hardy plays the leader of a London-based Jewish gang – Alfie Solomons.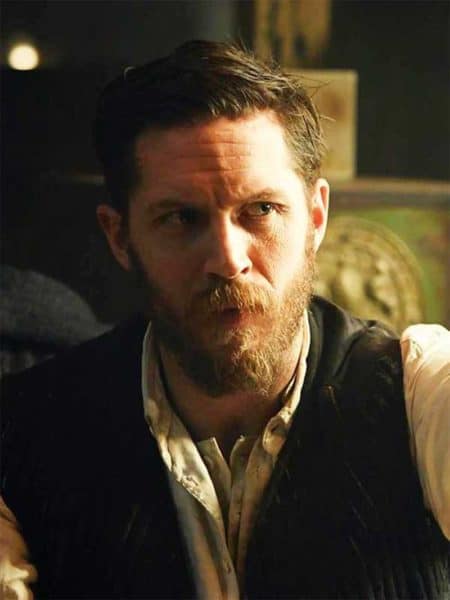 Over to You
Tom Hardy's haircuts have been a source of inspiration for many people over the years. From his buzz cut in "Mad Max: Fury Road" to his longer locks in "Taboo," Hardy has shown that he can pull off a wide range of styles with ease.
Whether you're looking for a rugged, masculine look or something a bit more refined, there's sure to be a Tom Hardy haircut that suits your tastes.
FAQ
What hairstyle does Tom Hardy have?
Tom Hardy has had a variety of hairstyles throughout his career, from buzz cuts to longer, slicked-back styles. Recently, he has been seen sporting a short, textured crop with a slight fringe.
How to ask for Tom Hardy haircut?
If you want Tom Hardy's haircut, ask your barber for a "textured crop with a slight fringe" using a 0.5 to 0 back and side, with a heavy blend. This will separate the sides from the top.
What is a gentleman's haircut?
A gentleman's haircut is a classic men's haircut that is typically short on the sides and longer on top, with a natural and easy-to-style finish. This hairstyle has been popular for decades and is often paired with a clean-shaven face and a well-groomed appearance.