Men are lucky to have all kinds of ways of styling their facial hair to get the perfect face shape. One of the best facial hair styles is the beardstache because it combines a longer mustache with a shorter beard for a super unique look.
When you combine beard styles, you automatically start something new and trendy. The beardstache has been made popular by stars like Henry Cavill, Jon Hamm, and Jamie Dornan.
What is the Beardstache?
The beardstache is a beard style with longer mustache hair on top of a slightly shorter beard or even stubble beard. The main focus is on the length of the mustache and how it blends in with the rest of your shorter beard hair.
Much like its name, the beardstache is a combination of a longer mustache style like the Walrus or Chevron with your beard. Some beard wearers like to blend the ends of the mustache into short tidy beards, while others separate the long mustache from a stubble beard with clean-shaven areas in between.
This look has become so popular on Instagram thanks to beard enthusiasts like Millington and Jeff Buoncristiano.
Best Beardstache Styles
To get tips on how to style this beard, we've provided a step-by-step guide to grooming a beardstache, but we think it's best to show you the many ways men have worn this look in the past.
Pro Tip: For the best beardstache cut without watching any tutorial videos, get a barber to cut and shave your beard, then just maintain your beard hair length using your own trimmers and barber shears.
Face Shape Guide for Beardstaches
We think you can personally style and groom a beard shape that matches your face, but experts on this style state that the beardstache goes with a strong jawline and strong upper lip to grow out your mustache.
This means these two face shapes go best with the beardstache:
Square face shape
Triangle face shape
Diamond face shape
Oval face shape
However, experts say that rounder faces and heart face shapes should avoid this style. We think this depends on your beard growing experience and knowing the right beard length.
Celebrities with Beardstaches
From the star of Fifty Shades of Grey to other male celebrities like Jon Hamm and Zac Efron, the beardstache is a captivating facial hair style that these stars made popular.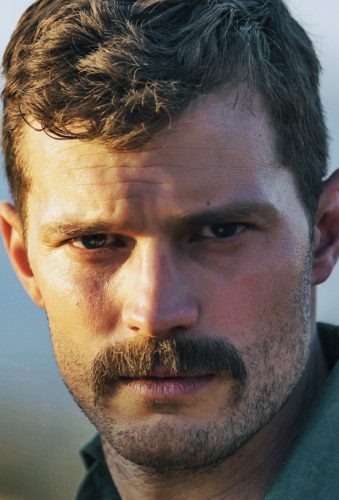 Beardstache with Short Beard
Unlike the full beard, this look goes best with shorter beard styles, including longer stubble beards or short goatee styles.
Beardstache with Stubble Beard
Heavy stubble looks best with a longer mustache for this style.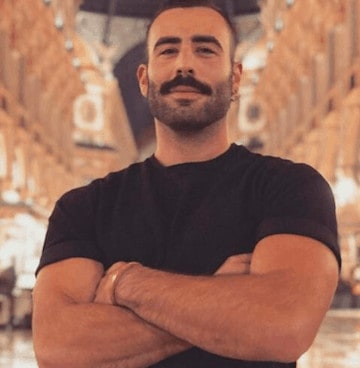 Hipster Beardstache
Need to bring more attention to your top lip? The hipster mustache goes well with the stubble beard.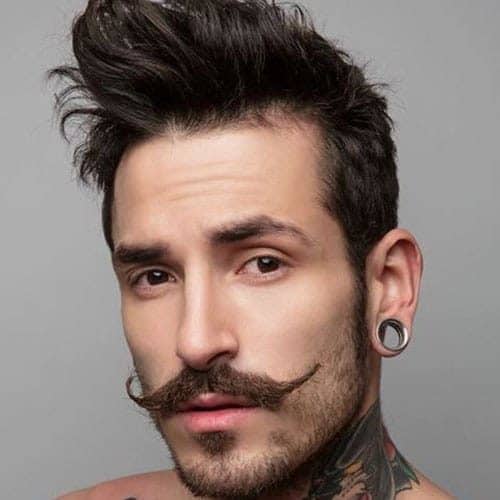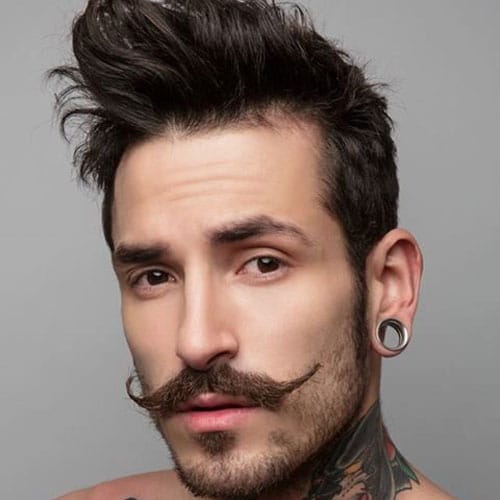 Beardstache with Chevron Mustache
How to Get a Beardstache
Before you shave this look, take note of these pre-shave tips:
Use an electric beard trimmer with comb guards
Let your beard dry and brush out your hair before shaving
Get barber mustache scissors to trim your facial hair
Try a beard shaping tool for straight or curved cheek lines to style your beard
Apply mustache wax to style your hair further
1. Choose the Right Comb Guards
The key to this style is knowing the comb guard lengths you need to shave down your beard so that your mustache length pops out more. For that reason, you should start with a comb length of 4mm or lower and buzz down your facial hair to the right beard length you like.
2. Determine Length and Style of Mustache
The mustache is the focal point of the beardstache so you want to pick a length and thickness that will shine over your beard, which should be trimmed back.
Any longer mustache style will work perfectly to showcase a true beardstache. Some styles of mustache can be found here:
Quick Tips for Trimming Your Mustache
Follow guides for trimming mustaches like the Chevron or Horseshoe
Fade your mustache connector lines using multiple comb sizes, going from longer 5mm to 2mm or so
Don't forget to dry and brush out your mustache hair before determining the length
2. Outline Your Beard
If going from a very long, thick beard style, you'll need to clean-shave around your cheeks and trim up your neckline first. This is helpful to tone down your beard length so your mustache can take center stage.
We suggest using a beard shape guide to define your cheek lines and jawline because it will help you style your beard hair shorter than your mustache.
You can also choose a beard shape that covers just your chin, more of your chin and jaw, or connects up to your sideburns. Some beard shapes that work best with this longer mustache and stubble beard look include:
Goatee
Stubble beard
Extended goatee
Short beard styles
3. Stick to the Beardstache Rule
The mustache rules the beardstache. If you look at yourself in the mirror and your mustache doesn't look longer than your beard, then you should consider going down another length on your chin and mouth hair.