Is it time to trim your beard? With beards growing in popularity, many men are picking up the beard trimmer and styling their beard at home. While growing out your facial hair can lead to a thicker, fuller beard, the best beard trimmer makes it easy to create distinct lines and edges to define your look.
The best beard trimmers come with multiple guards and even a nose trimmer to make quick work of your facial hair.
We review the top men's beard trimmers on the market and include a complete buyer's guide to what features are most important.
Beard Trimmer Buyers Guide
With the latest technological advancements, it's easier than ever to quickly and cleanly get the lines and edges you want for your beard shape. However, which beard clippers really cut hair best and provide the most value for your money? Let's explore the most important features to consider before buying.
We go over the best features to look for and how to find a high-quality for less in the guide below.
Design
The technical design of a beard trimmer says everything about the quality. For example, many new trimmers come with vacuum features, removing the hairy mess of shaving as you shave.
However, brands like Philips Norelco that have this feature also use plastic parts and guides, which doesn't make them the highest quality in terms of design. These can break more easily than a trimmer with metal parts.
Blades
There are a number of different trimmers on the market with carbon steel blades. These are the sharpest blades on the market currently, but these also tend to rust and wear out faster than your typical stainless steel blade.
Sharp stainless steel blades hold up well against moisture and daily use. These blades also work best for cutting thick hair.
If going for the premium option, look for titanium-coated carbon blades. These trimmers have the highest-quality blades.
Guards
You also want to buy electric razors with several different guards and even nose hair trimming attachments. Most of today's trimmers come with a little kit that includes several guards in lengths starting at 0.5mm and going up to a 4. This makes it easy to shave away stray hairs and fade your beard.
Length settings are also important features to look for with an electric shaver. You want a trimmer that can match your short beard or long beard easily.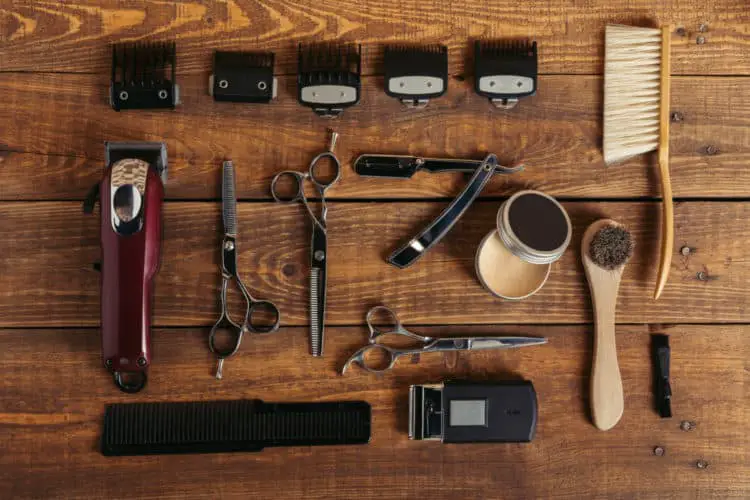 Cordless vs. Corded
Corded beard trimmers may feel more powerful than a cordless trimmer, but the latest models have stronger batteries with longer lifespans. You can go longer in between charges using cordless clippers and many have a 1 hour charge.
Cordless clippers are also more convenient when maneuvering around the bathroom for a quick shave before work. While corded clippers are the most powerful for longer beards, cordless trimmers do just fine for most short to medium beards.
Ease of Use and Portability
You should easily be able to unlock, set your precision trimmer guards, and start shaving with any trimmer. If it's not easy to use or the dials aren't clear, it's going to take more time to get the perfect shave.
The best beard trimmers will always make it easier to use. For example, vacuum trimmers will make it a breeze to get a close shave and head out the door. Travel trimmers typically have cordless designs and lightweight bodies, making it effortless to shave while in the bathroom at the airport before a big meeting.
Price
Plastic parts aside, high-quality beard trimmers don't have to cost over $100. However, those with metal parts and guides tend to be a little more expensive than a value trimmer with plastic components.
The more expensive trimmers will come with more settings, built-in vacuum, and laser guides. These make it easier to get the picture-perfect beard, but you may end up paying $50 to $100 more for these features.
Which Beard Trimmer is Best For You?
We always think about price and features. The top beard trimmers always have a cordless design with easy-to-use features and lithium ion battery designs, but it's also helpful when they have laser guides and vacuum trimming features. Others come with kits and accessories like a beard comb or guards for different beard lengths.
If you're just looking for a trimmer with high-quality blades, the Philips Norelco or Wahl beard trimmers work perfectly and won't break the piggy bank on cost.
We tested the top beard trimmers on the market for edging, lining, and keeping your neckline clean. Final product selections were based on barber's recommendations, features, price, and customer satisfaction.