Growing a beard is more popular than ever and is why so many men have been sporting fuller mustaches and thicker beards. So, whether you have a shorter beard or yeard beard, there's no actual prescribed beard length… but I do have a few expert guidelines.
The optimum beard length actually depends on your hair texture, hairstyle and beard style according to barbers and stylists.  Longer hairstyles pair well with short beards, and short hair looks better with medium to long, thick beards. Then many beard styles need some length to style properly.
So, the ideal beard length is a bit of a myth, as anyone can have their personal style preference that's all their own. However, there does seem to be an "attractive ratio" of beard style. Read on.
The Right Beard Length
With beard hair, not everyone can grow the thickest beard, but that's not necessarily as important as styling your beard to match your face shape and hair type. Check out: How Long Does it Take to Grow a Beard?
Many barbers advise that finding the most attractive beard-to-hair ratio is really about choosing the best hairstyle length and balancing it with the length of your beard.
Short Hairstyles
Some men are meticulous about their beard hair because it doesn't have the same proportions to the hair on their head. Where other obsess over patchy or slowly growing beards.
When you have short hair such as a buzz cut or crew cut, then a long, thick beard balances out your look.
Look at some of these short hair and long beard comparisons: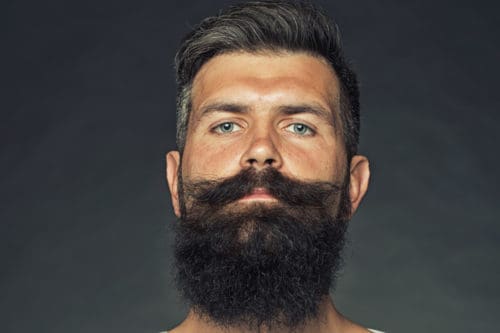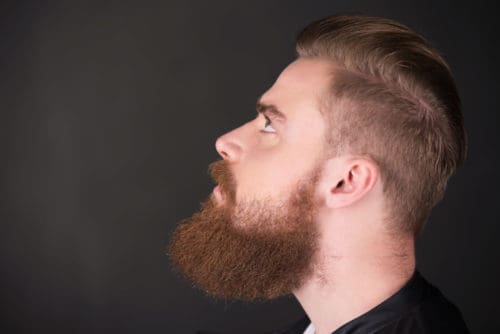 Medium Hairstyles
Medium hairstyle lovers are true chameleons, whether you have a buzz cut, longer crew cut, or faded undercut.
These looks can work with any beard length, whether you decide to grow a full beard, goatee style, or even a stylish Van Dyke beard.
Here's a look at beard length with medium hairstyles: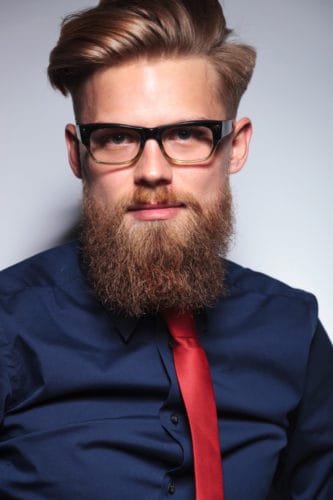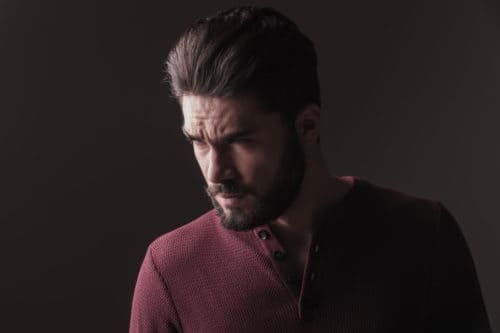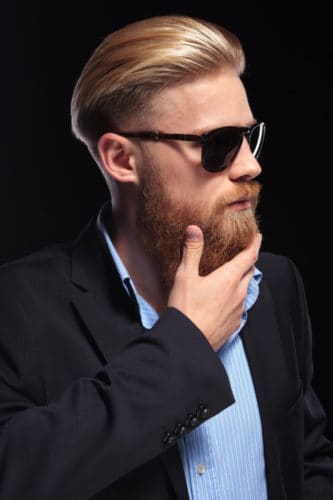 Long Hairstyles
When you have long hair as a man, you can start to look like Harry Henderson if it's not well-maintained. Short beards, goatees, Van Dyke or anchor beards, and short ducktail beards can work very well with longer hair looks.
A few long hair and beard styles with a perfect ratio: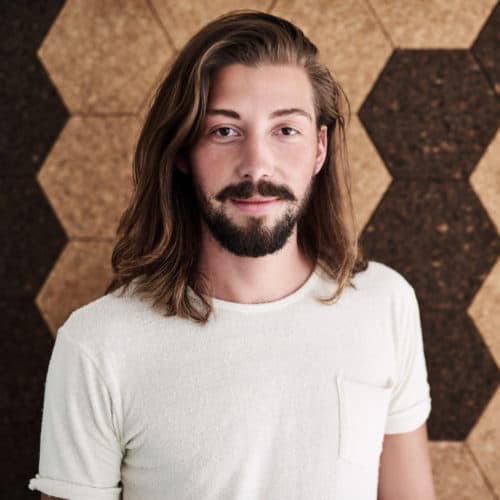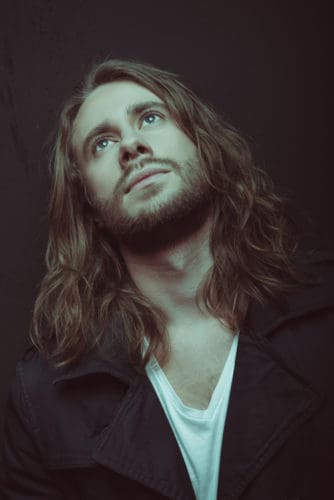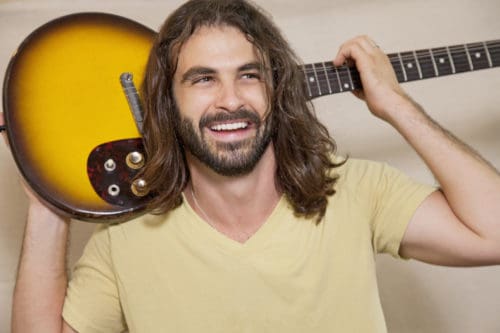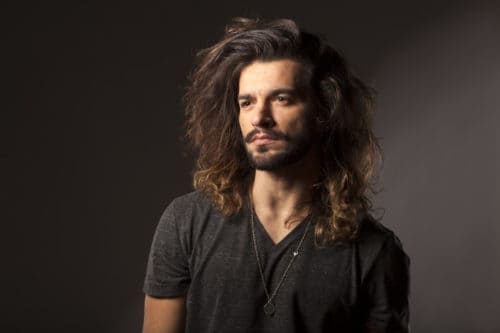 Bald with a Beard Styles
For those with nothing on top, you should grow the longest, fullest beard you can… but any beard style will do. Nothing makes a louder statement than a full, unique beard on a bald man.
Check out some of our favorite bald with a beard styles: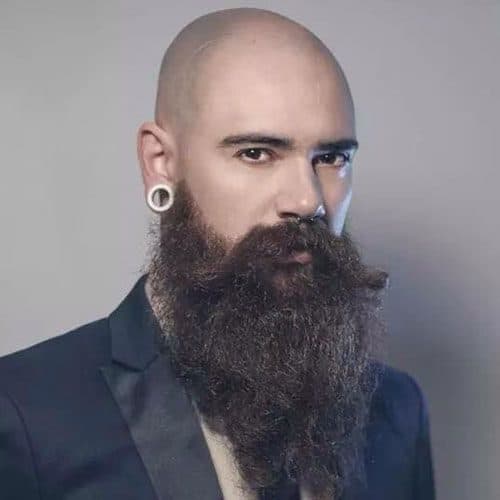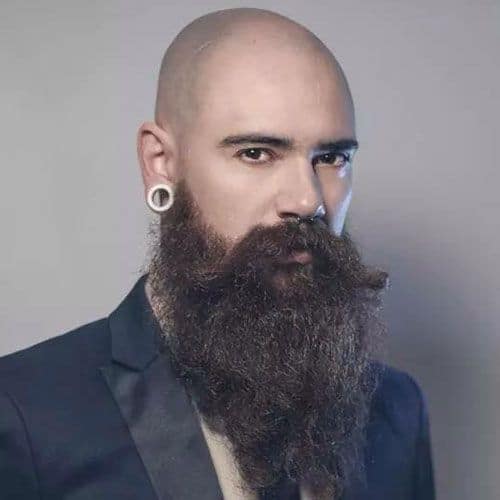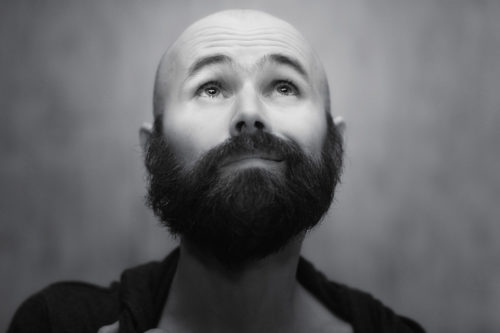 Thinning hairstyles can be difficult to work with. We have several guides on shaving your head bald and what beards go best with the bald look.
The Right Beard-to-Hair Ratio
Barbers say the best way to keep your look balanced is to match the length of your beard to the length of your hairstyle.
Face Shape Matters
In addition, your face shape truly matters when picking out a beard style. Some men look great with full beards, while others would look better with a goatee or stubble beard.
For example, round faces look best with minimal facial hair, such as a chin strap, while inverted triangle face shapes can pull off full beard styles.

Facial Features
The most attractive beard length is one that compliments your look and accentuates your facial features such as your cheek line. Many men use facial hair to fill in areas and hide imperfections, such as growing longer chin hair to elongate the shape of your face.
Grooming your Length
With grooming your beard, some men get caught between maintaining a trim beard or just letting it grow bushy and unruly. Always maintain your beard's shape and length as your facial hair grows. As you do, see how it pairs with your hairstyle.
Beard Care
Growing hair requires continual beard care and maintenance. Here are a few tips to keep your beard in check.
Check out our Beard Care Guide and hair growth tips.
What's the Best Beard Style For You?
Since full beards are incredibly popular now, most men have considered growing out their facial hair. Depending on your beard growth rate, you may see new beard growth and shape that comes after just a few weeks of not shaving.
Once your beard hair comes in, there are many full beard styles to consider. Plus, you'll want to incorporate my beard care routine (above) first, then shape and define the length of your beard that's best for your style.
We've provided a ton of guides below on shaping and defining your beard, as well as your neckline and other fancy ways of getting the style you want.