Facial hair is fashionable, so if you can grow a magnificent beard all on your own, then you may have a superpower that most beard aficionados would dream of. For the rest of us, beard oil is the secret to grooming a beard and getting it to gleam, whether in the sun or not.
Before buying a beard oil that we suggest, we wanted to share what the top beard oils have in common and what you should look for.
How beard oil works
Yes, beard oil does work and helps promote a healthy beard. However, if you're looking for beard oil to cure all beard problems miraculously, you may be underwhelmed by the results.
When used as directed, it can add a layer of protection from elements, support new growth and provide added luster.
Added protection
When asking this question, it's important to know what the reasons are for using beard oil. Most of the time, beard oil is purchased for curing beard dandruff and protecting your skin from further irritation.
However, if you have brittle, coarse beard hair, beard oil also provides other benefits. For example, if you want moisturized, gleaming beard hair, then beard oil can work.
However, most guys use beard oil to prevent the dreaded beard itch that occurs when you start growing out your beard. Besides getting more biotin in your diet for beard growth, beard oil acts as a protector against the elements to strengthen and alleviate skin issues.
New Beards
There can be many challenges when grow a new beard, and beard oil prevents that itch by protecting your hair and skin. It also prevents your beard from drying out, which can cause dandruff and dry skin. You won't have as many brittle beard hairs or split ends after using good beard oil.
What Does Beard Oil do?
Beard oil is a conditioning product for beards that nourishes the hair and skin. It works like a leave-in conditioner and contains oil compounds like argan, jojoba, and castor. Some have a fragrance and combine all-natural fruit extracts, where most just use coconut oil or almond oil.
When applied properly, beard oil will keep the skin hydrated and smooth, preventing dry skin and dandruff. As your beard grows out for the first time and experiencing itch, beard oil can fix it almost overnight.
Check out the Top Benefits in our new Guide: What Does Beard Oil Do?
In this guide, we show you more information about beard oil and what ingredients are most important, as well as the top products on the market today.
Beard Oil Benefits
When beards are well-groomed and shaped to accentuate your facial features, your facial hair can turn heads by how glorious it looks.
This is where beard oil truly shines. Packed with conditioning agents like coconut oil, Jojoba oil, or argan oil, it's one of the essential components of all great beards.
Some other benefits you'll enjoy with a decent beard oil include:
1. Hydrate and Moisturize
Beard oil's main purpose is to moisturize your hair and skin. It can hydrate the skin and soften beard hair, making it easier to shape and style. If you have dry skin causing beard itch, this is the best thing to apply to your beard at night or in the morning.
2. Prevent Beard Itch
The best time to apply your oil is right after cleaning your face with beard wash. It's important to put on beard oil first thing after you shower or cleanse your face.
Hair follicles need to open up so the oil absorbs quickly, which is essential for skincare. If you live in a cold or dry climate, then applying beard oil will keep your skin moisturized and free of itch.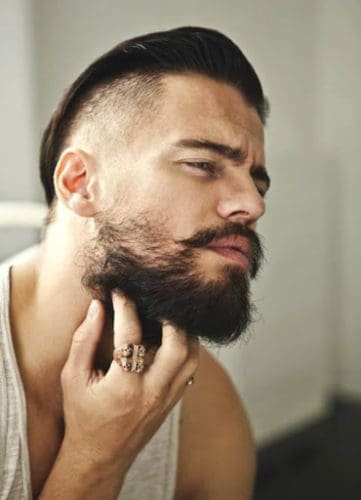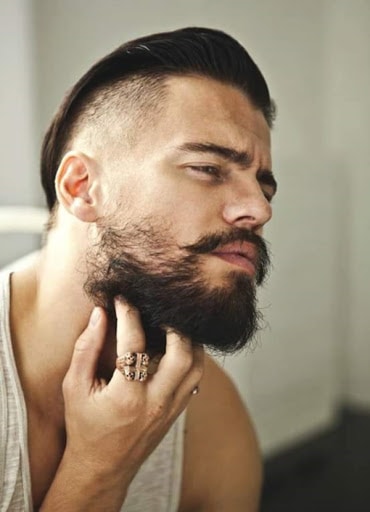 3. Stop Flaky Beard
Do you have beard dandruff? It's hard to get rid of a flaky beard without using beard oil. Once moisturized, your skin will feel better than ever and it will remove any flakes.
4. Smell Better
Light and Airy to Dark, Woody Scents If you don't like traditional cologne or body sprays, beard oil acts just like cologne. With cedarwood, sandalwood, and argan oil, your beard will give off a light, pleasant scent.
Check out: How to Apply Beard Oil for a supreme beard.
---
Beard Oil Buyers Guide
Beard oil tames your dry skin and facial hair so you can shape and style your beard like a pro. If you have brittle, dry hair, then using a good oil could help repair your facial hair quickly.
There are ingredients that are better than others, and many brands have incredible formulas that do more than add oil and a woody scent to your beard. These products can condition your beard and make it healthier, which could lead to thicker, well-groomed beard hair.
Are All Beard Oils the Same?
The difference in beard oils is found in their ingredients and bottle applicators. You want to find one that has the right ingredients and doesn't include any alcohol or sulfates. In addition, the bottle should have an applicator to make it easier to apply.
Products reviewed had varying degrees of smell, so it's best to try a couple before deciding on the one for your beard.
What Ingredients are in Beard Oil?
Certain ingredients are better than others, and there are also some oils and moisturizing agents that can affect sensitive skin and cause acne.
What ingredients are best?
In these cases, your hair follicles are suffering from lack of hydration. We recommend going with a simple beard oil that doesn't have too many ingredients.
You should look for jojoba oil, argan oil, and shea butter combinations to hydrate your hair and skin fully. Also, products with avocado oil have the natural fatty acid – Oleic Acid to produce a full-looking beard. You may need to apply beard oil for a few days to see a difference.
Quick List of Typical Beard Oil Ingredients
Jojoba oil
Argan oil
Castor oil
Coconut oil
Avocado oil
Pomegranate
Vitamin E
Shea Butter
Pumpkin
Grape Seed
Tea Tree Oil
Many beard oils have similar ingredients, and they have a similar fragrance, too – unless they are beard growth oils. However, with fewer ingredients and less chemicals, the beard oil will be a higher quality and lead to less bad interactions between oil and the skin.
Dry Skin
Certain oils work better for different skin types and beard hair. For example, some oils work best for dry skin under your beard, but these won't work well for beards that are greasy and oily.
Sensitive Skin
When you research beard oils, ingredients matter most, but there are a few other factors to think about, especially if you have sensitive skin.
Here are some tips on what ingredients work best for sensitive skin:
Argan oil is best for those with dry skin and brittle hair. This is because argan oil will add much-needed moisture.
Jojoba and grapeseed oils work best for sensitive skin prone to developing acne.
Avoid alcohol-based products because these will dry out your skin more and cause your hair to break more.
Carrier Oils and Essential Oils
The ingredients typically include a mixture of carrier oils and essential oils. Carrier oils can be directly applied to the skin, which is why you can find them with pain relief and massage oils as well.
These oils come from the fatty component of plants and nuts. Carrier oils typically included argan, sweet almond, coconut, and jojoba.
Carrier oils can dilute essential oils to make them more suitable for skin application. Some common essential oils include peppermint, eucalyptus, tea tree, and lavender.
Product Manufacturing and Safety
If you're concerned about animal testing, unsafe ingredients, or allergic reactions, then it's best to check the company's standards, ingredients list, and customer reviews. Most companies have a quality control department that checks the oil before it goes out to the market. To ensure this, you can check a company for its ISO certificates.
ISO stands for International Organization of Standardization, and it makes sure that businesses meet minimal international standards for safety. Other products from Europe should be approved by the database of the European Commission.
You should always check the label and look for chemical ingredients, such as:
Sulfates
Polyethylene glycol
Mineral oil
Chlorine
Isopropyl alcohol
Why is Beard Oil So Expensive?
While you should always look for bargain buys, the best products will likely cost more than $10. We also know that price doesn't always guarantee high-quality standards.
That's why you should check that it contains preferable ingredients (listed above) and the applicator type to make sure it has the best chance of working.
Have you ever tried homemade Beard Oil? Check out our DIY Beard Oil Recipes.
Product Bottle Size
Most bottles contain 1 to 2 ounces of product. Men who haven't tried beard oil may want to start with a smaller size to see how it works, what it smells like, and whether it helps your condition, such as dry hair or dandruff.
If you favor a particular beard oil, then consider upgrading to a 3-oz bottle. Shelf life is a consideration, so you don't want to buy anything that you can't use every day.
---
Best Beard Oils for Men Reviewed
We've tested the top oils for beard and found that these offer the best benefits based on treating beard hair conditions, dry skin, and sensitive skin issues.
Best Beard Oil for Growth and Thickness?
After carefully reviewing hundreds of different beard oils, we think the right beard oil isn't necessarily up to us. Since beard hair and sensitive skin issues are so particular, it may take you a while to pick the one that will help you grow your beard best. Of all the ones we reviewed, the above are our top picks for most skin combinations.
Beard Growth Oils use potent ingredients over regular oils. If you want to grow a better beard naturally, checkout the Best Beard Growth Oils now.
To get started with beard oil, you may want to try Honest Amish beard oil first. These brands are highly rated and consistently deliver results for different hair and skin types.