You started growing facial hair because you wanted your own beard style. Now you have a nice-shaped beard and thought about growing it out? Have you ever thought about what it would look like after growing your beard for 3 months, 6 months, or even a year?
The name of the yeard beard comes from growing a beard for a 1 full "year." You may trim a few hairs, but beards at this length have to be grown long for 12 months.
So what's holding you back from getting your "yeard?" Are you afraid of the commitment? The time will pass quickly and before you know it, you have a full-on year beard to upgrade your entire look. Read more about how to do it right.
What is a Yeard?
The Yeard Beard is continuous facial hair growth for one full year without shaving or considerable trimming. The goal is to reach a fuller and longer length beard in 12 months over an average beard.
More of a general classification, the Yeard is so named as it marks the 12-month long growing cycle. To give more context, it's longer than a classic ducktail beard (less than a year) and shorter than a Gandalf beard (couple of years).
See more Long Beard Styles
Also, year long beards are much fuller and longer than your average beard growth from a couple a few months. Smart grooming and combing can help keep the beard growing in the right direction and tame wild hairs.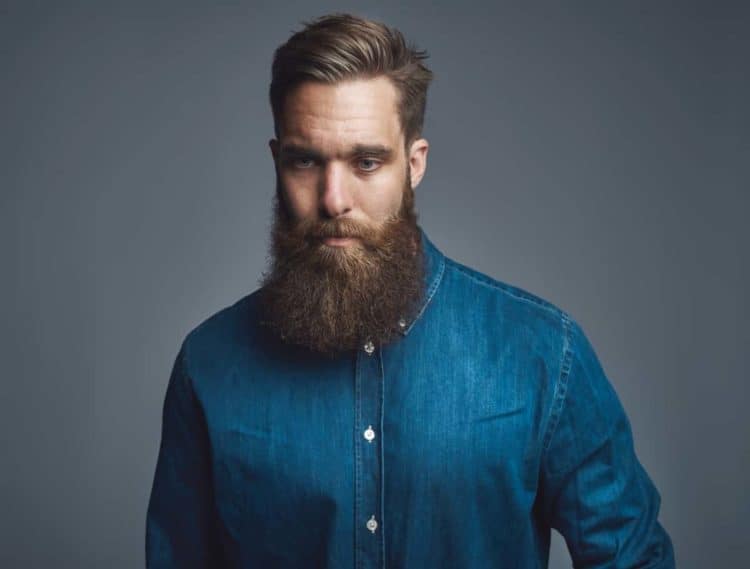 Setting Longer Beard Expectations
Some myths still exist around growing a long, full beard. The main one is that it's not clean or takes a hygiene sacrifice in order to keep it long. However, with a beard comb, shampoo, and beard oil, you can keep a healthy, clean beard that still grows long and wild.
You get a lot of looks with a longer beard when you keep it long and brushed as well.
Growing a Yeard
First, you need to grow your beard out. After the typical beard growth stages, there are 3 additional growth stages when growing a beard for 365 days. These growing stages separate the men from the boys.
Stage 1: Starting the Long Beard
Hair on your face typically grows about .5 inches per month, and could be more if you have longer, fuller beard genetics. Some beards may also grow slowly or come in patchy at first.
You face the biggest challenges within the first two weeks, but after 30 days, you'll see the form of your year-long beard taking shape. Check out: How Long Does it Take to Grow a Beard.
New Beard Growth
Your new facial hair may be uncomfortable at first, and may itch along your jawline and cheeks.
Also, there is a wide range of unique beard styles that'll form as you grow your beard out. So, investing in a good beard comb and applying beard oil can help you manage your facial hair in the direction you want it to grow.
3 month beard
Your 3 month beard should be a point where you question whether you want to keep growing it out.
If the length is already too long and you don't see the patches filling in, you could wait a few more weeks or try a beard filler pencil as a temporary fix.
Be sure to trim down stray hairs with beard scissors and keep thickness tamed.
Stage 2: The 6 Month Beard
How long will a beard grow in 6 months?
After six months and up to nine months, you're halfway there. This means that your beard's length has grown down past your chin and neckline.
Some areas may thicken that were once patchy, and you'll want to trim hair as it grows up your cheeks. Curly beards also look much thicker and may curl inwards for looks with more volume.
Should you trim a yeard?
To this point, there's only been light grooming, and you may be tempted to trim down your beard, but let it grow longer. If you trim too much, you may end up with an uneven beard or extend your growing time.
So most men go to a barber to trim up a longer, unruly beard. Others simply don't groom as much, but they still shampoo and condition periodically.
If you're having issues with growing out your beard at this phase, and it's taking much longer than 9 months to see thicker facial hair, then explore:
Some deficiencies in iron, niacin, and biotin may also cause slow facial hair growth. Sometimes, it may take longer than a year to grow out your facial hair.
3rd Stage: The Home Stretch
This beard growth stage requires a lot of brushing to keep your hair tame and growing in the right direction. You'll see a few more inches of growth in these last few months until the end of the year.
How long will your beard grow in a year?
At the end, you reached an incredible milestone in beard growth. This is the point many men never reach because it's too difficult to get past the uncomfortable stretches of itchy beard. You can bask in your beard's glory and shape it with a few tools to maximize its fullness.
Take a photo for each month to document your growth journey and share with others.
Grooming Tips for the Yeard
With only light beard trimming in the beginning, you'll need a good regimen as it grows out. Otherwise you'll get long stray beard hairs sticking out and traveling down your neck – developing a neck beard. Time to clean things up by trimming below your neckline.
Growing a longer beard means you must clean and trim your facial hair periodically. There are some staple tips you can use in your grooming routine.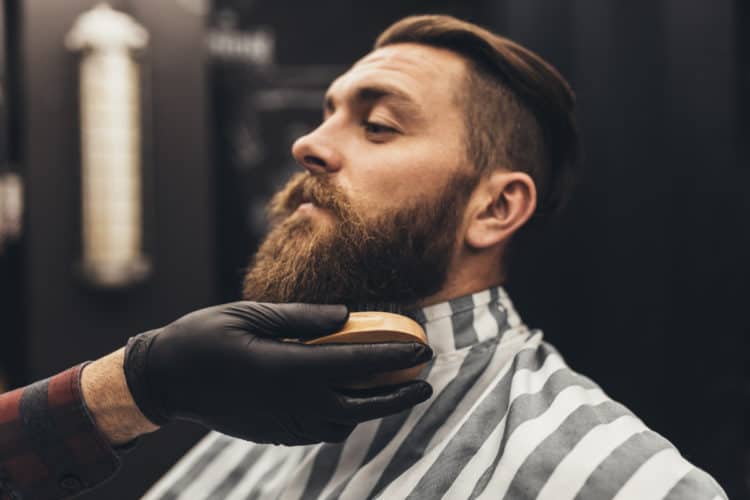 Shaping a Yeard
While you may have avoided many of the trimming exercises earlier on in growing your beard, now is the time to pat your beard and think about a specific style. With a longer beard, you have more options and can shape it as much as you like.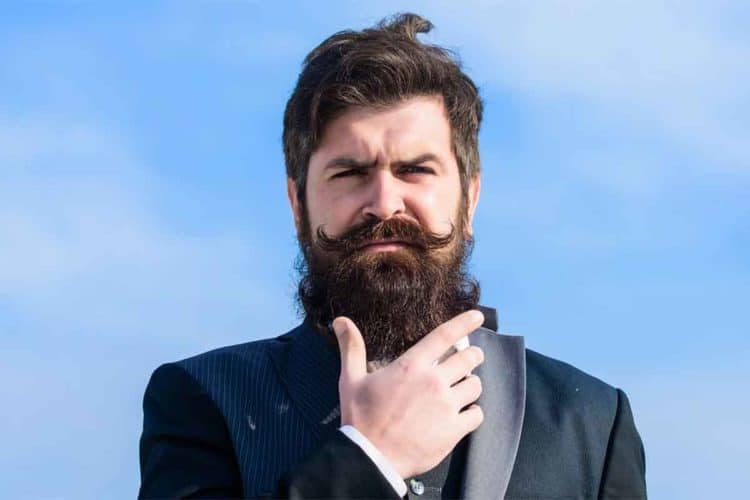 Yeard Care Regimen
Throughout all growth stages, it's encouraged to always maintain good beard care.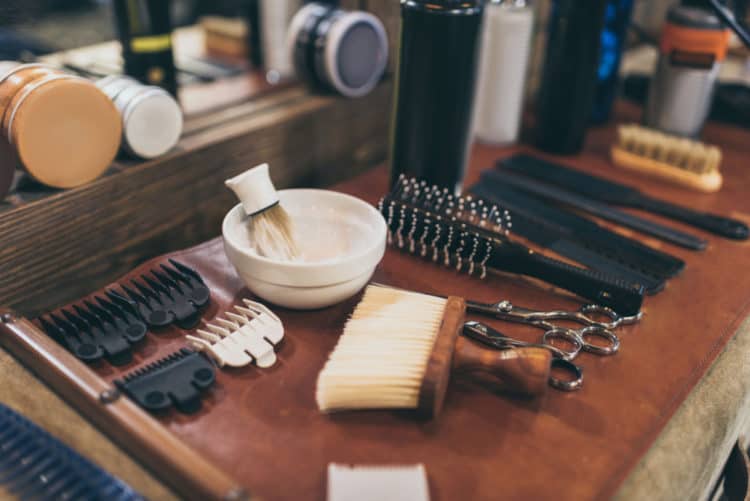 Check the facial shape guide here to see how to accentuate your cheeks and jaw.
Use a trimmer or facial hair scissors to trim away stray hairs.
Keep your mustache trim over the lip to prevent curling.
Keep a clean and trim neckline.
When trimming, avoid cutting hair growing vertically.
Exfoliate your skin and use a natural beard shampoo.
Use a good beard oil and beard balm strategically to keep soft and hydrated.
Use a quality beard comb or brush to keep your beard detangled.
Wrapping Up: Growing Your Beard for a Year
When you grow a thick, long beard, you'll put up with a few months of itchiness, patches, and wiry stray hairs. The whole point of this exercise is to allow your facial hair to grow free and then trim it down later after it achieves a dense thickness.
While others may take only a few months to get a full length beard, it's typical for most men to take a full year to get the same amount of growth.