Do you want to grow a super thick beard? Many studies have shown that healthy, well-maintained beard growth starts with a healthy lifestyle. So, eating a well-balanced diet, good sleep habits and the right vitamins plus nutrients is a great way to promote beard growth. Simple diet tip – start by including more egg yolks, cauliflower, spinach, and nuts in your daily meals.
Studies have shown to make facial hair grow – you'll need to take vitamins like A, C, E, B12, niacin (B3) and Biotin (B7). There are now many beard growth supplements with a perfect balance of essential vitamins and minerals to promote a fuller beard.
So, are you getting the right vitamins and minerals from your diet or supplements for healthy and strong facial hair? Keep reading to find causes for slow beard growth and the best beard vitamins.
What are Beard Growth Vitamins?
Beard growth vitamins include any supplement that promotes facial hair growth, specifically for men trying to grow a longer, thicker beard.
These vitamins typically come in a single pack or multivitamin form, including all the vitamins responsible for maintaining healthy hair growth. While vitamins and nutrients are part of the issue, there may be some underlying reasons you have a slow-growing or patchy beard.
What Vitamins and Supplements are Best for Beards?
A clinical trial of VitaBeard shows certain vitamins and minerals are helpful for thicker, fuller hair.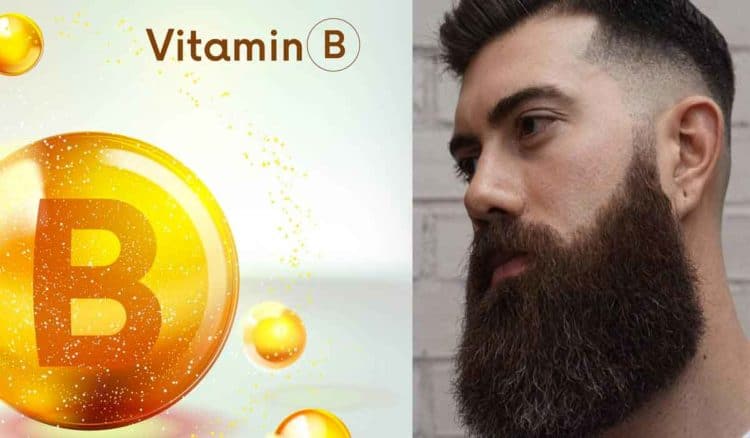 All B vitamins but specifically vitamin B7 AKA biotin
Vitamin D
Vitamin E
Vitamin C
Vitamin A
Iron
Zinc
What Causes Slow Beard Growth?
There are various reasons why your beard is not coming in thick enough. Vitamin deficiencies may be part of it, but it's worth it to check out some of the other causes.
Low Testosterone
Most of the time, people blame the lack of beard hair on low testosterone levels. This is an easy go-to considering that male sex hormones are responsible for facial hair growth, but there are other symptoms to check before diagnosing yourself with low testosterone.
If you do have trouble with testosterone, you are likely to experience the following:
Erectile dysfunction
Decreased muscle mass
Development of breast tissue
Infertility
If you do have issues with testosterone, your doctor may be able to provide therapy and treatments to bring your testosterone back up to normal levels.
Skin Conditions
Do you notice any beard dandruff or another irritating itch with your beard? You may have a skin condition that's causing hair loss, such as alopecia as well. Slow-growing hair is also attributed to hypothyroidism, so your thyroid is underactive.
Iron deficiency or anemia is another cause of slow growing facial hair and poor hair and skin quality.
Genetics
Another cause for slow beard growth could simply be that it runs in your family. If other men in your family struggle to grow hair, it's likely that you will have to deal with the same problems. However, many dermatologists may still be able to help with treatments such as Rogaine (Minoxidil) to grow new facial hair.
Tips to Grow Beard Hair Faster
For growing your beard, there are a few helpful things to remember about how hair growth works and the challenges to getting thick beard hair. It's also important to know what beard growth stage you're in, as you may just need to wait a few more weeks to see thicker hair.
See our Buyer's Guide for the Top Beard Growth Kits
Reduce any stressors in your life as stress leads to hair loss. It increases cortisol levels, reducing hair follicle strength and overall hair health.
Start a healthier beard growth diet that's rich in biotin, vitamin C, iron, and other B vitamins.
Get 8 hours of sleep.
Those with Sleep Apnea use a beard friendly CPAP mask.
Stop smoking. A few studies found that hair loss can be attributed to your nicotine habit.
Figure out your skin type and start taking care of the skin underneath your beard.
Best Beard Growth Vitamins
We review some of the best vitamins on the market and let you know which ones actually work.
1. Beard Grow XL – #1 Facial Hair Supplement & Vitamins
Beard Grow XL is one of the most popular supplements for facial hair growth. One of the reasons it's so popular is the nonhormonal formula. All the ingredients are vitamins, such as vitamins A, C, E, and B.
Supercharged Growth: Our formula is specially crafted for rapid beard growth, a perfect addition to your beard growth kit.
Vegan & Vegetarian: Grow a fuller beard with 100% vegan capsules. Easy to incorporate into your beard care routine.
Hormone-Free Ingredients: No synthetic ingredients to interfere with your hormones. A safer choice compared to typical beard oil kits.
Confidence in Every Capsule: Boost your beard's potential and achieve your desired look with our premium supplement.
Natural & Effective: Harness the power of nature to enhance your facial hair growth. Grow your best beard today.
Ingredients
Methylsulfonylmethane (MSM), Saw Palmetto, Horsetail Extract, Choline, Inositol, PABA, Cellulose, Vegetable Magnesium, Stearate, Silicon Dioxide, Vitamin A, Vitamin C, Vitamin E, Vitamin B1, Riboflavin, Niacin, Vitamin B6, Folic Acid, Vitamin B12, Biotin, Pantothenic Acid.
If you have any vitamin deficiencies, this multivitamin offers to thicken your thinning beard hair by combining these vitamins with saw palmetto. Saw palmetto has been known for its facial hair growth properties, as well as its ability to soothe migraines and asthma.
Not all ingredients may be safe to use if taking other medication. Some side effects were reported for those who take lithium, as it has complications when combined with horsetail extract, that's in Beard Growth XL's formula.
It also has saw palmetto, known to slow down blood clots. So, if you have trouble with blood clotting or any other conditions, consult with your doctor regarding this supplement.
---
For men looking to grow thicker & longer facial hair. The Prime Beard growth formula comes stocked with biotin, collagen and saw palmetto.
Manly, Thick, Healthy Beard - You've taken the first step towards irresistibly luscious facial flow. Prime Beard is just what you need to achieve the full, healthy and manly beard they'll remember you for.
Designed for All Hair Types - Perfectly designed for all men's facial hair health. We'll help your beard become thick, straight, fine, wavy, coarse or curly. From peach fuzz to lumberjack, Prime Beard is the secret hack for your beard health kit.
Address the Root Issue from Within - Fill the gaps that are missing from your diet. Creams and Beard Oils can help you from the outside, but the root issue comes down to an internal nutrient deficiency. And that's where Prime Beard steps in.
Scientifically Proven Ingredients - Scientifically designed to help you achieve the beard of your dreams. With 20 essential proteins, beard vitamins, minerals & herbs for beard & hair health, you'll be going prime in no time.
Highest Quality Formula & Manufacturing - Made in USA | Non-GMO | Gluten Free Dairy Free | Soy Free | Keto Friendly | No Artificial Flavors or Colors | Zero Preservatives | Lab Tested & Verified
Ingredients
Vitamin A, Vitamin C, Vitamin D3, Vitamin B1, Vitamin B2, Niacin, Vitamin B6, Folate, Vitamin B12, Biotin, Pantothenic Acid, Vitamin E, Zinc, MSM, Collagen Hydrolysate, Prime Beard Complex (Coconut Oil, Pumpkin, Saw Palmetto, Ceylon Cinnamon, Nettle. Other Ingredients: Gelatin Capsule, Rice Flour.
With 20 vital proteins, vitamins and minerals, they've designed it to grow beards for all ethnicities and hair types.
---
Your beard hair needs many vitamins and minerals to grow. The Alpha Beard Hair Vitamins for men formula ensures optimal nutrient intake, helping beards grow thick and strong.
BUILD A BETTER BEARD from the follicles up with Alpha Beard Hair Supplement for men. Combining a wealth of hair vitamins for healthier hair, this formula promotes growth by ensuring that you have proper nutritional support.
SCIENTIFICALLY FORMULATED with vitamins and minerals that nourish hair cells, Alpha Beard includes collagen, MCT oil, aloe vera, ginseng, MSM, B-Complex, Vitamin E and 10,000 mcg Biotin for hair growth and health.
INCREASE ELASTICITY and deter breakage of facial hair with Biotin, B-complex and collagen.
POWERFUL PATENTED MCT OIL by goMCT is high in essential fatty acids carry nutrients and minerals to your beard faster and provides longer-lasting cellular energy*
EASY TO TAKE and mess-free, Alpha Beard and Hair Growth Supplement involves none of the tacky residues or discolored pillowcases that other hair growth products such as oils, do. Simply take 2 capsules daily as directed on the label.
This unique supplement blend carries nutrients to hair cells faster, promotes better circulation, and so your beard can flourish without patchiness.
---
The Lumberman beard formula has 2x more ingredients than other competing supplements for the same price. Also, their combination of nutrients should help nourish hair and hydrate your skin.
FOR ALL HAIR TYPES: Whether your beard is thick, curly, straight, fine, or coarse, LumberMan has you covered! The mens vitamins in LumberMan beard kit help men of all ethnicities and hair types. Whether you're going for a distinguished look or an all-out mountain man, LumberMan can supply the vitamins for men you need to style the perfect beard. Don't rely on beard oil - add LumberMan Beard Growth to your daily routine. We offer a risk-free purchase as we have a 60-day money-back no questions.
THICKER FULLER HAIR: Put your best face forward knowing you'll have the manliest hair and beard you can grow! Whether you're new to the world of beard products for men or you're a veteran man-beast, LumberMan is formulated to help support healthy hair growth for a more even, fuller beard you can be proud of. Ideal for beards and hair on the scalp, as well as mustaches, goatees, and sideburns.
HAIR GROWTH VITAMINS: Your hair may suffer if you are nutrient-deficient. Lumberman has 2X more ingredients than competitors for the same price. Our LumberMan hair supplement is formulated with 21 essential nutrients: Vitamins A, C, D, E, B1, B2, B5, and B12, Niacin, Folate, Biotin, Linoleic Acid, Choline, Iron, Iodine, Zinc, Selenium, Copper, N-Acetyl Cysteine, Millet Extract, and MCT. LumberMan beard care offers a convenient way to battle nutrient deficiency daily.
NAIL HAIR AND SKIN BENEFITS: The very same nutrients that feed your prized beard also help strengthen brittle nails, nourish healthy scalp hair, and hydrate your skin for a more youthful look and smooth feel. You'll love how thick and luxurious your facial hair can become when you take LumberMan. This men stuff is made specifically for hair and skin hydration — try it out today!
ABOUT FEELZ GOOD: Feelz Good is a supplement company focused on developing functional products for your health and wellness. We take the concept of "FUNCTIONALITY" very seriously. Our products are designed and formulated to deliver ingredients that really work. Feelz Good embraces the allergy concerns of the American family. All our products are MADE IN THE USA.
Ingredients
Vitamins A, C, D, E, B1, B2, B5, and B12, Niacin, Folate, Biotin, Linoleic Acid, Choline, Iron, Iodine, Zinc, Selenium, Copper, N-Acetyl Cysteine, Millet Extract, and MCT
With 10,000 of mcg Biotin plus MCT Oil, their supplement blend is scientifically proven to give fuller, thicker results to all hair types for a healthier beard.
---
HerbTonics beard supplement is a newer supplement but is growing in popularity. It's made in the USA and only contains 100% natural ingredients. I like that there're no fillers, binders or preservatives. Also, no gelatin, dairy, or gluten.
Grow thicker and fuller facial hair with premium quality vitamins and minerals such as Biotin, Zinc, Saw Palmetto Extract, Horsetail Extract, and Multivitamins
Made for men with all types of facial hair, our supplement helps promote faster hair growth, assists thin hair beard follicles to become thicker, and helps those experiencing patchy facial hair
Take advantage of essential vitamins and minerals such as Biotin and MSM, known to promote the growth of healthy hair and beard as well as glowing skin
Manufactured in the United States and rigorously tested by third party laboratories to ensure safety, consistency, and quality
Formulated with high quality ingredients that are gluten free, nonGMO, and vegetarian
Ingredients
Collagen, Biotin, Vitamin A, Vitamin C, Vitamin D3, Vitamin B1, Vitamin B2, Niacin, Vitamin B6, Folate, Vitamin B12, Biotin, Pantothenic Acid, Vitamin E, Zinc, MSM, Collagen Hydrolysate, Prime Beard Complex (Coconut Oil, Pumpkin, Saw Palmetto, Ceylon Cinnamon, Nettle.
With the highest quality vitamins and minerals, the HerbTonic beard growth supplement is specially formulated to give you the essential vitamins and minerals needed to grow your best beard. The reviews speak well for this product.
Check out the ultimate list of the Best Beard Growth Products to grow a better beard.
---
Do Beard Growth Vitamins Work?
While there hasn't been a specific study on beard growth vitamins, many reviews and studies on similar ingredients in the multivitamins show they do work, particularly those with deficiencies in certain vitamins.
If you have an iron or biotin deficiency, a multivitamin is likely to help your body with facial hair growth and other issues.