Beards have made a comeback, and now they're bigger and thicker than ever. If you've tried to grow one overnight, then you know it's simply impossible. Men's beard growth varies over a few weeks, and if it's taking too long, then there may be a hack for you.
Millions have explored Minoxidil (AKA Rogaine) for successfully growing a better beard. For decades, topical Minoxidil (5%) solution has been widely accepted to be safe and effective in regrowing hair – including facial hair.
Men all over the world are using this medicated topical (drops, creams, shampoos, etc) to thicken their beards and grow more facial hair. See if this easy medical treatment can put you on the fast lane to a fuller beard! Read on to find out.
What is Minoxidil?
Minoxidil is an over-the-counter medicated treatment for hair loss. Both men and women can use it to treat a receding hairline, balding crown, and overall thinning hair. While it doesn't work for everyone, studies have shown it can increase overall hair growth in trouble areas.
You may have seen the branded forms of minoxidil called Rogaine or Theroxidil sold in different forms and strengths. While it's more commonly called Rogaine, minoxidil is used to regrow hair and prevent or slow the effects of male pattern baldness.
Originally prescribed for hypertension, since 1986, minoxidil has proven useful for significant hair regrowth. Studies have shown it works to prevent hair loss around the crown and temples. Also, the studies in men ages 20 to 60 showed strongest results for those under 40, but your results may vary.
How Does Minoxidil Work?
Minoxidil was designed as a vasodilator, so it can dilate blood vessels to improve blood flow to certain parts of the body.
Minoxidil lengthens the Anagen phase, which promotes more hair growth. DHT hair loss can be attributed to a shortened anagen phase, which is a precursor to male pattern baldness.
Blood flow is increased to areas where minoxidil is applied. However, blood flow increase was only noted with a 5% topical Minoxidil cream.
Some scientists have found that Minoxidil works by strengthening the immune system because it stimulates prostaglandin synthase-1.
When it's applied directly as a foam, minoxidil increases blood flow to your scalp. In studies, more oxygen and nutrients reach hair follicles, which promote hair growth and thickness.
A common misconception is minoxidil only works for scalp and crown hair regrowth. It's actually a local solution that can help grow hair in other areas.
Does Rogaine Work for Beards?
Rogaine has proven to regrow hair on the scalp's crown effectively. But with limited scientific evidence regarding beard growth, the available experimental data is inconclusive. However, it would seem logical that Rogaine can also work for beard hair and thousands of men have proved so.
Rogaine can work for beards because it increases blood flow to hair follicles when applied as directed. Rogaine also lengthens the active growth cycle (Anagen phase) allowing for more hair growth, including facial hair. Rogaine can also help those with thin or patchy beards where the beard follicles have become dormant.
Rogaine products reviewed cited men regrowing patchy beards, filling in bald spots and increasing overall facial hair density. However, before using any medication outside of its intended use, discuss with your doctor first.
Rogaine for Beards
So, you want to grow a thicker beard, and you want to see results as soon as possible. Would Rogaine work for you? Clinical studies have shown minoxidil works for beards and those affected by alopecia barbae, an autoimmune condition.
In reviews and user testimonials, Rogaine has proven to grow thicker facial hair, by applying to your chin, jaw, and upper lip.
Anywhere there are hair follicles, Rogaine can help hair grow and improve thickness. Some users have reported results in just two weeks. However, no two people have the same hair growth patterns, so it may take longer.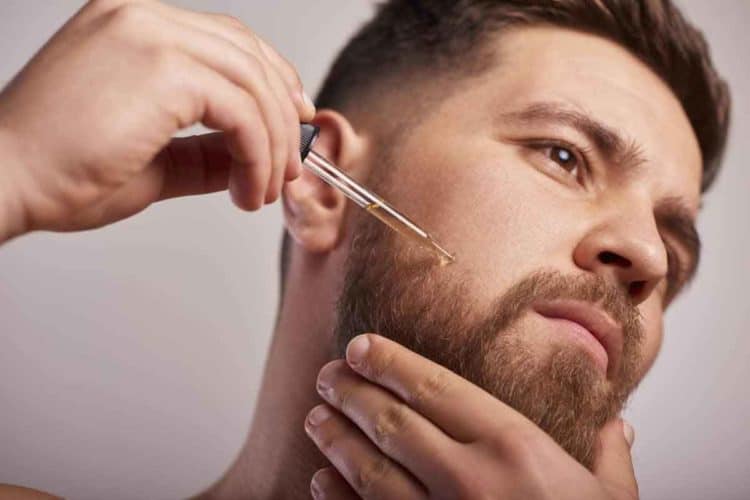 Though Rogaine isn't marketed as a beard formula. As mentioned, many men claim it works at regrowing facial hair.
Rogaine doesn't always stop hair thinning, nor does it work for everyone.
In addition, there may be certain side effects (explained below).
Stopping treatment too early: Once starting Rogaine, it's suggested to take it for at least six months to a year to see results. Some people stopping before six months reported hair loss again. Hair follicles have to mature fully and start growing thick before you end the treatment.
Once you stop applying it, weaker hair will stop growing.
Is Minoxidil FDA Approved?
The FDA has approved minoxidil for scalp hair growth, but the trend towards beard growth is just beginning. There haven't been recent clinical trials to show how it works for facial hair. However, that doesn't mean it's not a worthy treatment for beard hair growth.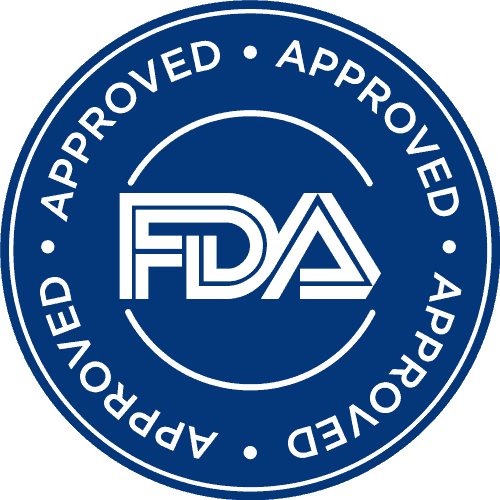 The trend to use minoxidil for beard growth started after a few users on Reddit showed it could work for improving patchy beards. Now it has become a sensation, and there aren't too many side effects either. If you think you might have an issue, then talking to your physician should be your first step before starting a new routine.
Using Minoxidil on Beard Hair
There are two types of minoxidil available. Each can work for facial hair growth. These types include foam and liquid minoxidil. We look at the benefits and differences with each application type.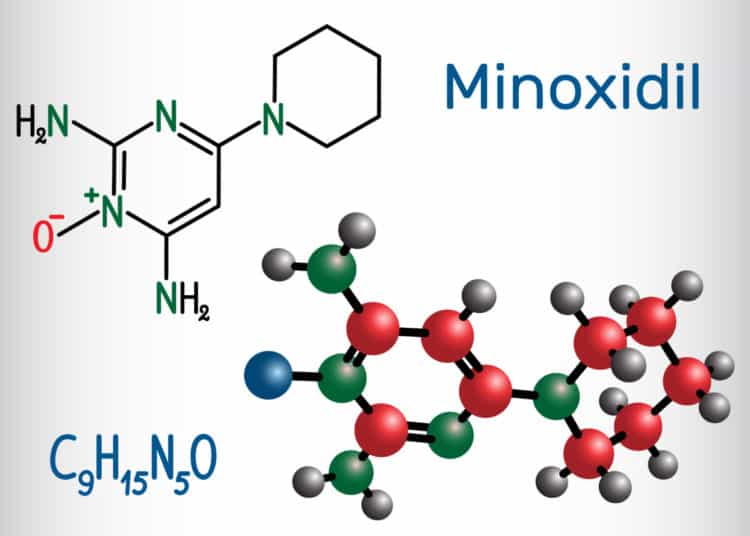 Minoxidil Oil for Beard
Cheaper but Messy
Since minoxidil was released, it has come in liquid form. Typically, liquid minoxidil is a 5% formula that can be applied twice daily for the best results. There's also a 2% version that Rogaine created for women with thinning hair.
The liquid form is cheaper than foam versions, but the downside is that the texture and smell aren't that pleasant. It also takes longer to dry, and it's greasier than foam.
Applying Minoxidil Oil on your Beard
Wash your beard and face first, then pat dry with a towel
Apply about 1 ml of liquid minoxidil with a dropper to your face
Rub the solution into your beard, covering all skin in patchy areas especially
Apply twice daily to see growth after two weeks, but it could take 6 months for hair follicles to grow strong roots
Most users noted hair growth started after 14 days, but you can find more answers like minoxidil before and after beard growth on Reddit.
Minoxidil Foam for Beard
Cleaner, Easier Application
The other type of minoxidil comes in a foam, and it's slightly more expensive than the liquid version. It's the most popular way currently to apply the topical medicated treatment because it's not greasy and dries faster than the liquid version. Rogaine is the main brand for the foam version, and it comes in a 5% solution.
Applying Minoxidil Foam on your Beard
Wash your face and pat dry before application
Run your hands under cold water right before application
Dispense foam onto your palms after running under cold water
Only dispense about 1 ml of foam to start
Apply the foam to any patches and bald spots around your beard, working it in along your jawline and chin
Repeat twice daily
Application Tips
To ensure you don't get the cream on any other areas but your beard, use gloves to rub into your beard. However, minoxidil shouldn't grow to hair on your palms, but it could cause growth on the back of your hand if you're not careful.
If you experience any dryness after using minoxidil, then start a beard oil routine, which can treat dry, flaky skin fast.
Minoxidil Beard Side Effects
If you've jumped in beard first with minoxidil, check with your doctor as you may be experiencing sensitivity to these ingredients:
Anhydrous lactose
Docusate sodium
Magnesium stearate
Microcrystalline cellulose
Sodium benzoate
Sodium starch glycolate
Originally intended to help with high blood pressure, so it's not uncommon for people using this treatment to experience lower blood pressure. It's also not to be a replacement for blood pressure treatment.
When used twice daily, minoxidil should promote hair growth at the application site.
However, some users have reported mild side effects. These mainly occur when too much minoxidil has been applied or if you have sensitive skin.
Common Side Effects
Burning
Stinging
Redness and irritation
Uncommon Side Effects
In some cases, minoxidil can be absorbed into your skin, causing other side effects. These instances aren't common, but if you notice dizziness, irregular heartbeat, fainting, chest pain, swelling of your face, or difficulty breathing, then you should seek medical help immediately.
You should heed other warnings for this medication. If swallowed, you need to seek immediate help as it can lead to difficulty breathing and digestive problems.
Does Minoxidil Grow Vellus Hair?
Vellus hair (AKA "peach fuzz") are small white hairs that may occur once hair follicles produce hair again. These grow all over your body typically, but with minoxidil treatment, they can turn into stronger, darker long-term hair strands.
You should see these hairs change into dark, coarse hairs after using the treatment for six months.
Minoxidil Brands Comparison
Rogaine is probably the top brand associated with minoxidil, but it isn't the only company associated with this hair loss treatment. The rule of thumb is to look for 5% minoxidil treatments that don't contain DHT inhibitors.
There are two main brands that have been working for beard hair growth recently. We'll go over each of them and compare results below.
In addition, you may need to buy multiple bottles of minoxidil if you plan to use it twice daily for 6 months.
1. Men's Rogaine Extra Strength – 5% Minoxidil Hair Regrowth Treatment
Treat facial hair loss and grow a fuller beard with Men's Rogaine Extra Strength 5% Minoxidil. This Rogaine Topical Foam is perfect for use at the early stages of facial hair thinning. It's fast-acting hair regrowth treatment is clinically proven to regrow up to 25% more hair in 12 weeks.
Rogaine has been the longest known brand to advertise 5% minoxidil in both liquid and form foams. The results speak for themselves, and many users have reported new beard hair growth using these beard growth products. However, they're also more expensive than the off-brand treatment below.
REGROW THINNING HAIR: 3-month supply (three, 2-fluid ounce bottles) of Men's Rogaine Extra Strength Unscented 5% Minoxidil Topical Solution to help treat hair loss, maintain hair density & allow for the regrowth of fuller hair
5% MINOXIDIL: Formulated with extra strength 5% minoxidil, this unscented topical solution from the #1 dermatologist recommended hair regrowth brand to treat thinning hair & is clinically proven to improve hair regrowth by 34% after 16 weeks
CLINICALLY PROVEN RESULTS: Rogaine, the original inventor of minoxidil, tested on over 47,000 people & is the 1st FDA approved brand for over-the-counter use of minoxidil. Making it the perfect, easy to use at-home hair thinning solution
DON'T WAIT: This hair loss solution works in five ways to reactivate your natural hair growth cycle to grow fuller, thicker hair. Start applying at the first signs of hair thinning to help slow the hair loss process
EASY TO APPLY: The easy-to-apply hair loss treatment is designed to fit into your daily hair care routine. Apply 1 milliliter of solution from the #1 hair regrowth brand for over 3 decades directly to your scalp twice daily & massage it in
There are multiple types of Rogaine products, including an extra strength. While users have noted 5% works great for beard hair growth, your skin may get very dry if use higher dosage forms on your face. That's why it's best to incorporate a moisturizer or beard oil into your routine.
---
2. Kirkland Minoxidil 5% For Men – Extra Strength Hair Regrowth Treatment
The Kirkland extra strength treatment has an active ingredient of 5% Minoxidil to nourish hair follicle and help the hair growth process. Kirkland Minoxidil treatment takes about 2 – 4 months to see results.
No products found.
No products found.
If you want to purchase in bulk and spend less money on minoxidil, then the off-brand made by Kirkland is just as effective as Rogaine according to most users. The liquid kit comes with an applicator to measure out the right amount easily.
---
Minoxidil (Rogaine) Beard FAQs
Do I have to wash my face after using minoxidil?
You don't have to wash your face after using minoxidil. The treatment needs to sit on your skin for multiple hours, which is why most people apply it at night and let it sit for up to two hours before washing it off. However, you should wash your face at least twice a day and use a moisturizer to prevent any dry skin.
Can you apply minoxidil more for faster growth?
It's not recommended applying minoxidil to your face more than twice a day. In fact, some users have reported that this causes dry, irritated skin, which is why they dropped to only once a day. If you notice any severe redness or irritation, you may need to stop treatment and allow your skin to heal first.
Does hair shed more than usual when using minoxidil?
There are a few beard growth stages, but if your hair is shedding after using minoxidil, there's no need to worry. Minoxidil actually causes shedding at first in some cases. This only happens for a short period before newer, stronger hair can develop. If you notice hair continuously shedding over 7 days after use, then you may need to consult with a doctor.
Can I go swimming or get my face wet if I'm using minoxidil?
You can perform any activities around or in water with minoxidil. However, you should give the topical cream some time to work before you go under water. One study in 1990 found minoxidil is absorbed within 1 hour of use for 50% of patients, while another 75% showed it absorbed within 4 hours.
Should I use a Derma Roller?
A Derma Roller is a microneedling device sometimes used to improve the effectiveness of the Minoxidil treatment. The roller is typically found in beard growth kits. It creates tiny punctures in facial epidermis, prompting an elevated healing response. Some comments on Reddit show a higher success rate at growing bad facial hair.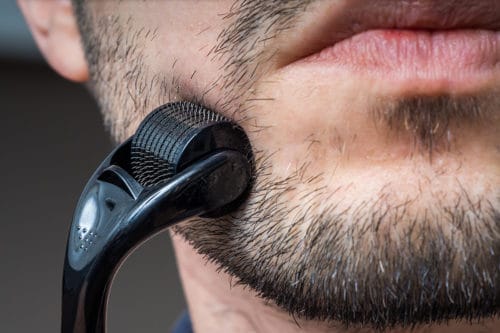 Can I Shave?
Yes, though it's suggested to wait 2 weeks when first starting treatment! Minoxidil will continue to work, no matter how you want to shape and trim your beard. However, you need to wait at least 30 minutes to an hour for minoxidil to absorb into your skin.
Other studies showed that minoxidil may not fully absorb into your skin for up to four hours after initial application.
Should You Start a Minoxidil Regimen?
Most men have had issues growing a beard since their teens. It takes many years to shape and form a prominent beard. However, if you experience slower growth than normal, it can take forever just to see your beard fully grow as thick as you want.
Minoxidil has proven beneficial for thousands of men with a patchy or slow-growing beard. 
When applied to certain areas under the chin and cheeks, it can allow for new growth and also cause wild hair growth. Users should be careful to monitor hair growth and ensure it doesn't cause too much irritation, as this could lead to weaker hair follicles if too much is applied.
There are other methods to help facial hair growth, such as: