What should you do if you're losing your beard? Men who suffer from alopecia areata may also suffer from a related condition, known as alopecia barbae. While it's known this is an immune system response, this form of alopecia is rarely studied.
Before diving into beard care advice, consult with a medical professional on the best course for treatment. Learn all about the condition below.
Warning Signs of Alopecia Barbae
Most men notice their beard is more than just patchy or slow growing with alopecia barbae. Bald spots may appear on the cheeks and jawline, spreading to the chin and neck.
Scientists have discovered that the body attacks its own hair follicles with autoimmune diseases like alopecia areata. A sex hormone known as dihydrotestosterone (DHT) attaches to hair follicles, slowly weakening and destroying its ability to generate new strands of hair.
Alopecia barbae is the name for facial hair loss due to the same autoimmune response causing patches or bald spots in the beard areas.
What Causes Alopecia Barbae?
Studies show that alopecia barbae is passed down primarily through genetics. However, beard hair loss may result from psychological factors, such as mental stress, possibly extending to physical stress, asthma and allergies.
Symptoms of Alopecia Barbae
Beard shedding is more than a patchy beard. If you're losing facial hair in circular patches along your neck, jawline, and cheeks, you may be experiencing alopecia barbae.
Beard shedding
Circular bald spot patterns in beard hair
Hair loss progressively worsens
Redness and irritation
These conditions lead to beard shedding, which leads to larger areas of missing hair. Over time, beards may disappear completely, leaving only a mustache or stray hairs.
Other Related Conditions
There are other related conditions, such as alopecia totalis. Men who have experienced this condition lose all the hair on their heads. Alopecia universalis is another condition that leads to the complete loss of head and body hair.
Many men have experienced alopecia barbae, but until they saw bald spots forming on their cheeks and jawline, they didn't know they had developed a condition.
One photographer documented the loss of his beard hair, which started with a 5-inch circle of hair loss around his neck line. Then it grew and spread. Now he has only his mustache and patches of hair along his jaw.
Alopecia Barbae Pictures
Most men first notice the signs of beard alopecia when hair starts to grow longer and darker. The patches can easily be seen around the jaw and chin. Those with this condition also may notice beard shedding and different hair textures, such as wispier hairs around bald patches.
The photos below show you varying stages of alopecia barbae, as well as how alopecia areata compares to beard hair loss.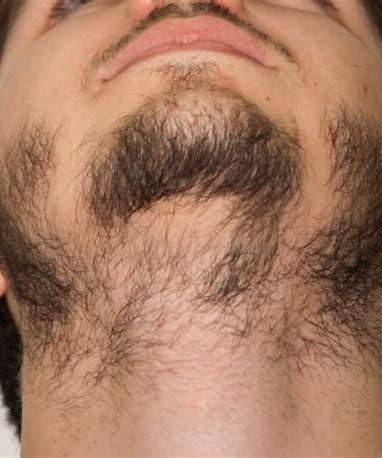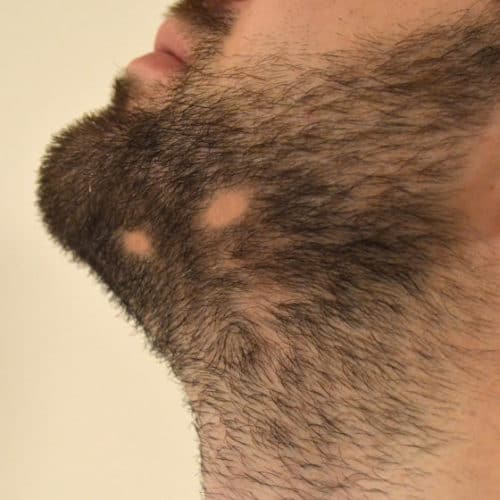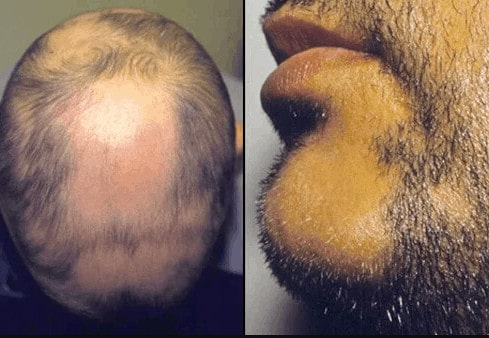 Alopecia Barbae Treatment
For those who are experiencing beard hair loss, seeing a dermatologist may be the best way to prevent and reverse hair loss. While alopecia barbae is hard to get rid of, there are some treatments that you can purchase online to try first.
Minoxidil for Beards
Minoxidil for beards: You can apply Rogaine or hair loss creams to the affected area to reduce hair falling out and promote regrowth.
Hair Loss Shampoo
Hair loss shampoos: Hair loss shampoos may help hair to grow, but there are some side effects for sensitive skin, such as dry, itchy skin.
Biotin for Beards
Biotin products for beards: This treatment options may slowly help beard growth or do nothing at all. Reddit users claim it improves thickness and hair quality. It really comes down to the individual and degree of hair loss.
Steroids
As documented by the National Center for Biotechnology Information, U.S. National Library of Medicine, cortisone steroid injections have shown to improve hair growth and may be a good treatment option for those with more than 50% hair loss. Where topical steroids is the preferred option for those with less than 50% hair loss.
Beard Transplant
Beard Hair Transplant: If you want a fuller beard with long-lasting results and no side effects on libido, a beard transplant may be the best option for serious hair loss.
Many others are also considering beard transplants to restore hair or fix patchy beards. Many dermatologists suggest that there are other ways to handle alopecia barbae, such as a steroid cream or even injections.
Platelet-Rich Plasma (PRP)
Platelet-Rich Plasma (PRP) is a relatively new form of treatment showing promise in a recent study documented by NCBI. The process stimulates new hair growth, thickens existing hair and improves nutrient supply to hair follicles.