Do derma rollers help with beard growth? Also known as beard rollers, these handy tools are growing in popularity to fix patchy beards and smooth your skin texture. If you have trouble with slow facial hair growth, perhaps this is the easier way to roll into a full, thick beard.
So, if you're curious whether this method can improve your beard, we'll answer all your questions, plus you'll get the best derma roller selections we've reviewed.
Do Derma Rollers Work for Beard Growth?
Derma rollers are most commonly used to treat wrinkles, but some people also use them to grow facial hair. While there's limited scientific evidence that derma rollers actually work to promote beard growth, one study from the Nation Center for Medicine says it may promote hair growth.
What is a Beard Roller?
A beard derma roller is a facial tool with tiny needles that's rolled over your skin to improve blood flow and skin texture. The beard tool uses this microneedling process for overall skin health and thicker beard growth.
How Do Beard Rollers Work?
A beard roller works by microneedling the facial areas where hair growth is desired. The roller typically has up to 540 tiny titanium needles that puncture the dermis. The minor injury triggers nutrient-rich blood and collagen-rich tissue to stimulate new facial hair growth.
The best beard rollers are commonly made of titanium, the premium rollers gold plated, and the cheaper version made of plastic.
Beard Roller Before and After
Derma rollers were first used by women to smooth skin and reduce rosacea. When men started using these devices on patchy beards, they found beard roller results and it led to significant facial hair growth. See the time lapse below.
Time Lapse Patchy Beard Growth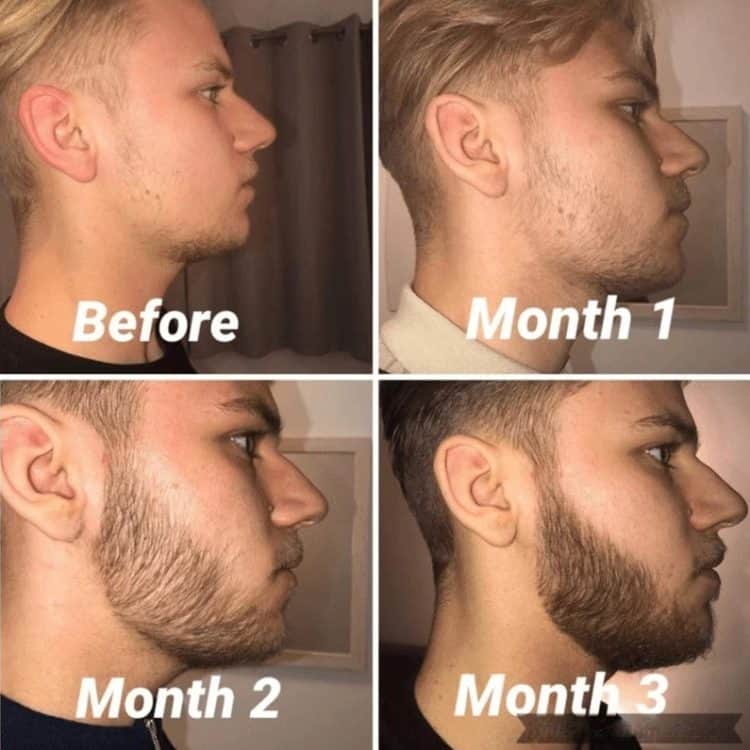 Microneedling for Beard Growth
Microneedling (aka dermarolling) has been around for years and believed to improve hair growth, whether for your beard or scalp hair. There are little to minor side effects, and it may help with the production of collagen and keratin.
Although brands are marketing derma rollers and beard rollers differently, they have exactly the same design. Here's how derma rollers help with beard growth:
Derma rollers rely on blood circulation to stimulate hair follicles and increase hair production.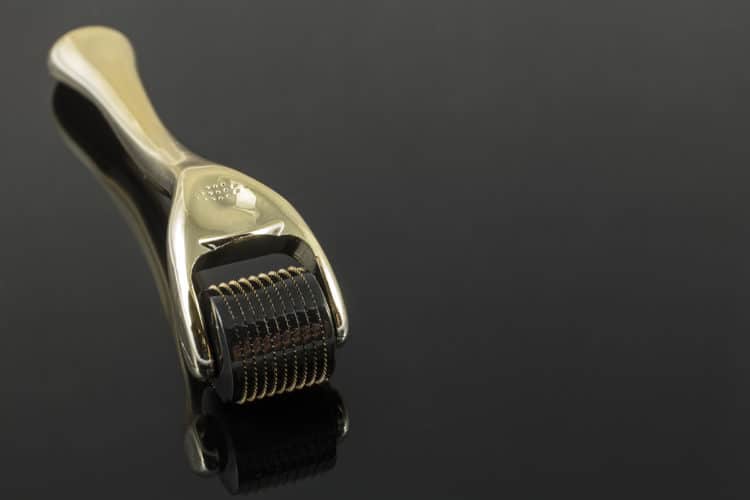 Microneedling Beard
Tiny micro-needles on the derma roller puncture your skin, and as your body begins the healing process, blood and hormones rush to the area. For men, this may lead to improved follicular growth.
Previously, men believed that brushing your beard with a boar bristle brush also helped, but the needles in the derma roller go a step further.
Both keratin and collagen are important components for hair growth, and both of these can be stimulated with derma rolling.
Derma Rolling for Beard Growth
I've found the best way to use beard rollers for hair growth is by adding some other beard growth hacks to stimulate growth. For example, beard oil can moisturize your skin and lead to healthy follicular growth.
You can use beard oil after derma rolling to ease irritation and heal your skin quickly.
Just a small dab of beard oil can be worked into your beard area to soothe your skin and help with stimulating beard growth.
Combine Dermaroller & Minoxidil for Beard Growth
Minoxidil creams for hair loss also help with the growth of beards, particularly when used with a beard derma roller. One study shows combining dermarolling and minoxidil stimulates hair growth
You don't have to use a lot to fill in patches, but if you want overall thicker hair growth, a light application every day with derma rolling is a good idea for faster growth.
How to Use a Derma Roller for Your Beard
Looking to grow your beard, then you'll need to learn how to use a beard roller. Just like other beard grooming activities, the derma roller is a simple tool that you roll over your face to improve skin texture and stimulate hair growth.
There are a few simple steps to ensure you get the most out of a beard roller and improve your hair growth:
Wash your face and beard with a gentle cleanser, then completely dry your skin and beard.
Place the derma roller on any areas with hair loss and gently roll it across, letting the micro-needles penetrate your skin.
Don't push the needles in too hard (you needn't draw blood to get results).
Apply a beard oil after derma rolling to enhance growth.
Optional: Use minoxidil creams on bald spots to improve hair growth even more.
You should only use a derma roller 1 to 2 times a week. Additional use over what's recommended won't help with growing facial hair, and it could damage your skin as it needs time to heal and repair.
See Beard Roller Results
Paul D'Onofrio has some great advice for using the derma roller and shows you how easy it's to fill in patches with this unique skincare tool.
Best Derma Roller for Beard Growth
There are a few derma rollers on the market that work better for growing facial hair and achieve thicker results. The JJ Ellie Derma Roller used to be our top pick, but we've updated our list. NEW beard roller reviews:
For those serious about beard growth, we recommend this Sdara Skincare .025mm dermal roller, available on Amazon. It was originally marketed for its skin care benefits but has seen success for facial hair growth in men.
GLOW: Treat your skin to a spa day at home with our face needle roller that will instantly give you a smooth, youthfully radiant glow. Pair with your favorite serum for increased absorption!
RENEW: Our micro derma roller tool is great for helping brighten the appearance of dull-looking skin for overall facial rejuvenation.
VERSATILE: Safe and simple to use, our 0.25 mm derma roller kit can not only be used as a face roller, but also as a scalp or beard roller to help stimulate hair and beard growth.
AFFORDABLE: Microneedling sessions can cost thousands. Our microderm roller lets you have professional results from the comfort of your home. Looking good has never been this affordable!
SKINCARE GIFTS: Whoever you're shopping for - a partner, a BFF, or yourself, our derma rollers make the ideal Valentine's Day gifts for her, him, or anyone looking to upgrade their skincare routine.
It has the most beard roller reviews for any derma roller for men and women. Reviewers boast lots of success. It's a bit more expensive than the others, but has a superior microneedle roller with .025mm 540 Titanium needles and it's our top pick.
---
The Roselyn Derma Roller is a great value option if you're just testing the waters with beard rolling and don't want to spend much money.
Safe and Painless - derma roller kit can not only be used as a face roller, but also as a scalp or beard roller to help stimulate hair and beard growth.
Stop Seeking, Its Right Here - Why still need to look around, when everyone is saying this is the best derma roller to suit them the most.
Like Magic - Just roll and roll to maximize the benefits of skincare products and minimize discomfort.
Gift Choice - This roller is a perfect present for a bearded man on a Birthday, Valentine's Day, Father's Day, Christmas Day, or any other special occasion.
Pro-Results - Show off skin that looks endlessly pampered at DIY secret prices, and from the comfort of your own home!
This multi-purpose roller has 540 titanium microneedles at .25mm which is standard. Solid base of reviews with growth results for patchy beard.
---
This slick, comfortable YOUBEAUL beard roller is the newcomer, so there aren't as many reviews. So, it's the mid-range priced roller and shows better results when paired with quality beard growth vitamins. 
No products found.
No products found.
Men swear by the 540 titanium 0.25 mm needles for a smoothe experience. Promoting to . This derma roller is a solid best option for beginners or users who want to fill in patches and thicken beard hair all over.
---
Read our complete review on the Best Beard Growth Kits. Also – check out the ultimate list of the Best Beard Growth Products to grow a better beard.