As a beardsman, you may have wondered why your beard gets wavy or wiry. For bushy, unruly beards, beard oil works to soften and tame hair. Beard oil may also help remedy other ailments, but let's test its legitimacy and success.
Beard oil is a nourishing hair care product typically made with essential oils like coconut oil and argan oil. Thanks to its natural oil properties, these products make your hair healthy, shiny, and smooth.
Can beard oil save your beard from dryness, hair loss, and other problems? We look into beard oil's benefits and whether it's possible to promote healthy hair growth.
A beard oil replaces natural oils stripped away from washing. If you want a softer and healthier beard, checkout the Best Beard Oils now.
How Does Beard Oil Work?
Applying beard oil every day to your beard (as well as the skin underneath your beard) results in softer, smoother beard hair and moisturized skin.
There are many types of beard oils available. Some contain aloe vera and other healing ingredients. While others are strictly for cultivating shiny, smooth beard hair.
If you have beard dandruff, beard oil quickly absorbs into your hair and skin to infuse it with moisturizing essential oils, such as Jojoba oil, coconut oil, and tea tree oil.
Why Use Beard Oil?
There are a few ways that beard oil can help your facial hair.
Rejuvenate Your Skin and Hair
If you love shiny beard hair, these carrier oils will make your skin and beard look like a million bucks. It's easy to work in a small dab of oil to all strands just by using a beard brush. It doesn't take much to spread the oil over every strand.
Once added to your routine, you'll get addicted to the shine and scent of these oils, typically made from tropical plants, coconut, tea tree oil, etc.
Reduce Breakage and Split Ends
If your beard is constantly frizzy and wiry, then you need something to help you tame it and heal damage. Natural oils in beard oil products keep your hair hydrated and soft. You'll see split ends and breakage start to heal, strengthening the roots of your hair follicles, which is helpful for your overall beard health.
Heal Skin Irritation and Dandruff
For those with skin problems and irritation, scratching your beard all day can lead to unwanted results. Hair loss is one of the many results of dry skin and dandruff.
If you purchase a beard oil with tea tree oil, aloe vera, or coconut oil, you're likely to see dry skin go away, which alleviates the need to scratch and strip your top epidermis layer of healthy skin cells.
Promote Good Hair Health
Overall, you want your beard hair to grow naturally without the use of harsh chemicals. Beard oil can help you do that by increasing your hair follicle's strength and promoting a healthier environment for growth.
Beard Care
Your beard care routine should include a beard oil if you want the best skin and facial hair. However, others may recommend a beard balm if you prefer a "wax-like" consistency as opposed to oil. Some men with oil-prone skin prefer balms for this reason.
While many beard oils only have a few differences in ingredients, their formulas generally are based around coconut oil, tea tree oil, and argan oil. For oils with other health benefits, you can search Amazon for "beard oil with castor oil" for growth or "beard oil with aloe vera" for healing.
Beard Oil Ingredients
While you may not need beard oil to grow a beard, it certainly can lead you to a thicker, fuller beard over time due to the presence of common ingredients like vitamin E and vitamin D.
These come from essential oils found in the best beard oils. Here are some ingredients to look for:
Jojoba oil
Jamaican black castor oil
Coconut oil
Argan oil
Grape seed oil
Almond oil
Aloe vera
Tea tree oil
Shea butter
Avocado oil
Pomegranate
Sandalwood
Have you ever tried homemade Beard Oil? Check out our DIY Beard Oil Recipes.
beard oil for hair growth
The answer isn't as simple as you think. For some men with dry skin beneath their beards, the dandruff and scratching may actually lead to hair loss and a patchy beard. Not an ideal result.
So, using beard oil can reduce beard itch, calm inflamed skin, and allow hair to grow naturally as the epidermis heals.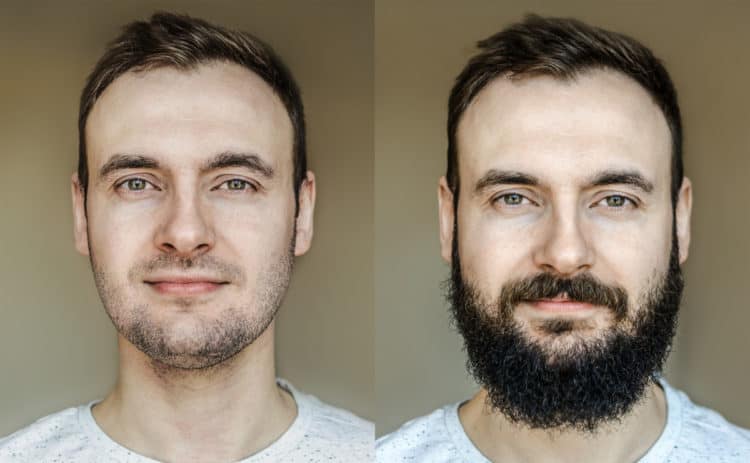 In most cases, beard oil will simply help you maintain a suave, polished beard, that's healthy and moisturized. However, some products contain ingredients specific for facial hair growth. More on that below…
Can Beard Oil Regrow Hair?
It really depends on your own chemistry, and why your beard has stopped growing. In some cases, dry skin can be healed through regular beard oil, but that won't help you if it's a genetic issue causing slow beard growth or a patchy beard.
If you have significant patches, especially due to alopecia barbae, then beard oil probably won't be the most effective or fastest treatment. Instead, you should look into minoxidil for beard growth or specific hair growth oils that promise better results.
Best Methods to Grow Hair with Beard Oil
From our experiments and research, we've found that there are a few ways you can use beard oils to thicken and sometimes regrow your beard hair.
Brush with Beard Oil Every Day
We put a dab of beard oil into our beards every day, then use a boar bristle brush to brush through and direct hair where we wish it was thicker. This has led to a small increase in thickness, and it just makes your beard look and feel great.
Use a Special Beard Growth Oil
There's a special class of beard oil known as beard growth oils that work just like a regular beard oil, but also contain active ingredients like biotin, Jamaican castor oil and saw palmetto, all known for aiding in natural beard hair growth.
Beard Growth Oils use potent ingredients over regular oils. If you want to grow a better beard naturally, checkout the Best Beard Growth Oils now.
Beard Oil with Microneedle Derma Rollers
The best microneedling derma rollers have been developed to help individuals increase hair growth by rolling tiny needles over your skin. When combined with a beard derma roller, beard growth oils with castor oil and biotin, can stimulate hair growth by increasing blood circulation and collagen to your beard.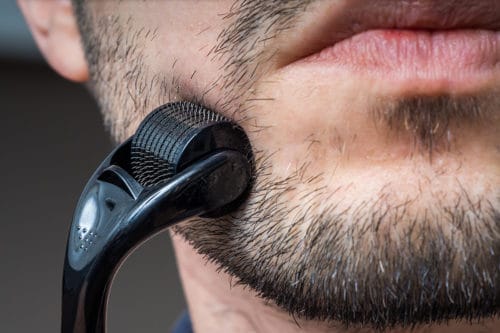 A few men on Reddit have experienced facial hair growth using this technique.
See how beard rollers work and try this new method for yourself.
Minoxidil for Hair Growth
We've tested minoxidil before alone, and so has the Reddit community with good results but may leave you dry. Though we've yet to find an oil solution with minoxidil as an ingredient, others have experimented with using minoxidil and following up with a good oil.
So, for growing beards, you can add beard oil to your routine to ensure that your skin and hair stay moisturized when on a medicated minoxidil AKA Rogaine regimen.
Check out our Minoxidil for Beard Guide for a viable medicated beard growth option.