Are you having trouble growing a thick beard? If you're sick of waiting for your "beard to come in," there are new products that can help you boost your beard growth. One of the latest developments includes beard growth oils.
The best beard growth oils include moisturizing formulas that soften your facial hair and soothe the skin underneath, leading to thicker, healthier hair growth.
Not only do these oils moisturize your beard, but many users have grown thicker beards just by applying the oil to their facial hair.
Beard oil vs Growth Oil
There are many beard oils that make lots of claims. Most are made of natural oils good for facial hair conditioning and hydrating the skin but won't grow a beard.
Beard growth oils can stimulate hair follicles to grow a thicker, fuller beard with special formulas that may include a range of essential oils, vitamins, and medicated ingredients. In addition, these products are good for sensitive skin, eliminate itch, thicken beard hair, and promote healthy skin underneath your beard.
Buying Considerations
Not all beard oils will lead to a boost in hair thickness, which is why it's important to check ingredients and reviews first. We've picked out the best beard growth oils if you want to improve your facial hair thickness and length.
Have you ever tried homemade Beard Oil? Check out our DIY Beard Oil Recipes.
To find the best beard growth products, here are a few key factors to look out for.
1. Ingredients
Beard growth oils have special formulas that boost facial hair growth. These typically include natural oils (argan, jojoba), biotin for beard growth, vitamins, minoxidil, or even a new breakthrough molecule known as Redensyl®.
2. No Harsh Toxins
These products typically do not contain any sulfates, parabens, petrol, or silicone ingredients, as these are considered irritants and may impede hair growth even more. You should try natural formulas, especially ones with vitamins for facial hair growth. 
3. Strengthens and Nourishes Facial Hair
Vitamins E, A, and D are essential for nourishing your hair and skin.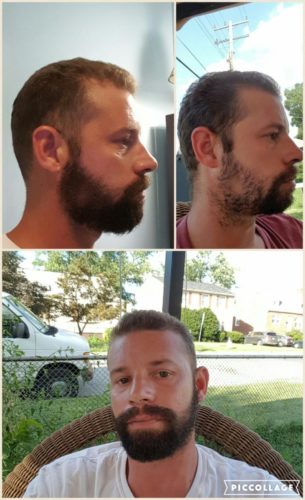 Most beard growth oil formulas will include essential oils that also have these vitamins. You may look out for tea tree oil, jojoba oil, peppermint, castor oil, and argan oil.
4. Works Best with a Brush
While you can apply beard growth oils with a dropper or your hands, a boar bristle beard brush is a great addition to your routine. Once you rub a dab of beard growth oil in your hair, go over your beard with this bristle brush to stimulate hair growth.
5. Beard Growth Kits with Derma Rollers
Many beard growth serums and oils also come packaged in a beard growth kit with microneedle derma rollers. These special beard rollers have tiny needles that lightly prick the skin and cause a collagen boost. When combined with beard growth oils, this may lead to even faster hair growth.
Best Oils for Beard Growth
Growing your beard takes time, but adding one of these oils to your routine could speed up the process, especially if you want to move from your patchy beard phase. 
After several weeks of testing, here are the growth oils that led to successful new growth. We also only chose the beard oils with the most satisfied users and highest ratings. 
For those looking for Beard Flux XL, I'm not a fan. It was reviewed by our team and we were unimpressed and the reviews seemed questionable.