The best beard growth serums include powerful ingredients like minoxidil, which can penetrate deep into your hair follicles and promote beard growth in patchy areas.
With these facial hair growth serums, it's possible to fill in a patchy beard and achieve thicker beard density. I've tested a variety of these products to see which ones actually stand up to the hype.
Top Beard Growth Serums
Look at our full reviews and buyer's guide below to read more about the ingredients of these serums and how well they worked to thicken my beard.
Beard Growth Serum Buyer's Guide
Not all beard growth products are created the same. I've discovered that many brands throw in a few essential oils and claim that it can lead "thicker, healthy beard growth." However, that doesn't equal a beard growth serum for me.
Take a look at what you should be shopping for when considering how to get a bigger, fuller beard with these growth serums.
What is Beard Growth Serum?
A beard growth serum combines special ingredients like biotin, saw palmetto oil, jojoba oil, or minoxidil to rejuvenate hair follicles for thicker, fuller facial hair growth. Serums are leave-in topical products applied directly to facial hair and are widely available as standalone or in beard growth kits.
Men use hair growth serums to regrow hair on the scalp, but beard growth serums focus on the follicular growth around your jawline, chin, mouth, and cheeks. If you want to fill in patchy facial hair growth, these products may have the right ingredients to help.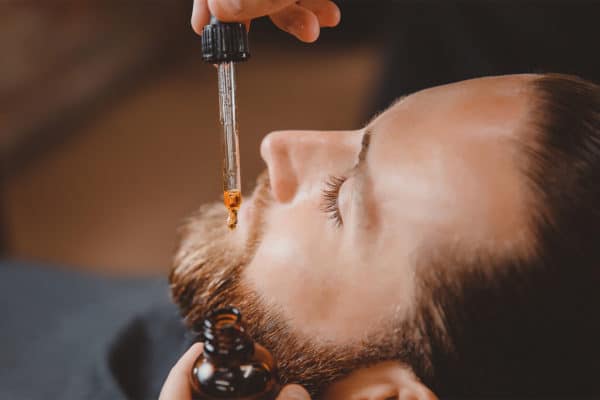 Do Beard Growth Serums Work?
While there are some brands out there that make baseless claims, most of the beard growth serums that I've tried led to new growth, better beard care, and even wilder results for my hair and skin.
I chose products based on reviews and the experiences of other men who had great results using beard growth serums.
That said, the ingredients in serums differ from beard growth oils and balms, resulting in more potency.
Whereas you may only find chemicals that tingle or essential oils in basic beard oils or balms, you'll see more direct hair growth ingredients like biotin or minoxidil in beard growth serums. Therefore it's important to check the ingredients list first.
Minoxidil is the main ingredient in hair growth products like Rogaine.
Does Beard Growth Serum Help Your Skin?
Beard growth serums do have moisturizing properties that can moisturize and even protect your skin from developing dry skin or acne around your beard.
I say most cases because there are two main types of beard growth serums: biotin or minoxidil. Since certain skin types don't mix well with minoxidil, you should test a bit of the product on a small patch of skin to check.
Some brands use a formula based exclusively for sensitive skin or oily skin. I've included a few below in my reviews.
Top 6 Beard Growth Serums – (Reviewed)
Wondering if you'll ever get thick beard hair? For some, it's a matter of age and genetics, but these beard growth serums promised results in as little as 30 days.
Some brands even offered a money-back guarantee if you think the product didn't work at all, which makes it easier to test out new products if you have the time.
Here are the results from my test with beard growth serums: