The Mohawk and Pawnee tribes started the famous mohawk haircut that continues in popularity today. Today, with new fade haircut trends evolving, the mohawk receives a contemporary new upgrade.
While it's easy to style and cut a traditional mohawk, have you ever tried to fade and taper this look? The new style now combines a trendy fade for an updated look – the mohawk fade haircut.
Get style inspiration, plus how to get this dynamic look below. Keep reading.
What is a Mohawk Fade?
A mohawk fade is an edgy style variation to the classic mohawk, with its middle strip of spiky hair and shaved sides. The new look maintains the signature strip of center hair but introduces a fade down to the shaved sides. The fades can also vary using a temp fade, burst fade, or taper fade.
How the Mohawk Fade is Different
The mohawk fade further differs from the traditional mohawk, where the sides are no longer clean-shaven but buzzed tight instead. Sometimes confused with the faux hawk fade, this style is typically longer on the sides with a slight fade and taper down the back, creating the accentuated center hair look.
The hair in the back can be uniform or taper off in length, adding to the unique style.
From shaving the mohawk to fading techniques, if you want to give yourself the perfect mohawk fade, we provide all the different styles and tips below.
While 1980s punk rockers had long, spiked mohawks, this new hairstyle is much shorter and not as rough around the edges.
See the Difference: Taper vs Fade Haircut
Short Mohawk with High Fade
A skin fade into a high fade with a short, slicked mohawk is a neat, stylized look for a faux hawk. The fade below blends in perfectly with a high fade line and beard. 
As a short haircut, you'll have more time in between haircuts to let this mohawk grow, but having a trimmer with various guards can help you keep up the fade on your own.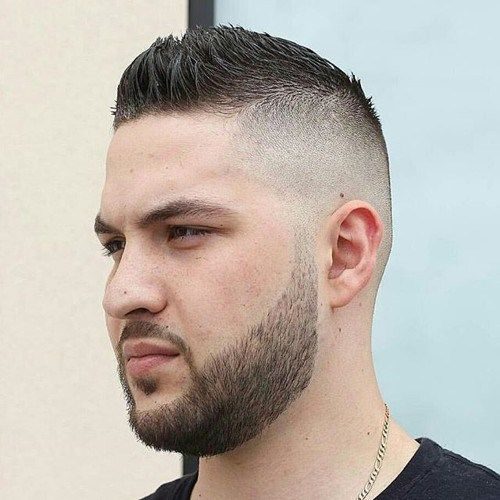 Taper Fade Mohawk
This look is trending right now due to its shorter, tapered back and clean, faded sides.
While the mohawk is a bit short, the fade easily blends into the taper that evenly goes from the sides down to the back and neck, ending in a point.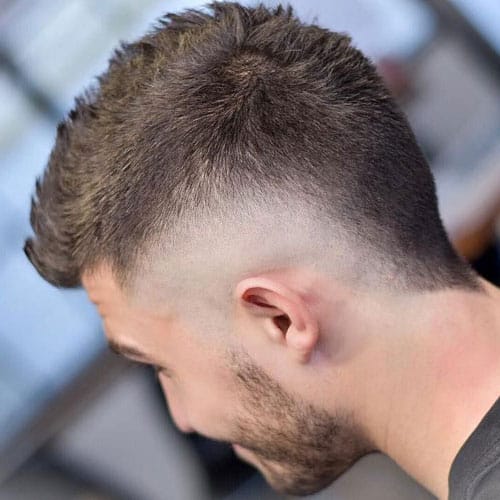 Long Mohawk with Fade
Longer mohawk hairstyles can be styled in many ways, depending on the impact you want to achieve. 
For example, this is a longer, almost traditional mohawk with a high clean fade.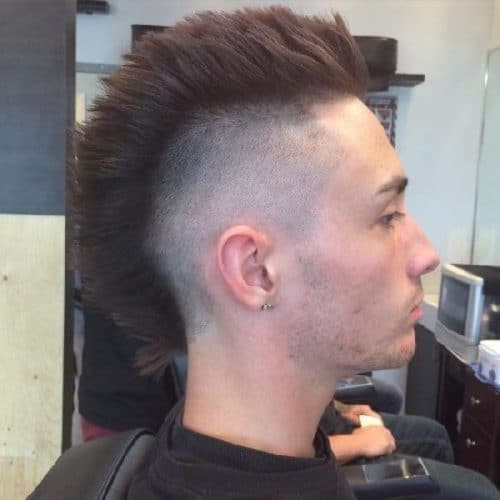 Burst Fade Mohawk
Any time you ask for a burst fade, you also ask for a mohawk fade. This style is trimmed around the ear, fading and tapering the sides radially to circle the back of the head and taper to the neck. 
Here are a few ways to enhance a mohawk with a clean, burst fade: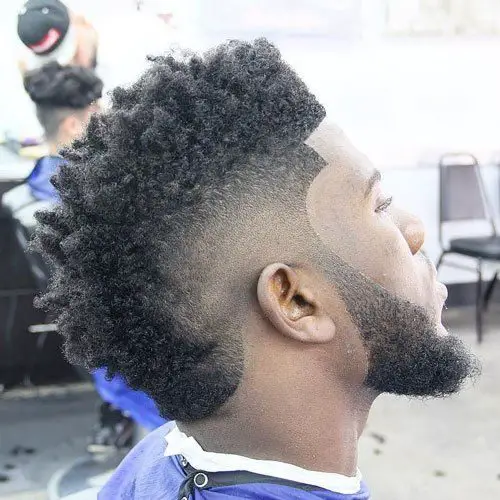 Dyed Mohawk Fade
The mohawk fade is pretty iconic because of its edgy look, but it requires a lot of skill to create perfect symmetry and clean fades. So what about adding hair color dye and highlights into the mix? 
Here are a few mohawk looks that work with dyed and faded locks: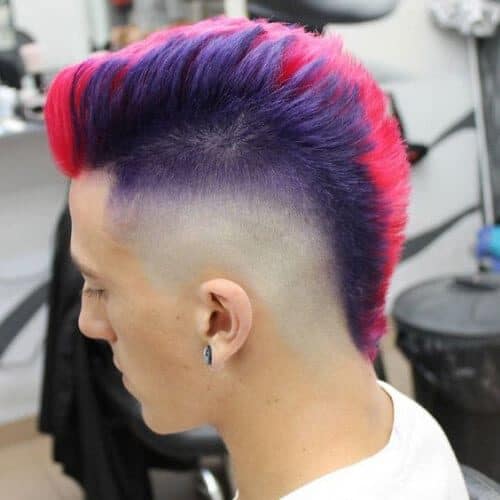 Low Fade Mohawk
Creating a low fade with a mohawk can be difficult if you don't also taper the sides and back. The result is typically a graduated fade that blends in with long hair but keeps the length down past the crown slightly, then tapered down to the neck.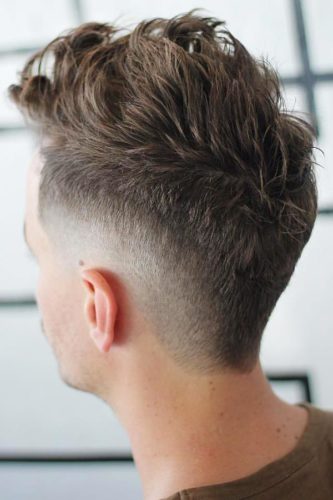 Comb over Mohawk Fade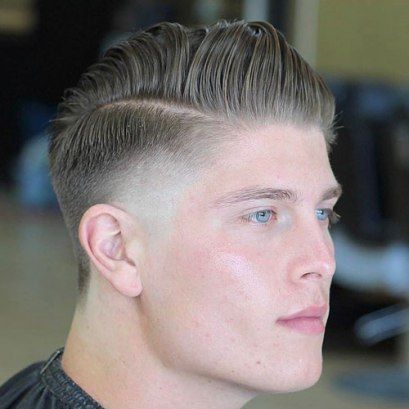 Slick Mohawk Fade
Slick back mohawk looks use pomade, wax, and other styling products to comb back hair and keep it in place, also known as the slick back.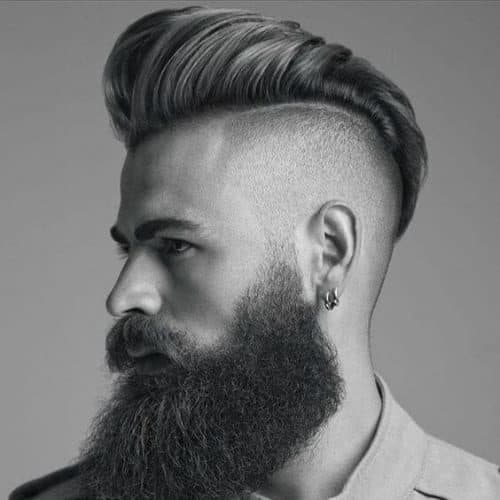 Mohawk Fade with Line
Using your razor, you can create a clean side part or lined mohawk. These looks work well with taper fades, but the lines should be clean and straight. 
For more unique designs and signature cuts, scroll to the bottom.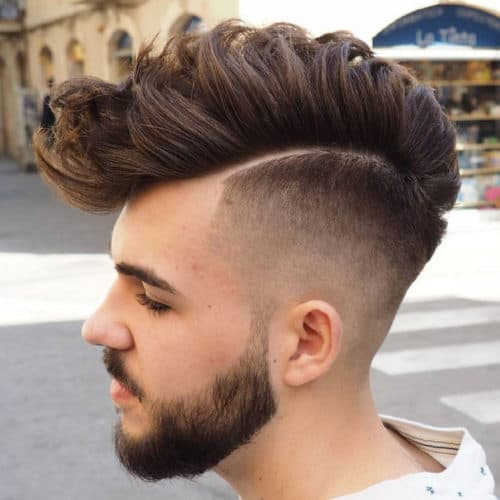 Mohawk Fade with Beard
When you have a beard, fading and trimming, a mohawk will focus on your fade line.
With a high fade mohawk, barbers typically start the fade at the top of the ear, showing off some sideburns before clean fading with a razor.  Whether your beard is bushy or cleaned up, this look may have an edgy street appeal.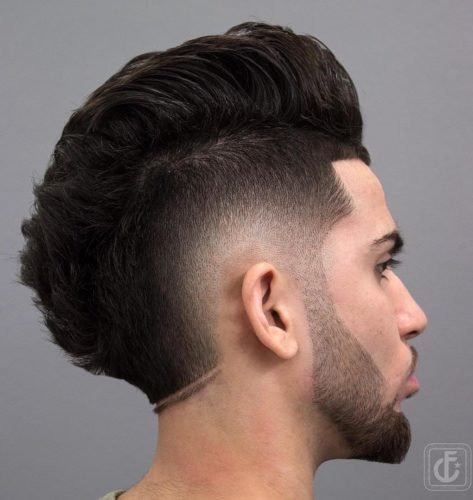 Curly Mohawk Fade
Who doesn't love the curly hair fade? It's one of the characteristics that make the mohawk fade stand out even more.
Whether you like short or long, wild curly looks, the mohawk fade cut with curls has a huge visual impact that other mohawks simply can never achieve. 
Take a look at curly mohawk fades: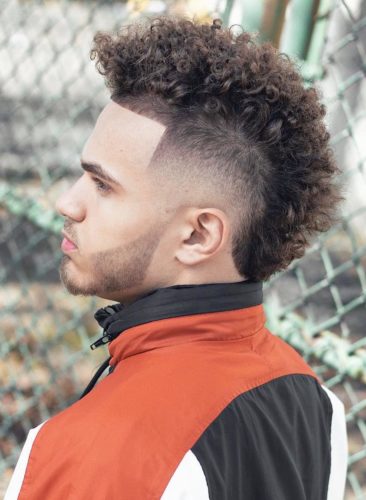 Bald Fade Mohawk
The bald fade isn't for everyone, and it takes patience to create this look. The best way to achieve this look is to think of a high fade with a clean shave from your ear to the fade line.
Hardly any hair is tapered with this look, leaving a very small strip of hair to fade and blend.
Pompadour Mohawk Fade
The pompadour has more length on top, but it's still a relatively tidy, short mohawk fade.
Longer mohawks may be styled with mousse or pomade for a different look, such as the pompadour.
With a high "pomp" of hair in the front, the rest is typically slicked or combed back.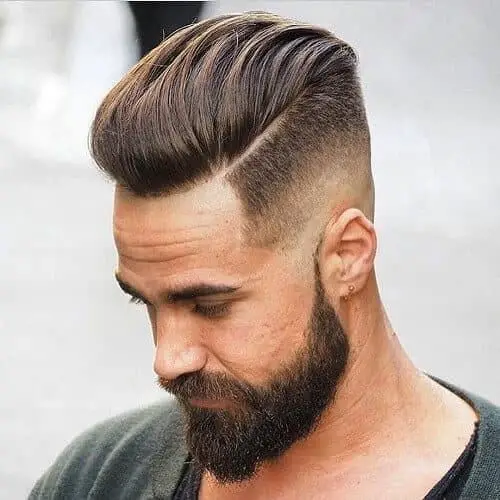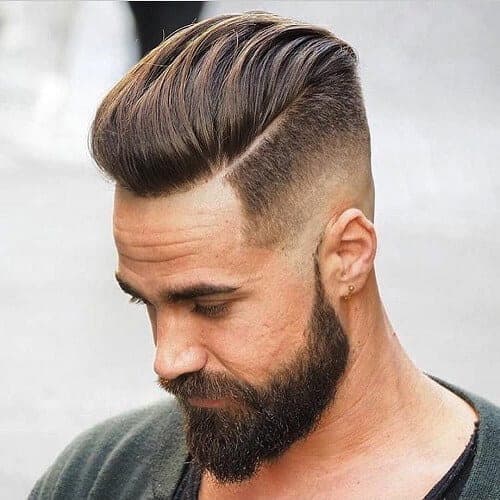 Afro Mohawk Fade
Want to achieve maximum impact and style a mohawk with your natural hair? The afro style is a wide mohawk that has shaved and faded sides.
Picking your hair is important for this look. The right hair comb and moisture will help your afro maintain its thickness and softness.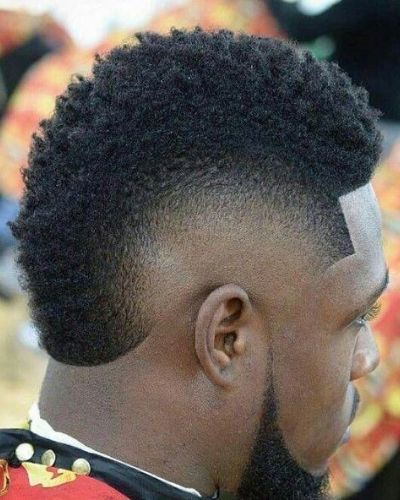 Bleached Mohawk Fade
From gradient bleached looks to completely dyed mohawks, the blonde drop fade mohawk or bleached mohawk got even more famous thanks to NBA star Allen Crabbe. 
This haircut for men needs some upkeep with regular trimming and color dying to keep your bleached blonde look. This style works well with curly hair and shaved sides.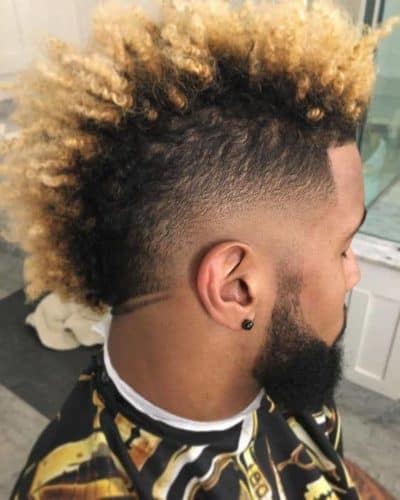 Mohawk Undercut Fade
The mohawk undercut hairstyle centers on longer hair that can be slicked back, combed over, or left untamed.
Usually paired with a mid to high undercut fade, the hair on top is left several inches longer. This look works best with a taper down the back.
Unique Mohawk Fade Designs
Men's hairstyles can be far more unique than you think. Some barbers like to include a signature design or you can request different designs to be shaved into your classic mohawk. 
For black men, some of the best signature mohawk designs are done with a liner attachment using short, swift strokes to carefully craft unique curves, lines, and shapes.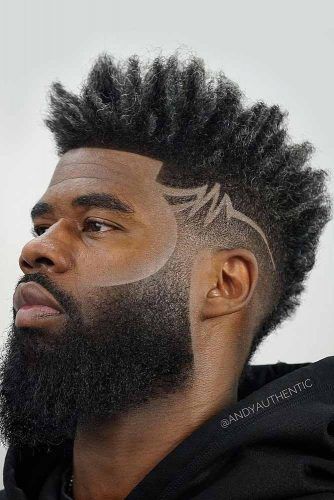 How to Cut a Mohawk Fade
Use clippers with guards ranging from 0.5 to 4mm. 
Leave hair on top long and use barber shears to trim the length.
Shave lines using the edge of the razor or a liner attachment.
Add pomade, wax, mousse, or other styling creams to get a slick look.
Other Popular Style Guides
Barbers will traditionally do a clean skin fade up to a high mohawk fade with a taper down the back. The fade line is much higher than your traditional high fade as well.
Over to You
The Mohawk fade haircut is a popular and stylish men's hairstyle that combines the classic Mohawk with a faded undercut. With its versatility and range of styling options, the Mohawk fade is a great choice for those looking to add some edginess and flair to their look.
FAQ
What is a mohawk fade called?
The mohawk fade is a popular men's haircut that features a shaved or short back and sides that gradually fade into longer hair on top, which is styled into a mohawk.
This style is also known as a "faded mohawk" or "skin fade mohawk" and has gained popularity in recent years due to its versatility and edgy look.
The length of the hair on top can vary, and the style can be customized to suit individual preferences by adjusting the length and angle of the fade.
What is a Deathhawk?
A Deathhawk is a hairstyle that is a variation of the mohawk. It typically features a longer strip of hair in the center of the head that is styled upward, and the sides are shaved or cut very short.
The Deathhawk is characterized by its edgy, punk-rock look and can be customized to suit individual preferences with variations in length and color. The style has gained popularity among alternative subcultures and is often accompanied by piercings and tattoos.