Your hair care routine is an essential part of men's grooming. And for those looking for a product fundamental for hair styling, you'll need a quality hair clipper.
The best hair clippers are designed for bulk hair cutting featuring high-quality steel blades and metal casings; manufactured in corded or cordless versions. These motorized hair clippers often include accessories such as multiple comb guards, nose trimmer attachments, and more.
If you're ready to cut your hair at home, or need a professional grade product, then you must know the top clippers on the market. There are multiple brands all claiming the best results, but only a few of these are the best hair clipper brands with must-have features.
Hair Clippers Buyer's Guide
It's not hard to cut your own hair, but if not practiced in the right angles and motions, getting the length and faded hairstyle can be tricky. The best hair clippers will make buzz cuts, taper haircuts, fade haircuts, and even temple fades are quite easy.
The right pair of hair clippers should be made from high-quality materials like stainless steel, so it lasts for many years. Some brands offer a warranty just for that reason, such as Wahl and Oster.
To find the perfect long-lasting hair clippers, the B&B team studied dozens of high-quality clippers to see what features matter most and what products perform best.
Smart Electric Clipper Design
Affordable hair clipper brands may opt for a cheaper, plastic casing, but higher-end models will have a metal casing, such as a stainless steel case.
Larger clippers are harder to hold in the hand, which is why some of Wahl's models may not feel right when you hold them. You should stick to models that will be easy to work with, so check the dimensions.
In addition, cordless and corded models matter. While you want to use a cordless anywhere, you still want a corded plug-in option, so you don't have to wait for it to charge and always be ready.
Some newer styles come with a built-in LED display, which can show battery level and speed typically.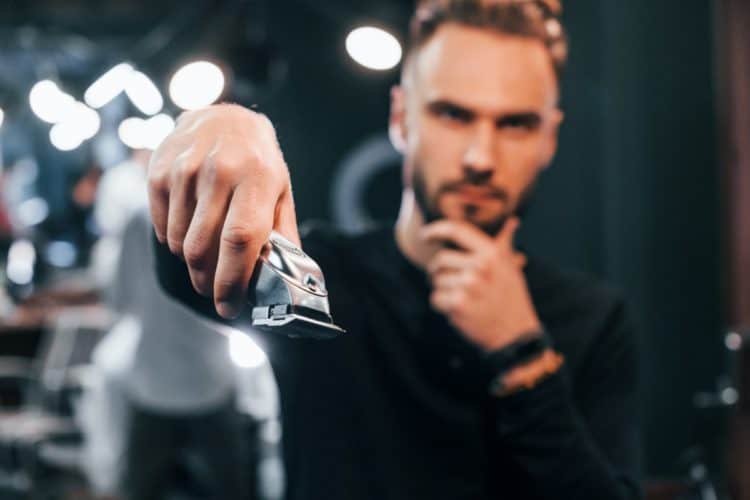 In summary, look for these features in a high-quality hair clipper design:
Metal casing
Steel blades
Cordless and corded options
Medium size, ergonomic handle
LED display for battery life indicator
Strong cutting power
Leading Hair Clipper Brands
There are so many brands selling hair clippers, but which ones truly offer legendary quality? These three brands definitely stand out (in no order):
These are some older brands, but that doesn't necessarily mean more advanced. While these brands make incredibly durable and high-quality clippers, they may not have longer battery life, LED displays, or lower noise.
Type of Motor in Hair Clippers
The type of motor in any electric clipper indicates a high-quality or poor-quality product. With a powerful motor and blade system, you're primed to get a clean shave.
While in the past, some models had magnetic and pivot motors, the most common type of hair clipper motor is a rotary motor. However, Andis uses magnetic motors, allowing it to run at a cooler temperature with a lower noise level.
Rotary motors provide the most power and speed for close shaves. Integrated rotary motors are the best because it removes more hair at once, and cutting action is gear driven, allowing you to shave in both wet and dry environments.
Types of Blades
There are fixed adjustable and detachable blades in hair clippers. Most hair clippers come with fixed adjustable blades, allowing you to adjust the cutting length however you like. You can also vary your shave using different attachment blade guards and combs.
Other hair clippers use detachable blade systems and come with their own special attachments.
Hair Clipper Accessories
With any hair clipper, you should have multiple blade guards, nose trimmers, and beard trimming attachments. These typically are included with all-in-one kits, but may not be available with lower-priced standalone hair clipper units.
However, any of the top brands like Wahl, Andis, Oster, or Remington include several blade guards or combs. These allow you to change the length of your cut, but lining attachments can also be good for cutting intricate designs.
These accessories are more commonly found with barber clippers, such as the Andis Professional Master Adjustable Blade Clippers.
What are the Best Hair Clippers?
We've reviewed hundreds of hair clippers and trimmers, and we're always on the lookout for standout products that deliver high-quality shaves.
We based our decision on what clippers offered the smoothest result with the least amount of effort. In addition, the B&B team tested clippers to see how well they charged and if they were easy to clean.
Overall, the B&B team found that the Andis Professional Master hair clippers offer 14,000 cutting strokes per minute, and even though it's corded, this high-powered pair of clippers uses a magnetic motor which delivers speed and power for precise trimming.