You have all the tools at home to cut your hair and anyone else who needs a trim, but what happens when hair builds up in your clipper blades? Knowing how to clean clippers saves time on the next trim and prevents razor burn and ingrown hairs from dull blades.
Cleaning your hair clippers is pretty simple, but many people choose to skip these quick steps to get out the door quickly in the morning. Take a moment to follow this guide and ensure that your clippers are always ready for the next cut, so you get the best haircut at home.
Today's clipper technology produces better cutting with less effort. If you want a better haircut or beard trim, checkout the Best Electric Clippers (with New Reviews).
Tips to Clean Hair Clippers Like a Pro
The worst part about a used pair of clippers is that hair tends to buildup inside of the blades and casing if you're not careful. This can seriously dull your blades and make it more difficult to use even the best hair clippers, as well as wear down the motor.
Check out the owner's manual for specific maintenance instructions or any warnings for use in water or other solutions. Also, don't void your warranty by taking apart your clippers to clean them if it's specified in the terms not to.
1. Clean Out Hair Clippings
The grime and hair buildup in clippers over a few weeks can quickly be removed with these steps:
Lay a dry cloth on the counter
Detach any comb guides
Use a small cleaning brush or pipe cleaner to brush away stuck hair trimmings
Detach blade if possible, following instructions in your owner's manual
Keep a can of compressed air around to super clean your clippers
Snap on a blade cover to protect blades after cleaning
Clippers are a precision piece of equipment. Don't use cotton balls or Q-Tips to clean and maintain blades for loose hair, as this can lead to trapped cotton fibers in your blades.
2. Wash Out Comb Guides
When cutting hair, you probably notice that some hair product or oil starts to gather on your comb guides (also known as comb guards). All you need to do is remove the comb guide attachments and hand wash them with soap and warm water.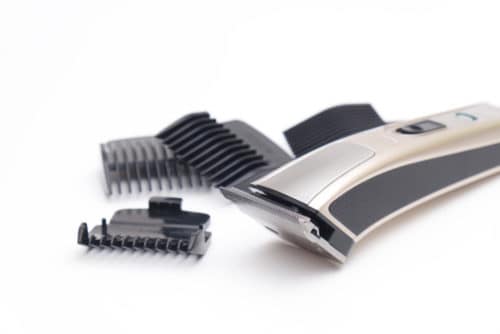 Here are some tips when washing your comb guides:
Regular dish soap and warm water works best to wash out comb guides
Make sure you dry the guides before storing them using a towel
Look for broken teeth or other wear and tear on your guides, which could cause irregular cuts and mistakes
Store in a clean area where it won't gather dust
3. Sterilize Your Clippers
This step is optional, but if you have ever been to a salon or barber shop, then you know how important it is to sterilize straight razors, barber shears, and clipper blades. You should also do this step before lubricating your blades.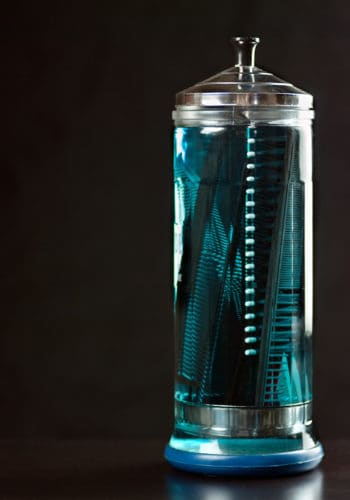 To sterilize the blades, follow the instructions for your brand to make sure you don't damage the clippers. Most brands say rubbing alcohol or white vinegar and water works best, particularly if you have stainless steel blades.
Here's what you'll need to do to sterilize your clippers like a professional barber:
Take rubbing alcohol and pour a tablespoon into a circular dish.
Remove any hair and grime from the blades first.
Hold your clippers upside down and submerge the blades only.
Turn on your clippers and hold the blades only in the alcohol for 10 to 30 seconds.
Watch hairs and dirt shoot out into the alcohol.
Repeat with fresh alcohol until there's no more hair or dirt.
Wipe with a soft, dry towel then set down to air dry.
There are several products on the market that help you clean and sterilize blades. We recommend what the professionals at the bottom of this article.
3. Maintain Your Blades
Typically, clipper blades are exposed to air and moisture plus friction from the oscillating cutting head which causing degradation. So periodic lubrication makes good sense.
Though not an everyday requirement, if you notice hairs being caught in the blades or they stick after cleaning, or degraded performance, you should lubricate with the oil provided with your clipping unit.
With any piece of metal equipment, you'll need to lubricate moving parts to keep them running smoothly. Clipper blades are typically made from steel and can benefit from a small dab of lubricant now and then.
While some clipper brands suggest lubricating your blades every time you use them, you don't have to keep up with it that aggressively unless you're a barber and doing multiple haircuts per day.
To apply lubricate to your blades, just follow these steps:
Turn on your clipper and apply a small drop of oil on the blades
Don't over-lubricate but make sure that the oil gets on each blade
Allow the clipper to run for 60 seconds after lubricating
Wipe away any excess oil with a towel
Most professional clippers come with a lubricating oil. This must be used periodically and as directed to keep the cutting blades sharp and performing optimally.
There are a variety of different clippers and blades, so you want to make sure you're using the right method and cleaning supplies. There are also a variety of barber antiseptic washes available as well. Many of these don't have alcohol and make it super easy to clean your blades.
Barber Antiseptics and Cleaning Tools
Flash Sale