Are you always turning to your beard trimmer to groom and tidy up your facial hair? You don't have to use your trimmer every time if you own a pair of quality beard scissors. These help you cut and blend your beard like a professional barber.
The best beard scissors have precision blades made of stainless steel and balanced tension for a professional cutting experience. Quality mustache and beard scissors used by top barbers will offer comfortable grip handles with wide finger holes for precise control.
We've reviewed the top beard scissors and compared features to find the best pair on the market. Below, we've created a short buying guide and reviewed the best beard scissors used by professional barbers.
First, here's a look at what features we looked for and how we graded these scissors:
Beard Scissors Buying Guide
There are a few things to note about the perfect pair of barber scissors and the additional features that make one pair better than the other.
Before purchasing your scissors, learn about the notable features or skip down to the beard scissor reviews below.
Blade Length
There's typically one length to look for in a proper pair of beard shears. However, longer blades may work better for long beards or yeard beards.
Today's beard scissors have an optimal blade length of 4.5 inches with longer blades starting at 5.5 inches. However, shorter blades aren't a bad option if you simply want to fine-tune your beard or trim up your mustache.
Scissor Steel Quality
The highest quality mustache and beard scissors use stainless steel construction. There are typically two steel types, including German and Japanese steel. Each option offers some benefits depending on what you're looking for.
Japanese Steel vs German Steel
When looking at multiple beard scissors, you may notice specifications for the type of steel: German or Japanese steel.  While both are considered high-quality, one blade may dull faster than the other. Here's a look at each type: 
Japanese Steel 
Japanese steel is considered the highest quality by some. These blades have curved cutting edges, and it's considered softer than German steel.
However, that doesn't mean it's not hard or sharp enough, quite the opposite. It simply means it can dull faster than German steel, which means you'll need to sharpen it more. 
German Steel
With its beveled cutting edge, the German scissor blade has a firmer grip that cuts mustache and beard hair swiftly. While it doesn't dull as fast as Japanese steel, German blades mean the scissors may start to pull at your stubble and hair when it dulls.
Sharper blades work best for cutting beards and maintaining your neckline.
Scissor Length
Most scissors measure from 6 inches to 8 inches long. It's easier to maneuver shorter scissors, as 7 inches really isn't practical for trimming facial hair.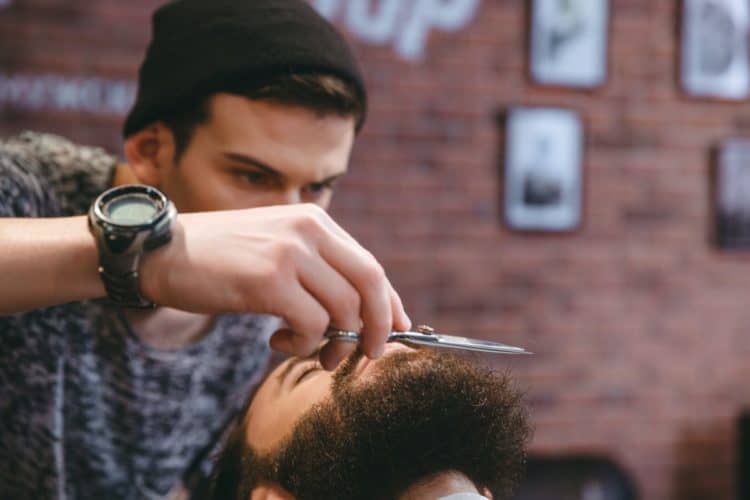 It's also acceptable to choose a smaller pair of travel scissors of 4 to 5 inches long.  These are perfect for business trips and make it easy to get a little trim up for special occasions on the go.
Left-Handed or Right-Handed
Some beard scissors can do both! While many scissors work only for righties, there are brands that make scissors for lefties as well. 
Handles and Grip
Grips on scissors are important for staying comfortable while trimming and even making it easier to get precise cuts. However, the grips have to be large enough to fit your fingers, too.
Some scissors also have finger rests, which are the bars on the bottom part of the scissor ring that may be removed for more room.
Tension Adjustment Screws
All professional scissors and shears have a circular screw that holds the blades together. This screw lets you change the tension in your blades, closing the gap between the blades incrementally.
One thing that tension doesn't affect is the sharpness of your blades.
Maintenance
While steel is resistant to rust, not every part of your scissors may be made of steel. If you get your scissors wet and don't dry them off quickly or leave them in water, it could lead to rust spots.
So the best way to keep your scissors in good health is to clean with isopropyl alcohol and a microfiber cloth after each use. You should also place them in a travel case in a dry place to ensure that moisture doesn't ruin them.
Beard Kits
Electric trimmers and scissors are essential for beard grooming. Buying the perfect grooming kit for your beard starts with the right pair of beard trimming scissors.
Beard care takes some commitment, but the result is perfectly trim and healthy facial hair. There are many advantages to owning a pair of steel barber shears versus a regular pair of hair trimming scissors.
By properly grooming and trimming your facial hair, you can shape your beard styles perfectly. 
Top 7 Beard & Mustache Scissors for Precision Cuts
Want to keep your beard and mustache looking great? These scissors have the best blades and handles, making it easy to trim away beard hair in a few seconds.