The 1980s English punk scene made the original Mohawk style famous with its roots tracing back to the New York based Mohawk tribe. Thanks to new hairstyle trends, there's a more sophisticated variation called the faux hawk and looks more stylish than ever.
The faux hawk is a less extreme version of the classic mohawk, AKA the faux mohawk. A longer strip of hair is left on top with cut, buzzed or shaved sides for a sleek contrast between the varying lengths.
Ready to rock the hawk? With so many hairstyles for men, it's clear this look is a winner. No matter your age, hair length, or texture, we'll show you how to style easily and improve your look.
Men's Faux Hawk Hairstyles
The faux hawk isn't a hard style to achieve, but it may not work with all face shapes. You may also want to add a taper, longer sides, or style it differently depending on your hairline and shape of your face.
When you ask for a faux hawk haircut, it's best to start with the length you want on top and add in details like a fade or taper. Using the pictures below, you can also talk to your barber about the lengths of the sides and special ways to style your hair on top, such as spiked or quiff looks.
Before deciding on a fohawk, you should look through several styles and find the one that will match the best with your style.
I suggest getting American Crew's Styling Paste to help mold and create the ultimate fauxhawk.
1. Faux Hawk Fade
Also known as the "fohawk fade," you'll need fading haircut skills to get this look. With a faded style like the high and tight fade or a low fade, you can create all kinds of faux hawk looks that blend or separate from your long hair on top.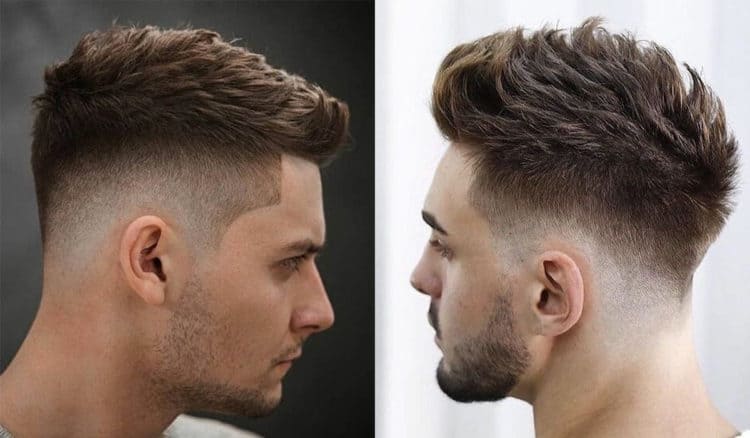 2. Messy Faux Hawk
The messy faux hawks can be styled in a number of ways. Some guys like to keep it long and spiked, while others change it up with a pompadour, slicked back, or quiff at the front. The style below is a messy faux hawk that's cool and trendy.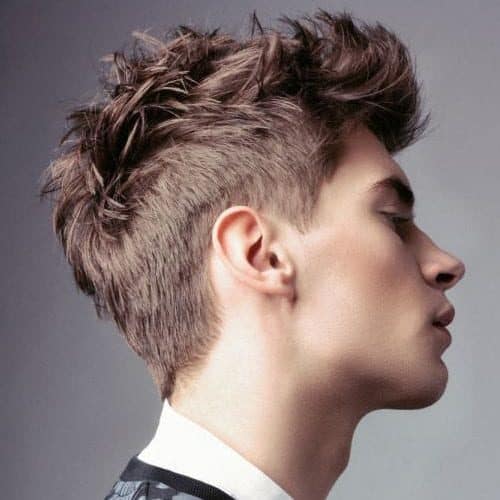 It's best to keep pomade, wax, or styling cream around to slick, spike, or tousle your locks for a professional finish. You can create more volume using a blow dry technique and style cream.
3. Curly Faux Hawk
The curly hair faux hawk accentuates the natural curls and works well with tapered sides. By keeping the curly length on top, you achieve an edgy but clean look as well.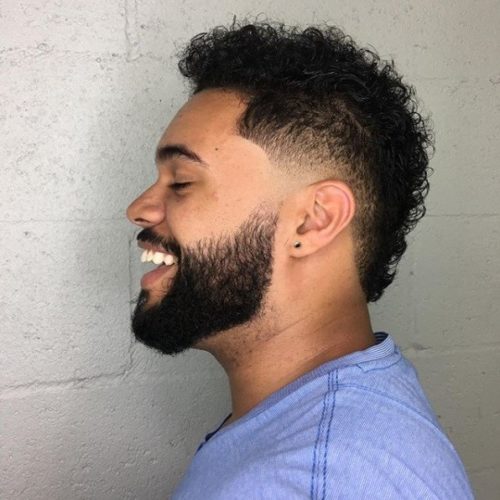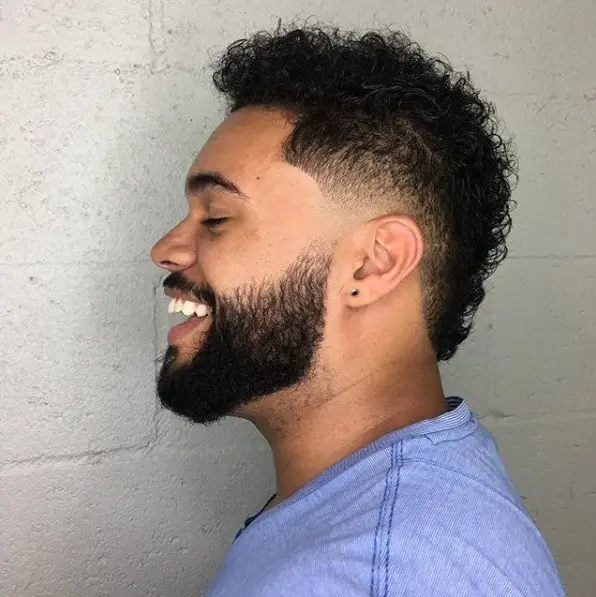 4. Short Faux Hawk
Early mohawk styles were not very long, and most of the head was clean-shaven. You don't have to take it that far. Short faux hawks are easy to spike, tousle, or slick back with some styling cream.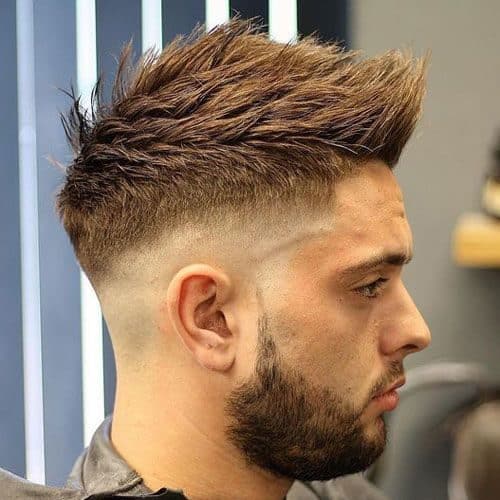 5. Undercut Faux Hawk
If you want to keep your hair long on top with a short, buzzed, or clean-shaven look on the sides, then you'll likely get more of an undercut style for your faux hawk.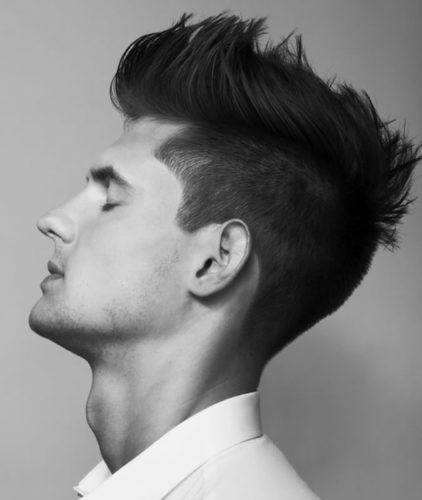 These can be parted to the side or worn slicked back.
6. Long Faux Hawk
The Long faux hawk adds an extra dimension to the style by maintaining longer hair pulled forward. With longer hair, you can create an array of looks to suit your personal style.
Looking to add some more color and texture to your mohawk? Then you could highlight it with natural colors or even go full color with a bright green to throw it back to the punk days.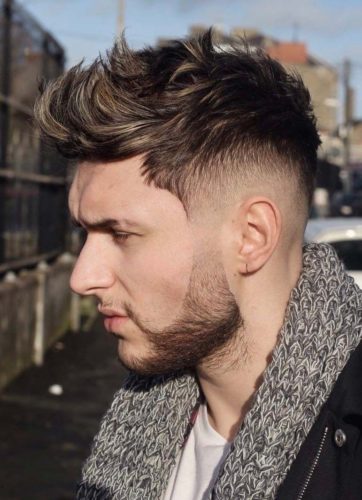 7. Taper Faux Hawk
The taper faux hawk is a simple look to achieve. The taper keeps adds a subtle dimension to the top's length, adding quick style to your look. For added style, you can add a drop fade (below).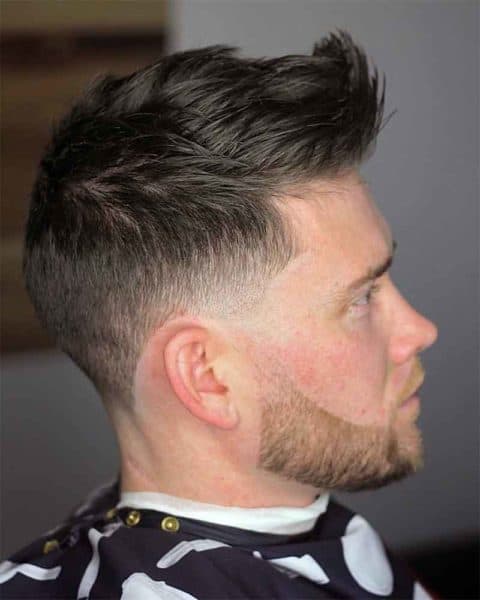 8. Taper Fade Faux Hawk
The taper fade is one of the best faux hawk looks, as the taper keeps the length and adds some unique style to the look.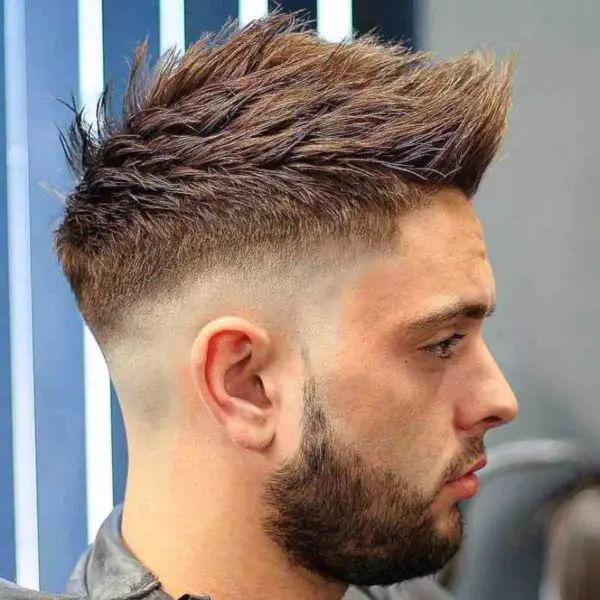 You may want to get your barber's help with this look, as it's pretty technical and dependent on expert blending.
9. Tom Hardy Faux Hawk
When it comes to Tom Hardy haircuts, the faux hawk is a fan favorite. Hardy mixes it up between a taper fade and a cleaner faux hawk.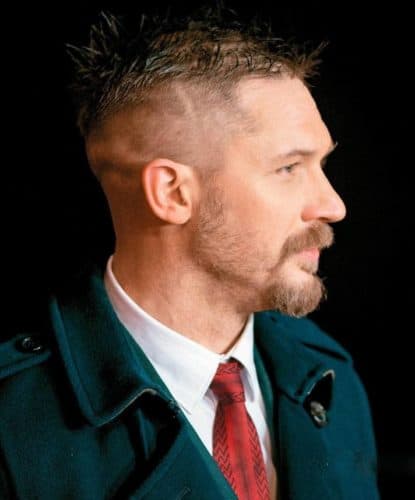 10. David Beckham Faux Hawk
The famous soccer player David Beckham has had various faux hawks throughout his life. He shows how versatile this look is and why it's an elite style for athletes because of its low maintenance.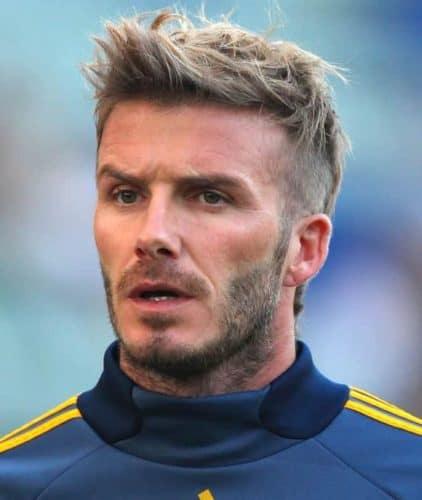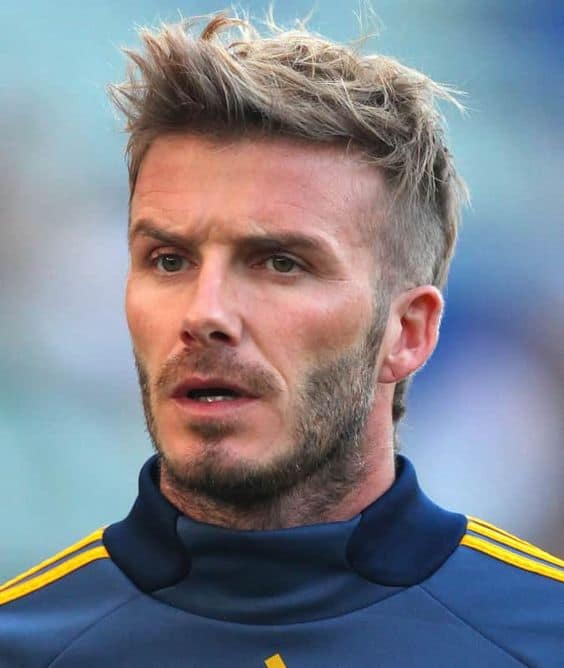 11. Side Hawk
The side hawk is an ultra-hip look, not for everyone. The side hawk below boasts a faux hawk with a part line that shows off his long, parted hair.
This look may require a barber's help to get this expert style and a straight line for a cool fohawk. You also want to place the part in the right area to create the best symmetry and look for your face shape.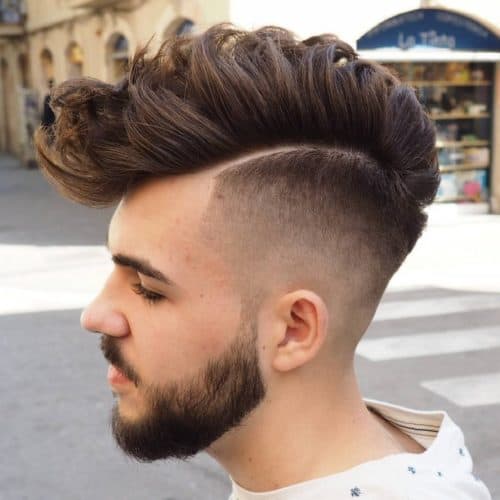 12. Frohawk
The Frohawk is a hairstyle term blended from the words afro and mohawk. Black men typically wear it, however, it can also be found in trendy woman's fashion as well. When fading the style, it can create a unique frohawk fade.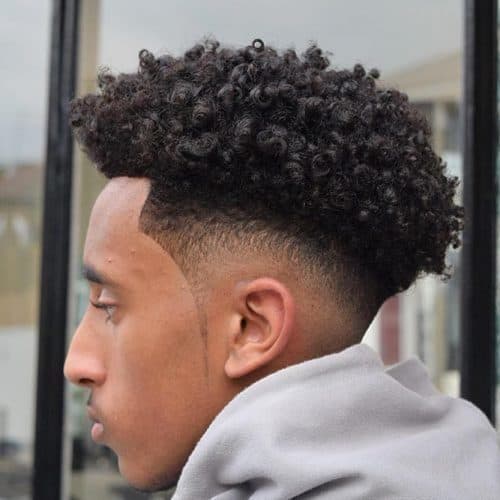 13. Asian Faux Hawk
The Asian Faux Hawk works exceptionally well with smooth, straight textured hair. You can push the limits by adding a taper fade like in the image below.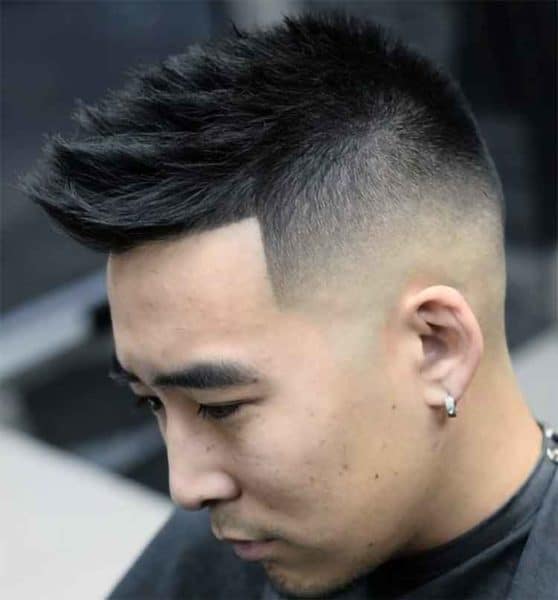 14. Euro Hawk Haircut
The Euro Hawk is a unique semi-fohawk style where the hair is gathered on the top to simulate a mohawk without trimming the sides.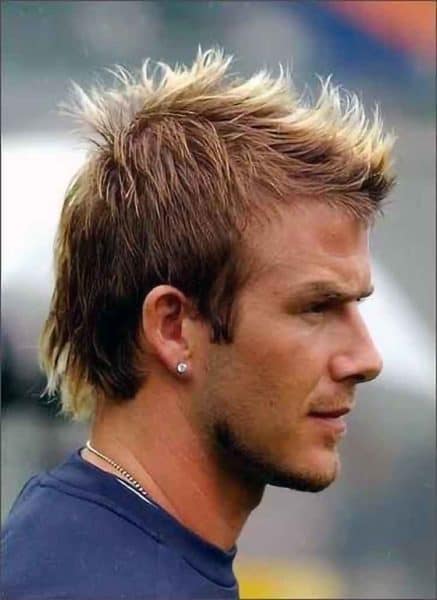 15. Fohawk with Design
The Euro Hawk is a unique semi-fohawk style where the hair is gathered on the top to simulate a mohawk without trimming the sides.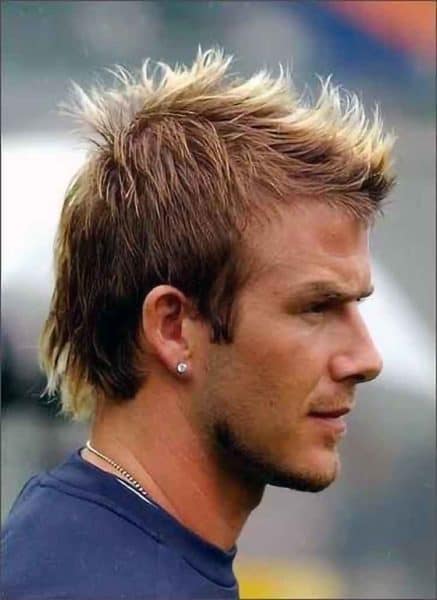 16. Boys Faux Hawk Haircut
The Faux hawk is a low-maintenance haircut for boys. It can be spiked, tapered, or tousled, and adding a line arc makes the entire look.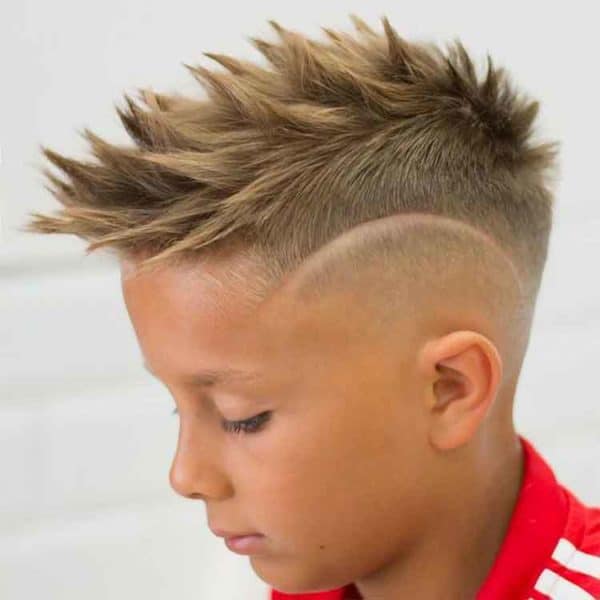 How to Style a Faux Hawk
If you've ever wondered, "how would I look with a faux hawk," you can actually recreate this look on your own without even cutting your hair. You need a little practice and good styling products.
Fohawk vs Mohawk
The Mohawk is a striking look with shaved sides to reveal a bold strip of hair running from front to back. The faux hawk is a less aggressive version of the classic mohawk where the sides are clipped, buzzed, tapered, or faded shorter than the top, revealing a pronounced contrast in layers.
Put your finger at the center of your forehead, now section off 1 to 2 inches width of hair. This will be the top of your faux hawk, the longest part of the haircut.
Style this section of hair up with a comb and wax or styling cream.
Slick back the hair on your sides using pomade or water, or push it back.
Push your hair up further at the top to see the mohawk stand out.
What do you think about this look? Is it for you? If you feel a little ridiculous, the main point is to see how you'd like styling your hair this way, even after you buzz and fade the sides.
The faux hawk is extremely versatile, so styling really depends on the angles you want to create and how you feel about your hair texture. Here are some styling tips:
For Longer Faux Hawks: These typically have buzzed or faded sides, leaving the hair on top to hang. You can style this up using wax to spike and tousle, or you may want to try pomade to tousle, slick back, or add shine. Heat and combs work well to create a pompadour.
For Shorter Faux Hawks: Textured fohawks have shorter layers and look great with a hair product like styling balm to tousle and spike. You can style the front with a quiff or short pompadour.
Keep Electric Clippers On Hand: Keeping the sides short is the only real maintenance for this look. You can fade your hair using electric clippers and multiple guards (suggest #0.5 to #2) or using a pair of blending shears.