It's no surprise, men's hairstyles are constantly evolving and becoming more stylish. The undercut has become one of the most popular hairstyles for men. It's a style that's shared between David Beckham, Brad Pitt, Adam Levine, and Tom Hardy. This youthful and adaptable hairstyle works well for almost any hair type as well, even if you have a receding hairline.
The undercut is a versatile hairstyle with a buzzed cut underneath with long hair on top. The shorter hair creates a hard edged line know as the undercut. With the traditional undercut, there are many style variations, including slicked back, combed over curls and fades.
From Instagram barbers who love men's haircuts with an undercut to high fashion style, editorial undercut looks – we've collected the best undercut hairstyles for men.
1. The Traditional Undercut
This look dates back to an early 1900s America, when it was popular to not blend the sides, resulting in shorter or shaved sides with very long strands on top. These were typically slicked back or tousled and became the style's standard.
Below, Tom Hardy sports a sublime undercut that's gently pulled back and pair with a heavy scruff beard.
The trend died out but popped up again with the punk revolution in the 1980s.
It's here to stay now, as more stylish undercut looks have appeared in the past few years, thanks to the bald fade haircut trend. The "new traditional" typically includes a high and tight fade with long, smooth locks on top.
2. Slicked Back Undercut
The traditional undercut gets a stylish and professional upgrade with a little pomade or another styling cream.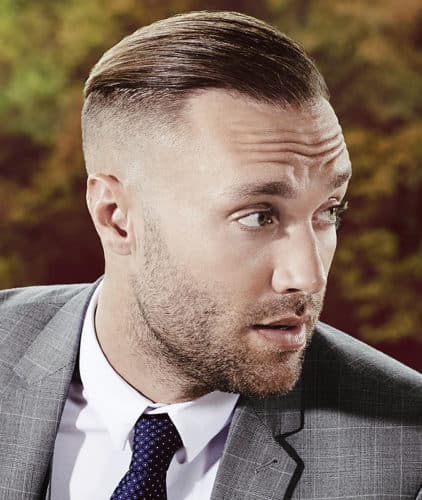 These are typically buzzed or faded on the sides, stopping just an inch or more above the tip of the ear. The hair on top is typically much longer and slicked all the way back with just a comb to precision, giving it its stylish edge.
3. Side Swept Undercut
This side swept undercut is a unique deviation from the tradition style and good for long-haired men. It's hip and bold, but not for everybody with its flair for the dramatic.
This variation sports short sides like a regular undercut. Then the long hair sweeps from one side to the other (similar to a comb over but much longer) and a much less defined undercut. This look is especially stylish, being paired with a full boxed beard.
4. Side Part Undercut
If you don't want to cut any length on top but still, like the comb-over, you may opt for a side parted undercut. For those with tons of confidence, it's bold and trendy and features side cut hair.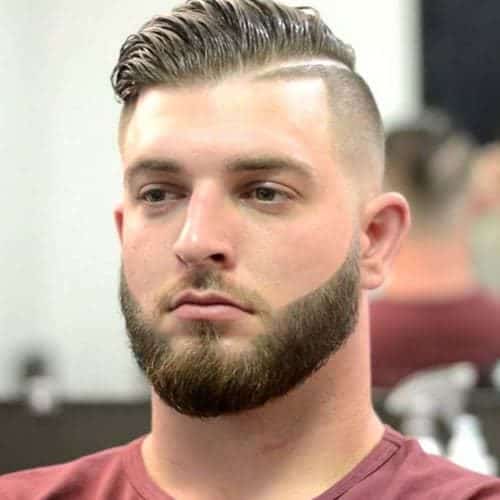 This look utilizes the longer hair on top and side cut hair. But it also features a part on one side with a defined line for added dimension.
Typically, pomade is used to push hair back and keep the part in place, or you can tousle using your fingers and a blow dryer with styling mousse.
5. Faded Undercut Haircut
The faded undercut typically starts with a clean-shaven neck and a #3 on the sides that gradually tapers to a skin fade. Then the transition is made at the part with a quiff cut and fade (YouTube).
Like other styles here, this one is unique from the direction of the waves to low fade pair with the beard fade.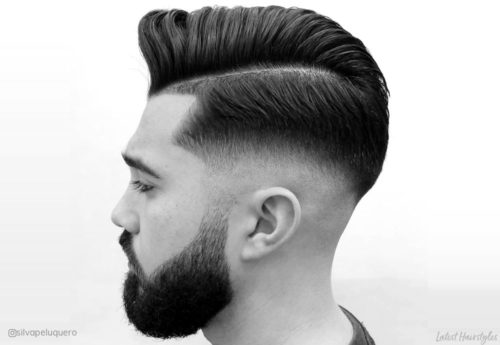 Also, the quiff is very unique. The longer style of hair just before getting to the top where you have long strands swept over, but also bend forward to form this look.
Other undercut fades are quite edgy and may spike the hair on top or style with a pompadour (see #10).
6. Side Cut Hair
Stark lines and sharp contrast are key to pulling off this look side cut hairstyle. There's a clear separation between your hairline and the length of hair on top with this look and creates the illusion of an undercut.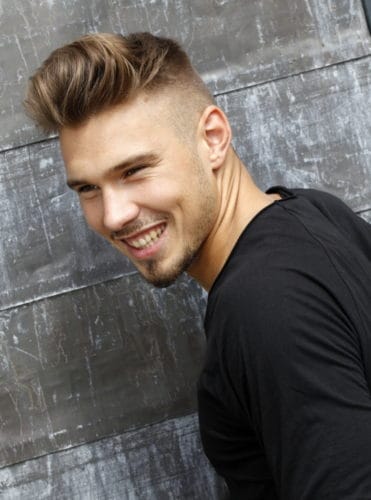 This look is so easy to achieve. Tell your barber to uniform cut the sides and back with a high taper. Leave the top long and tousled while pulling the back of the hair forward slightly.
For added style, connect your beard with the same length for a complete look. For additional variations, the back of the neck, sides, and even higher can be completely clean-shaven or a skin fade swapped for the taper.
7. Curly Undercut
For those with curly hair, an unique style can be used to vary your style. Curls go very well with an undercut, and they can be styled a number of ways to combat the ordinary.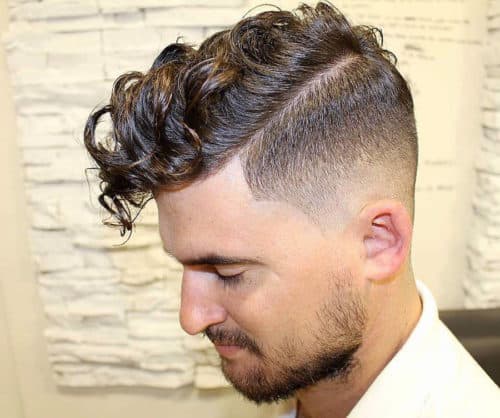 Some looks call for clean-shaven neck and sides with curls styled upwards and then tousled, while other looks leave the curls messy.
8. Blow Dry Men's Undercut
Using a blow dryer, you can create more volume and lift with the top length.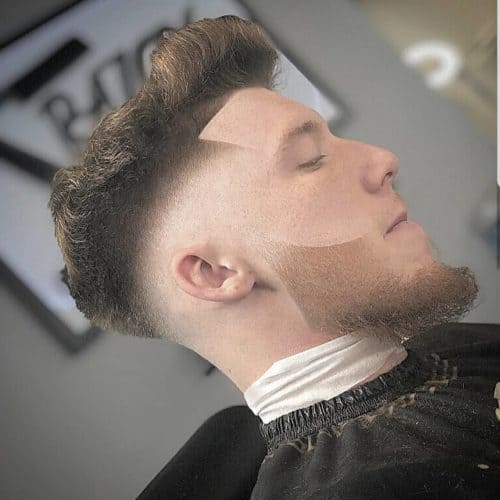 9. Temple Fade Undercut
Undercuts typically have a high and tight fade or buzzed sides. However, this look opts for a longer length, starting closer to the ear with a tapered haircut at the back. The result is a super edgy, youthful look.
This style is so versatile, it can be paired with a comb-over or quiff to shake things up.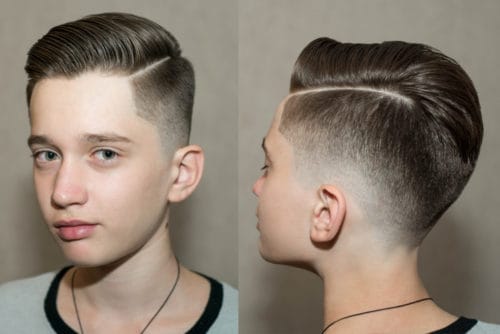 10. Pompadour Undercut
If you like a lot of volume and style, the pompadour is just what you've been looking for. The undercut version of this hairstyle typically incorporates a fade on both sides.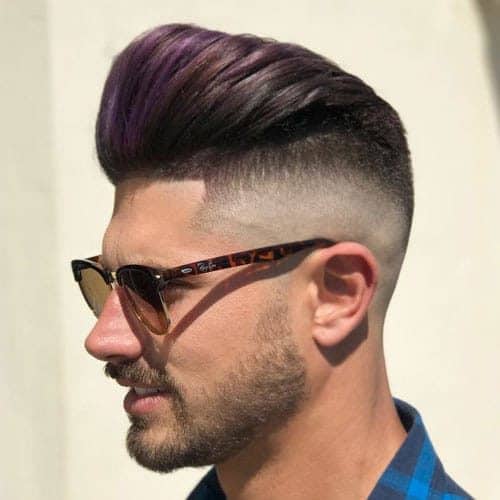 The pompadour is typically created using a roller brush and blow dryer, as well as some styling cream. The heat gives the front pieces of your hair some lift.
11. Fringe Undercut
We recommend having a barber show you how to achieve this look, as you must layer and texture the longer pieces of your hair on top to push forward while keeping it short and tapered in the back. The key to this style is that's a messy look that's posh and trendy.
The style works well with any hair texture but really pops with wave hair. The waves make the style look messy, so it's actually easy to keep the style in check.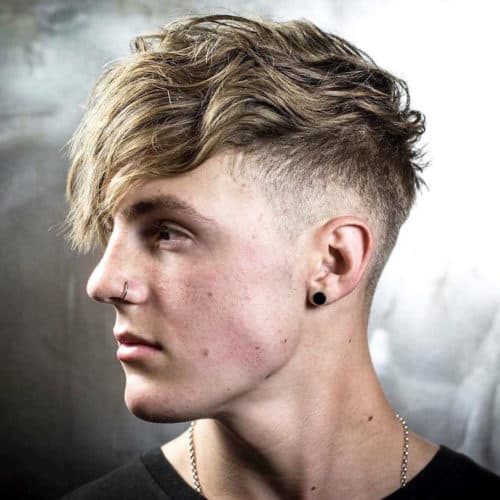 The fringe look can work quite well whether you have thick or thinning hair, just using mousse to volumize your locks.
12. Short Undercut
You don't need to keep all of your length on top, especially if you want a no-fuss style in the morning. The short undercut is easy to cut, style and maintain. Depending on your hair's texture, hair product may be optional.
The style below is kept really short on the sides, with a coarse taper cut down to a beard fade. It's a versatile style that's also good for those with thinning hair or a receding hairline.
These looks still have faded sides, but the length is cropped and then styled as a comb over or with spikes. This can also look like a longer crew cut hairstyle.
13. Hard Part Undercut
To create hard parts, your wavy hair is clean-shaven at the part. When combined with an undercut, the barber typically fades the sides, gradually building up to the length.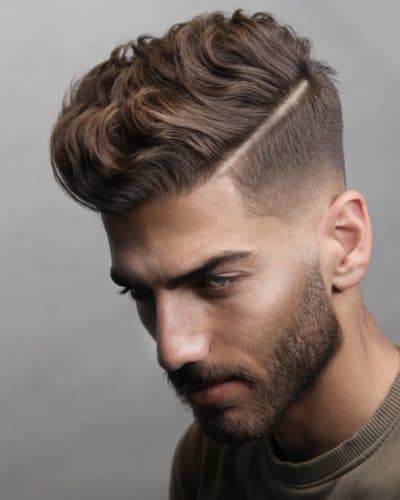 A quiff with a hard part is created at the front, leaving length to style on both sides.
14. Caesar Undercut
For those with thick hair who like hair products, the Caesar undercut is an edgy look that is reminiscent of a longer crew cut or 90s hairstyle. This look is faded on the sides and length is textured on top, creating layers that can be slicked back or pushed forward.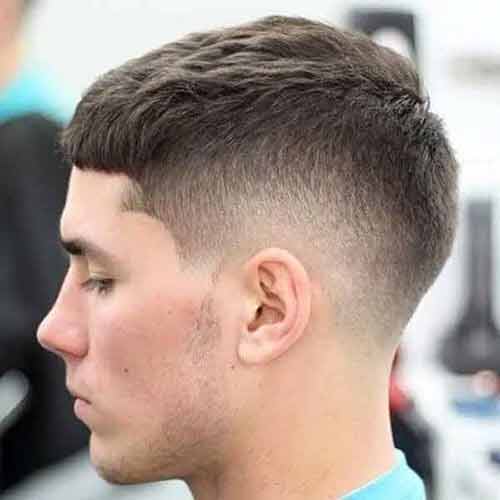 This look can go wrong in a number of ways, so we suggest bringing a picture for reference when you visit a barber.
15. Long and Tousled Undercut
You don't have to use any styling cream or have any length trimmed from an undercut to get the perfect style.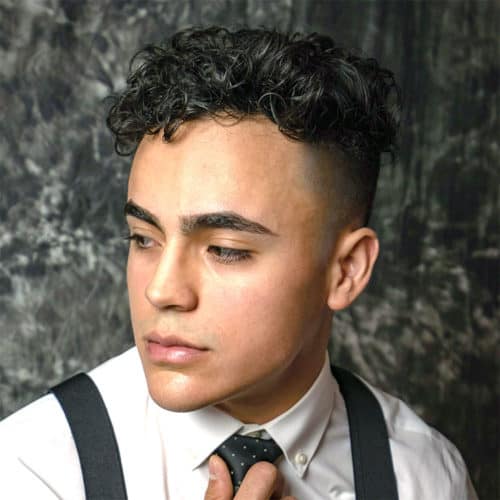 Simply buzzing the sides with a #1 or #2 guard, then leaving your hair long achieves the same look. Using a basic styling product with a little hold can help the look as you work through with just your fingers. This leaves your hair looking slightly imperfect.
16. Ponytail Undercut
Pull all the mess away with a quick ponytail. This look was common in Norse culture back in the days of the Vikings. It now lives on in TV shows, pop culture and today's trends.
With a simple buzz of the sides with a #2 or #3 guard, you can take down the length. Then leaving the longer hair on top to pull back into a ponytail. Note, the ponytail is gathered high atop the crown for form this unique look.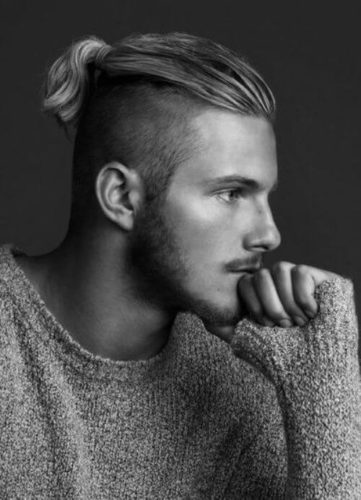 17. Spiked Undercut
If you want more style and the ability to push your hair upwards, the layered, spiked look can streamline your undercut. Use wax or pomade to create more texture and separate hair sections for spikier styles.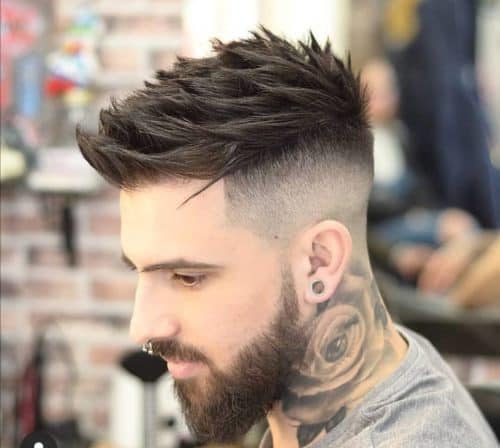 These looks also tend to have several hair lengths on top that may be tapered down to the back of your head and faded to the sides. Simply altering the direction of the spikes can produce an entirely different look.
18. Faux Hawk Undercut
For those not looking to go for a full mohawk, a less risky style is the faux hawk paired with an undercut. This look has a strip of longer hair at the center of your head with a taper down the back and middle resembling the mohawk.
The look can easily be modified with even higher buzzed sides or a very high fade to push the style's limits.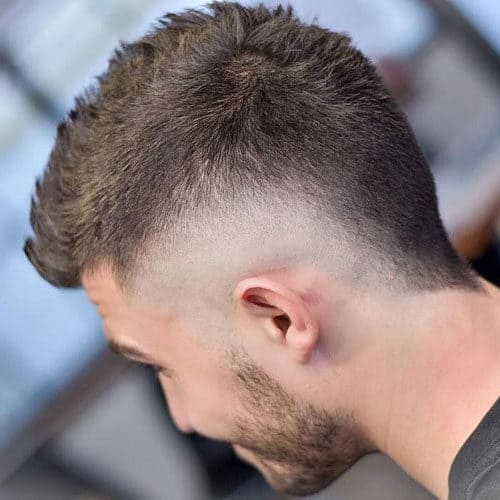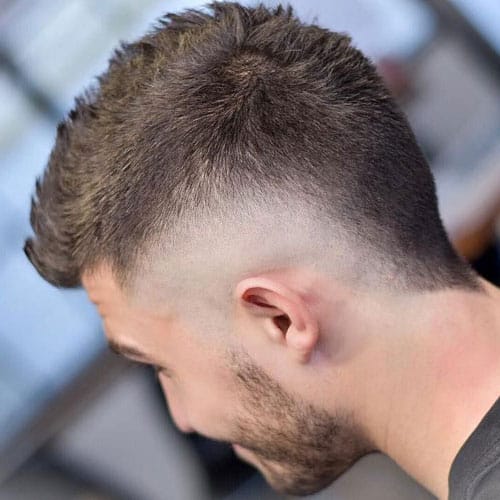 19. Top Knot Undercut
When you need to get all of your hair out of your face quickly, you can change your undercut up with a man-bun at the back.
This is another Viking Style, this one with a Top Knot Undercut and paired with a ducktail beard. The undercut runs a very high line, which accentuates the hair on top. Afterwards, it's easy to pull back and knot high on the crown.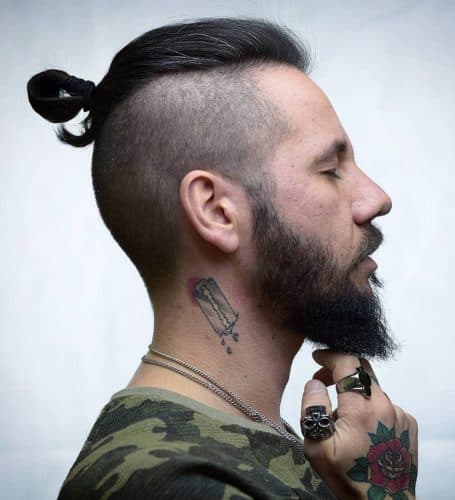 20. Tapered Back Undercut
These looks typically have a clean fade on the sides with a low taper in the back so that hair length looks seamless on the sides and back. It's easy to accomplish, especially with straight textured hair.
With just a little mousse, the hair can be combed back to reveal the taper and undercut.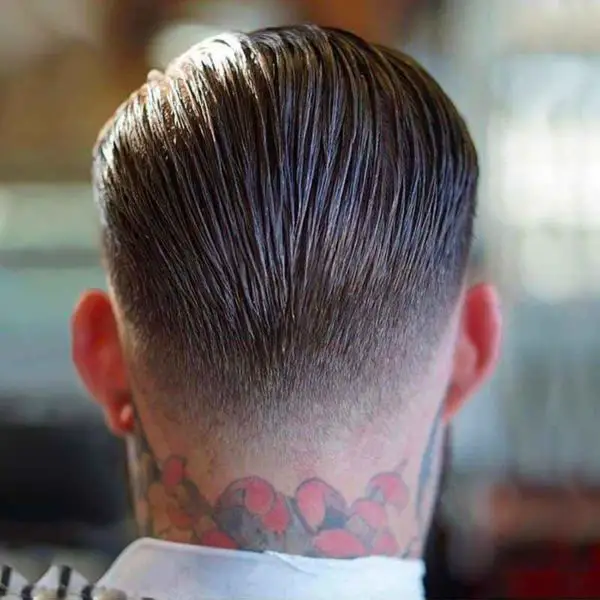 21. Undercut with Beard
The undercut goes famously well with all kinds of beards, but we particularly like it with a faded beard. The hairstyle easily boasts an extra dimension with a fuller style beard. However, any facial hair, even a stubble beard, would look great.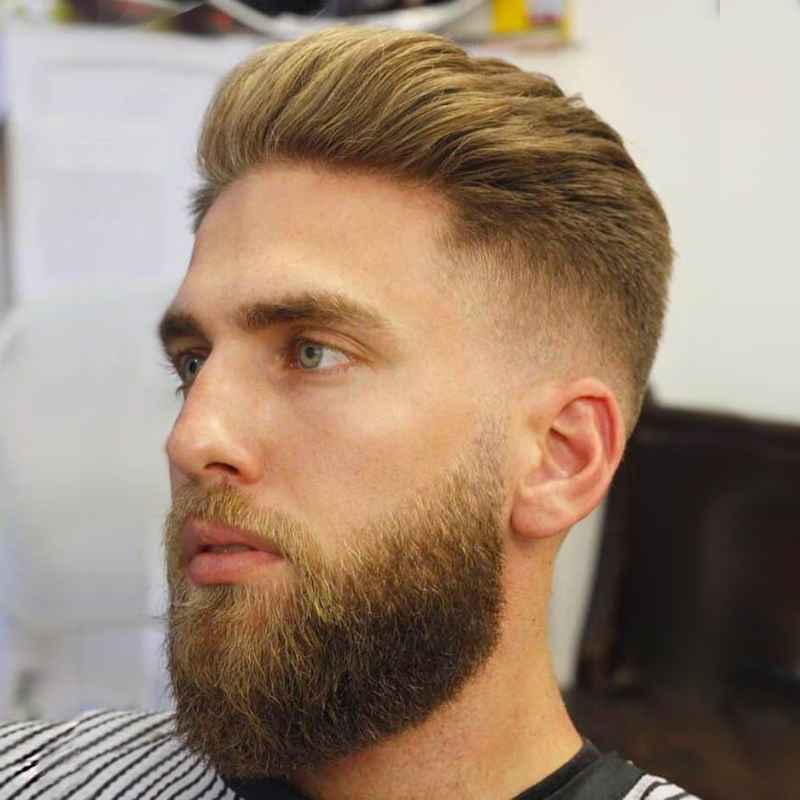 22. Bleached Faded Undercut
This look has remained a trend since 2019 when Zac Efron revealed this look. With ice blonde locks on top, the beard is kept a naturally dark color. Fades with a taper in the back are typical for this edgy look.
Then paired with a dark faded beard creates a unique two-tone look that's just wild looking. It may not be everyone's style, but demonstrates what's possible.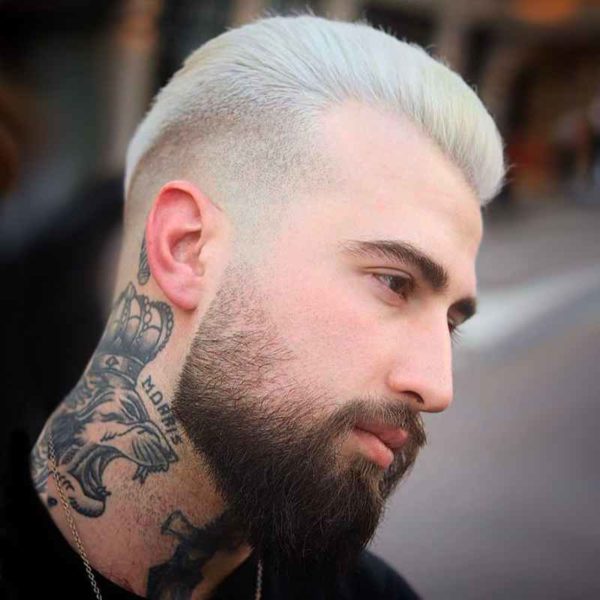 23. Comb Over Undercut
The traditional comb over haircut gets a stylish upgrade with an undercut, making it slightly edgier. Still a clean-cut style, it can be used in any social setting.
Faded or short sides are styled with longer locks on top. However, these may be trimmed to achieve the traditional comb over hairstyle.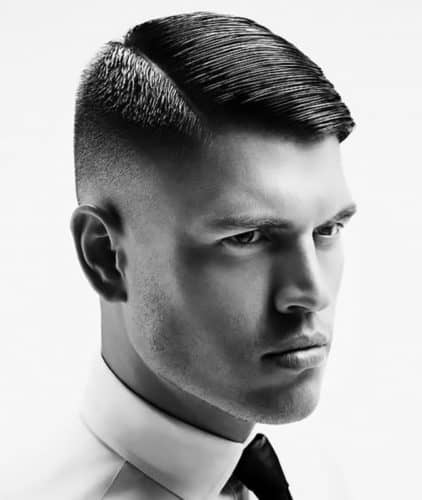 24. Long Hair Undercut
The comb-over look gets a stylish upgrade when paired with a long undercut. The long hair has a stark contrast to the undercut and is the hallmark of this style.
The wild look is left slightly unkept with a coarse shave on the side and large sweeps to the side and the front. It also gets extra points for being paired with a scruff beard.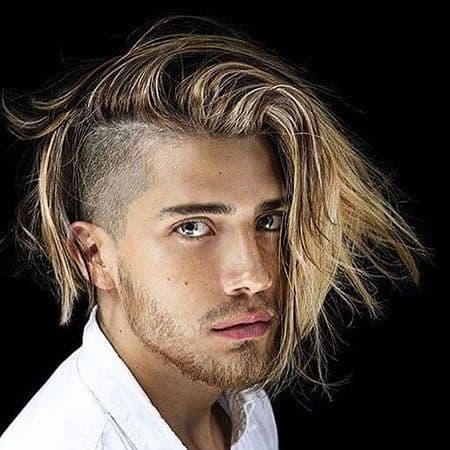 25. Disconnected Undercut
This style is disconnected from the sides and where it gets its name. There's a hard transition from the longer hair on top to the sides, creating a clear definition.
Typically created with a taper fade, this look is a trendy look with a break from the ordinary and easily created by any skilled barber.