If you look in almost any man's bathroom cabinet, there's bound to be a safety razor or disposable razor. However, as almost any barber will tell you, a safety razor always provides a superior shave and smooth result. 
A Safety Razor is manual shaving instrument designed to protect the user from injury and hence the name. The primary components of the razor are the handle, safety bar, razor blade and cap. The construction offers the safest shaving experience over cartridge and straight razor shaving and is well suited for a novice user.
The safety razor comes in various configurations, including long handles and double-edge blades. Compared to electric razors or cartridge razors, safety razors are known for offering a very close shave.
Safety Razor Buying Guide
Finding the best safety razor and double-edge blades is essential to using this shaving method correctly. Once you get your shaving technique down with a safety razor, you'll always have super smooth skin.
While you may think a cartridge razor is the easiest to shave with, it's not the closest, and safety razors are just as easy and even safer. For example, butterfly safety razors are designed to protect your skin from nicks and cuts. With these razors, all you have to do is change out the blade to get a close shave.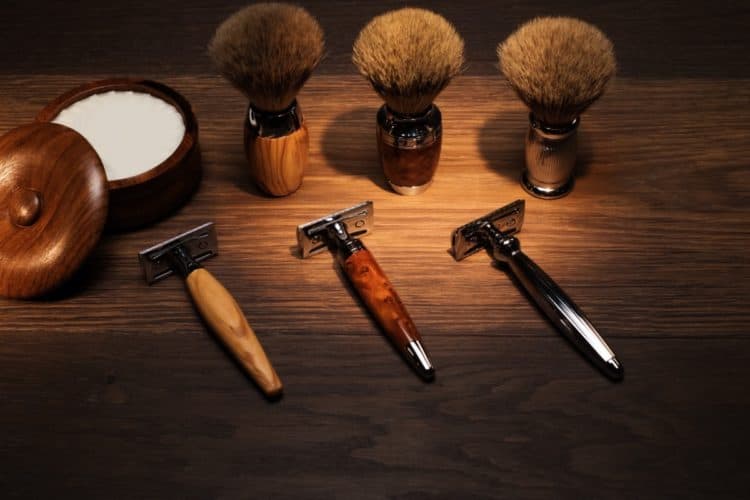 Cartridge razors require you to buy expensive heads with up to 5 blades in each. This leads to much higher cost and a lesser quality of shave.
The B&B team might be biased, but safety razors always result in a superior shave and don't cause as much skin irritation. When looking for the best safety razor, keep these features in mind:
Benefits of Safety Razors
Sharp blades make it easy to get a close shave
More savings over long-term use
More durable than cartridge or single blade disposable razors
Less likely to cause razor burn
Can be used with shaving cream or gel
Single Edge Razors vs Double Edge Razors
Most safety razors are designed for single or double edge models. Some men prefer a single edge safety razor because it's easier to maneuver. Double edge razors are more popular and tend to have a closer shave, depending on the thickness of your beard.
If you have a patchy beard or stubble beard, you may only need a single-edge razor. Both razor blades have similar pricing.
Difference between open-comb and closed-comb razor
Open-comb razor
The open-comb style razor doesn't have the safety (straight) bar to contact the user's skin. Instead, it has distinct teeth showing which allows for a closer (more aggressive) shave, but also leaves the blade more exposed.
Closed-comb razor
The closed-comb style razor has the safety (straight) bar to contact the user's skin. It still allows for a close, but less aggressive shave. The benefit is keeping the blade less exposed and safer for the user.
Adjustable Razors
Certain skin types are more sensitive than others to razor burn and irritation. With an adjustable safety razor, you can easily tune a razor to match your skin type. This means you're less likely to have issues with nicks and cuts if it's easier to adjust the blades.
Long Handles
The handle is probably the most important piece of any razor. You want a long, weighted handle with a textured grip. If you don't have a great handle, then it can be harder to hold on to the razor, causing you to slip when you shave. It's also important if you're using a razor for a head shave.
Design and Material
The best safety razors are made from steel and have a chrome finish. They're slightly weighted, so you can easily balance the handle in your hand and avoid any slippage. Heavy razors are also easier to use because they take the pressure away so that the razor can do most of the work.
---
Looking for a professional shave at home? Barbers recommend a safety razor for best shave experience. It offers a safe shave without irritation or razor burn you get from most cartridge razors.
We rated the top safety razors and placed them into 6 categories. No matter what your budget, you deserve a super close shave. Here are the top safety razors that B&B tested, based on their ability to provide a clean shave with no nicks, super-durable construction, and flexible design.