Many men have embarked on a quest to find the best shaving cream. It's difficult to find a product that A) provides a super slick surface for shaving, and B) doesn't affect your skin.
If you frequently get acne around your beard or razor burn after you shave, you need a high-quality shaving cream that moisturizes your skin and works with your chemistry.
The top shaving creams are typically latherless and made from natural ingredients like jojoba oil or peppermint oil. Shaving creams also come in shaving gel cans or tubes, foams, or cream tubs.
Before you purchase any new product that touches your face, you need to make sure it will work with your skin type and shaving routine. We've also tested the highest-rated shaving creams on the market and found the ones that are best for you, no matter what your skin type is.
Shaving Cream Buyer's Guide
We've been reviewing a ton of beard care products lately because men don't have all the facts when it comes to beard care and shaving routines. The right shaving cream should eliminate razor burn and moisturize your skin so that your blades easily glide over the contours of your face, providing an ultra-smooth shave.
However, if your shaving cream leaves your skin feeling dry or irritated, there could be unwanted ingredients in your product, such as alcohol or petrol-based chemicals that cause problems for sensitive skin.
Here's what we look for in our own shaving cream:
Types of Shaving Creams
Quality shaving creams won't have any toxins or dangerous chemicals. You should look for paraben-free, certified non-toxic products. It's not uncommon to find essential oils in moisturizers and shave creams alike (just ask Chris Hemsworth, who steals his wife's moisturizing cream with essential oils).
We like to look for moisturizing face shaving creams that contain lemongrass, aloe, and jojoba oil.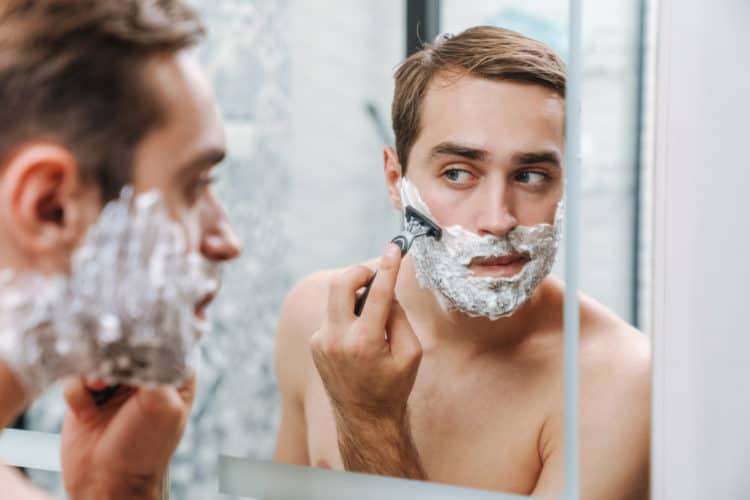 Latherless
A shaving cream that typically comes in a tub or tube and includes natural oils in their formulas, such as jojoba seed oil and peppermint oil. These are probably the best for all skin types, but they can be a bit expensive.
Shaving Gel
These gel formulas lather up in your palm and typically include some type of alcohol in the formula. Note that isopropyl, methyl alcohol, and other simple alcohols will dry out your skin.
However, if you have naturally oily skin, then not all of these shaving gels are bad. Look for labels with "no drying alcohol" when finding a gel shaving cream.
Shaving Foam
It's probably the most popular type of shaving cream, and it's been around forever. Typically sold in canned form, these products typically have ingredients like propane and isobutane.
While these lead to a rich, creamy lather, these can dry out your skin depending on the brand and formula. It's best to check reviews and know if this works with your skin type.
Traditional Shaving Cream
If you use a straight razor or safety razor, then you'll likely look for a traditional tub of shaving cream. These are pretty reliable for shaving, but some require a shave brush and mug or scuttle tool.
If you need a Shaving Cream Alternative, we list our Top 7 that really work.
What Shaving Cream Works Best with My Razor?
We prefer shave creams to shave oils for men's grooming, but coconut oil is one ingredient that's necessary in moisturizing shave cream products.
Besides skin type, you may also want to pick a shaving cream based on the type of shaving device that you use. Here's a quick guide:
Straight Razor
Shaving soap and traditional shave creams work best with straight razors. Your straight razor may even come with its own brand of shaving soap if you purchase a kit.
Double Edge Safety Razor
The top safety razors typically recommend traditional shaving cream, but shaving soap also works. However, if you're using quality double-edge blades, then definitely use a shaving cream or gel.
Cartridge and Disposable Razors
If you love using traditional cartridge razor or disposable razor, then latherless shaving cream is the best option for all skin types. Shaving gel and shaving foams can also work with these razors.
Electric Razor
For electric razors, there truly is no other option than a latherless shaving cream. It offers the smoothest shave without hurting your skin or causing razor burn. Thinner shaving creams also won't clog up your razor.
Avoid Harsh Shaving Cream Ingredients
Don't purchase products with these chemicals in the formula:
Sulfates: sodium lauryl sulfate, sodium laureth sulfate, and ammonium lauryl sulfate
Emulsifiers: Triethanolamine (TEA), diethanolamine (DEA), and monoethanolamine (MEA)
Phthalates: Di-butyl-phthalate (DBP), di-ethylphthalate (DEP), dimethylphthalate (DMP), benzylbutylphthalate (BZBP)
Best Shaving Creams (Top Reviews)
We saved the best for last. Scroll to the bottom to see our top pick for shaving creams.