Shave clubs offer an alternative to shopping for razor blades in-store, especially when you're uncertain about quality and cost for your shaving. That's why Harry's razors created their premium German razor blade brand to send disposable razor blade cartridges straight to your door.
For those unfamiliar with shave clubs, Harry's is like a Dollar Shave Club or hipster Gilette brand with a variety of razors, blades, and men's beard care products.
Do these razors stand up to competitors? If you're looking for a unique shaver and affordable replacement blades, then this Harry's razors review is for you.
What is Harry's Shave Club?
Harry's Shave Club offers a subscription service for men's razors and related shaving products. Typically, you'll get 8 disposable cartridges for about $15 with shave gel for $6 extra. Depending how often you shave, subscription may vary from every 2 to 5 months.
You get eight new cartridges for $15 (plus shaving gel for an extra $6), every two, three or five months, depending on how often you shave. In addition to blades, Harry's also sells face wash, post shave balm, soap and other body care items.
Are Harry's Razors Worth It?
Harry's has an online store and sells shave kits in stores like Amazon.
The brand caters to perfect shaving tools made from German-made razors, but the shave kits and ongoing subscriptions have a premium cost.

Harry's razor blades offer a super-smooth shave, thanks to their custom German-engineered process. The steel blades delivered are super sharp

, so be careful!

Everything's included in their shave kits, making it a superb choice for beginners to shave clubs.

You can also sign up for a "convenient" subscription service, which may save you money if you frequently purchase replacement cartridge blades.
It's easy to get sucked into Harry's marketing because they poke fun at the ever-increasing price of "fancy" Gillette razors. So is Harry's better than any other shave plan or premium shaving kit? We tested out their subscription service to find out.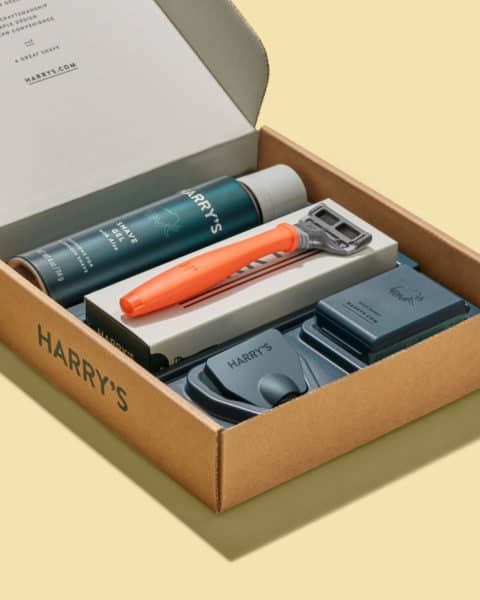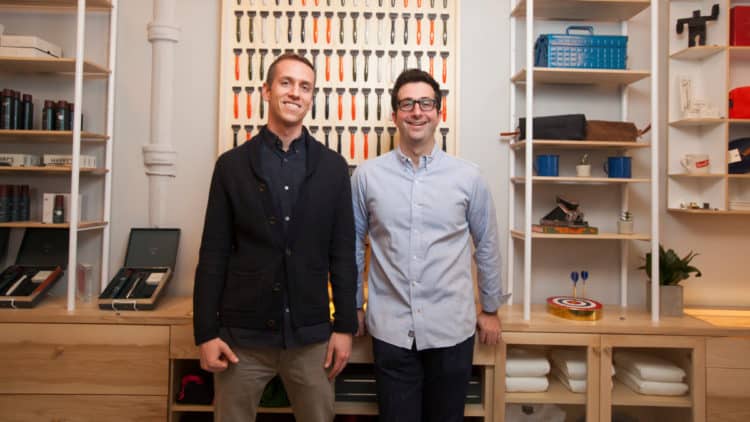 The brand expanded in the past few years, now selling its razors alongside competitors in Target and Barney's in NYC.
Harry's commercial still comes to mind when thinking about "fancy razors." The razorblade brand put it so well with a depiction of a man unable to flag down a rep to see the razors in the case, making it so difficult to get a high-quality shave.
So Harry's founders thought of an answer to the problem of rising prices on razors:
High-quality shave products like German-cut razor blades delivered to your door for a price that "never goes up."
There were some concerns earlier this year over a deal for Schick to acquire Harry's, but the acquisition was blocked because of concerns over a shaving market monopoly.
Harry's Razors Cost vs Competition
*Cartridge razor price comparison
* Note there are several Gillette kits plus various quantities of blade packs (4, 8, 12, etc.), blade types (Mach3, Fusion5, ProGlide, ProGlide Shield, SkinGuard, etc.) and shave gels (Series 3x, 2 in 1 ProGlide, PURE, Fusion Hydragel, etc). Same goes for safety razor selection. To give as close to an apples-to-apples comparison, I've used the most common, non-promo sets.
What's Included with Harry's Razors Shave Club?
Harry's offers standalone products and a shave subscription service. Recently, the company has moved towards distributing its razors without a subscription, though you can still sign up on their website for a $5 trial.
The Truman set we tested comes with the following:
1 Handle
3 Blade Cartridges
Shave Gel
Travel Cover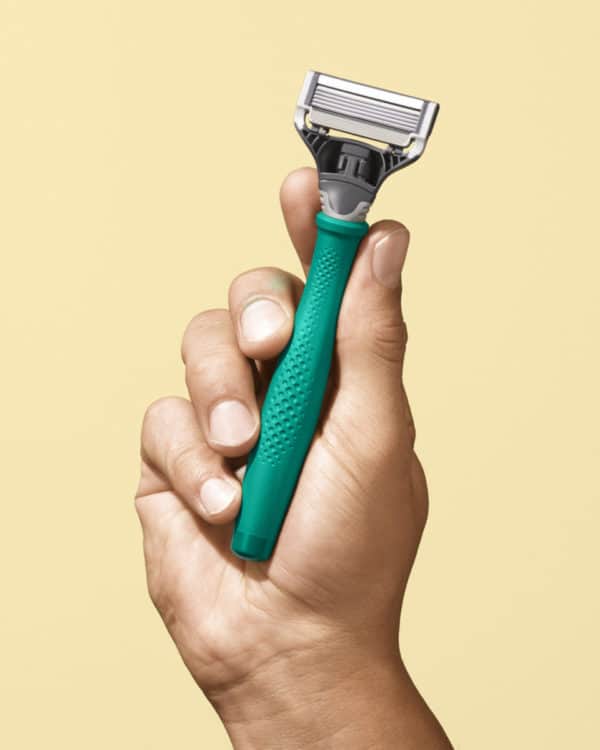 The subscription service includes a basic or premium option with other ways to customize, depending on how often you shave. Membership is pretty flexible, and you're able to cancel at any time.
There are two razor handles primarily offered by Harry's:
Truman Razor: A basic cartridge razor with rubber grips in different colors
Winston: A premium razor option, more stylish
In addition to the razor handle, your subscription box typically comes with replacement blades, shave gel, and sometimes other products, such as combs or brushes.
Harry's Razors Shave Club offers simplistic and high-quality personal care products. It's designed for men who just want an exceptional razor and shaving cream, according to its marketing.
The razors are German-engineered, so they're durable yet simple. The same goes for its website and branding. Everything about this brand speaks to its minimalistic approach to razors, and yet, its website can be a bit confusing.
We suggest trying their Starter Set for $5 because it includes the handle, five-blade razor cartridge, foaming shave gel, and travel blade cover. Free shipping and a quality guarantee is also included.
The B&B team reviewed the starter set, which includes the Truman handle and German-engineered blades. These are flex hinges with five sharp, durable blades and a lubricating strip. These blades are definitely premium quality and quite sharp, though not for head shaving, according to Harry's disclaimer.
What We Liked About Harry's Razors
The razor itself is pretty basic, but that's why we like it. However, you can probably compare it to a premium Gillette Fusion cartridge razor.
The rubber grip just makes it easy to hold, and it comes with a precision trimmer for shaping up your sideburns.
Overall, you can be finished shaving in a matter of a minute with this razor. There's no fuss or nicks, thanks to the shave gel.
The shave experience is pretty straightforward, but was surprised how amazing the razor felt. It may have been knowing this handy, stylish razor was just $5—an unbelievable price compared to the $20+ spent on Gilette handles and replacement blades.
The shave gel is actually well made with natural ingredients like aloe vera and cucumber. We liked it better than shaving foams we've tried. The lubrication was smooth, and the razor glided over skin quite easily. We also recommend trying their post shave balm, which is far superior to most other shaving products.
While it's difficult to review any razor blade because the shaving experience can be so personal, Harry's provides an above average shave with high-grade steel blades and better-than-most shave gel.
We couldn't believe the value and quality of the razor blades for the price. You really do get a bargain with free shipping, but the regularly priced subscription boxes are a little bit more.
Cons of Harry's Razors
One issue that we immediately saw is the management of the subscription. If you're not careful, you could sign up for too many razors. It's important to tell Harry's exactly how many razors you need so you don't continuously get new replacement blades, which can come every week.
Other customers complained that the prices really are just too high in comparison to competitors. We think the brand offers a ton of value if you shave 2 to 3 times a week and want high-quality cartridge blades delivered to your door on autopilot.
Did we Keep Our Harry's Razor Subscription?
Over the past year, the B&B team has tested all kinds of cartridge razors so we conclude our subscription, but not because of any problem. We like this brand and think their Truman handle probably got the marketing treatment.
After all, it's just a basic handle, but it feels so much better because of the rubber grip and fancy colors. We wonder what the Winston razor would feel like and will try that next.
Verdict on Harry's Razors
The $5 Truman set trial is definitely worth the time it takes to sign up. Beyond that, Harry's Razors truly delivers high-quality German blades and premium shave products for a lesser cost.
The B&B team also agreed on something else: Harry's saves time spent shopping for a simple razor whenever we run out. Be careful on your order frequency though, as it does ship on time every week.
You could stop your subscription after a couple of weeks and still have a great razor handle and replacement blades for months, so it's a good standby to have and their prices are reasonable.
FAQs
Is Harry's or Dollar Shave Club better?
In my humble opinion, Dollar Shave Club is clearly better on cost and ease of service. DSC has a little better quality at a much cheaper price. Also, if you want better blades, but at a premium price, go with Gillette.
Is Harry's shave any good?
Overall, the products and the service are really good but not the best IMHO. The 5 blade razor has a nice lubricating strip, so the first few shaves are a definite improvement over classic disposables. So, the shave is on par with other notable brands.
Is harry's better than gillette?
Verdict is Yes, Yes and No. The Harry's service isn't as good as Gillette, after all they're a large brand with great customer service. Regarding the blade quality, Gillette is clearly better hands down. However, Harry's is priced more reasonably than Gillette.
Is Harry's a good shaving brand?
Quick answer is Yes. They're one of the top shaving clubs with a sizeable customer base. The Truman has a well balanced, textured rubberized grip while the Winston has an ergonomic shape with graphite finish.
Why did Gillette sue Harry's?