With so many razor club options like Harry's, Gillette and Dollar Shave Club (DSC), it's tough to know which shave club is the best for your shaving.
In our Dollar Shave Club review, we found the company provides an incredibly valuable razor blade and shaving subscription service, but there were some differences in quality from other shaving clubs we've tried before.
What is Dollar Shave Club?
Customers of Dollar Shave Club enjoy monthly deliveries of razors, a handle, and other shaving accessories, depending on the kit you subscribe to. We reviewed the basic Dollar Shave Club, which includes one razor handle, replacement blades, and shaving butter.
Dollar Shave Club offers monthly subscription boxes with razors and shaving supplies, as well as standalone shaving products. 
Their $18 kit includes 2 razor blade cartridges, razor handle, and trial sizes of Post Shave Dew, Shave Butter, and Prep Scrub. 
After reviewing their plans, the cheapest is $8 for 1 shipment with 4 razor blade cartridges, roughly equating to $2.00 each and can be cheaper per blade with larger quantity subscriptions.
There are multiple kits available and each includes essential shaving items you can personalize by taking the Dollar Shave Club quiz.
Typically, customers feel like Dollar Shave Club offers slightly better quality razors than most. We share our results below.
How Does Dollar Shave Club Work?
Visit the DSC website: Simply go to: https://www.dollarshaveclub.com/ & click Get Started.
Take Personalization Quiz: To get the right products in your box, DSC offers a "Get Started" quiz that asks about your shaving style, skin type, and skin care routine. Ultimately, it's used to personalize your products, but also to upsell. You can add and remove products as you like.
Review Your Plan: Review all the details of your plan so you get exactly what you want and nothing more.
Confirm Your Box Frequency: Options range from every 2 months, 3months and 4 months.
Complete your Order: That's it.
All customers must sign up and create an account. Inside, you'll have more options to manage quantity and frequency.
What Comes in a Typical Dollar Shave Club Box?
Typically you'll build your own box based on personal preference. A typical box will include just the basics, 1 handle and razor blade cartridges. Bigger boxes can include an array of products like scrubs, shaving, etc.
Dollar Shave Club Starter Kit
DSC also offers a $5 Starter Kit which is oddly similar to the $18 starter kit. The only real difference is they bill you in 2 weeks right after $5 kit purchase.
To start, I wanted to try their products without committing too much investments, so I opted for the Dollar Shave Club starter set, which includes two razors, razor handle, and trial-sized shaving supplies for $5.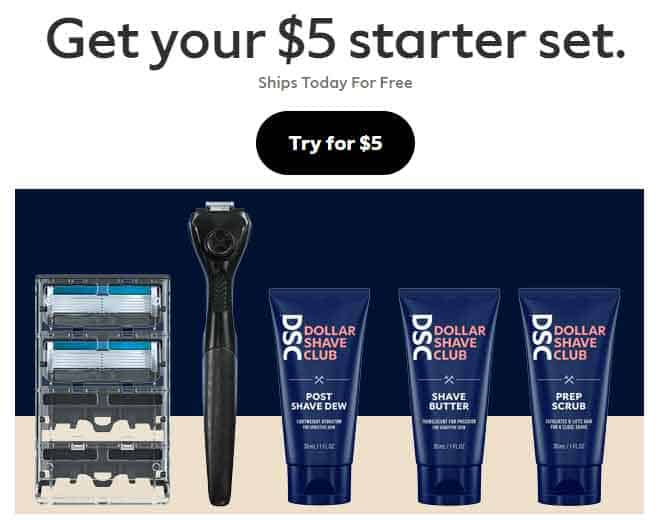 After two weeks, Dollar Shave Club will bill you for the full subscription of $20 and send you the first refill box. They'll also let you know 3 days in advance.
Prices change frequently, so it surprised us that the Dollar Shave Club doesn't actually sell anything for a dollar or have a $1 subscription box. So, just pay attention when checking out so you know exactly what you're getting. 
Dollar Shave Club Products
Additionally, Dollar Shave Club offers other personal grooming and men's care products, formerly their Dr. Carver brand. This includes shaving products such as shaving butter, shaving gel, lather tubs, post-shaving balm, and repair serums that prevent ingrown hairs and razor burn.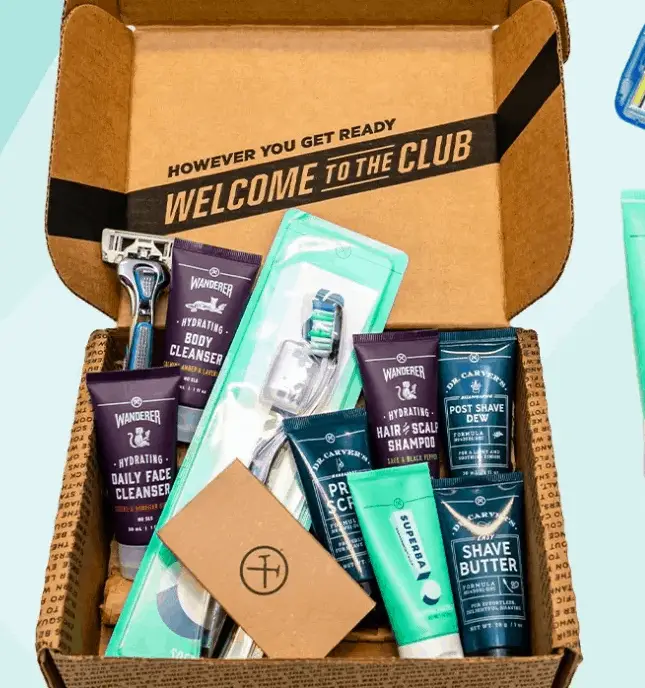 Their brand Wanderer (formerly Big Cloud) also provides hand creams, skin moisturizers, and lip balm, but there's another line of hair products, including hair clay, hair paste, hair gel, hair fibers, and a hair cream.
Dollar Shave Club Travel Kit
Additionally, the starter set included three other products, including an after shave, shave butter, and a prep scrub. All of these products felt amazing on my skin. I used the prep scrub first to exfoliate and prepare my face for shaving, then applied the shave butter, which was super creamy but lightweight.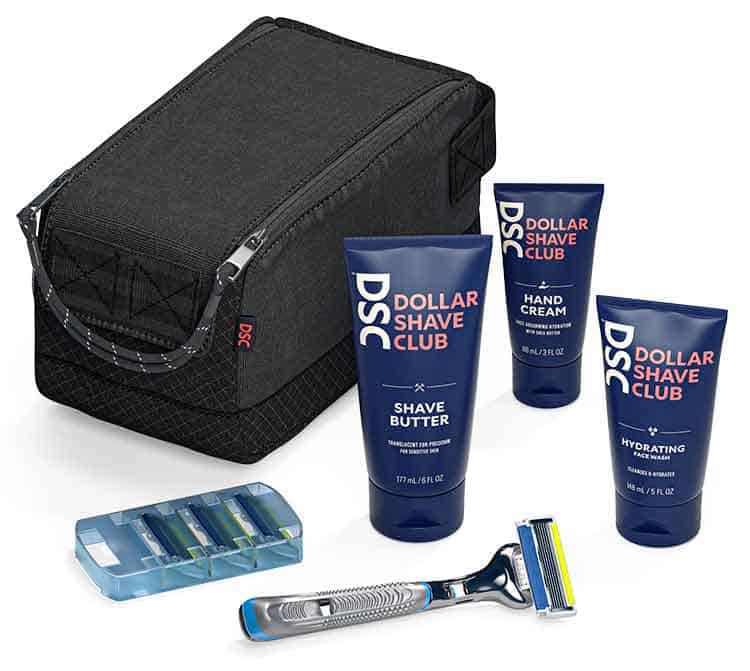 The Post Shave Dew is an excellent after shave with a light, masculine scent. It's very fresh and easy to apply. I felt like a million bucks after using these products, so it definitely improved my skin care and shaving routine. I didn't experience any razor burn or bumps after shaving, which is also a telltale sign these products work well for sensitive skin.
How Much is Dollar Shave Club?
The DSC membership offers convenience, and value razors delivered right to your door with a hassle free, set price. So, Dollar Shave Club cost really depends on the quantity of blades, frequency of delivery and any personal care products included with your box.
Monthly you'll get 4 replacement blade cartridges at their current rate of $2/each. So, that's $8 per month with free shipping plus applicable tax. Still a good value unless you shave less frequently.
It's amazing that these razors are of of similar quality to Gillette and are on par with Harry's razors, but for much less cost. You're only spending about $1.66 – $2.00 per razor cartridge, depending on your monthly quantity.
Personal care shave products are a little more expensive than many of the best after shaves I've reviewed, as well as shaving creams and beard care products. If you want the convenience of adding these products to a subscription box, I suggest starting out with one or two to see if you like the quality.
Is Dollar Shave Club Worth It?
Dollar Shave Club is one of the top shaving subscription services in the world. From our research, we found the service to provide quality razors on par with Gillette for a fraction of the cost. Is this why Gillette fought so hard to keep Dollar Shave Club out of the market?
While don't expect a high-end safety razor, it turns out that Dollar Shave Club doesn't make cheap cartridge razors at all. These are steel-cut, razor-sharp blades that deliver a smooth shave effortlessly. The handle is easy to hold in your palm, and the quality of the shave feels just slightly better than what you'd get with the Gillette razors (although my wife swears it's better than her razors).
Instead, Dollar Shave Club is now a dependable disposable razors brand. While their starter kit is very popular and the razor handle offers a rubber grip design, their old "dollar-cost" selling point isn't the same. That doesn't mean the products are bad, but it wasn't what I was expecting going into this review.
Dollar Shave Club History
Dollar Shave Club started in 2011 by founder Michael Dubin. He said that he began the club to solve a common problem for men: quality razors for an affordable price. The name says it all. He wanted to make it very cost-friendly and as low as a dollar per razor in cost.
However, Dollar Shave Club was purchased by Unilever in 2016 for $1 billion. The company has since changed its pricing and subscription model, including other shaving products and increasing their price per replacement blade. It's no longer $1 per blade, which is a bit disappointing given the name of the company didn't change. 
Overall Experience
The starter set is one thing, but after your trial period wears out in two weeks, you're charged the full subscription box, which will include replacement blades and any other shaving or skin care products you added to your box. There's a personalization quiz that assesses your skin's needs and recommends products, including shaving bars and butters, as well as skin moisturizers for dry skin problems.
Overall, there are a lot of products that you can add to your box individually from your account page. The sizes and quality don't always match up with the price, so you can end up spending a lot more than the original subscription box with just replacement blades.
However, the shaving and skin care products are of higher quality and most didn't contain any harsh chemicals, sulfates, or parabens.
Pros and Cons
Pros
Low-cost, high-quality razor blades
Free cartridge razor handle included with membership
Above average shaving products
Fast shipping and subscription box ordering online 
Customer service options available via online chat and phone
Ships from US, Canada, UK & Australia
All products have a 30-day money-back guarantee
Dollar Shave Club skip a month. Totally doable. You can adjust delivery frequency (after sign-up)
Can adjust blade quantity (after sign-up)
Cancel membership anytime
Cons
Not interchangeable with other razors
Shipping extra for on demand orders
Costs much higher with shaving products included
Original messaging of the "Dollar Shave" is a bit misleading
Ordering process has lots of upsells
Must sign-up first before you can adjust delivery frequency or blade quantity
No free trial
Final Thoughts
Ultimately, the Dollar Shave Club starter set holds the most value. It's a quick way to get started with a free cartridge handle and some high-quality razor blades. However, the (on average) $8 – $20 cost every two months doesn't break down to a lot of saving as I originally thought or as the previous subscription box suggested.
Their brand and products have changed how you build a subscription box. For example, there aren't any more executive blades, as you may have seen in their viral video marketing.
Compared to Harry's Razors and Gillette products, you do get a high-quality replacement blades for slightly less, but there are also way more options for shaving and skin care products. I think the brand has become more of a marketing tool, so if you only wanted low-cost replacement blades directly to your door, then go with the bare minimum refill box.
FAQs
What is the catch with Dollar Shave Club?
No catch! You sign up for a monthly subscription box of your choosing and get periodic delivery of disposable razor cartridges. The first box contains 1 razor handle, 4 or 6 blades and possibly other shaving products you selected at check out.
Are The Blades Good?
Knowing DSC used to charge a $1 for replacement blades made me skeptical of the quality. However, the DORCO company actually makes blade cartridges and in my experience they last a just little less than Gillette.
Is Dollar Shave Club Legit?
In my experience, Dollar Shave Club is not a scam and doesn't ripoff their customers. Check out DSC reviews on ConsumerAffairs. DSC is owned by Unilever and they also own some of the world's largest brands, like Dove, Lipton and Vaseline.
Can Women use Dollar Shave Club?
Dollar Shave Club for her is their regular service for women. All DSC products are unisex. So, women can enjoy the blades, topical products like shave butter, rescue serum and even hand cream.