There's a lot to know about men's shaving. If you're doing everything right with your shave routine, then you'll get a smooth result. However, dermatologists say that acne and razor bumps come from a poor shaving. So when do you exfoliate before or after shaving?
Dermatologists recommend that you start exfoliating at least 1 to 2 times weekly, but if you also shave daily, exfoliation is an important step for skin care that you don't want to miss. Here's what the experts say you should do to avoid ingrown hairs and pimples after shaving.
Exfoliants moisturize and cleanse better than regular bar soap. If you want healthier skin when shaving, checkout the Best Exfoliants now.
When Should You Exfoliate?
The recommended time to exfoliate is before you shave, as it has many benefits for your skin like less irritation and ingrown hairs. The best exfoliators remove dead skin cells, dirt, and oil from your top epidermis layer, leaving your skin clean and pores unclogged.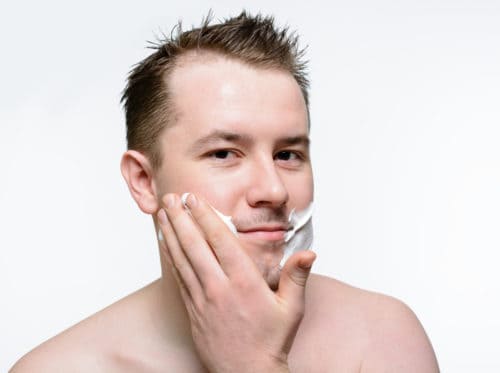 By shaving before you exfoliate, you actually prepare your hair by lifting it up slightly to be removed by your razor, making it easier to capture the hair for a closer shave.
Additionally, when you exfoliate pre-shave, your shaving cream or shave butter can absorb into your skin and provide smooth protection against razor burn and bumps.
Splash your face with warm water before you exfoliate to open up your pores, then use cold water post shave to close your pores or pick a top after shave for more moisture and protection.
If questioning whether you can shave and exfoliate the same day, you absolutely can. You should exfoliate one to two times a week before you shave for smoother, brighter skin.
What If You Shave Then Exfoliate?
Freshly shaven skin is super sensitive to chemicals, alcohol, temperature, and irritation from scrubbing. Even more so if your razor nicked your skin or produced an ultra-close shave. In other words, your skin may burn and likely become inflamed if you use a physical exfoliator after shaving.
Instead, you should wait to the next morning to exfoliate with a gentle daily cleanser. You don't need to do a super scrub exfoliant or charcoal mask after freshly shaving.
The best thing to do after shaving is to pat your smooth face dry and remove any stray hairs carefully, then apply a top after shave cream to moisturize and protect your face.
FAQs About Exfoliating and Shaving
Should You Exfoliate Before or After Shaving Your Beard?
If you have a thick, full beard, you still want to exfoliate your skin before shaving. You should follow our guide to exfoliating your beard for the best results.
A gentle face exfoliant is the best way to start scrubbing away dead skin cells, but if you want brighter skin, there are exfoliator devices for soft, luminous skin.
How Do You Exfoliate Your Pubes Before Shaving?
The best way to exfoliate the public region is to first trim down your pubic hair if necessary. It should only be a few centimeters long so you can exfoliate the skin underneath.
You'll use a loofah, washcloth, or exfoliating sponge to gently scrub. This removes any dead skin cells and helps you shave as close to the skin as possible, removing hair for a smooth finish.
After exfoliating, make sure you apply a high-quality shaving cream to prep your skin and hair before shaving. Follow up with a fragrance-free lotion.
If you want to protect against razor bumps and heal your dry skin, check out CeraVe lotion on Amazon.com.
What Should You Use to Exfoliate After Shaving?
The best thing to use on your skin after shaving is an aftershave lotion that will protect your face against razor bumps and irritation. If you already exfoliated after shaving and you experience burning, we recommend using an after shave lotion with aloe vera.