Grooming and beard care routines have become extremely important now that facial hair is trending. Part of this care routine is exfoliating the skin underneath; to do that, we looked at the best beard exfoliators.
Beard exfoliators and beard scrubs clean away dead skin cells, oil, and dirt underneath your facial hair, promoting healthier beard growth. It can also help prevent beard acne, bring ingrown hair to the surface and improve blood circulation for healthy skin.
We reviewed the top beard exfoliating scrubs, picking the best products based on customer satisfaction, ingredients, fragrance (or preferably unscented), and successful skin smoothing results. Find the best product for you below.
Understanding exfoliant Scrubs
Experts say you should exfoliate at least once per week; however, some exfoliators are made for daily use. We review the top beard scrubs and exfoliators below.
Treatment
It's the best thing you can do for your skin to keep it hydrated underneath thick hair growth. Beard exfoliating face scrubs are a bit like facial scrubs but formulated to leave your face clean and healthy.
Simply work the texture in circular motions underneath your hair to prevent any damage to your hair follicles.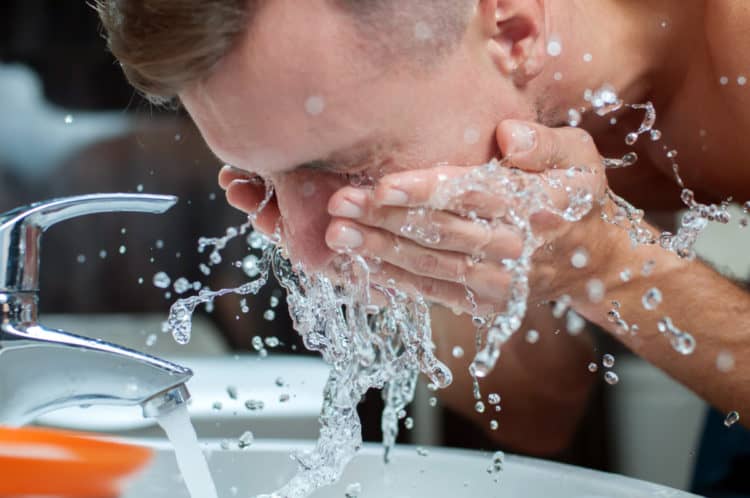 Along with beard oils and conditioners, exfoliants can improve the look and feel of your facial hair.
1. Brickell Renewing Face Scrub for Men
The Brickell Renewing Face Scrub offers a natural and organic formula that completely exfoliates the skin underneath your beard.
What It Does: This exfoliating men's face scrub sloughs away oil, dead skin, and other face impurities. Restores a clear complexion and leaves the skin soft. Use pre-shave to remove dead skin and lift up whiskers for an ultra-close shave.
Who It's For: Men of any age with any type of skin – especially those prone to oily build up, blackheads, or ingrown hairs. Use in a skin care or shave routine.
How It Works: Our facial scrub for men uses powerful natural scrubbing particles to remove dead skin cells, exfoliate, unclog pores, and break down tough facial hair for an ultra close shave.
Key Ingredients: Natural & Certified Organic ingredients, including aloe vera, avocado butter, vitamin E, pumice, and jojoba beads. 98% natural, 70% organic.
Who We Are: Brickell creates skincare and grooming products for men using natural & certified organic ingredients. Our products are sold in over 20 countries and have appeared in GQ, Men's Health, Men's Journal, and other popular men's magazines.
Pros
Reduces oily build-up
No parabens or synthetic microbeads
A lot of product for the cost
Strong exfoliator
Uses avocado, jojoba beads, and natural pumice for scrubbers
Cons
Expensive but worth it for the organic formula
Verdict
It's one of the most popular beard exfoliators because of its light scent and clean results. You'll find that it doesn't stick or add a greasy film to your fingers, and the feeling is so energizing. You can wash it off easily, as it doesn't cling to your beard hair either.
This creamy beard exfoliator has a thicker consistency, making it easier to work into your skin and spread it underneath your beard.
Where to Buy
---
2. Jack Black Energizing Face Buff Scrub
This Jack Black Energizing Scrub is another natural and organic product that steers clear of parabens and synthetic beads. It's suitable for all skin types, and oily customers say it works wonders for removing dead skin underneath.
Regular use of a scrub also helps prevent in-grown hairs by opening congested pores
Contains Vitamin C and licorice extract for anti-aging benefits
Premium grade, micro-fine scrubbing grains gently polish skin
Cooling menthol refreshes skin and provides antibacterial benefits
Regular exfoliation (gently scrubbing off old skin cells) also improves skin's appearance and radiance by exposing newer, younger cells beneath the surface
Pros
Deep cleaning scrub action
Great for all skin types
Energizing scent
Cons
Some customers thought the smell was too strong
Verdict
While not too abrasive, it leaves your skin feeling extremely smooth, which is exactly what you want.
where to Buy
---
3. Viking Revolution – Microdermabrasion Face Scrub for Men
A popular brand for men. The Viking Revolution Microdermabrasion Face Scrub is a top pick facial cleanser and exfoliator. This wash is known for its deep cleansing properties to remove blackheads, face spots, and ingrown hairs.
Best Face Wash - Our Men's Face Wash deeply cleanses dirt, eliminates oil and helps moisturize skin.
Expertly Formulated Skincare For Men - Works with oily, dry, and normal skin types.
Squeaky-Clean Exfoliating Face Scrub - Exfoliate your skin to avoid acne and balance out dryness.
Make Your Shave Count - Our face wash helps condition skin against razor irritation for an easier shave.
The Viking Promise: If for any reason, you're not completely satisfied, simply contact us and we'll take care of it.
Pros
Large, easy-to-use bottle
Instantly buffs away dead skin
Contains SP Skin Recharging Complex
Cons
Not recommended after shaving
The peppermint effect is too subtle
Verdict
I like that I could use it as a daily pre-shave face scrub, and it felt like a natural first step to the morning routine. After using it for a week, I didn't have any razor bumps, and usually, I'll have 1-2 per week – so that was a huge plus.
I also liked that it was more than a simple face wash and performed like a gentle exfoliator without being too gritty. One of my favs.
where to Buy
---
4. Rocky Mountain Barber Co. Beard Scrub
We love the Rocky Mountain Barber Co. Beard Exfoliator because it's made by barbers and includes deep-cleansing charcoal. The price point is also lower than many other beard exfoliants.
Use Daily – Can be used daily as part of your complete skin care routine
Unscented Formula – No added fragrance to gently clean your face and skin
Simple Ingredients – Contains ingredients like aloe leaf juice, argan oil & jojoba oil
Lathers Quickly – Our face wash lathers quickly for easy application and coverage
Made in Small Batches - Means a fresher face wash with fresher ingredients
Pros
Unscented
Lots of essential oils
Deep-cleansing charcoal formula
Alcohol-free
Cons
None, this beard exfoliator gets the best reviews too
Verdict
Alcohol-free and unscented, you'll enjoy scrubbing away dry skin under your beard with just a dab of this cleanser. The formula also includes some of the best essential oils for healthy hair growth like jojoba oil and argan oil.
where to Buy
---
5. Rugged and Dapper Exfoliating Cleanser
The Rugged and Dapper Exfoliator is a daily scrubbing cleanser that's gentle enough for most skin types. If you're the type who wants to feel smooth skin every day and needs a powerful cleanser, this exfoliator gets the job done.
MENS FACE WASH FORMULA: This is an advanced, deep-cleaning face scrub for men - a mens natural face wash formula that attacks dirt, excess oil & grime. Use this exfoliating face wash for men to help eliminate breakouts & acne without drying you out.
MULTI-PURPOSE BENEFITS: An energizing daily face wash for men that covers all the bases for a revitalized complexion. With plant-based exfoliants that gently remove impurities & foaming gel that reduces oils & dirt for a complete mens face wash.
HIGHLY EFFECTIVE FORMULA: A non-drying mens daily face wash is the perfect addition to any man's skincare routine. It helps prevent congestion & the signs of aging. The gentle exfoliants help remove dead skin cells & prep the skin for a clean shave.
A FACIAL WASH MEN TRUST: Ingredients borrowed from the outdoors release potent vitamins and minerals: Organic Aloe Vera, Organic Rosehip, Tea Tree, Jojoba & Burdock Root. A natural mens face wash for dry skin that leaves you feeling fresh and clean.
A MENS FACE CLEANSER FOR ALL AGES & MOST SKIN TYPES: Normal, sensitive, oily, dry, combo and acne-prone complexions. Great for your mustache, beard, back, under hair and neck area. A premium daily face cleanser is essential for every man's routine.
Pros
The special formula includes natural ingredients like aloe vera
Best for sensitive skin
It can be used daily
Cons
Pricier than other cleansers on this list
Verdict
It's also one of the best cleansers for sensitive skin. We also found it was the only cleanser on this list to include aloe vera, which helps with skin smoothing and reducing beard itch.
where to Buy
---
6. Marlowe Facial Hair Exfoliating Scrub
The Marlowe No. 122 is a facial scrub just for men that you can use daily. It's a light exfoliator that refreshes skin and adds a delightful sandalwood scent to your beard.
CLEAN YOUR FACE: Our men's face wash is a cut above the rest; MARLOWE. No. 121 Facial Cleanser is simple & effective
NO MORE DIRT & OIL: Remove the stress, oil, or grime of the day/night with a powerful formulation of natural cleansing agents
GENTLE BUT POWERFUL: This facial cleanser is one of our favorites. It washes softly and leaves your face feeling smooth without burning or stinging. No nonsense, just simple cleansing with an understated scent.
EXCELLENT SCENT: Look forward to washing your face day or night, with a mild & refreshing combination of pine & vanilla.
Pros
Gentle, daily exfoliator
Natural ingredients
Affordable for the bottle size
Cons
It's not the strongest formula for thick beards
Verdict
This perfectly woodsy, masculine cleanser cleanses away dead skin and isn't too rough on your skin. Its paraben-free, phthalate-free formula has a pretty thick consistency and prevents acne.
where to Buy
---
7. NIVEA Men's DEEP Cleansing Beard & Face Wash
A well trusted brand of skin cleanser. NIVEA Men's DEEP Cleansing Beard & Face Wash thoroughly cleans my coarse beard and all the way down to my skin. It's made with natural charcoal, so it easily removed excess dirt and oils for a deep clean and refreshed feeling.
Thoroughly Cleanses Skin and Beards: Natural charcoal face wash specially formulated for men to thoroughly cleanse skin and beards
Long-Lasting Clean Feel: This gel face wash can be used on beards and mustaches for a long-lasting clean feel without leaving skin feeling dry or tight
Vanilla and Bourbon Scent: Face gel wash with a masculine and modern vanilla and bourbon scent
Natural Charcoal Enriched: Beard and face wash for men enriched with Natural Charcoal removes dirt and excess oil from the face
Pros
Formulated for men with beards
Adds the perfect amount of moisture
Unclogs pores and buffs out dead skin
Cons
Have to buy a 3-pack
Manufactured outside the US
Verdict
One of the best exfoliating faces products I tried. The real benefit is that this scrub was entirely designed for men with thick beards.
It's reasonably priced for a 3-pack, and I'm OK with the vanilla scent – though I would have preferred a more masculine scent. A solid pick!
where to Buy
---
FAQs
What can I use to exfoliate my beard?
You can use a beard scrub or a brush designed for beards to exfoliate your beard. Even a DIY scrub made from olive oil and sugar can do the trick. This will help remove dead skin, unclog follicles, and stimulate beard growth.
Do beard exfoliators work?
Yes, beard exfoliators effectively work by removing dead skin cells and unclogging hair follicles, which can lead to healthier beard growth. They also reduce beard itchiness and flaking. Always follow the exfoliator's instructions for best results and to avoid skin irritation.
Should you exfoliate your beard?
Yes, exfoliating under your beard should be part of your grooming routine. It helps remove dead skin cells, reduces itchiness, and promotes healthier hair growth by unclogging hair follicles. Aim to exfoliate the skin under your beard 1-2 times per week.
How do you exfoliate dead skin under your beard?
Exfoliating dead skin under a beard involves using a scrub or exfoliating tool to remove dead skin cells gently. Start by washing your beard with warm water and a mild cleanser. Then, gently rub the exfoliator in a circular motion across the skin beneath the beard, rinse with warm water, and pat dry.