When growing a beard, your skin will inevitably dry out at some point, causing dry, itchy skin and possibly beard dandruff. With good beard care, you can easily avoid problems by exfoliating your beard and the skin underneath.
Exfoliating your beard is the process of using a cleanser to clean away dirt, debris and dead skin cells from your facial skin to unclog pores. The cleansing is performed in a circular motion and part of a healthy beard care routine.
When exfoliating your face and beard, you'll also notice that your skin is smoother and cleaner, leading to a healthier beard. Read on for more details about exfoliation and how it helps your skin and stimulates beard growth.
Beard Exfoliating Guide
There are many benefits to exfoliating your beard. For one, it may improve your facial hair growth. It's also the best way to prevent beard acne and beard itch.
Shampoos and cleansers may not be enough to exfoliate your beard and skin properly. Fortunately, there are beard exfoliators and scrubs that work wonders for men with flaky beards.
Need help selecting a beard scrub? We've reviewed the Best Beard Exfoliators.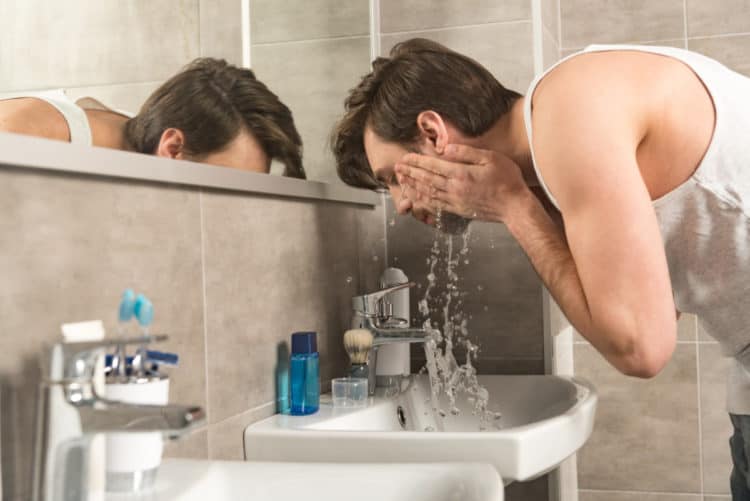 Did you know exfoliating the skin under your beard can stimulate thicker hair growth?
Benefits of Exfoliating Your Beard
Smoother skin texture
Removes dead, dry skin
Eliminates flakes due to beard dandruff
Less chance of ingrown hairs
Skin tone is brighter, unclogged pores appear smaller
Keeps skin looking rejuvenated and moisturized
If you want to get rid of dry skin and maintain healthy beard growth, exfoliating is a necessary part of your hygiene routine.
Next we'll look at a step-by-step approach to exfoliate your beard. 
1. Open up your pores
If you've never exfoliated before, you should do this once to twice a week depending on your skin condition.
Warm water opens up our pores and prepares skin for cleansing. You'll want to steam in the shower and flush out your beard with hot water or a steaming washcloth to get started.
2. Clean and Brush
You should use a gentle face cleanser or beard shampoo daily as part of your morning and nightly routine. This step is best to do before exfoliating because you want your skin to be fresh and clean before scrubbing with an exfoliator.
It's also important to clean your beard if you're using beard balms and beeswax, as these products can cling to your hair and get into your skin, causing more issues.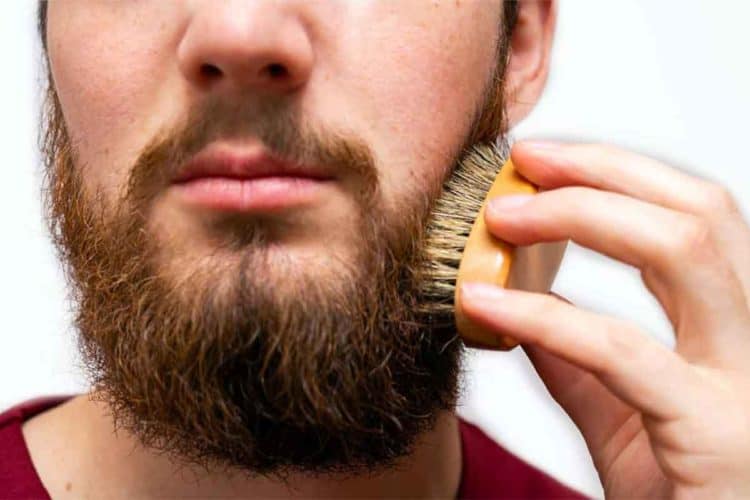 I like to use a good beard brush to detangle and straighten your beard to make it easier to access skin underneath.
3. Use a Good Beard Exfoliator
Exfoliating beard scrubs work wonders for your skin and hair. These are specially formulated products that remove dead skin cells and dirt trapped underneath your hair.
Scrubbing your beard with an exfoliant goes a step beyond just washing or shampooing your beard.
Exfoliating your beard is easy with a scrub like Pacinos Beard & Face Scrub. This stuff is amazing and makes my beard feel refreshed.
Typically, these are cleansers or creams with slightly abrasive microbeads that help slough off dead skin. Also, exfoliators shouldn't be used daily because it can strip away your natural oils.
4. Hydrate and Moisturize
Besides exfoliators, you'll want to apply a beard oil or beard balm to add moisture and reduce itchiness after exfoliating. This hydrates your skin under the beard and keeps your hair follicles healthy and energized.
Exfoliate for Beard Growth
In some cases, scrubbing your skin with an exfoliator will increase hair growth and thickness. However, it doesn't always work and largely depends on whether dead skin was trapping your hair follicles.
Studies have shown that scalp and skin conditions affect hair growth, so scrubbing your face and removing dead skin cells can certainly stimulate new hair growth.
Exfoliating Too often
It's recommended that you don't exfoliate more than three times per week, as it can remove too many skin layers and result in very red or even irritated skin.
You only need to exfoliate once or twice per week in most cases, but if you have skin that's prone to flakes and dryness, use a gentle exfoliator scrub for every other day use.
In addition, you don't want to stop washing your beard before you exfoliate. This prepares your skin and opens up your pores, which might lead to stimulation and thicker hair growth overall.