A receding hairline doesn't mean you have a bad hairline, but it does mean investing in a new men's hairstyle. You may have long locks now, but you may lose more hair. Hairstyles for a receding hairline often help you hide deep M or V hairlines.
Best haircuts and hairstyles for men with a receding hairline can help make going bald less obvious. These looks draw attention away from your thinning hair and bald spots, helping you regain control over your hair loss.
So, when it comes to hiding a receding hairline, sometimes it's best to just let it go, but if you love your locks, there are amazing styling products and techniques to give your hair new volume. Keep reading.
1. Clean Shave
We wanted to start with this look to get it out of the way. Celebrities like Dwayne "The Rock" Johnson, Jason Statham, and David Beckham have all rocked the bald look. See more Celebrities with Receding Hairlines.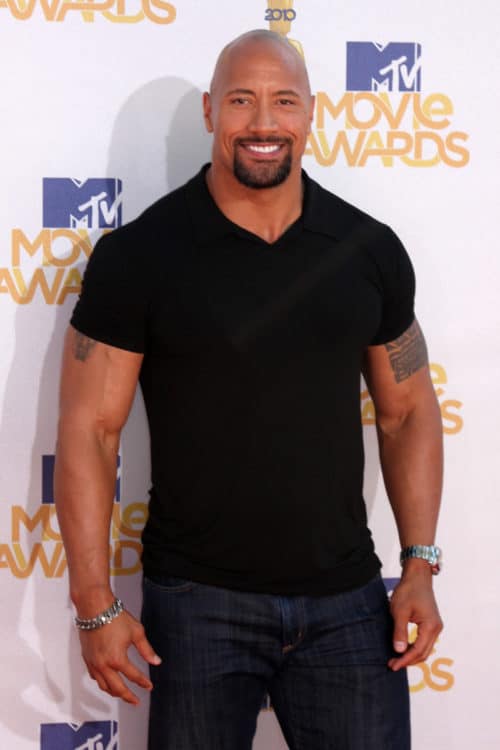 A shaved head makes you look like a badass. Many men fully accept they're losing their hair early on, and they go with a clean-shaven, smooth-head look.
You can partner this with a full beard and a fade, or you may want to go with the clean bald with beard look. You definitely save on styling time in the morning before work.
If you don't want to go completely bald just yet, a buzz cut may be the easier option to try. You can set your guard to a #2 or #3 to opt for a short buzz cut that keeps hair closely clipped to your head.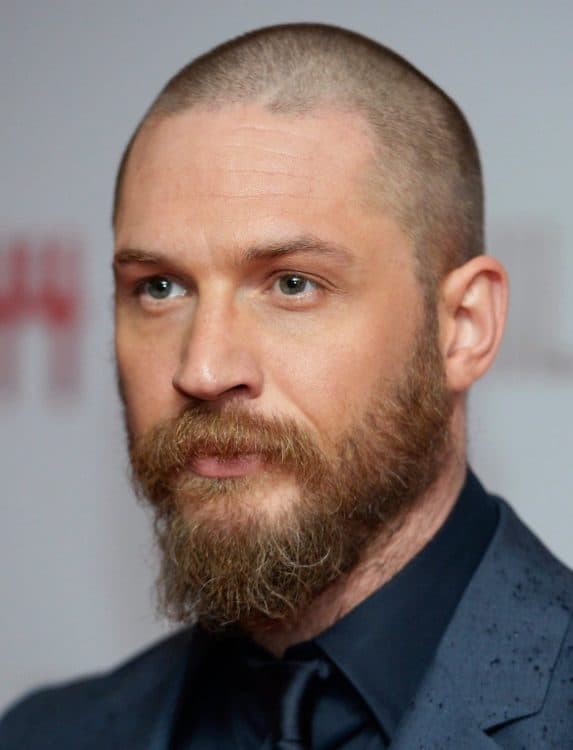 This look takes the emphasis off of rising corners and bald patches. One trendy way to get a buzz cut is to fade on the sides down to the ear.
3. Comb Over Haircut
If you love your long hair and don't want to part with a single hair, then you'll need to master the comb over hairstyle. This look is defined by a lot of hair on top that's swooped to one side.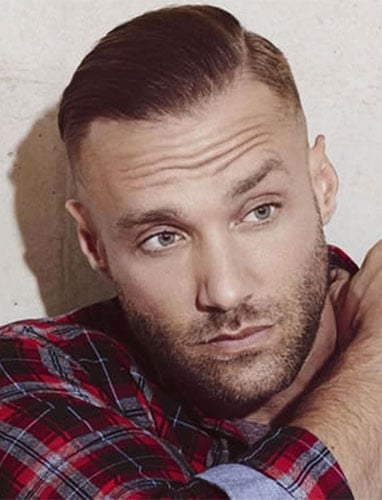 You don't have to be going bald to do this look, either. You can use the lowest point of your receding hairline to start the part. When you add hair products like a mousse to your locks, you add a bit of thickness and volume, too.
4. Faux Hawk Haircut
The faux hawk haircut is characterized by longer hair at the top and tapered sides. This look is also more popular for receding hairlines because it focuses on hair styled towards the center of the top of your head.
You can style the hair long on top or have it cut short with a bald fade on the sides.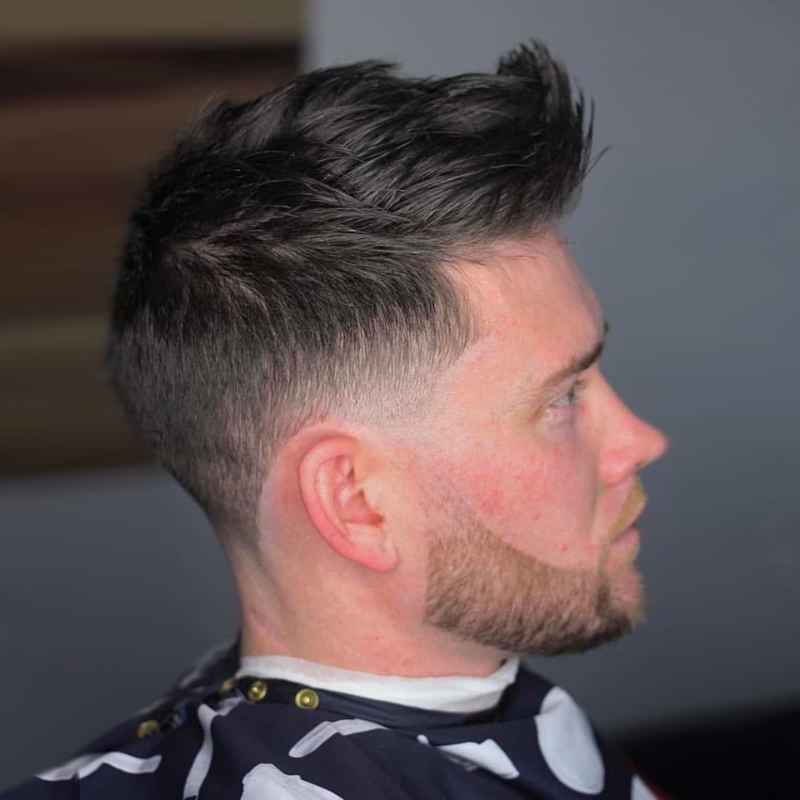 5. Crew Cut
The crew cut is a classic short hairstyle. The short to medium-length cut adds a clean look to your receding hairline. It's also easy to style and easy to maintain.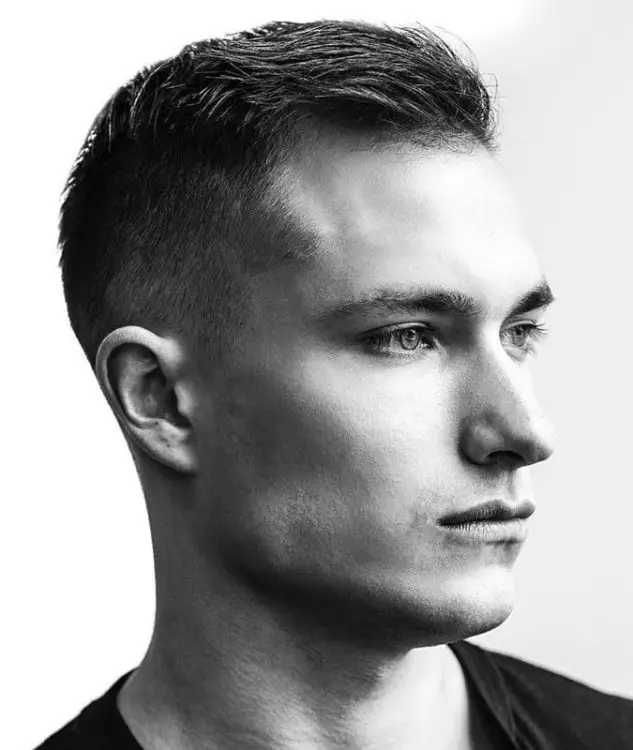 6. Slicked Back Hair
If you still have some volume in your hair, then the slicked back hairstyle may work for your receding hairline. This neat, diverse look is perfect even for men with maturing hairlines because you keep the sides tapered and short.
This emphasizes the volume and length of your hair at the middle and top of your head.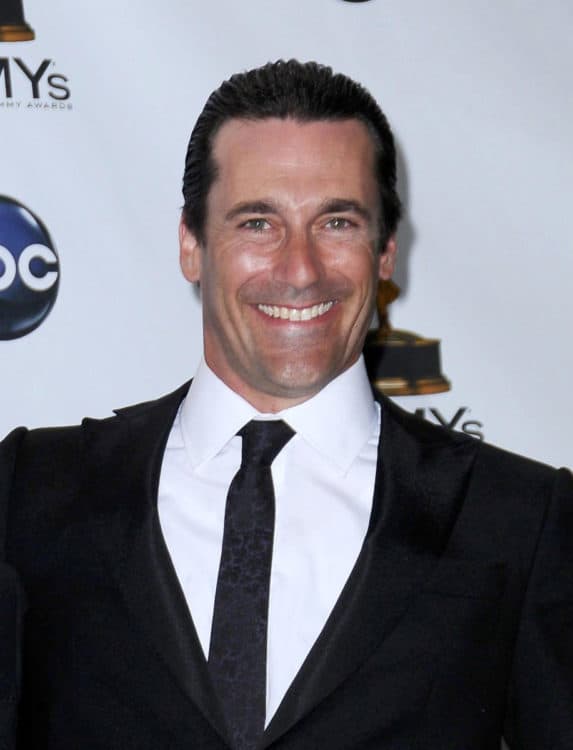 If you need inspiration, John Hamm, as Don Draper, frequently sported this shiny-haired look in Mad Men.
7. Caesar Haircut
With longer hair but deepening M or V hairlines, you may be able to comb some of your hair forward to hide a deep receding hairline and temples. You can style longer strands into a side part and tuck them behind your ear.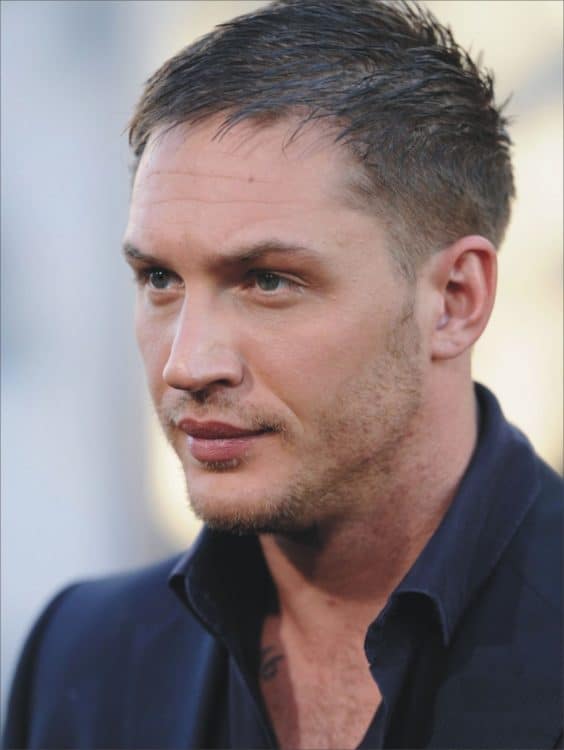 8. Short Hairstyle with Beard
If you have thicker, wavier hair but your hairline is moving back, then this is a viable option. You basically add thickening cream to your short hair to give it texture and emphasize the waves at the top of your head.
By tousling them with a mousse or cream, you add more volume and hide a hairline that's pushing back underneath your short, wavy hairstyle.
Then adding a beard to your hairstyle will add an extra distraction from your receding hairline.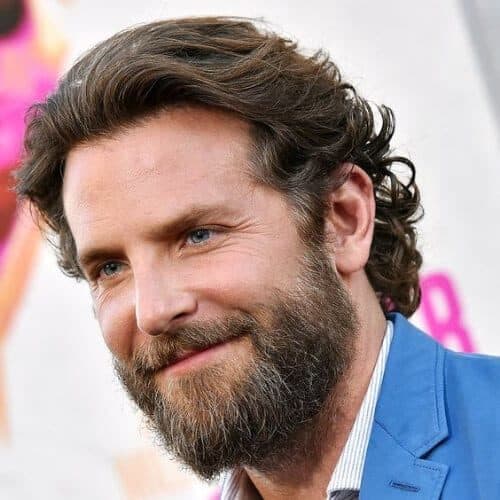 9. High Fade Haircut
One of the best receding hairline haircuts for men is the stylish high fade look. This style has a high fade on the sides with a bald fade around the ear that tapers up to a longer mop on top. You can keep this short or long, depending on your preference.
Choose the receding hairline fade for a bold look.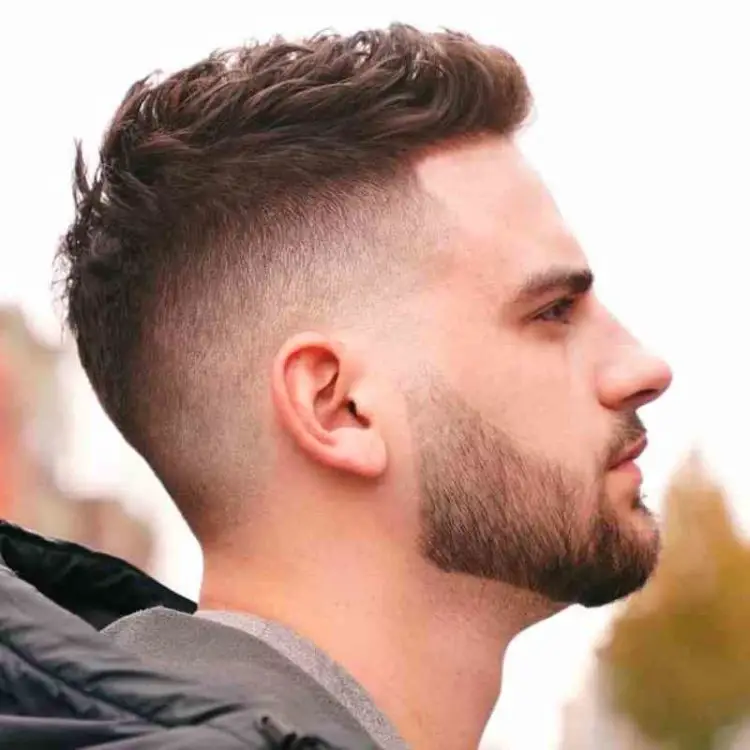 These styles also look great with longer, thicker beards.
10. Undercut
Do you want to have a rocker vibe to your look? The undercut is the best choice for a hairline that's receding.
With a fade around the ears and bottom to the back of the neck, the hair is buzzed slightly higher than left long on top. You can use gel to create a slightly spiky, tousled look.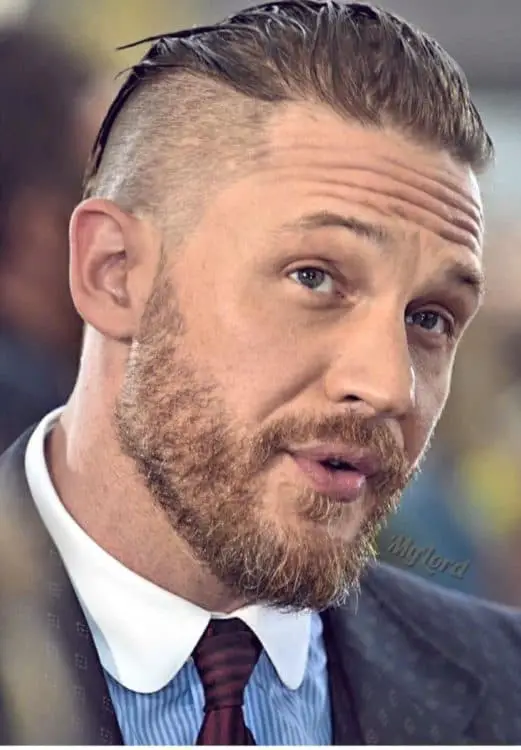 11. Pompadour
This is one of the most popular hairstyles for receding hairline looks. While it's styled after the nerdy Ducky from Sixteen Candles and the 50s rockabilly, it's a popular look for younger guys, especially.
You can use mousse to pump up the hair on top and then slope it towards the back. The receding hairline pompadour style also works well if you have a growing bald patch at your crown.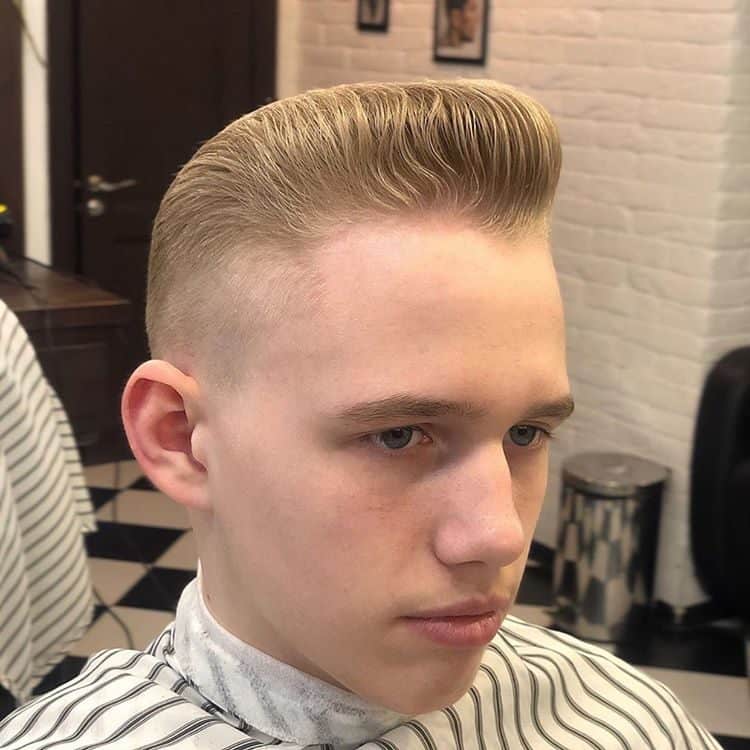 12. Fade Haircut
With a bald fade haircut, you get a maintenance-free cut that keeps the head very cool and sleek during warmer months. If your hair is thinning, the fade on the sides can hide receding temples and hairline.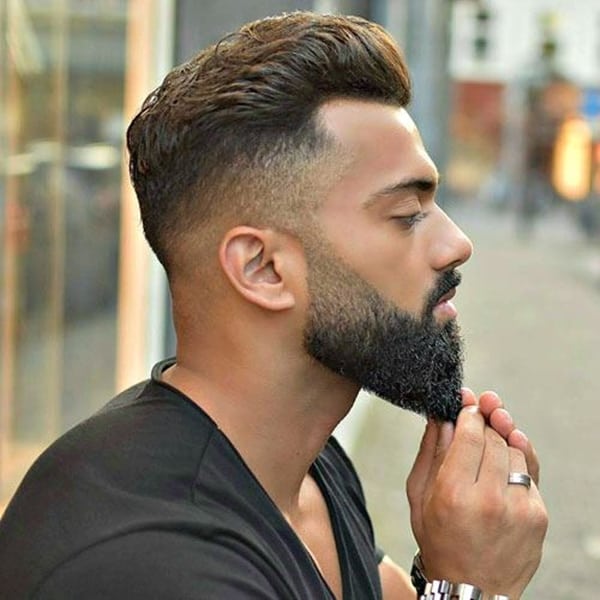 Wrapping Up: Should You Do It Yourself or Go to a Barber?
If you head to a barber for a fade the first time, you may learn how to do the cut yourself, or you may just like having a professional help you hide your hairline in the best way.
However, you still need to be able to maintain your look once you go home. For fade looks and tapered sides, you may want to purchase some clippers with different guard sizes to maintain your new do.