With the best shaving brush, you'll get a great lather and a more comfortable shave, but there are other benefits that come with this shaving accessory.
If you haven't used a shaving brush before or want to know what to look for, we've done all the research and found the best shaving brushes on the market, as well as the import features.
What is a Shaving Brush?
A shaving brush is a men's lathering tool that's made with soft bristles to spread shave cream evenly and accurately. Those who like to wet shave, such as barbers, straight razor and safety razor lovers, use shaving brushes to develop a rich, thick lather unmatched by can products.
Are you living your best life? We're advocates for treating yourself, which means taking care of your skin and beard with the best shaving products.
Not all shave brushes have the same quality bristles and handheld design. There are a ton of cheap products on the market that fall apart, too.
Avoid those problems with this quick buyer's guide I've put together to find the best shaving brush.
Shaving Brush Buyer's Guide
For men who want a simple, comfortable wet shave, a shaving brush is a crucial part of the shaving process.
I looked for specific features in the shave brushes that I chose so you'd get the most value, in addition to a perfectly smooth shave.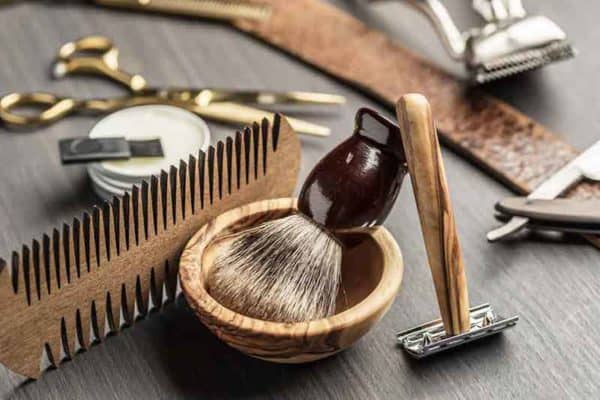 Here's how I graded the quality of shaving brushes:
Bristle type (badger hair preferred)
Size and weight (must feel balanced in hand)
Durability for long time use (wooden handle, badger silvertip brushes)
Price tag
Water retention
Overall customer satisfaction
Shaving Brush Bristle Types
The fibers in shaving brushes are typically softer so they glide across the skin and coat facial hair with ease, but they also need to hold shave cream and spread thick across your face.
Badger Silvertip Brushes or Synthetic?
Ideally, you want to look for pure badger hair bristles or silvertip bristles, as these are the premium quality fibers.
Just a head's up: look for "badger silvertip brushes" that indicates they are made from real animal hair.
Synthetic fibers offer a poor to average lathering experience, as well these brushes often have loose fibers that stick to your face.
There are also stiffer, stronger boar or horsehair brush bristles. However, I prefer soft bristles to lather up with, as it's just more comfortable, but boar bristles may lead to better exfoliation and more coverage.
For sensitive skin, the best results will come from silvertip badger bristles or synthetic materials that mimic their natural softness if you're on a budget.
Vegan-Friendly Shave Brushes
There are brands out there that try to make a higher-quality silvertip brush from synthetics. These manufacturers do their best to emulate the texture and softness of real badger silvertip hair or even horse hair.
I've included both real and vegan-friendly shaving brushes in the reviews below.
Handle Material
Brush handles should be ergonomic and easy to fit in your hand. However, you also want a material that will stand the test of time and have water-resistant characteristics.
Wood Handle Brushes vs Resin or Plastic
Most handles are made from metal or wood, although there are others made from plastic.
There's nothing really wrong with a plastic handle, except that the aesthetic of the wood handle is much better than a resin or synthetic handle. IMHO – anything other than a wooden handle feels like less of a product.
Shaving Brush Maintenance
Wet shavers know that the best shaving brushes provide a quality lather, but they also require upkeep and cleaning.
Knowing how to care for a shaving brush is just as important as knowing what features to look for. After all, you want to be able to use this tool for many years.
The process is pretty simple. After you shave, you'll rinse the shaving brush off gently under hot water. It will take about 1-2 minutes to rinse all the shaving cream thoroughly. Next, you'll flick or lightly shake off the excess water from the brush, then place on a stand to dry.
If you don't have a shaving brush stand, that's okay, too. You can also place on a clean washcloth and allow it to air dry.
How to Clean a Dirty Shaving Brush
Cleanliness with shaving brushes starts with how you store this tool. You don't want to place inside of a container or enclose in a tight space when it's still wet. That may lead to mold and mildew, especially if it has real animal hair bristles.
However, if you want to keep your shaving brush as clean and sterile as possible, you just need to soak the bristles in a borax and water solution. There are also a few different shaving brush cleaning soaps out there that let you lather up with a disinfecting, cleaning solution, such as the one from Phoenix Artisan Accoutrements.
Shaving Brush Size
You should always pick a shaving brush that's going to feel great in the palm of your hand. Anything too small won't feel ergonomic. Cheaper, smaller shaving brushes are typically not well made like a sturdy, large shaving brush with good balance.
Price
You should always check materials, and customer reviews before buying a shaving brush.
Some are priced at under $10, while premium brands charge as much as $250 for a full shaving brush kit.
The main quality is in the bristles and handle. If it comes with genuine boar bristles, silvertip badger hair, or other specialty fibers, you can expect to pay a little more.
Best Shaving Brushes Reviewed
Tests based construction, quality of materials, price and user satisfaction.
Final Thoughts: Which Shaving Brush is Best?
Whether you are a wet shaving fanatic or just getting into it, there are all kinds of benefits of switching to a shaving soap and shaving brush. If you like looking your best with the closest shave possible, these shaving brushes have everything you need, and they're all pretty high quality.
If I had to pick just one shaving brush that I tested, I'd go with the Parker Badger Hair Shaving Brush. It doesn't have a wooden handle, which is my preference, but it was the first one that I tested, and I really liked the way it created a good lather in just a few seconds. I didn't have to spend any time soaking the brush either, it just instantly soaked in the hot water so I could lather up the bristles. Very easy!